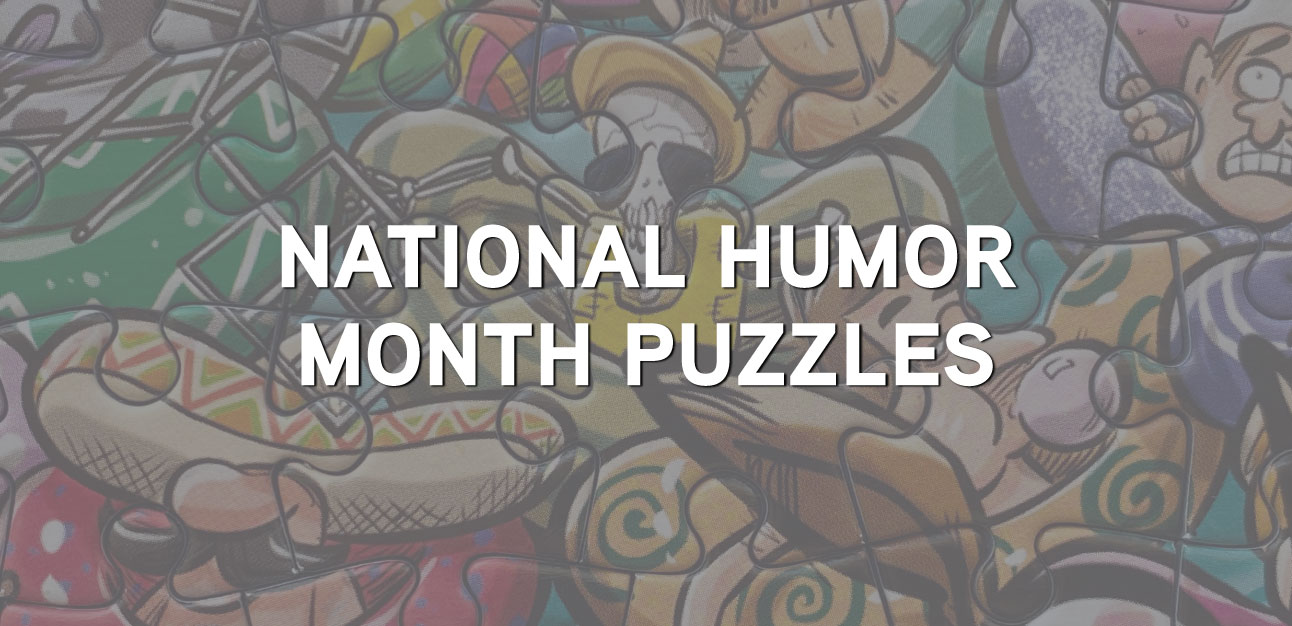 National Humor Month Puzzles
What better month than April, with its kick-off day being April Fool's Day – to host National Humor Month? According to the National Humor Month website, the idea "was conceived to heighten public awareness of the therapeutic value of humor. Laughter and joy - the benchmarks of humor - lead to improved well-being, boosted morale, increased communication skills, and an enriched quality of life."
This sentiment is also behind my love of humorous puzzles. One of the reasons I enjoy puzzling is it offers me a way to escape and when life gives you lemons…I head to my puzzle table (perhaps WITH a glass of lemonade)! Such was the case with the first puzzle I'd like to feature in this post about humorous puzzles – the 1000-piece Bark's Books. I started this puzzle the night I had to accompany my dearest friend to the veterinary hospital to put her dog down. I loved her dog, but he wasn't MY dog, so I didn't expect it to affect me as much as it did. So, I dove into this puzzle as an homage to her dog, Scully, and to try and lighten my heart somewhat. And it did help! I mean, who could help but smile when you read the titles in this bookstore – with "Hairy Potter & The Philosopher's Bone by J.K. Growling" and "20,000 Leaks Under The Tree" being my favorites!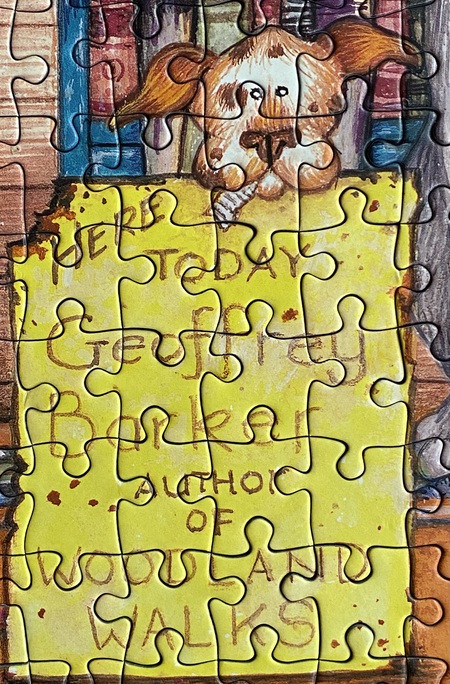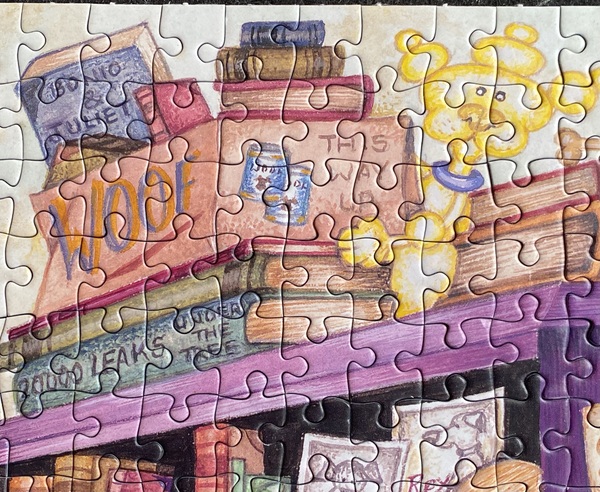 If you've been reading my blog posts, you'll know I committed to trying new-to-me puzzle brands this year and this was my first Gibsons puzzle. I love the Gibsons story – H.P. Gibson started the company 102 years ago and his great-granddaughter now sits at the helm! This British company embraces the spirit behind National Humor Month (although they would be quick to point out they spell it "humour") stating that their values are all about encouraging people to play games and creating a happy working culture for their people. Their puzzle pieces have a quality feel – they are thick and sturdy, made from 100% recycled board, printed with vegetable-based inks, and have a good strong fit. You can see some of the pieces here, along with the poster that came with the puzzle.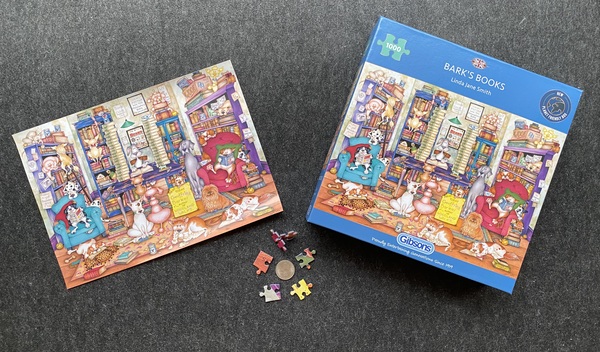 And did I mention that I adore the artwork of British native Linda Jane Smith? Interestingly, although the Bark's Books artwork features dogs - as do several other puzzles that feature her artwork such as Fido's Coffee Bar – she personally is a cat lover and I have two other puzzles featuring her adorable cats on my shelves as well, including Scent and Mad Catter's Tea Party. She is an ideal artist to feature during National Humor Month because as I read up on her, this quote – "humour is a big part of her work" jumped out on me. Her modus operandi is to make a detailed drawing first and then she carefully adds on dots of paint to build rich colors that take on the texture of velvet cushions and threadbare brocades.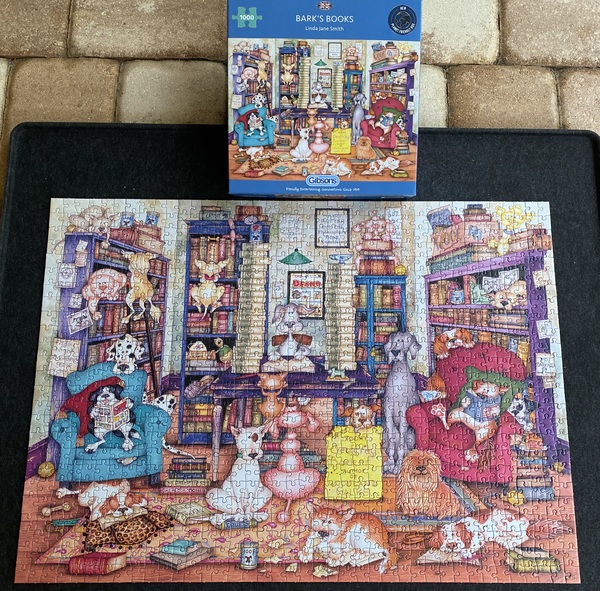 Bark's Books | Gibsons | 1000 pieces
The other reason I love humorous puzzles is I find "busy" puzzles with a lot going on easier to build, as I can quickly spot pieces and identify what goes where. That was definitely true with this second puzzle I'm featuring, All Jigsaw Puzzle's Chaos at the Swimming Pool, which I completed as a 1000-piece puzzle, but that comes available in 500 pieces as well. It may seem an odd choice for a chillier than usual April, but as I'm typing this from my porch in Florida, the swimming pool beckons! The artwork of Portugal-based Ricardo Galvão made me laugh out loud…and made me very grateful I don't have to go to a public pool where all THIS nonsense is going on! I mean, look at the characters in this puzzle?! Ricardo, who has been a cartoon and caricature artist since 1991 and creating the Chaos series since 2015, says he starts with an initial idea and then adds in characters and situations as he goes along.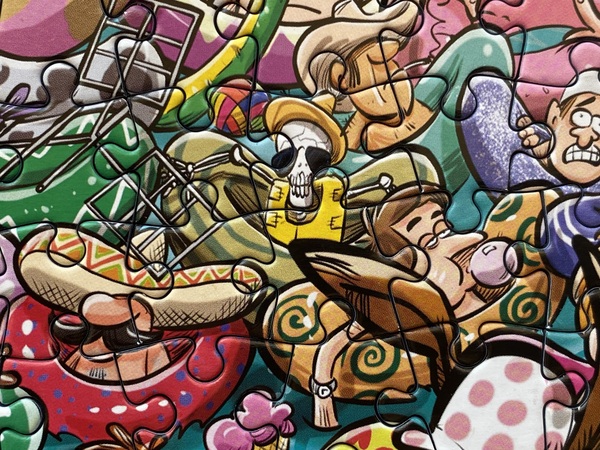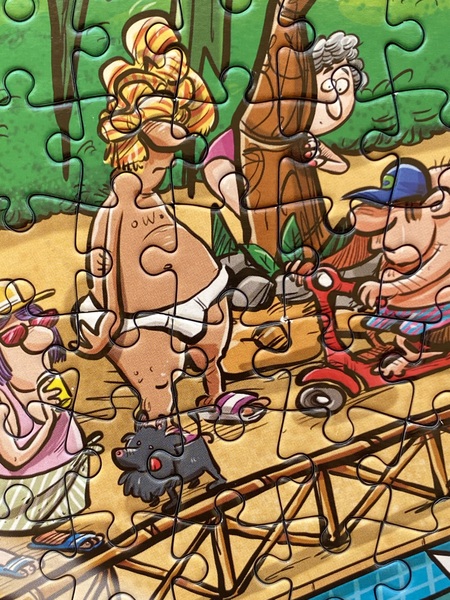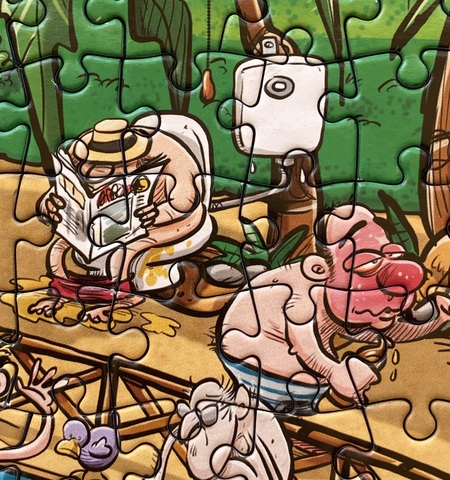 This was also my first All Jigsaw Puzzle, another UK-based company. The pieces are also made of 100% recycled board, have a looser fit, but with no false fits and bright and vivid colors. I was intrigued the moment I received the box in the mail. It's a unique landscape size and I was worried at first that it wouldn't fit on my 1000-piece puzzle board, but that wasn't an issue at all as you can tell from the photo here, which is completely on my board. The lengthier box size also meant there was no need for a poster to come with it, as the box was easy to refer to.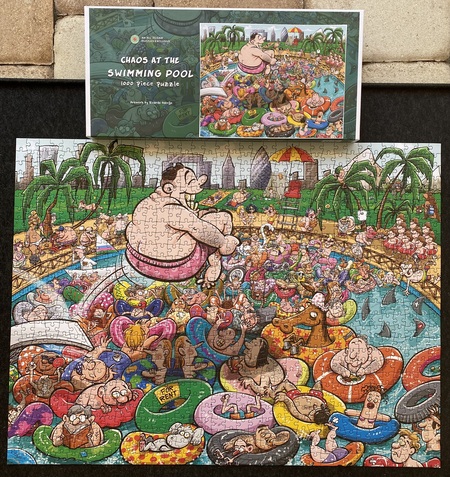 Chaos at the Swimming Pool | All Jigsaw Puzzles | 1000 pieces
If you, like me, enjoy this puzzle, there are many more in the "Chaos" family to choose from, including ones that celebrate pretty much every holiday out there (Valentine's Day, Mother's Day, Halloween and Christmas to name a few) a variety of themes (Space, Cycling, Movies and the artist's favorite in the series – The Royal Wedding)!
In the spirit of National Humor Month, I hope you, like me, got a giggle out of these comedic puzzles. Keep on smiling and keep on puzzling!
-Lisa