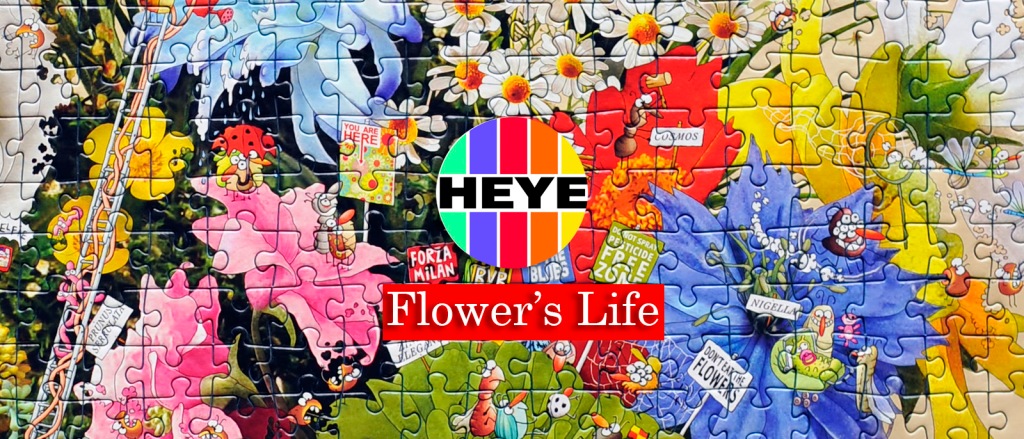 Review: "Flower's Life" by Marino Degano, Heye – 9.5/10
Publisher: Heye (Germany), published 2017 Title: "Flower's Life" by Marino Degano, 1000 pieces Finished size: 27.6" x 19.7" OUR RATING: 9.5/10 NEW HEYES: To see all the new 2017 Heye puzzles currently in stock at Puzzle Warehouse, click below. View all current Heye puzzles in stock at Puzzle Warehouse "Flower's Life" by Marion Degano REVIEW Box Quality: (10/10) This cartoon puzzle...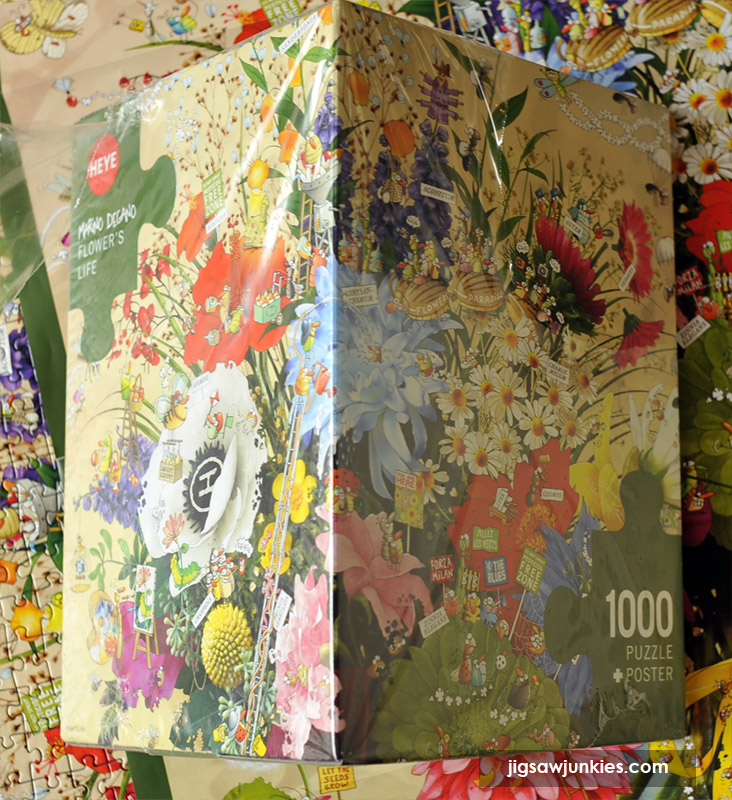 Publisher: Heye (Germany), published 2017
Title: "Flower's Life" by Marino Degano, 1000 pieces
Finished size: 27.6″ x 19.7″
OUR RATING: 9.5/10

NEW HEYES:
To see all the new 2017 Heye puzzles currently in stock at Puzzle Warehouse, click below.
View all current Heye puzzles in stock at Puzzle Warehouse
"Flower's Life" by Marion Degano REVIEW
Box Quality: (10/10)
This cartoon puzzle comes in Heye's signature triangular box. See the front above. The two sides of the front show the central area of the puzzle, the puzzle name, artist name, Heye logo, and piece count. The triangular boxes are fun and so beautifully designed.
Top and Bottom:
Instead of having 'sides' like a rectangular box, the Heye triangular boxes have a top and bottom. I love to shelve my Heye puzzles top out, and the top is perfect for that. It shows a detailed close-up from the puzzle image, the piece count, and Heye logo.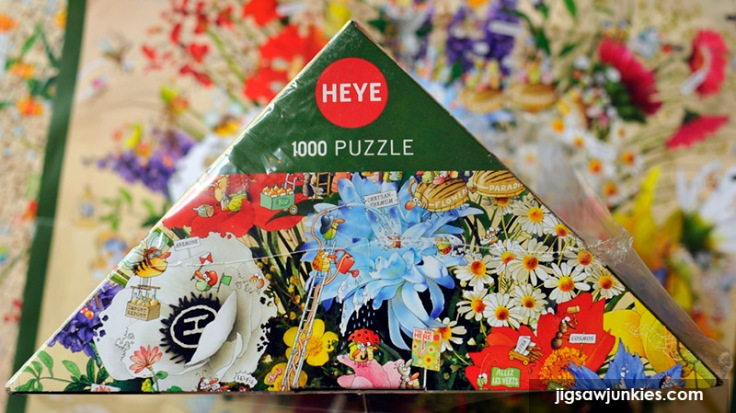 The bottom has the artist name, puzzle name, piece count, dimensions, and year of manufacture.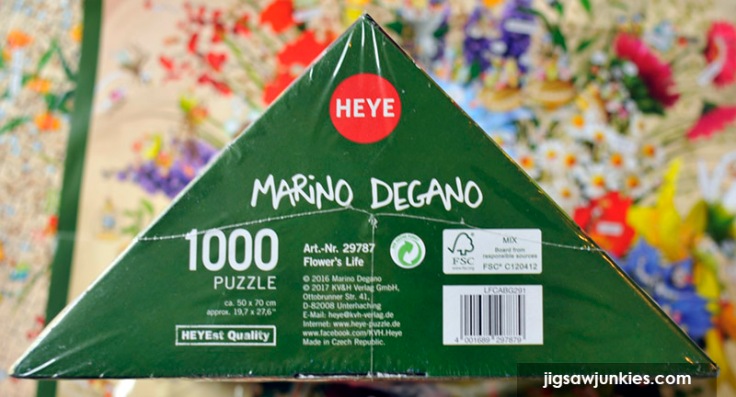 Back:
The back of the triangular box shows the complete puzzle image, the Heye logo, and the puzzle and artist name.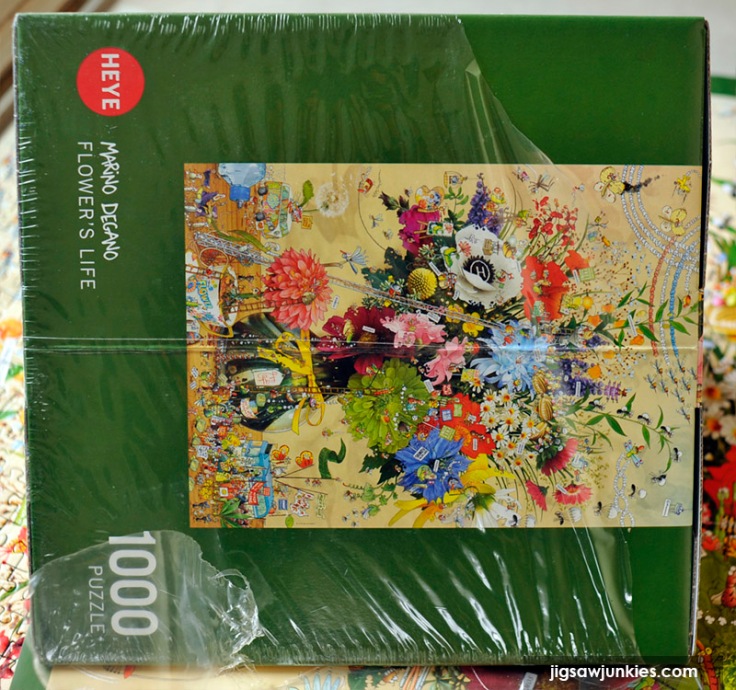 Inside:
The triangular boxes come with the bag of puzzle pieces, a big poster, and several catalogs. That's a lot of gorgeous material. The bag of pieces was in excellent condition with no damage to the pieces, fully separated pieces, and a small amount of puzzle dust.
As you can see below, the poster is basically the same size as the completed puzzle.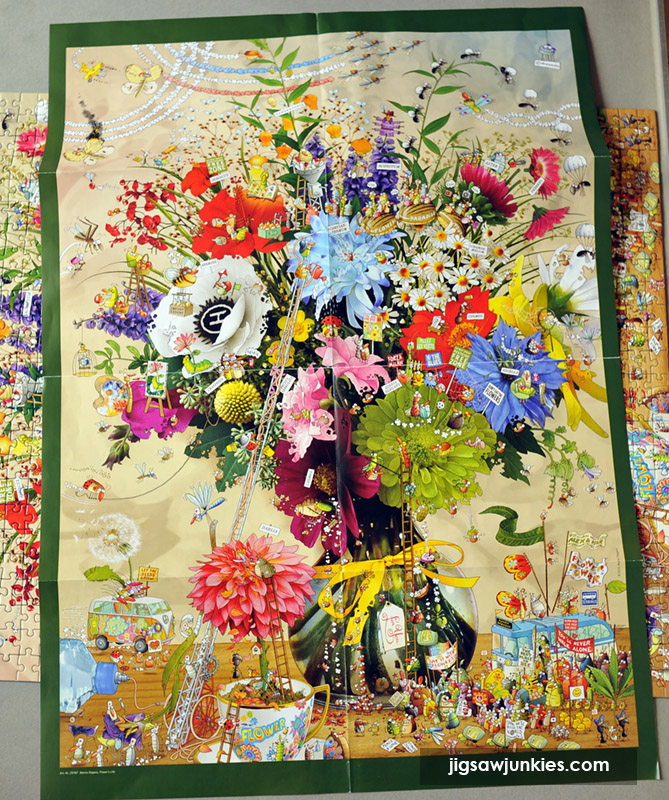 The back of the poster shows other Heye titles out in the same year (in addition to the catalogs in the box).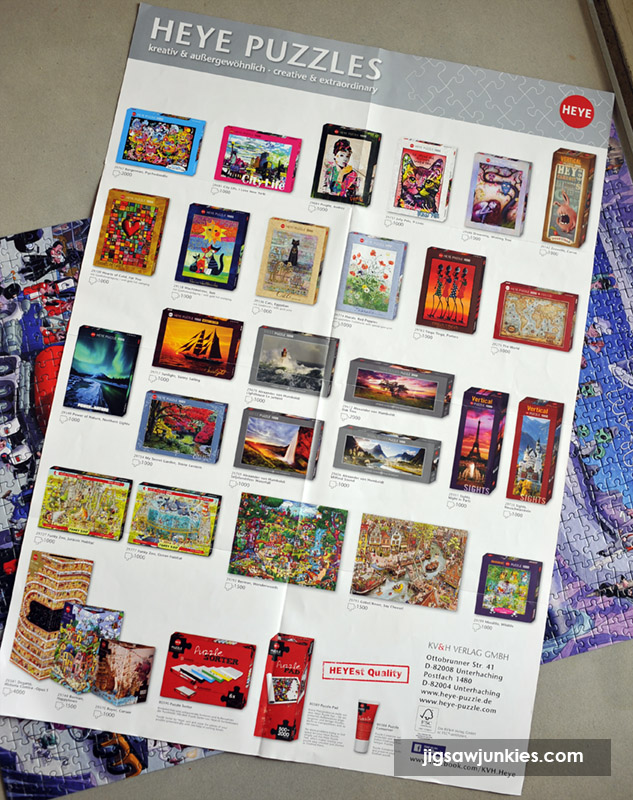 The small catalog shows their current line in full color.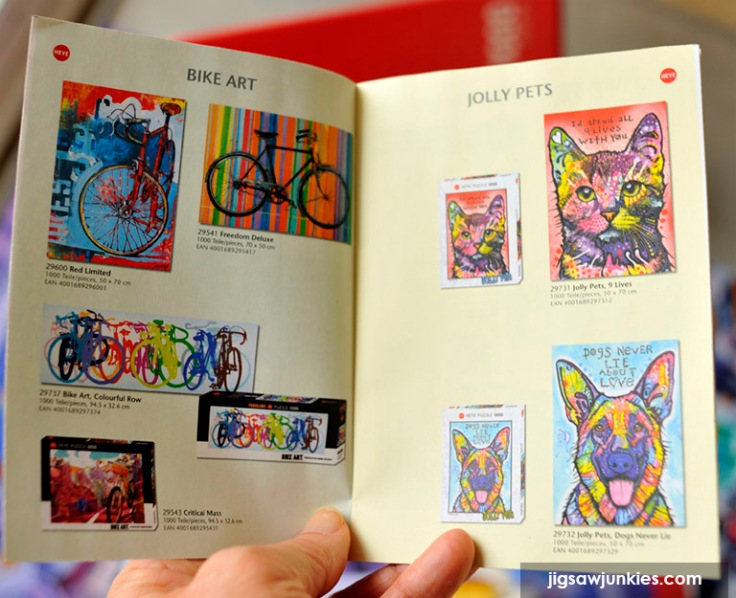 I've given the box a perfect 10 score. It's really as good as it gets in the puzzle industry.
The Image: 10/10
A few months ago, I reviewed Marino Degano's "A Cat's Life" (see my review here). This new 2017 puzzle is similar, but while "A Cat's Life" showed the miniature antics of fleas and ticks on a cat, this puzzle shows the insects that live in and around a vase of flowers.
At first glance, it's the bright colorful flowers in a cartoony art style that make this puzzle appealing. It would be a nice puzzle even if it was just a flower image. However, when you look closer the image is filled with cartoon ants, flies, butterflies, caterpillars, and other insets all around the bouquet. There are a lot of cute gags and humorous details to notice as you put the puzzle together.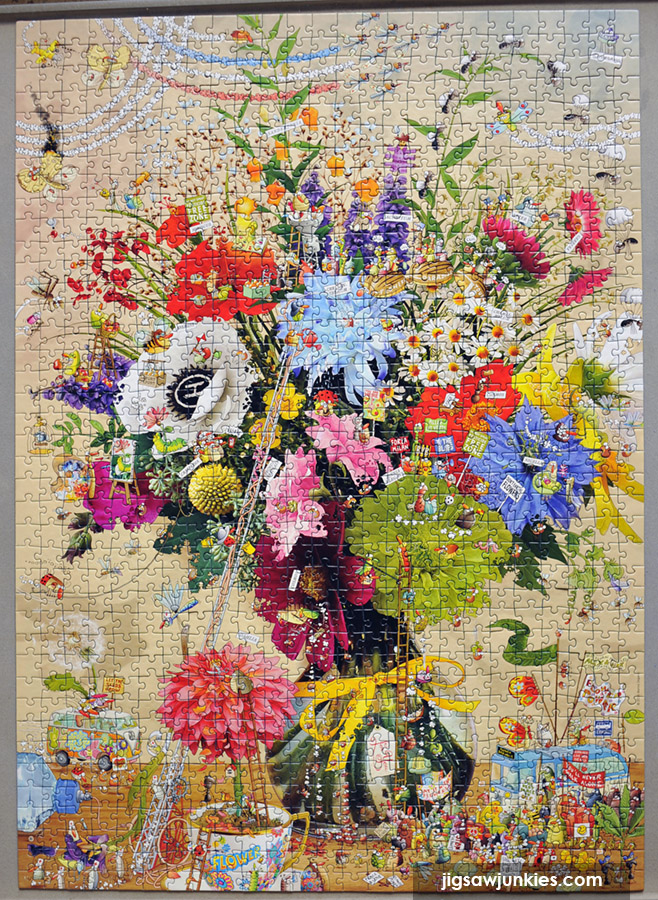 The art is extremely high-quality, with hand-drawn figures. This composition must have taken untold hours to create, and we're fortunate to have a puzzle company like Heye that supports this kind of original puzzle artwork.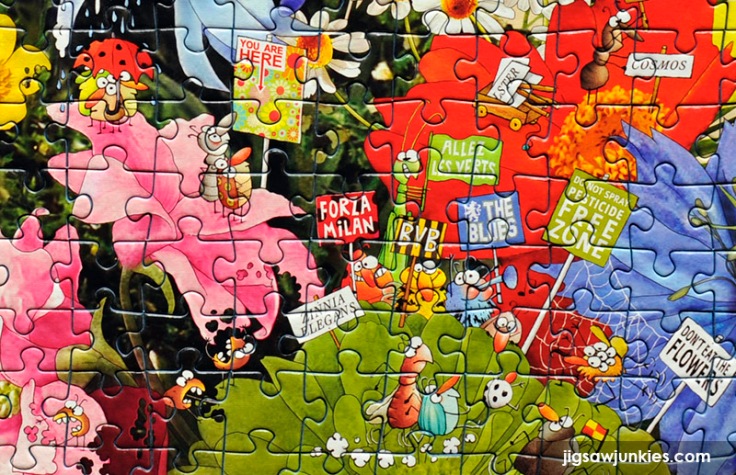 Absolutely a full 10 score for this image. It's terrific to have a new Degano!
(Click on any of the images in this review for a closer look.)
Puzzle Quality: (8/10)
Heye is a premium, German-made puzzle brand that ranks very highly in our brand comparison. You can see our full brand comparison on Heye here.
This is a brand new 2017 puzzle. The quality is good in general. The pieces feel thick and have a nice matte finish. The image reproduction is excellent, as you can see in the detailed close up below. The puzzle is grid cut, but there's a good variety of piece shapes. I never had any question about whether or not a piece went somewhere. Also, having the poster to work with is really helpful. Everything about Heye feels like a high-end German board game.
I have dinged the quality score 2 points for having a rather loose fit. This is something I've noticed only in the past few years of Heye production. Earlier puzzles fit more tightly. It doesn't mar the final look of the puzzle, as you can see below. But when you're assembling the puzzle, you need to be careful not to nudge it or the sides can break apart easily, and when you transfer groups of assembled pieces you have to use a piece or paper or move the grouping a bit at a time. I love Heye, but I would like to see them return to a tighter fit.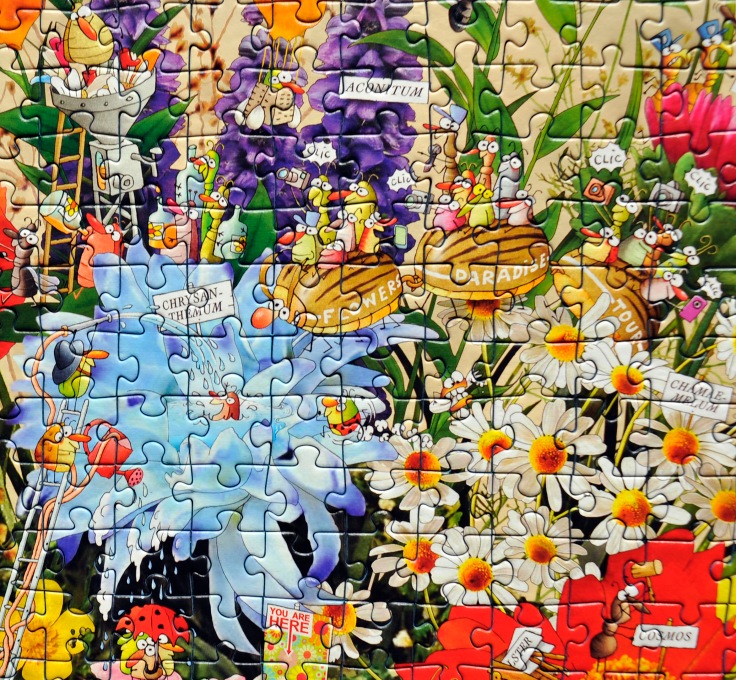 Overall, I'm giving this puzzle a 8 score for quality.
Assembly: (10/10)
I'd rate this puzzle as moderate-to-difficult. It took me four sessions to complete, longer than average for a 1000 piece puzzle.
DAY ONE and TWO:
As with all rectangular puzzles, the first step was assembling the border. After that, I tackled the brightest colored flowers in the bouquet. This image has a great layout for a puzzle because the flowers in the bouquet are large and they each have a unique color. As you can see below, the blue, pink, yellow, and white, and lime green flowers are unique and each to identify. There are two red flowers that have the exact same color, but other reds tend towards maroon or dark pink, such as the Gerbana daisies in the upper right.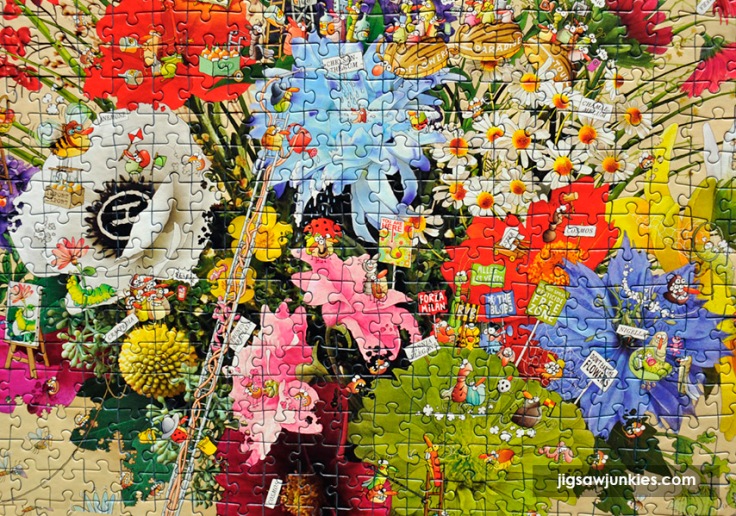 After doing the large, uniquely colored flowers, I did the bottom section. The dark tan "table" below the vase is an easily identified color/texture, so it wasn't difficult to pull those bottom/table pieces.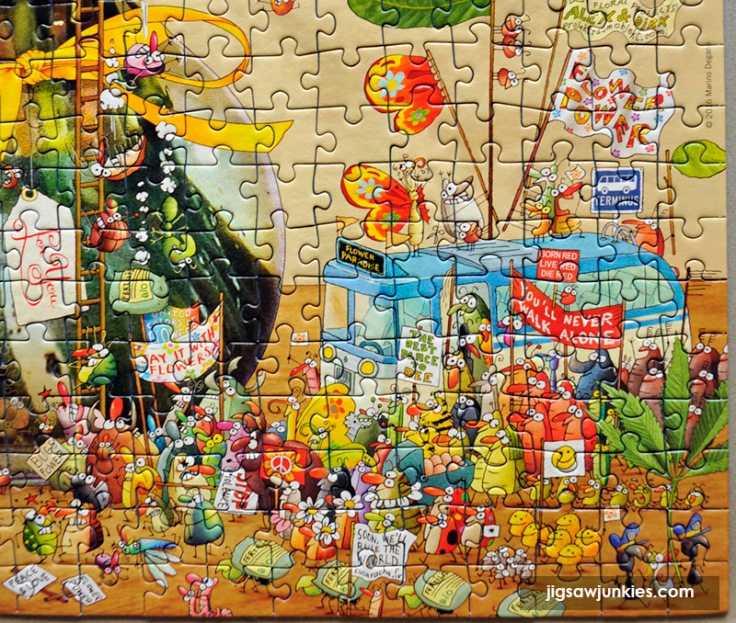 The blue van, dark green vase and colorful teapot are nice large elements to piece together. While working on this bottom section of the puzzle, there are lots of little characters and signs and jokes to find.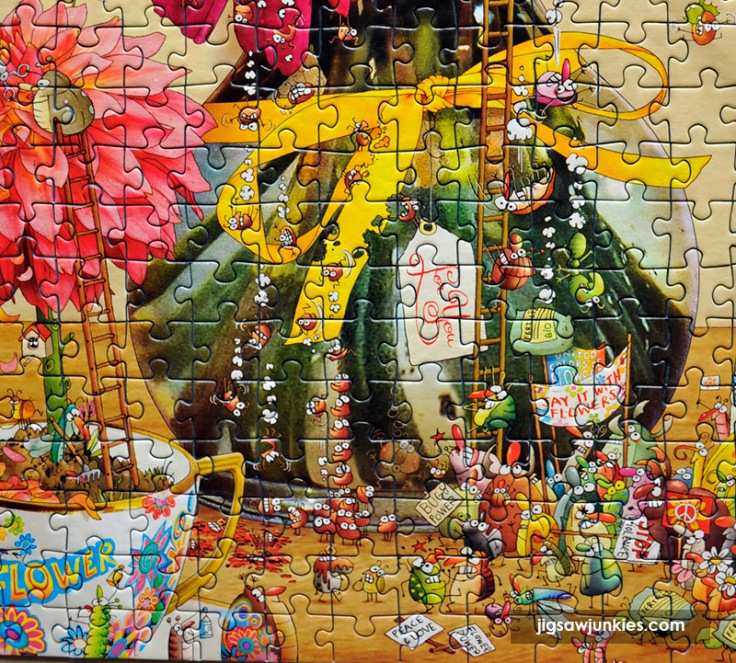 DAY THREE:
After completing the largest/brightest flowers, and the table area at the bottom of the puzzle, the next stage was to "fill in" and finish the entire bouquet. There's greenery between the flowers, a ladder, and lots of characters and signs around the flower arrangement. Basically this stage is "finish everything except the wall behind the flowers".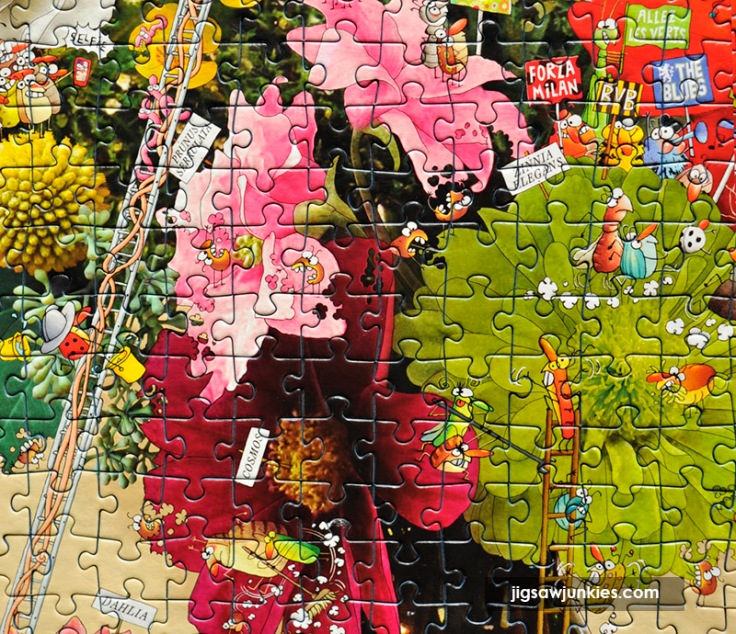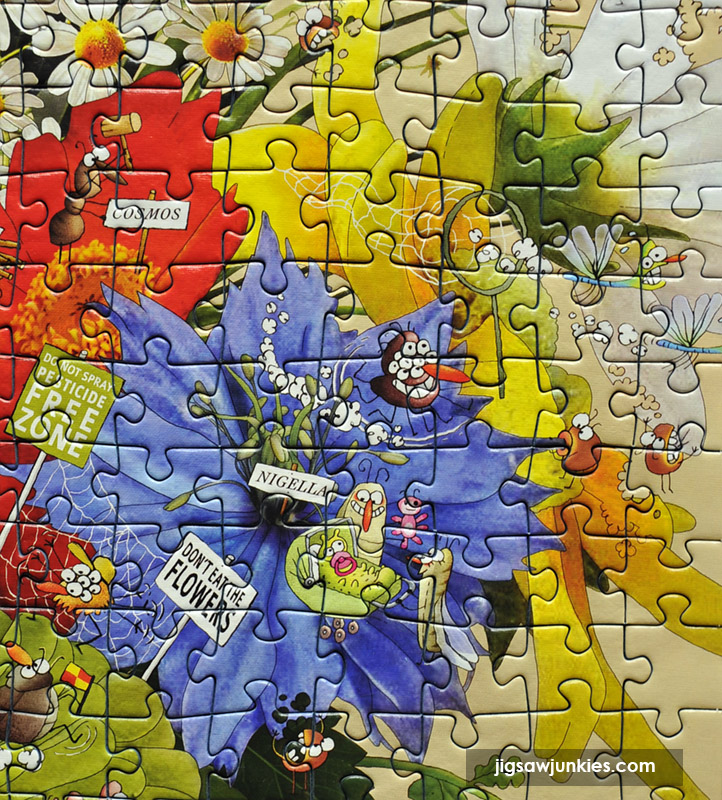 DAY FOUR
The last stage of the puzzle was to complete the cream-colored wall background that's behind the flowers. There's a lot of this cream area, and the color doesn't vary much, but there are lots of small details of smoke trails and flying insects. You can refer to the image poster to figure out what details go where.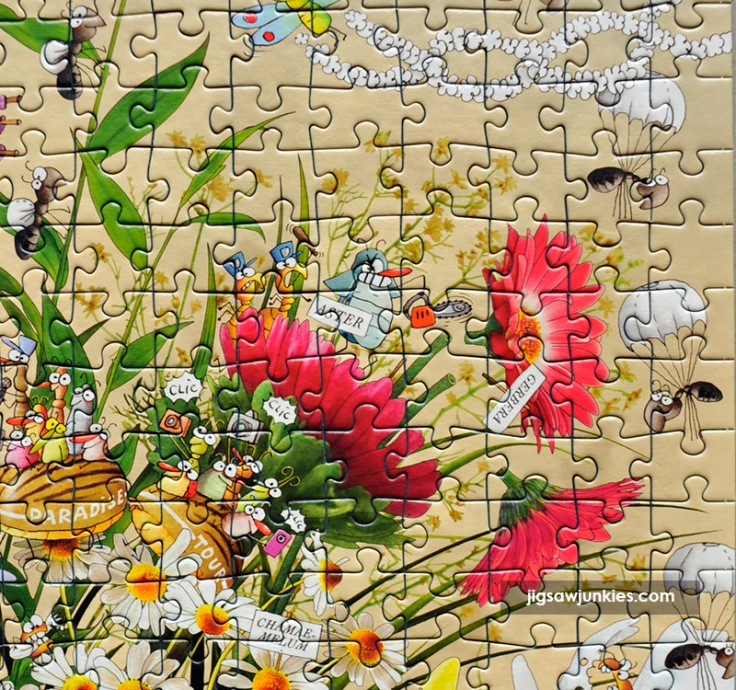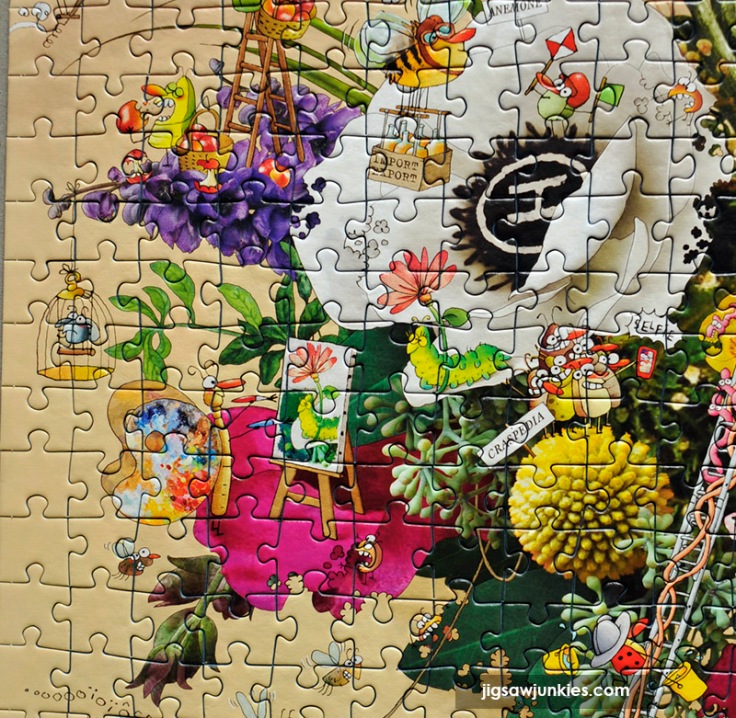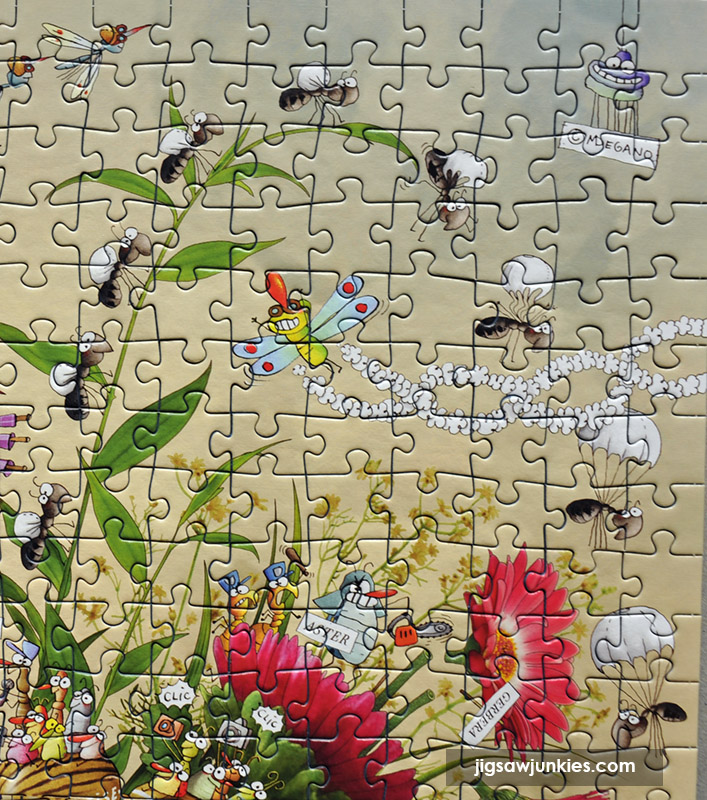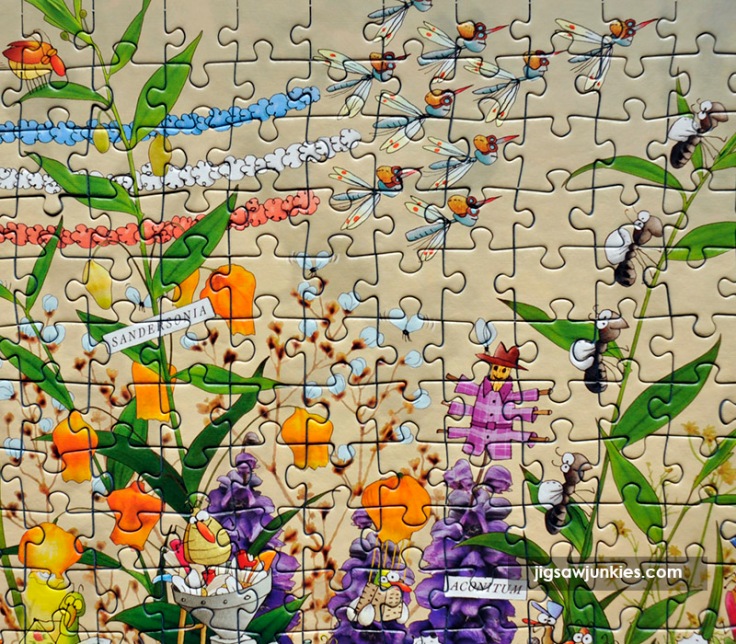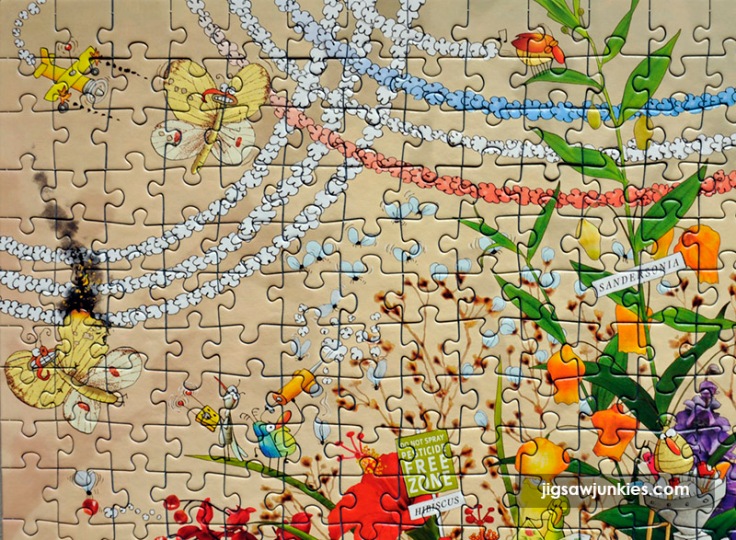 I've given this puzzle a perfect 10 score for assembly. It's a classic cartoon puzzle with the added aspect of the large, bright flowers. The flowers were easier to piece together than a typical comic puzzles like a JVH, where the background is very similar throughout. I liked this mix of large areas that were easier to do and small detail. To me, this made the puzzle more enjoyable.
Summary:
"Flower's Life" by Marino Degano is a moderately difficult cartoon puzzle from Heye. At first glance, you'll notice the brightly-colored cartoon flowers. But look closer and you'll see the bouquet is teeming with life–ants, fleas, caterpillars, butterflies, and other insects are engaged in humorous antics around the picture. It's fun to discover all the intricate details as you piece the puzzle together. It's a nice mix of easier and harder sections, with the large, uniquely-colored flowers being fairly easy to assemble, but all the small characters and background offering more challenge. There's a large poster included to help you see image clearly. The Heye quality is very good with sturdy pieces, a matte finish, a wide variety of grid-cut piece shapes, and a gorgeous triangular box with included poster and catalog. The fit is on the loose side, so you'll need to use care when moving around assembled pieces. Marino Degano is a classic Heye cartoon artist, and it's a thrill to get a new Degano puzzle. Highly recommended.

Where to find:
You can find this puzzle at Puzzle Warehouse. It's marked down 15% for the next 3 days, so grab it! Click on the logo below.

JJ