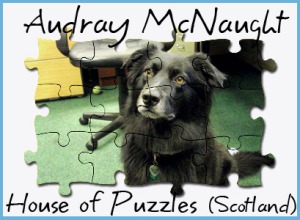 Puzzle Maker Interview: Audray McNaught, House of Puzzles
Interview with Audray McNaught, puzzle designer for House of Puzzles
Please welcome our guest, Audray from the Scottish puzzle maker House of Puzzles Ltd! I thought it would be interesting to learn more about how puzzles are made, and Audray has graciously agreed to be interviewed by Jigsaw Junkie.
JJ: Hello, Audray! First of all, can you introduce yourself?
AM: My name is Audray McNaught and I do all of the design work for The House of Puzzles Ltd.
JJ: I know House of Puzzles is in Scotland, but where exactly are the offices where you work?
AM: The House of Puzzles is located in Invergordon in the Highlands of Scotland.
Invergordon is not a large town, it is more of a large village but it does have a very deep harbour and in the summer months lots of cruise liners berth here and the passengers disembark to take tours to see Loch Ness…with or without the monster…and others places like John O'Groats or Culloden Battlefield. We are on the far north east coast of Scotland about 100 miles before you fall off the end of mainland UK!
There are oil rigs in the harbour and just outside. They come into Invergordon for maintenance. It is very common to see an oil rig towering behind the houses at the end of the village! We also have a local distillery producing Dalmore malt whisky!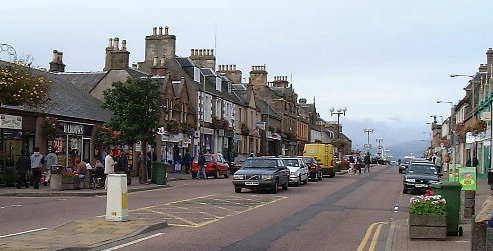 JJ: I found the above pic of Invergordon on Google. It helps set the mood a bit!
JJ: Where are your puzzles made?
AM: Our puzzles are all made in-house, in our factory here in Invergordon. Everything is done in our factory, apart from the printing. We make the puzzles boxes as well as manufacturing the puzzles.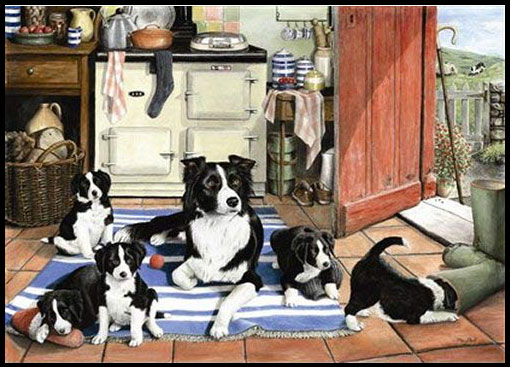 Above: "Working Mum", artist Tracy Hall, puzzle designer Audray McNaught, 1000 pieces
JJ: What exactly do you do as a puzzle designer?
AM: As designer for the House of Puzzles, I do all the design work required. I design all of the smaller brochures that go into the puzzle boxes with the puzzles…for instance, every 1000 piece puzzle produced this year will have a brochure for the 1000 Dellavaird Collection, our latest 1000 piece collection, inside each box, all the BIG 500's will have the BIG 500 brochure, Big 250's will have the BIG 250 brochure, etc, etc.
I also design the big catalogue with all of our puzzles. It has approx 90 pages and it comes out every year around mid July. And I design all of the knives that are used for cutting our puzzles, including our "special" shaped pieces…16 different Christmas shapes for the Christmas Collectors Edition jigsaws…shapes such as Santas, Christmas trees, angels, bells, stars, doves and lots more which then appear multiple times throughout the Christmas puzzles.
But my main job is coming up with all of the new ideas for the jigsaw puzzles. Once I have thought of an idea, I will then decide which artist I want to do the painting…different artists have different things that they like to work on. Then I decide exactly what I want in the painting, the finer details. Then I write a brief for each painting and email it to the artist. After some discussion…phone or email…the artist will draw me a detailed sketch. It is at this point that we can make any final changes. I might ask them to move something around, or take something out, or put something in! Once we are both pleased then the artist starts painting.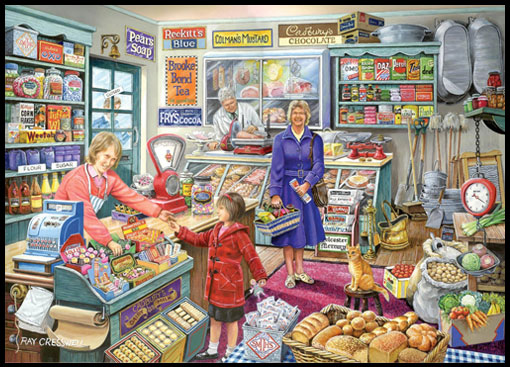 Above: "Pennies to Spend", artist Ray Cresswell, puzzle designer Audray McNaught, 1000 pieces
JJ: How many new puzzles does House of Puzzles make in a year and when do you release them?
AM: Numbers of new jigsaws can vary each year but for the past few years we have produced around 32 new titles each year. We launch a range of 8 jigsaws in either 500 piece, or BIG 250 piece or BIG 500 pieces in February each year. This range is launched at the Spring Fair at the NEC in Birmingham, which is a main trade show in the UK. We also launch a new Find the Differences 1000 piece puzzle at this show.
But our main launch is at the Harrogate Home & Gift Fair in mid July. This is so our newest puzzles are fresh for the Autumn Winter season. In July we launch a range of 12 x 1000 piece puzzles, plus another range of 8 jigsaws, again in either 500 piece, or BIG 250 piece or BIG 500 pieces but a different size from the Spring launch, also another Find the Differences 1000 puzzle and our Christmas Collectors Edition jigsaw in both 1000 and 500 piece sizes. So 32 in total!
Because all the pictures are commissioned, we are slightly restricted in the amount we can launch in a year. It takes the artists a wee while to finish a painting!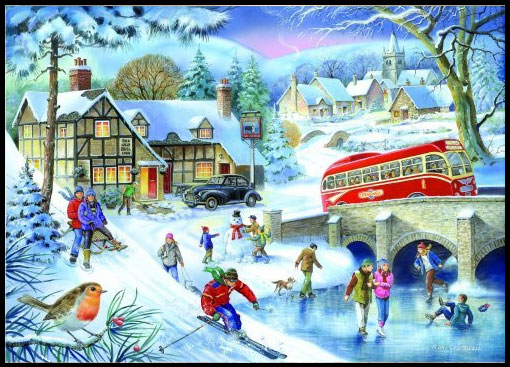 Above: "Winter Games in the Snow", artist Ray Cresswell, puzzle designer Audray McNaught, 1000 pieces
JJ: What kind of images does House of Puzzles specialize in?
We do specialise in fairly traditional images, generally with a British slant. We don't "do" lions/tigers/Bavarian castles/jungle scenes/etc. We do focus on traditional with sometimes a touch of nostalgia but always with lots of detail.
You won't find huge areas of sea or sky in our pictures and the sea or sky that is there, will have different colours/textures worked into it, so that the puzzlers will not find it boring. Our unique shapes also have a part to play here. If you do have an area of similar colouring then our unusual shapes will help you through it.
We also do the 1000 piece Find the Differences puzzles which are extremely popular. The picture on the box lid and the picture on the puzzle have 15 differences between them. The difference might be something simple like a different colour…red door in one picture and blue door in the other, or it might be a bit more challenging…chimney stack might be slightly different heights.
Also our Christmas Collectors Editions have a little twist as well.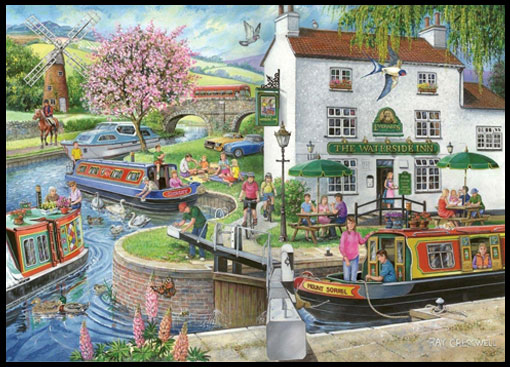 Above: "Find The Difference No 6 – By The Canal", artist Ray Cresswell, puzzle designer Audray McNaught, 1000 pieces
JJ: Can you tell us about some of the details in your puzzles that people might not notice?
AM: In each of the Christmas pictures there is the date of the year in which they were launched…2014/2013/2012, back to 2006…"hidden" somewhere in the picture. Spoiler alert: 2014 is in Christmas Treats at the bottom left hand side of the picture, worked into the railway track.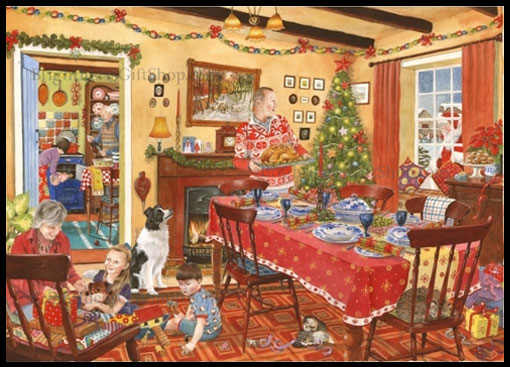 Above: 2013 limited edition Christmas puzzle "Unexpected Guest" artist Tracy Hall, puzzle designer Audray McNaught, 1000 or 500 pieces
JJ: Who are the artists that you work with and how did you find them?
We have a small "family" of artists that we use a lot. Most of them now only paint for us and they won't paint for other puzzle companies.
I "found" Tracy Hall while I was looking for something else on the internet. I saw her fantastic flower paintings and contacted her to see if she would be interested I doing puzzle pictures for us. She had never considered that kind of work but she was willing to give it a go, so I gave her a brief for a picture and Working Mum was the result. Tracy does a lot of our pictures now.
Sometimes artists or their agents approach us, either by email or at trade shows. I am always willing to look at samples of work by new artists but painting for jigsaw puzzles is very different from other paintings. There has to be a high degree of detail and interesting background as well as interesting subjects. And the paintings have to be large enough in the original that they can then "go up" to the size needed for a jigsaw puzzle…27" x19" for a 1000 piece and they need to paint it at least 28" x 20" to allow for trimming
I rarely buy a picture now "off the shelf", as I prefer to commission a picture but occasionally I'll find an artist/picture that I like and if size etc is suitable then I will go for it. I bought our first Susan Ridyard picture, Winter Fun, after seeing it as a Christmas card in a small brochure for a charity…luckily the original was large enough for a Big 250 piece. We now have several of Susan's pictures and she has just done another two for a new range.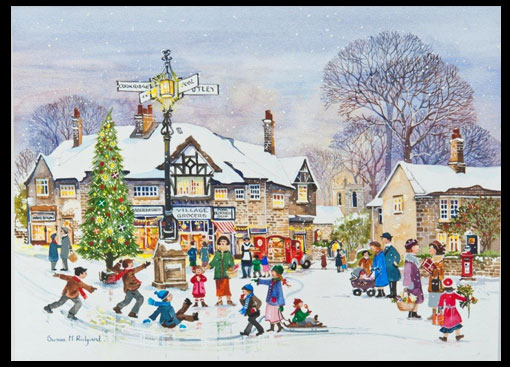 Above: "Winter Fun" artist Susan Ridyard, big 250 pieces
JJ: Do you take artwork submissions from outside?
AM: If artists would like to email me samples of their work…bearing in mind what I have said about detail etc…then they can email them to me directly audray@houseofpuzzles.co.uk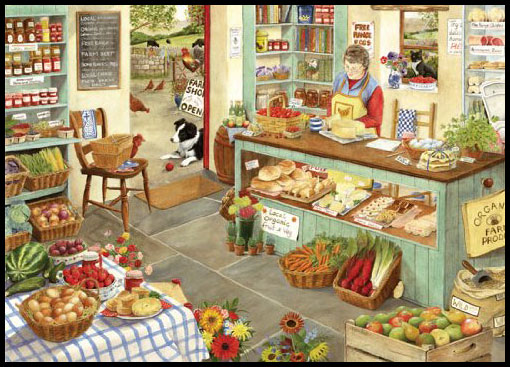 Above: "Farm Shop" artist Tracy Hall, puzzle designer Audray McNaught, 1000 pieces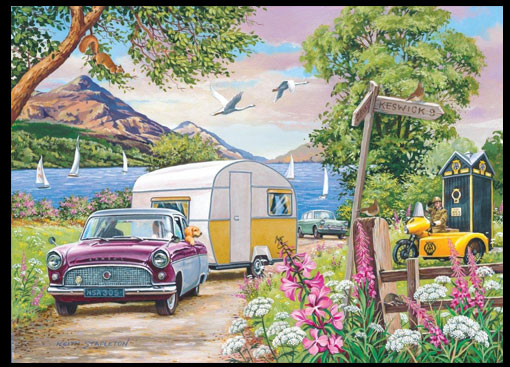 Above: "Summer Holiday" artist Keith Stapleton, puzzle designer Audray McNaught, big 500 pieces
JJ: Of all the puzzles you've designed, what are a few of your favorites?
AM: Lots of them..but possibly Tranquillity, which is no longer available. It was the first jigsaw I did for The House of Puzzles Ltd. It was a photograph, not a painting, of Glen Etive in the Highlands. It was by Gordon Henderson and was just as the title said…very tranquil and peaceful and just the place to visualise after a busy day. I also have a soft spot for Working Mum and recently Nothing to Wear.
But maybe it should be Summer Holiday. The car and caravan in the picture are copies of our family car and caravan that we had in the early 1960's when we all went on holidays as a family. I commissioned the painting just before Mum and Dad both died in 2013…but they did see it.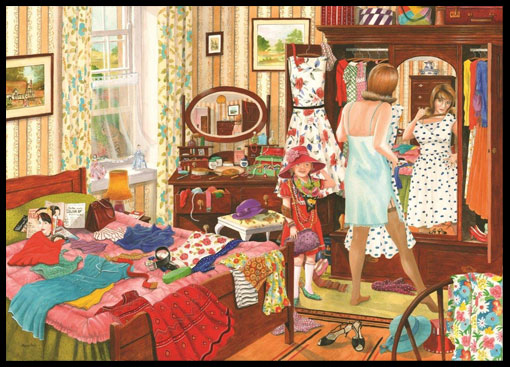 Above: "Nothing to Wear" artist Tracy Hall, puzzle designer Audray McNaught, 1000 pieces
JJ: What is the future for House of Puzzles? Do you have anything new in the works?
AM: Hopefully, more of the same….and maybe growing in the US. At the moment we are very busy, and people seem to like our jigsaws. I will always be looking for different ideas/different sizes/different styles but what we are doing at the moment is proving successful. So maybe I should just carry on doing what we are doing now!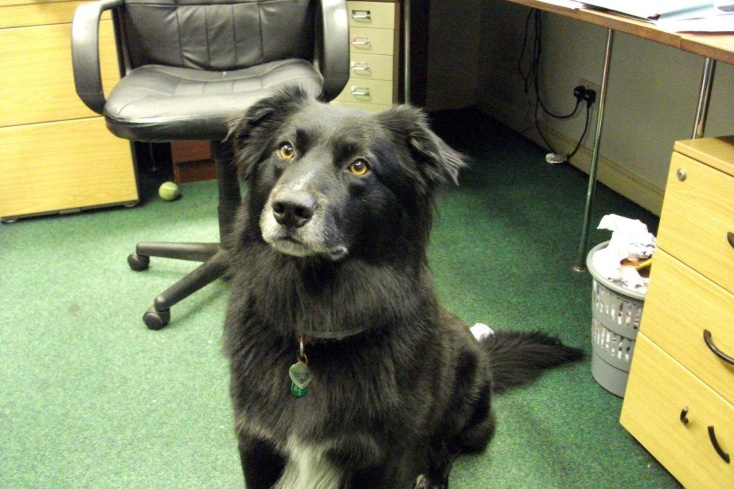 Above: Audray's dog "Milo" at her office in Invergordon. Milo will be starring in a new puzzle in 2016.
Thanks, Audray for graciously giving us some of your time and insight. I love your puzzles and wish you endless success!
JJ