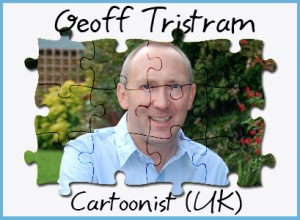 Puzzle Maker Interviews: Geoff Tristram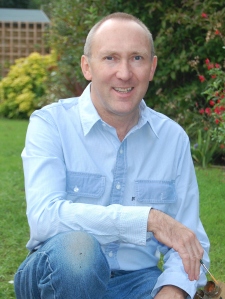 I'm thrilled to have Geoff Tristram on Jigsaw Junkie today! Geoff is an artist and cartoonist who does a few of my favorite puzzle series. He's the artist behind Ravensburger's "Best of British" series, their "What If?" series, and "Cat-ology", published by Masterpieces. I'll be sharing images of his work throughout this interview.
JJ: Please introduce yourself and tell us where you are from and where you live now.
GT: My name is Geoff Tristram. I'm a professional artist and cartoonist, and I just completed my 40th year! I live in Wollaston, Stourbridge, England.
JJ: How did you get into drawing cartoon art?
GT: I've always loved cartoons, but also I am a 'serious' painter. by that, i mean that the paintings are serious. I'm not!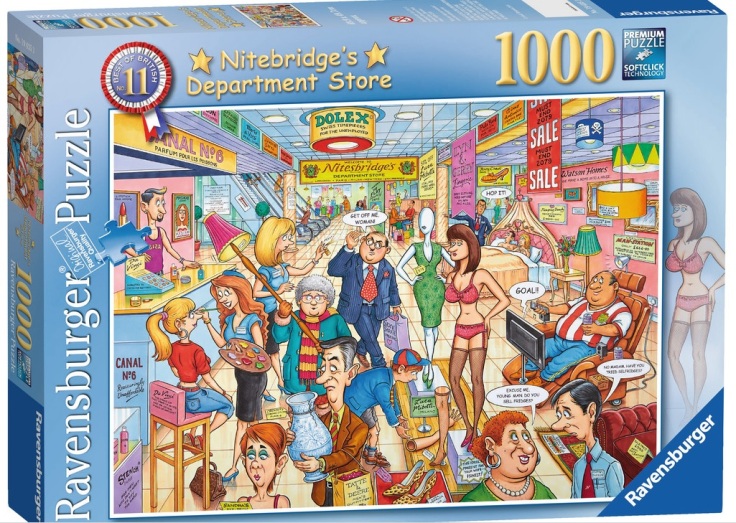 Above: Geoff's "Best of British" #11 was released fall of 2014.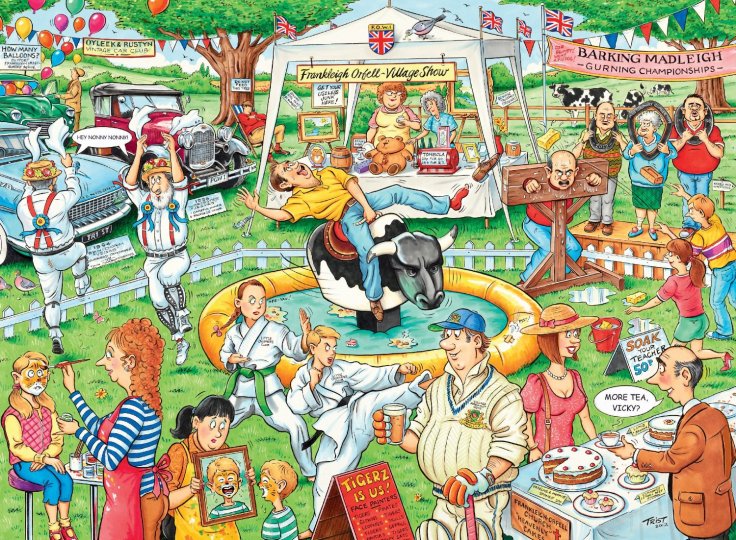 Above: From "Best of British" #9, "Country Show". Barking Madleigh. lol.
JJ: What's your educational background?
GT: I went to grammar school, followed by Wolverhapmpton College of Art, where I achieved a BA(Hons) in illustration and graphic design.
JJ: How did you get into doing art for puzzles?
GT: My first puzzles were called Cat Conundrum, and were done for Past Times. then I moved on to Ravensburger. My American Licensing agent also sells my serious cat art to many puzzle companies, such as Bits and Pieces. Ravensburger are the only firm I produce bespoke paintings for though. [NOTE for non-UKers: 'bespoke' means commissioned, custom made.]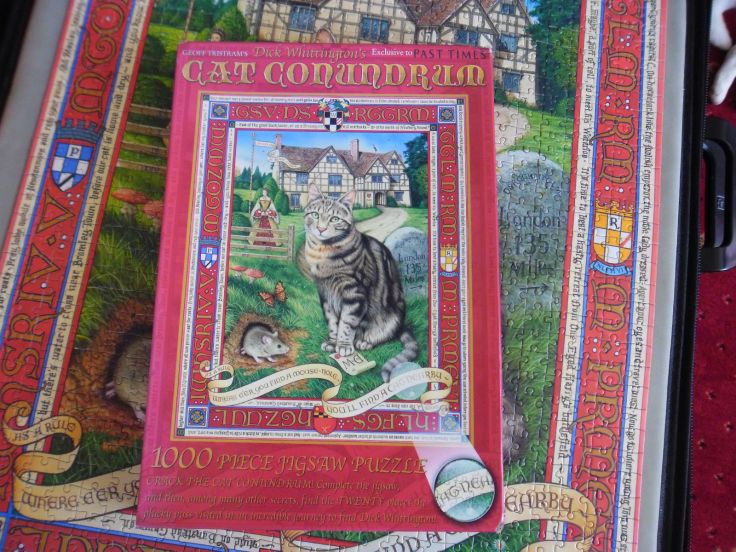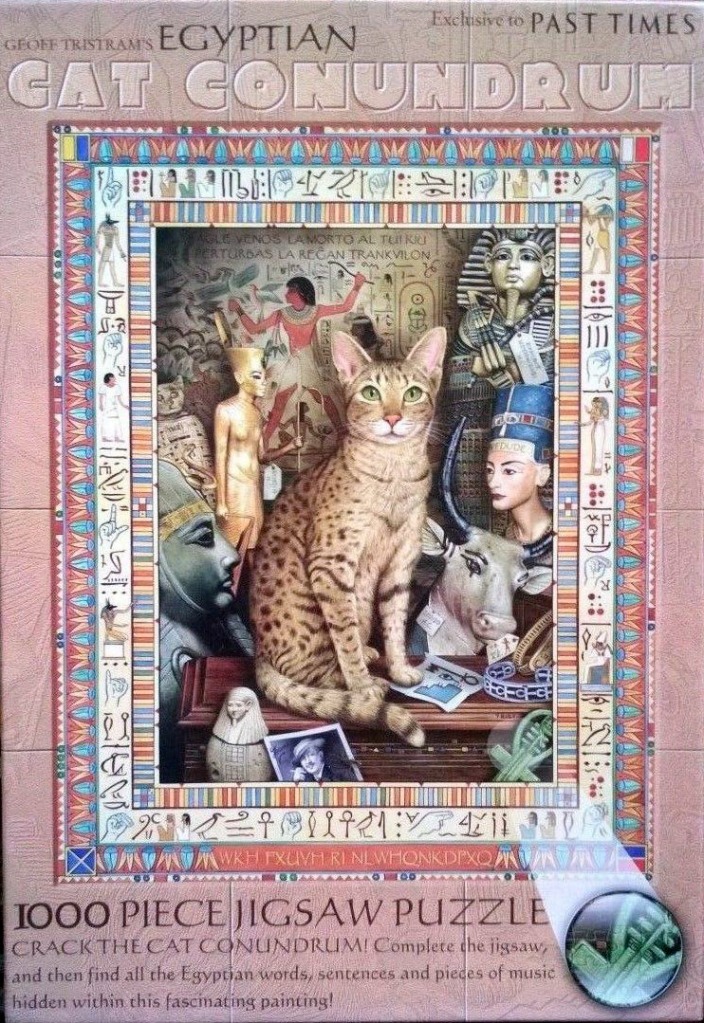 Above: Geoff's first two puzzles were "Cat Conundrum" puzzles published by Past Times.
JJ: How did you come to work with Ravensburger and how long have you worked with them?
GT: I introduced myself to them and they made two cat conundrums, but they preferred my cartoon ideas I think!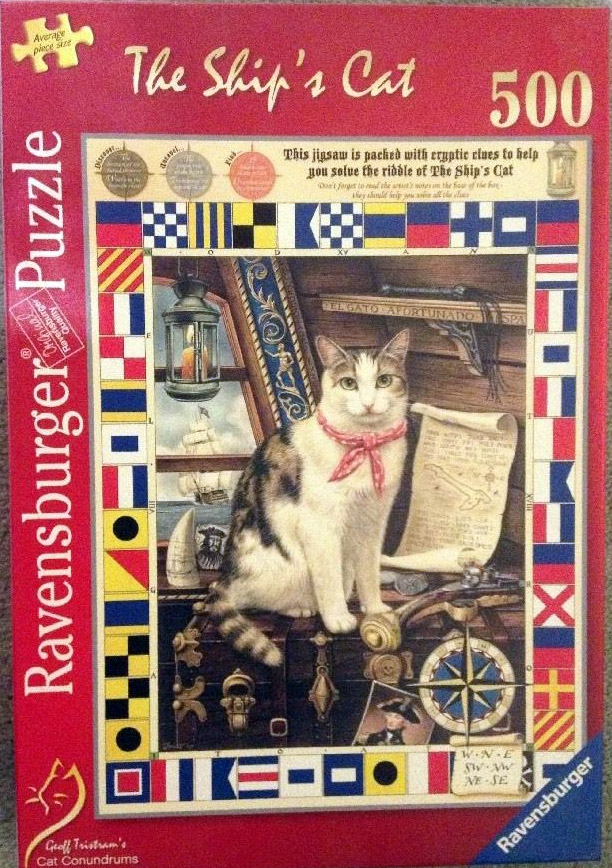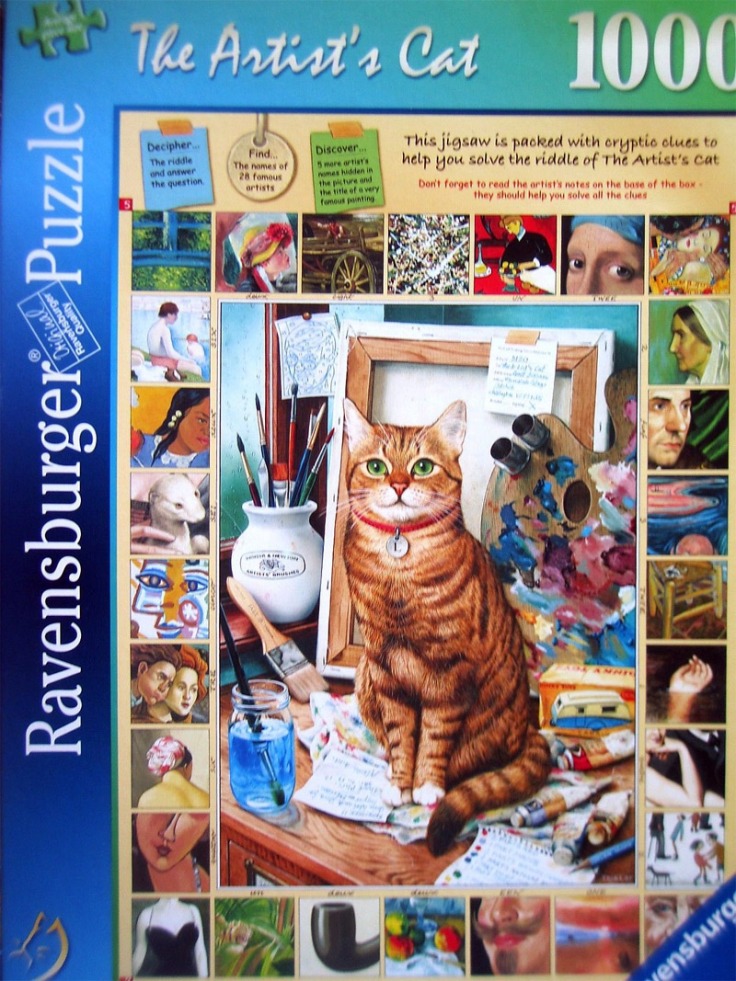 Above: Geoff's first puzzles with Ravensburger, "The Ship's Cat" and "The Artist's Cat", were part of Geoff's "Cat Conundrum" series of illustrations with built in riddles. "Artist's Cat" has since been republished by Cobble Hill.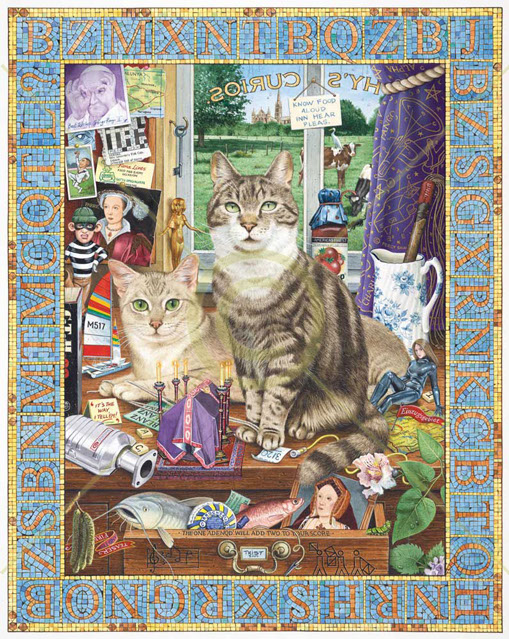 Above: Bits and Pieces published another the "Cat Conundrum" series. This one is called "The Old Curiosity Shop".
JJ: Do you work on puzzle art full time? From home or in an office?
GT: I work in my home studio in the garden, and I do all manner of artwork, not just puzzles. I've done postage stamps, album sleeves, adverts, packaging, book covers, murals for restaurants, cartoons, caricatures, you name it!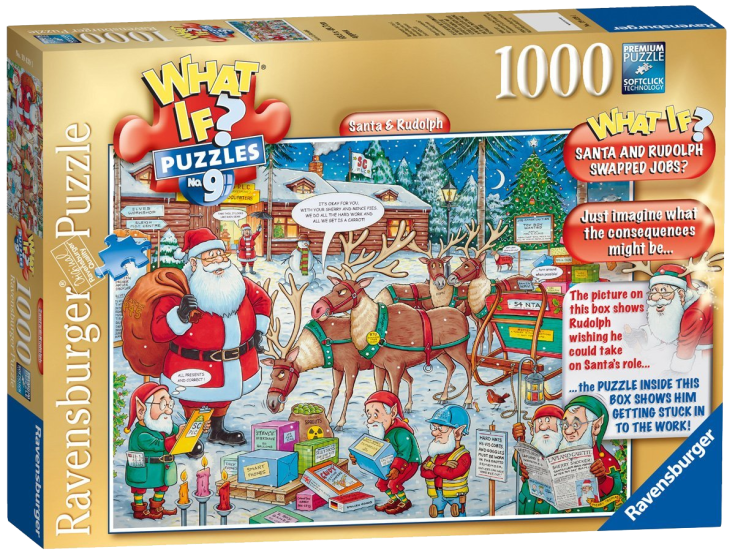 Above: Geoff's "What If: Santa and Rudolph" published fall of 2014.
JJ: Are you exclusive to Ravensburger?
GT: Only for bespoke puzzles. I love Ravensburger, and they're good to me too!
JJ: Currently, you're producing a number of puzzles a year in two Ravensburger series "Best of British" and "What If?" Are there any other images you do besides these?
GT: Not many, but I'm just working on a couple of new things for them which I can't reveal just yet or they'll kill me!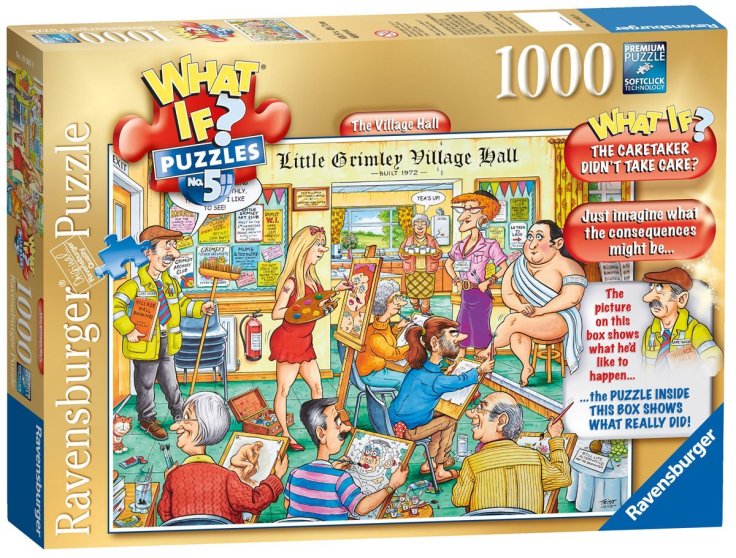 JJ: Can you tell us about the idea behind the "Best of British" and "What If?" Series?
GT: Yes, "Best of British" is just typically British scenes, such as the supermarket, the high street, whatever. "What If?" was created by me and then Ravensburger took that initial concept and spent a lot of time and money perfecting it and getting the idea and the packaging just right. The What If statement on the box lid changes the scene inside from that of the cover. Fiendishly clever!!
JJ: Tell us how "Cat-Ology" from Masterpieces came about. Can we expect more of those?
GT: Not sure. Lance in the USA deals with all that and I don't get too involved. I did around 25 cat paintings quite a while back, which were used in England first on plates etc, and then Lance landed the jigsaw contracts afterwards. You might notice that the pictures were designed to work as circles, but I added the corners anyway so as not to restrict future uses!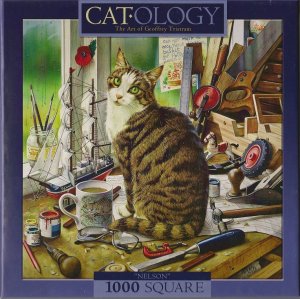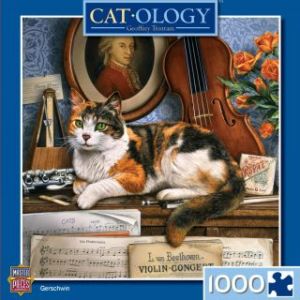 Above: Two of the "Cat-Ology" puzzles published by Masterpieces, art by Geoff Tristram. You can see more here and here.
JJ: Do you come up with ideas for new puzzle images or do you work with a creative director who does that?
GT: I liaise with the 'new products' manager and we come up with an idea between us. There's often a lot of laughter involved. Then I go away and create the puzzle and the jokes. Sometimes, she'll suggest a scenario which I can use, or tweak something I've done.
JJ: How do you research your images, for example when a cartoon is set in a historical setting or town?
GT: It's easier now we have the internet. I create a large empty outdoor scene or room on tracing paper, and then draw the people and scenarios individually, just roughly. I cut them out and stick them on the street scene with selotape to see where they fit, and when I'm happy I redraw it all neatly on tracing paper, trace it down onto watercolour board, ink it in, and then colour it with Pantone Tria pens. It takes 2 weeks from start to finish and it's exhausting.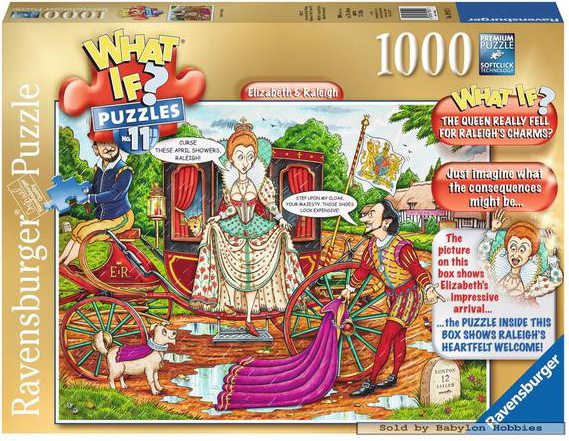 Above: Geoff's new Jan 2015 release "What If #11: Elizabeth & Raleigh" certainly required a bit of historical research.
JJ: Are the characters based on people you know? Stock art? Other?
GT: They come from my warped head.
JJ: Do you find it hard sometimes to come up with those 'funny bits' or does that come easily to you? Where do you find inspiration?
GT: I always think it'll never happen, but somehow it always does. Out of desperation cometh inspiration, is my motto! My other one is 'Impatience is also a Virtue!'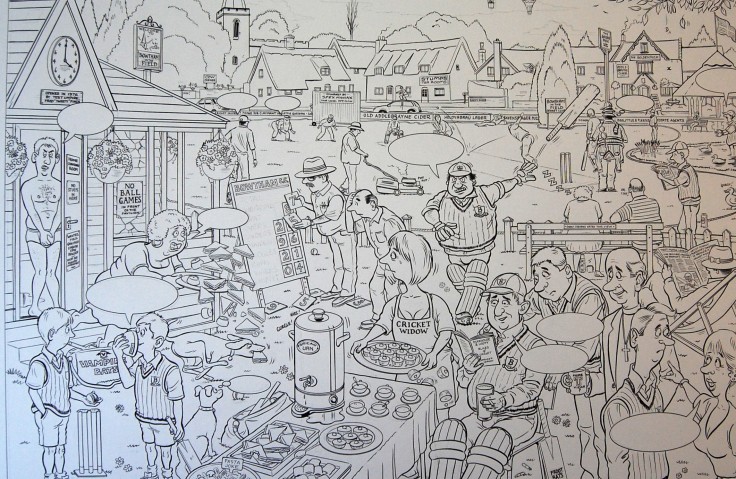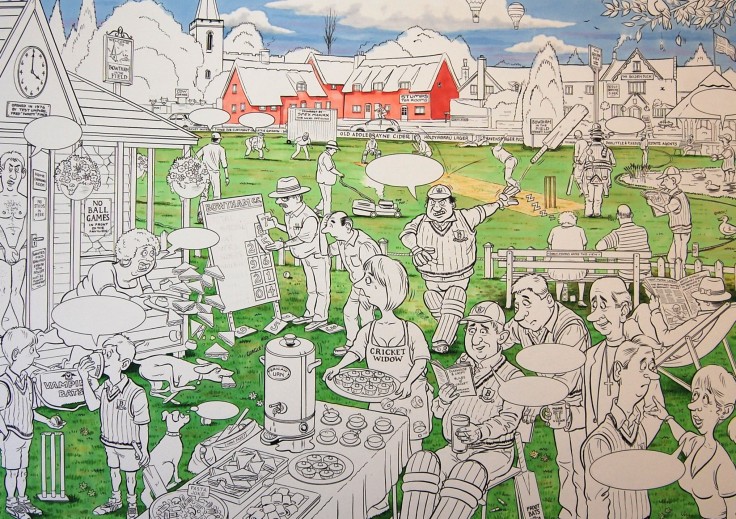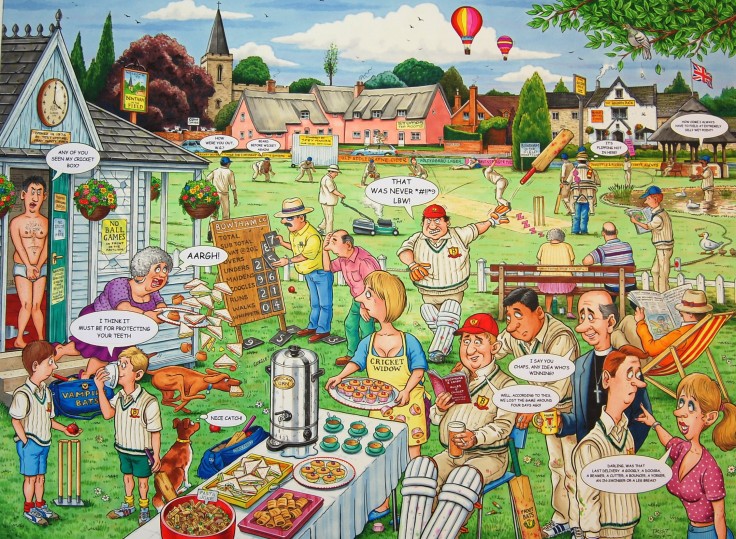 Above: Work in progress for "Best of British #13: The Cricket Match", new Jan 2015 from Ravensburger.
JJ: Do you assemble jigsaw puzzles yourself? If so, what kind do you like to do?
GT: I never do. I'd rather create them to be honest. Not my kind of hobby. I'll be shot for that probably.
JJ: That's okay, Geoff, as long as you keep making them!
JJ: Tell us about other puzzles you've done in the past.
GT: My fave is the car boot sale (or trunk sale in American) Best of British. Apart from the cartoons, the cat conundrums are the cleverest. My fave joke is the chap selling seagulls on the beach for a pound each. A kid gives him a pound, and the man points high in the sky and says, 'That one's yours'.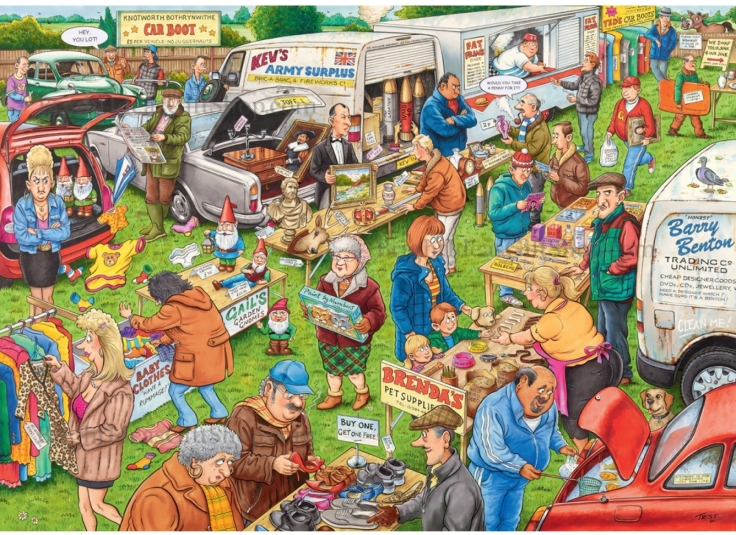 Above: Ravensburger "Best of British #5: Car Boot Sale"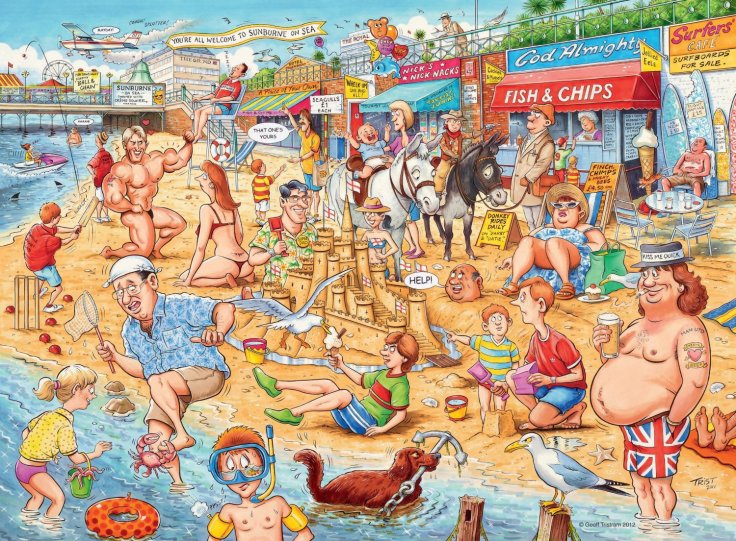 Above: Ravensburger "Best of British #6: British Holiday" (2×500 piece puzzles)
JJ: What can we look forward to in the future from Geoff Tristram? Any plans in the works for new series/puzzles?
GT: We're always discussing new ideas and more cartoon themes for "What If?" and "Best of British", but I can't tell you much about new stuff until after it's launched!
Thank you for the lovely interview, Geoff! We look forward to many, many more Geoff Tristram puzzles in future!
JJ