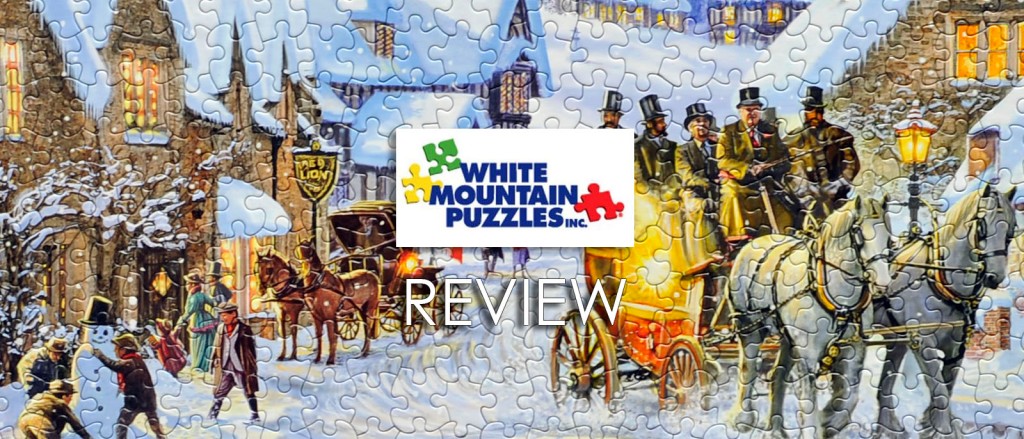 Review & Giveaway: "Winter Village" by Steve Crisp, White Mountain – 9.5/10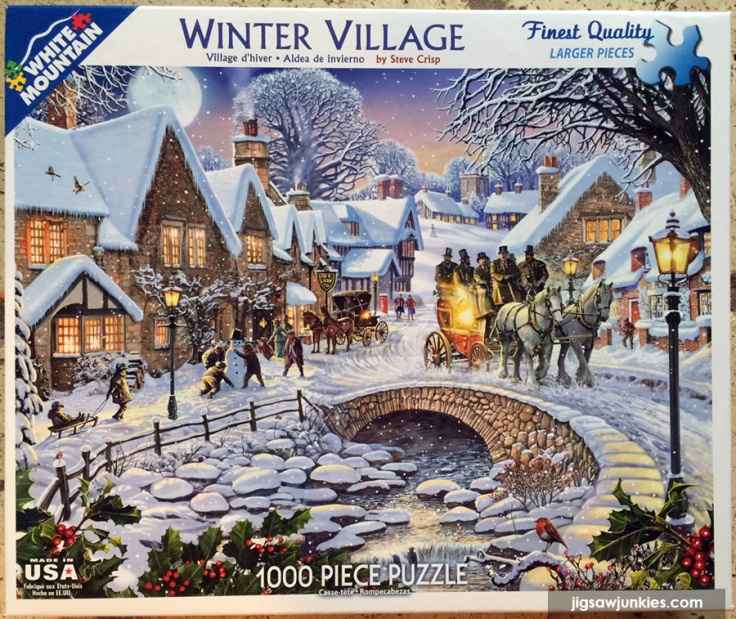 Publisher: White Mountain (US), published 2016
Title: "Winter Village" by Steve Crisp, White Mountain, 1000 pieces
Finished size: 24″ x 30″
OUR RATING: 9.5/10

STEVE CRISP WEEK & GIVEAWAY:
This week we're featuring puzzle artist Steve Crisp! I'm very excited about it. I'll be reviewing two Steve Crisp puzzles this week, and on the weekend we have an interview with the man himself. How awesome is that? Click here to see my past coverage of Steve Crisp puzzles.
In addition, we'll be giving away a copy of the Steve Crisp puzzle "Market Day" from White Mountain this week, courtesy of Puzzle Warehouse. To enter to win, comment on one, two, or all three Steve Crisp blog posts this week. Your name will be entered in a hat for each blog post you comment on. I'll draw a name next Monday. You must be able to ship to a US mailing address to qualify. Also check back Monday for the winner, or email me, because I can't reach you unless you send me your email address. You can email me at jigsawjunkieblog@gmail.com.
Note 8/8/2016: The winner was RandyR and he claimed his puzzle. Thanks for participating!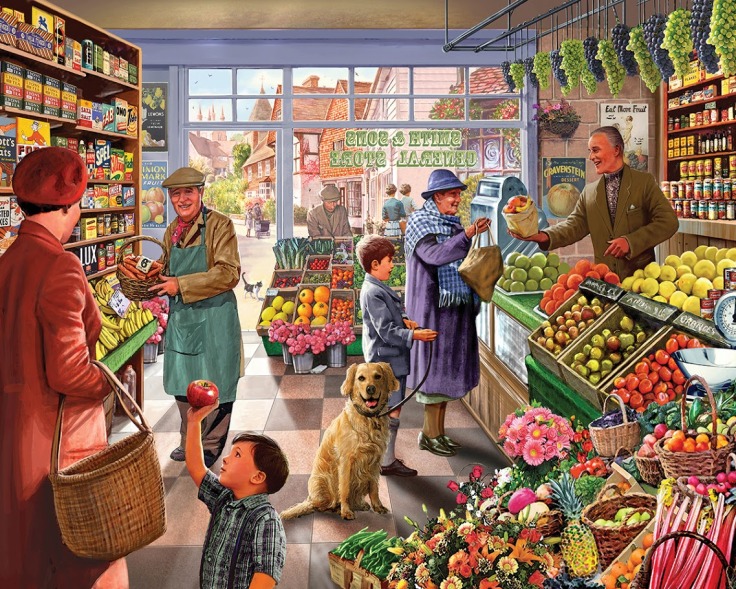 Box Quality: (9/10)
The box front is shown above. The first thing that impressed me about this box is that it has the image title and artist on the front. I'm always happy to see puzzle companies feature artists since I generally collect artists I like. The box front is simple but nicely done with the image size as large as possible. The box size is roughly 10″x12″.
Back:
The back of the box is sturdy and acts as a mini catalog of other puzzles in the White Mountain line. There's nothing about the artist or puzzle image here, but it's nice to see other puzzles in the range, especially years later when some of these puzzles will be out of print.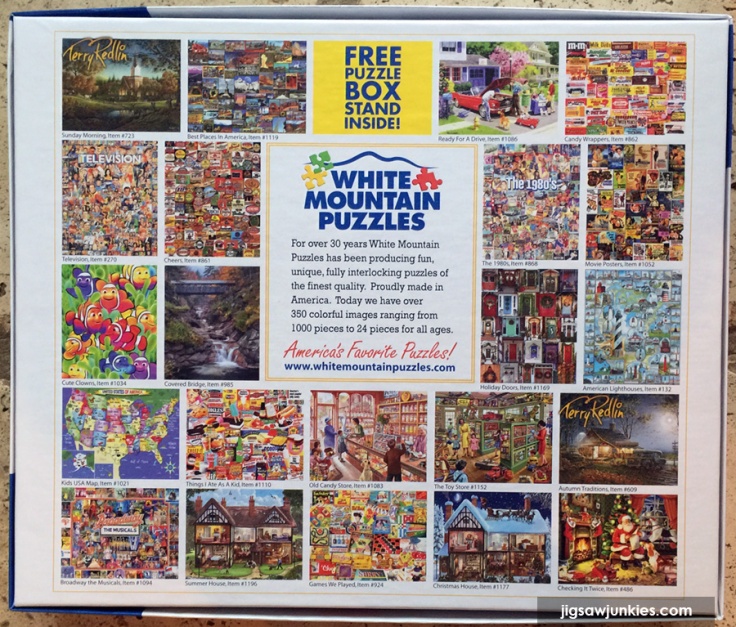 Sides:
All 4 sides feature the company logo, an image of the puzzle, the piece count, puzzle name and artist, which makes the box quite nice for shelving vertically. The year of manufacture is also on one side.




Inside:
This puzzle comes with a few things in the box. There's a sheet about White Mountain and also a box stand with pictures of other White Mountain puzzles. The pieces are in a plastic bag and are well separated.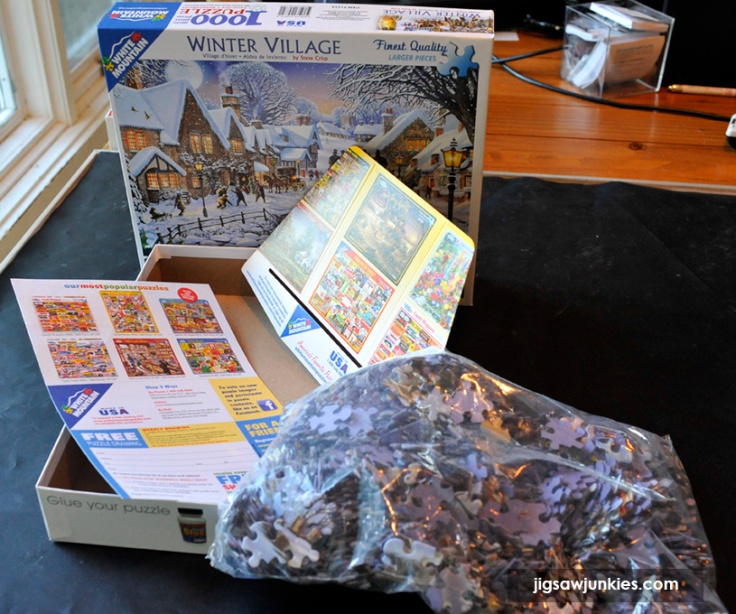 The box stand: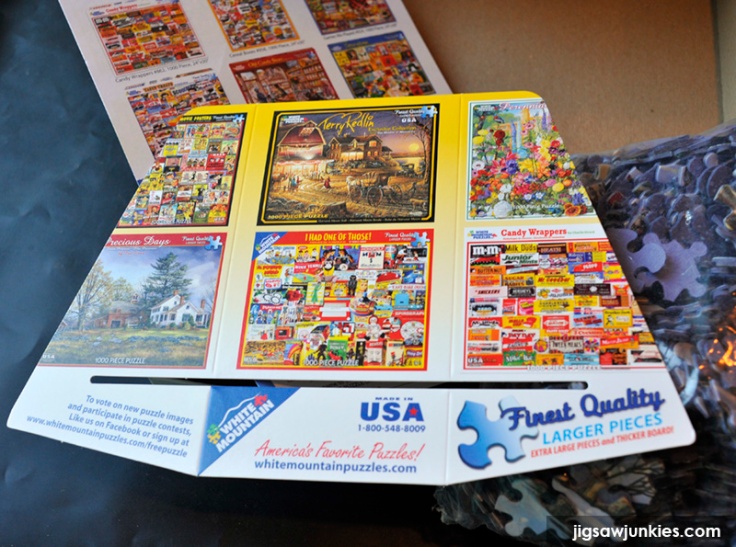 The sheet in the box is nicely customer oriented. You can get a coupon for free shipping, a catalog, and enter a drawing for a free puzzle.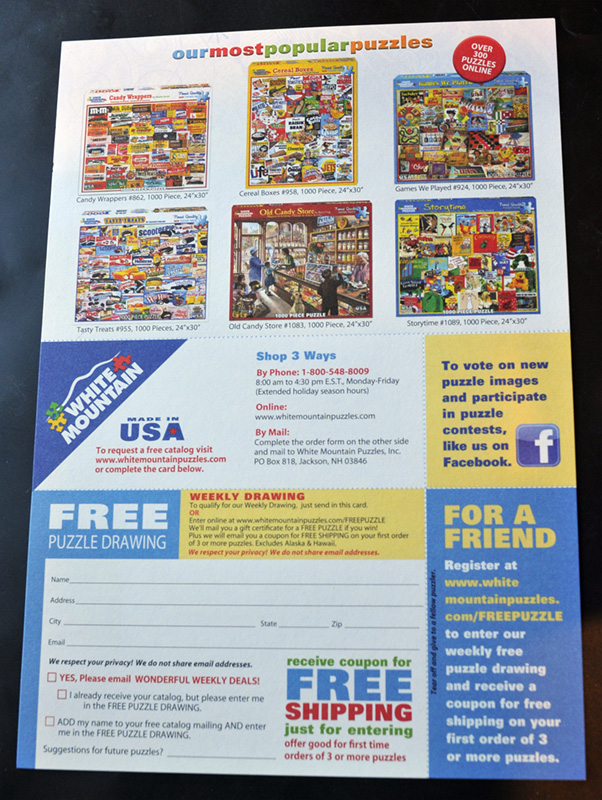 Overall, I've given the box a score of '9' due to the extras and the visibility of the author's name on the box.
The Image: 10/10
I love British nostalgia puzzles, and Steve Crisp is one of my favorite artists in that genre. I like the high level of detail in his images and the very polished art style. Some nostalgia/Americana artists are very rustic and simplistic, but Steve Crisp is the opposite of that. His illustrations are so detailed as to feel almost photographic, but they have a pleasing, airbushed illustrated feel.
I've really like all his images. In our Steve Crisp interview this weekend, I'll be showing a lot of his puzzles. For now, you can see the Puzzle Warehouse Steve Crisp page.
When I saw "Winter Village", just released from White Mountain a few weeks ago, it moved to the top of my Steve Crisp list. I just love this one. Maybe it's the heat here in Pennsylvania, but the wintery scene is so appealing! I love the carriage, the stone bridge and buildings, the holly and bird in the foreground. I like that it's a night time scene and yet manages to be pretty bright instead of dark. For a snowy night time scene it has very pretty colors with a purple sky and the various lanterns and lit windows. There's quite a bit of detail yet it retains a 'peaceful' feeling rather than getting crowded and busy. It's just a beautiful image.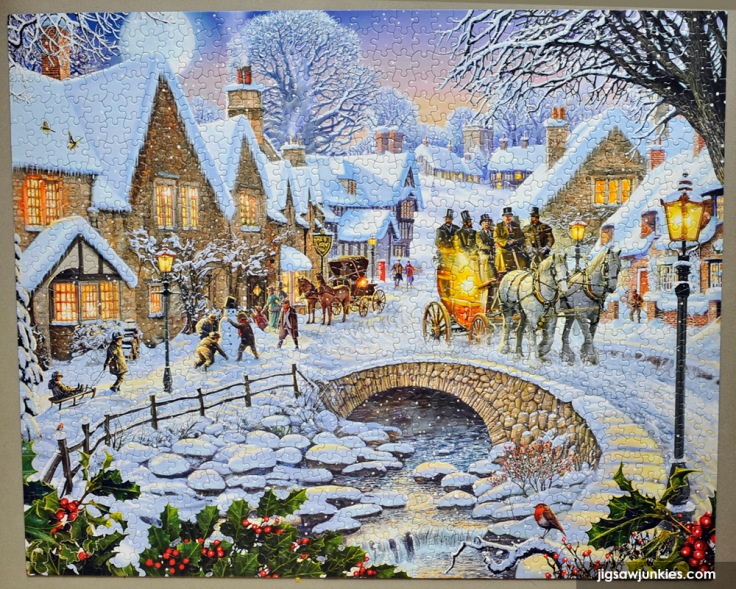 (Click on any of the images in this review for a closer look.)
Puzzle Quality: (9/10)
I will always remember "Winter Village" as the puzzle that made me love White Mountain.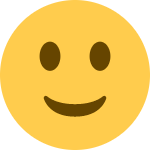 White Mountain is quite a large US puzzle maker, but as it happens I've only done a couple of their puzzles in the past, a Terry Redlin and a collage puzzle. I wasn't super impressed with their quality at that time. I had been doing a lot of German and UK puzzles, and by direct comparison the White Mountain pieces felt thin. There was also a lot of puzzle dust and a bit of image lift (where the puzzle top/image starts to come off the backing). However, I was very interested in trying "Winter Village" and reassessing my thoughts on White Mountain since it had been a few years.
Long story short, I really loved "Winter Village", which is a brand new 2016 White Mountain puzzle. What did I like about it? I liked the larger piece sizes and the random cut a lot. I also like how smooth and flat the pieces lie once connected.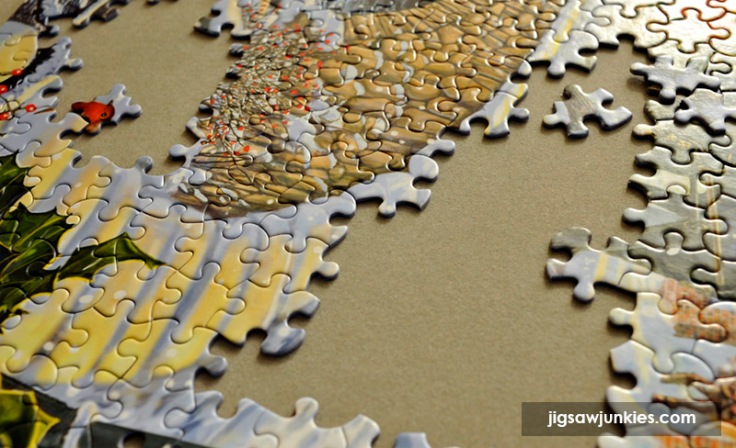 The thickness of the pieces, while still thinner than Ravensburger, didn't particularly bother me this time around or feel 'too thin'. The edges are very clean and straight and there was no warping or bending like you see in bargain brands. See the close up below.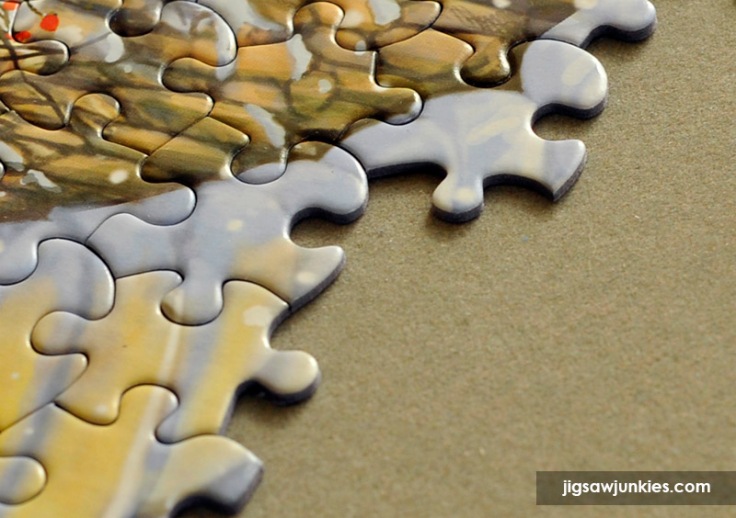 I updated the White Mountain brand comparison page this past weekend using this puzzle, and I was surprised to find that, with the new form criteria, and this 2016 puzzle, they moved up in our ranking by a lot (from 48 to 69!). Part of that result is their excellent catalog too.
I did still see a bit of image lift on this "Winter Village" puzzle, as you can see in the close-up below. It was on perhaps 2 pieces out of the 1000. It didn't bother me so much that it negated all the other things I liked about this puzzle. A spot of glue will fix it if you are so inclined. I didn't try breaking up the puzzle once I was done to see if it caused more image lift, because I plan to keep this puzzle assembled.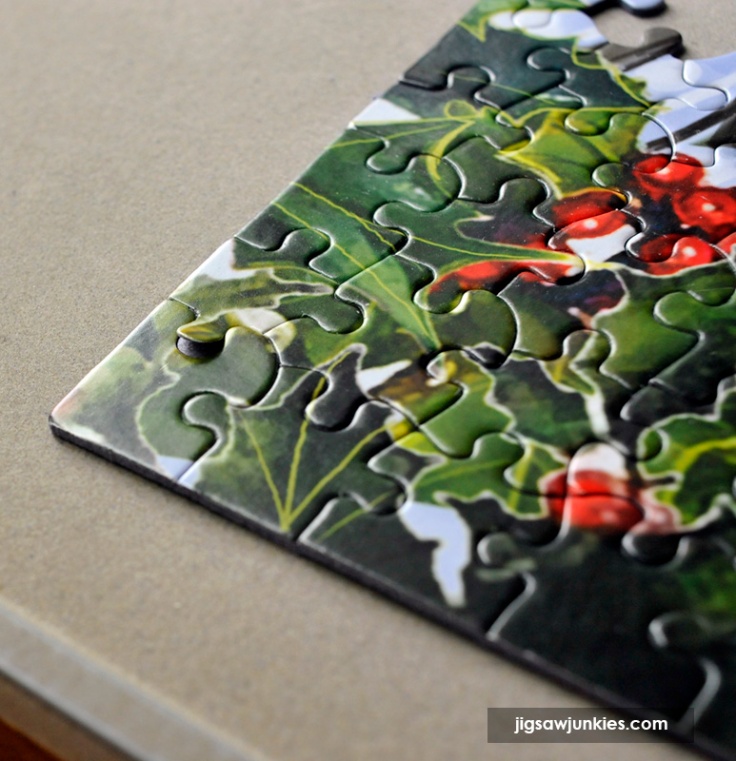 One of the things I particularly liked about the White Mountain puzzle is the larger size. Below is the 1000 piece "Winter Village" from White Mountain and "Home Sweet Home", a Steve Crisp 1000 piece puzzle from Gibsons. Note how much larger the White Mountain is. It's nice to have the final puzzle be larger, because these images are just so gorgeous. And it makes it feel like a real accomplishment too.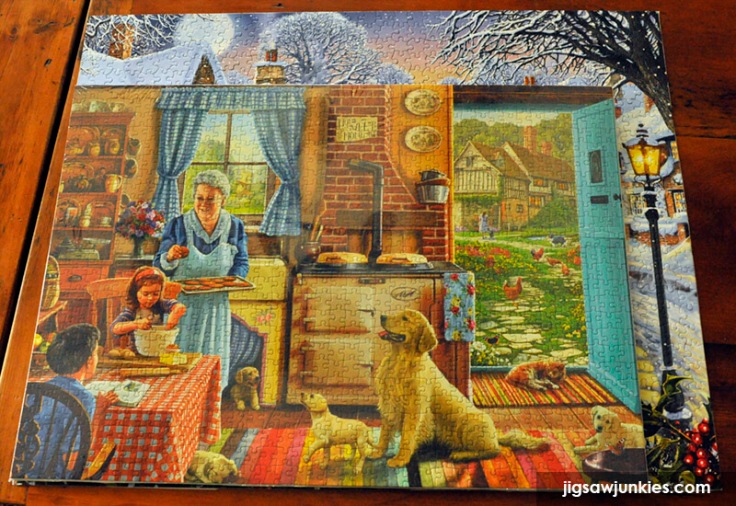 Also, the Gibsons is a straight grid cut with very uniform pieces and the White Mountain is a more random cut. I like both types of puzzles, but I particularly enjoyed the cut on this White Mountain while assembling it.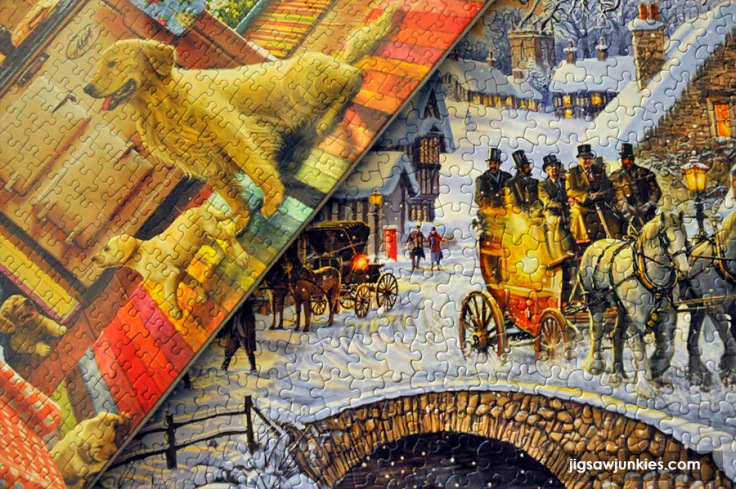 I also liked that the White Mountain fit was tighter, so assembled pieces hang together better. You can lift this puzzle when it's done, similar to a Springbok. (Not that I recommend lifting the entire thing, but it's helpful when moving small groups of pieces on the board.)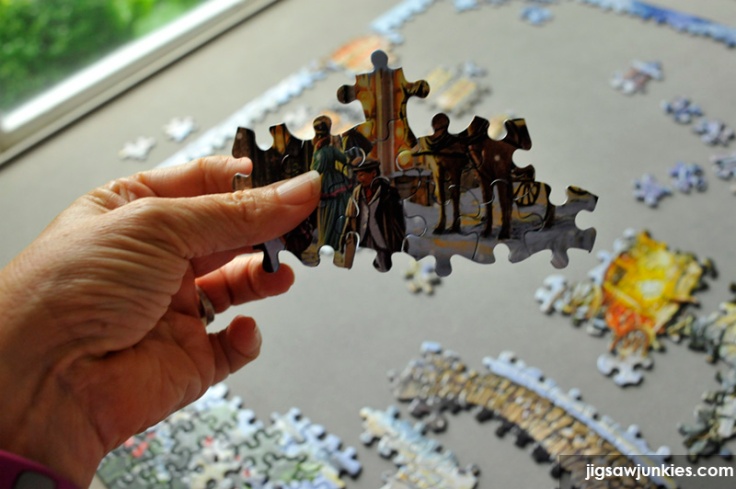 Also, the very flat, smooth finish feels and looks really good.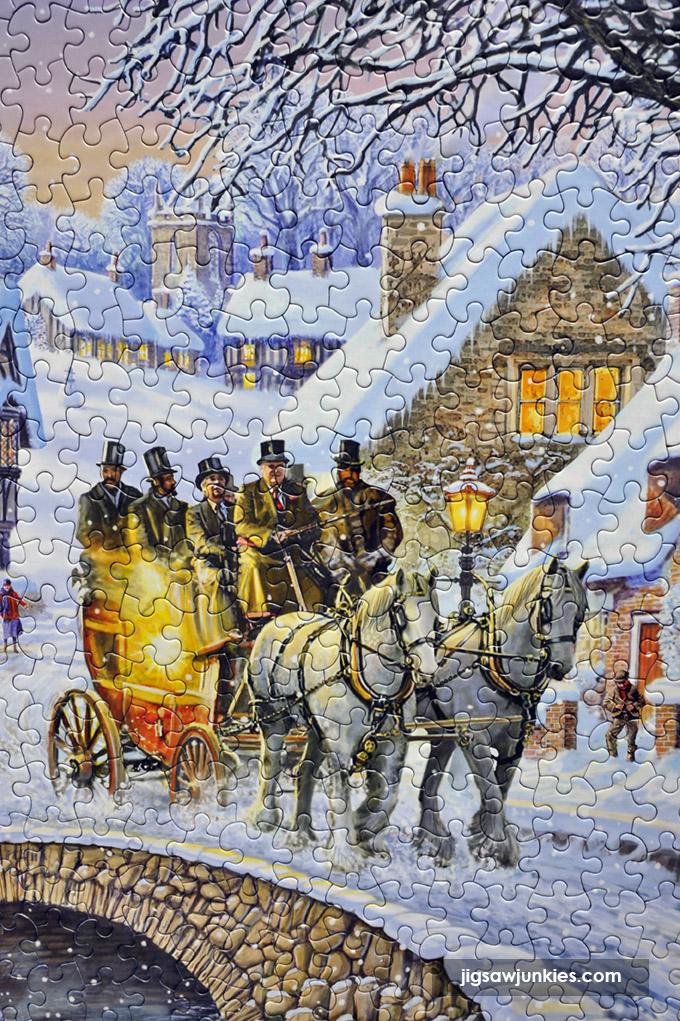 So I've rated quality a 9 here, deducting 1 for the bit of image lift. But overall, I'm down with White Mountain now, and I'm browsing their catalog for more. Because, you know, I don't have enough puzzles already! I think, in future, if given the choice between the same Steve Crisp image from Gibsons or White Mountain, I'd go with White Mountain, both due to the larger size, the random cut, and the price point for me (I'm in the US). Those in the UK might want to chose the GIbsons instead.
Assembly: (10/10)
I really enjoyed putting this puzzle together, as you can probably tell from the high score. Part of it was how much I loved this image. But also, as I mentioned above, I really enjoyed the random cut, the larger piece size, and the way the pieces connected solidly and have such a nice, smooth finish when interlocked. It's a nice puzzle to run your hands over while working on it.
The image itself was a perfect mix of larger areas I could assemble without reference to the picture (the stone bridge, fence, sky, horses) and small detail that required checking the box lid.
Difficulty is easy-moderate, I'd say. It took me three sessions to complete it.
DAY ONE:
Assembled the border, the green holly leaves and berries in the foreground, the stone bridge, and the brightest yellows.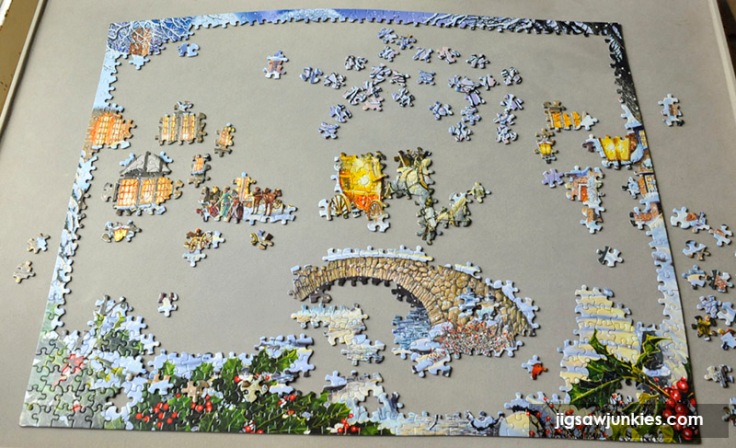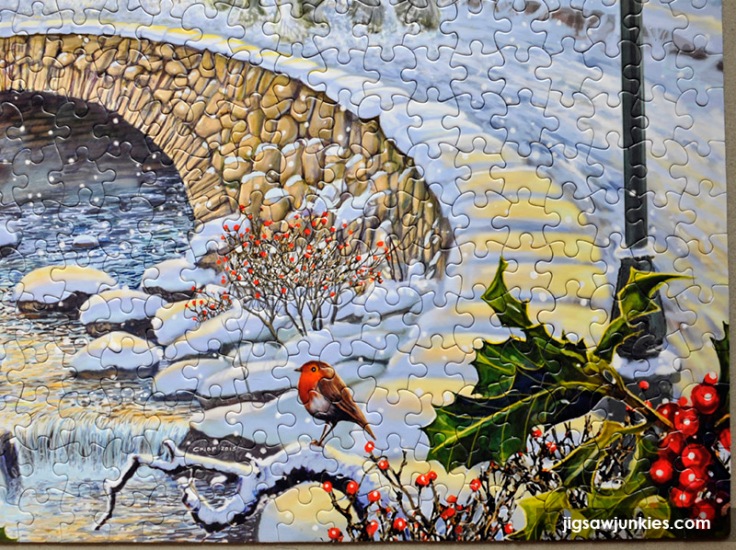 DAY TWO:
Pieced together the stone buildings, which are probably the hardest thing in the image, though not too hard. I also did the sky, which is quite easy. From there it was easy to finish up the people and basically everything except the white 'snowy' pieces.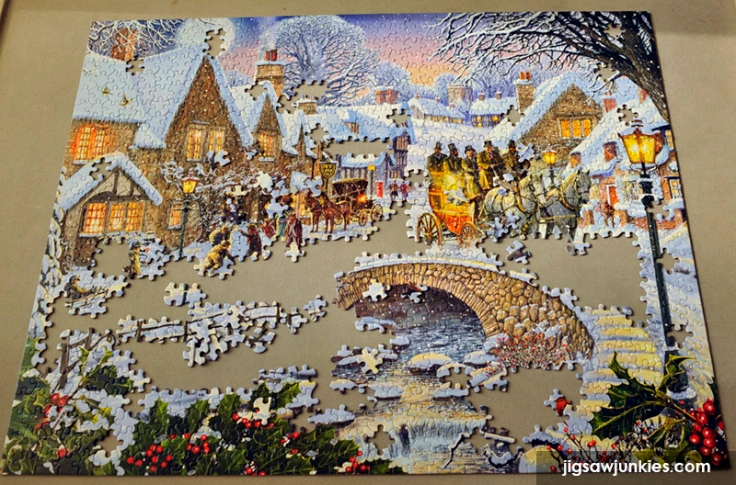 Below: The sky had lots of color variation, and the various trees had softer or sharper textures, so the upper part of the puzzle was easy to assemble.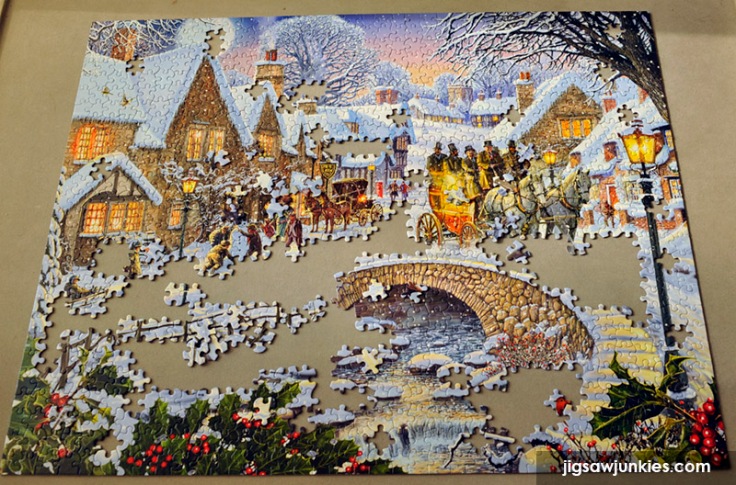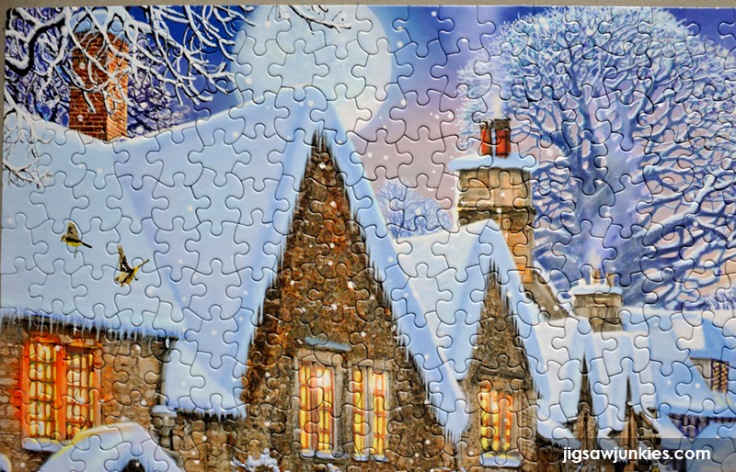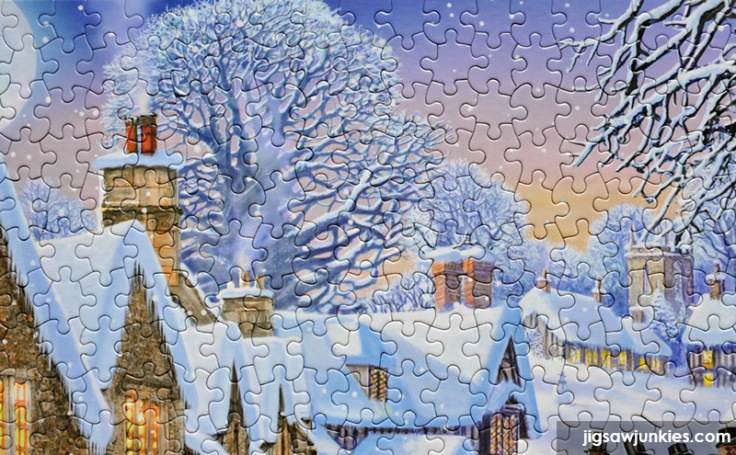 DAY THREE:
Placed the remaining white/snow pieces to finish the puzzle. As you can see in the work-in-progress image above, there are a lot of 'edges' around the white snowy areas, so this last step was only of moderate difficulty. There are slightly different textures to the snow depending on how close it is to a light source, on the stones near the bridge, etc.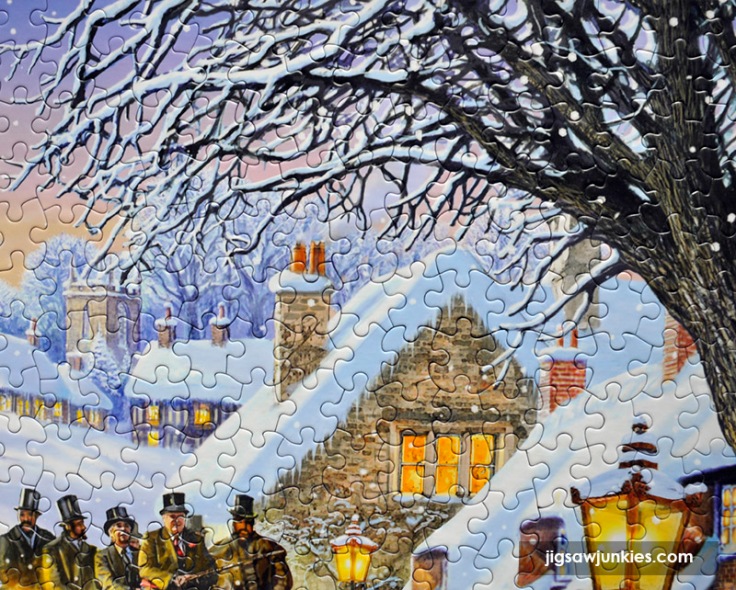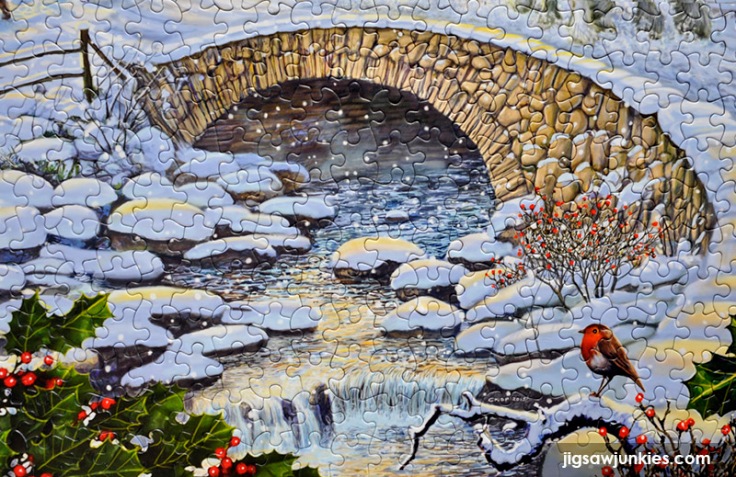 I've given perfect marks for assembly to this puzzle. It really hit the spot on hot July nights to work on this one!
Additional Images: