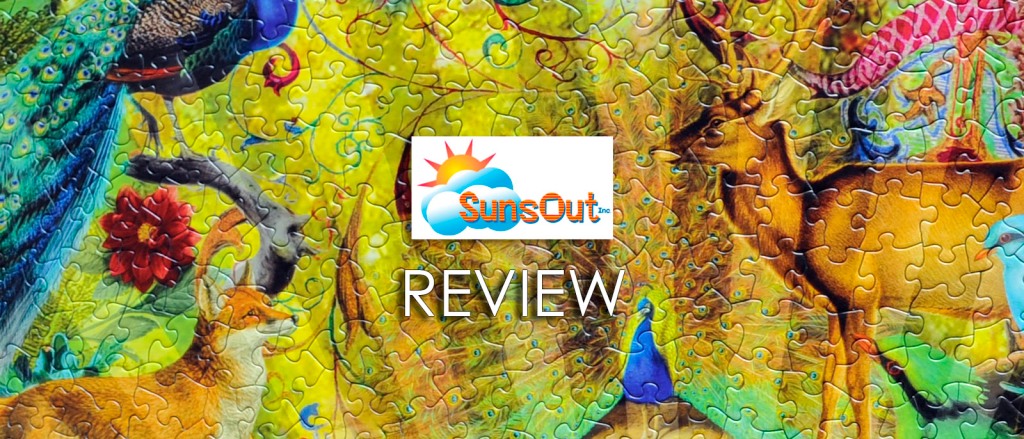 Review: "Abundant Garden" by Aimee Stewart – Sunout, 9.25/10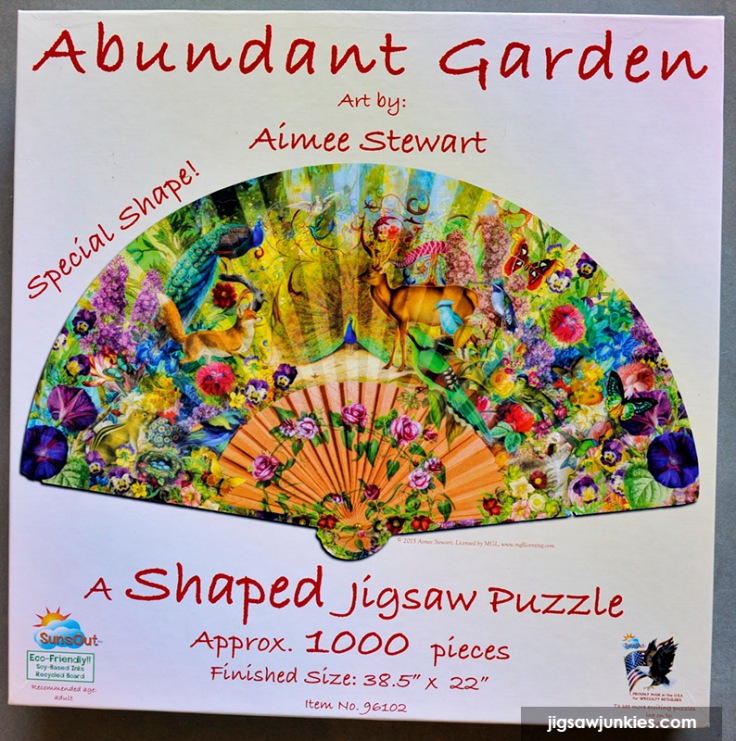 Publisher: Sunsout (US), published 2016
Title: "Abundant Garden" by Aimee Stewart, 1000 pieces shaped
Finished size: 38.5″ x 22″
OUR RATING: 9.25/10

SHAPED PUZZLES
This week we're featuring shaped puzzles. I'll be reviewing two shaped puzzles this week ("Autumn Squirrel" by Mary Thompson and "Abundant Garden" by Aimee Stewart). We'll have a top ten list on the weekend.
After this week, Jigsaw Junkies will be on hiatus for two weeks while I take a trip to England. We'll be back the week of Sept 13th.
Enjoy the end of your summer!
Box Quality: (7/10)
The Sunsout boxes are very large and square in shape. They're oversized compared to most boxes on the market. This takes up more shelf space but also provides a nice big image when you use the box lid for reference.
Sides:
Three of the sides are the same, showing an image of the puzzle, puzzle name, artist name, piece count, finished size, and Sunsout logo. The fourth side has a bar code. Sunsout does a good job of promoting their artists and I like how prominent the artist's name is on this box cover and sides. Unfortunately the year of manufacture isn't given. However, this puzzle was just released this year (2016).


Back:
The back of the box is plain white and made of a thinner cardboard.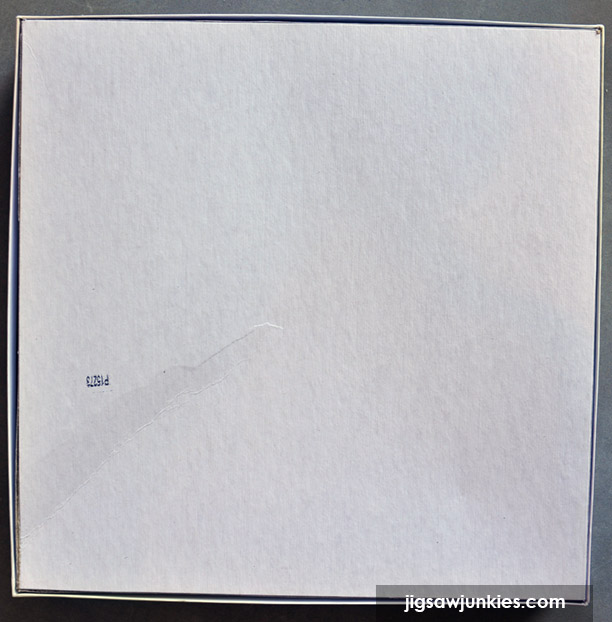 Inside:
Nothing comes inside the box except the bag of puzzle pieces and a very small paper slip with the company url and a short blurb. I did not notice any puzzle dust in my bag of pieces. The pieces were fully separated and undamaged.
The Image: 10/10
This is a beautiful fantasy image that is even better for being shaped. The garden part of the image is filled with vibrant flowers, colorful birds, and other animals. I really love the soft art style, which feels airbrushed. The image is full without feeling crowded and there's no real 'background color' or dead space. I like how certain flowers, such as the purple morning glory, are repeated a few times in the image, which requires a little extra thought during assembly. The central hub of the fan makes for a nice separate area too. Just gorgeous! I've given this image a perfect '10' rating.
Sunsout has done a number of 'fan shaped' puzzles, which are all quite nice. See the end of this article for more.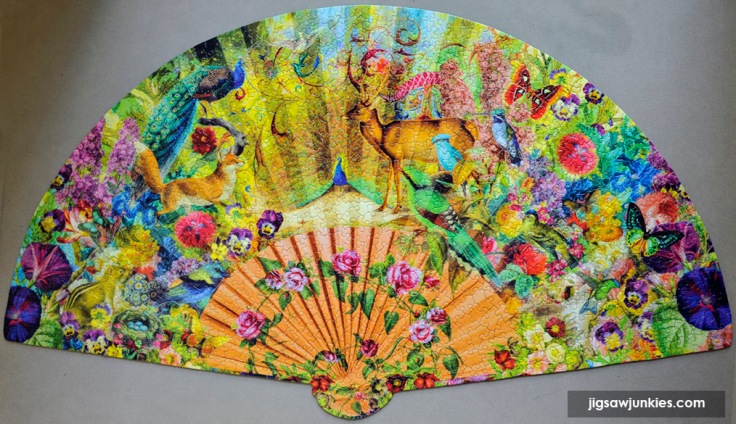 (Click on any of the images in this review for a closer look.)
Puzzle Quality: (10/10)
Sunsout did well in our brand comparison. You can see our full brand comparison on Sunsout here.
This puzzle has a wonderful tactile feel during assembly. The pieces are thick and sturdy. There's no bending of knobs, warping, or image lift. There's a glossy surface which feels nice, but can lead to glare under overhead lights. However, I didn't have a problem with this puzzle because of the vibrant hues. I also really love the very random cut, which is so refreshing after putting together some grid-cut puzzles. Each piece is very unique but none get too small or have too-narrow parts which bend. It's a very well-thought out piece cut.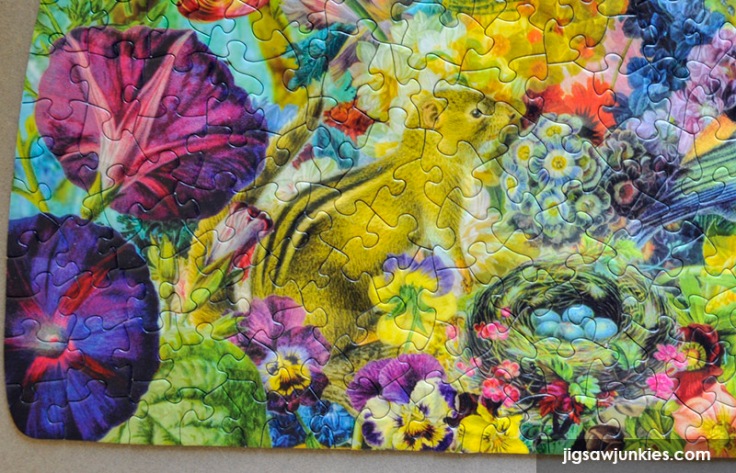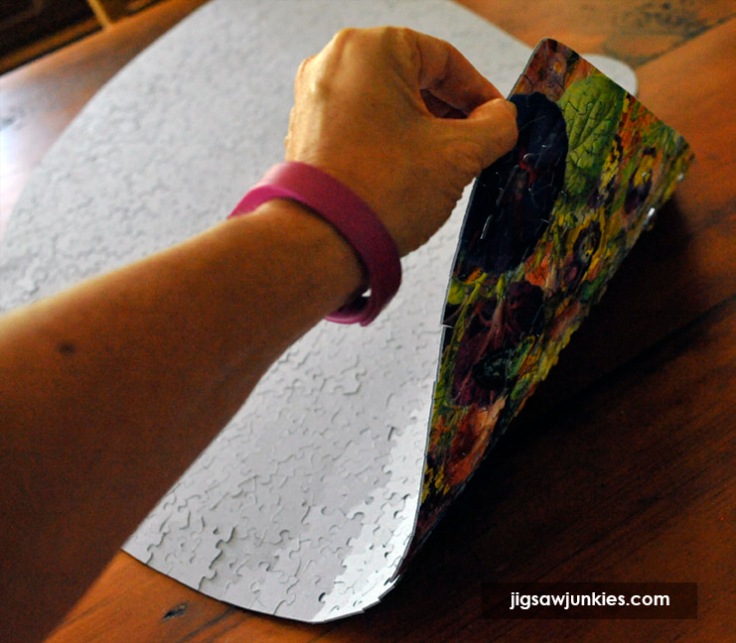 I love the "fan shape" of this puzzle. The edge is a perfect curve with very clean lines, no fraying or bumps or wobbles (at least, none that aren't part of the design).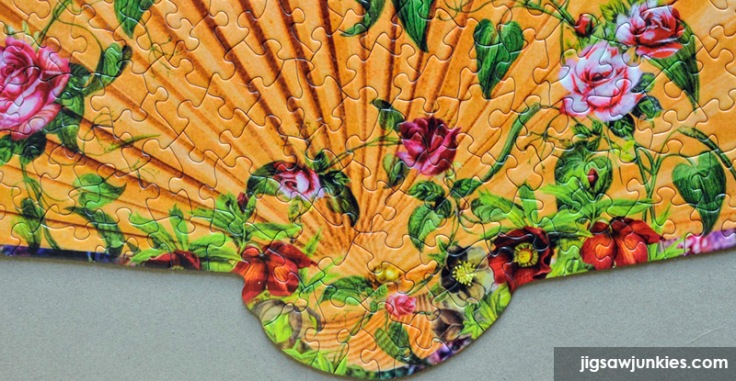 The puzzle hangs together very well, so you can move groups of assembled pieces around without them falling apart. As you can see below, I was able to nearly pick up this puzzle with no glue at all. (Not that I recommend that.) The interlock is nice and tight.
I'm giving a full 10 score to quality in this puzzle.
Assembly: (9/10)
This is a beautiful puzzle to assemble and not all that difficult because the image has such bright and distinctive colors. I'd rate it a 'moderate' because it's pretty busy and I often had to refer to the box lid. This is not a puzzle you can 'go mindless' on. There are not a lot of darks or 'background' pieces to fill in at the end. The image is consistent throughout. It's all dessert!
It took me three sessions to complete this puzzle (2-3 hours each). The fan shape adds an extra element of fun over a rectangular puzzle. You can still identify border pieces due to a flat edge, though some inner pieces have a flat edge too.
DAY ONE:
The first thing I assembled was the base of the fan, because those pieces were the easiest ones to recognize and separate out. I had a little more time my first session so I started on the pink and purple flowers in the garden.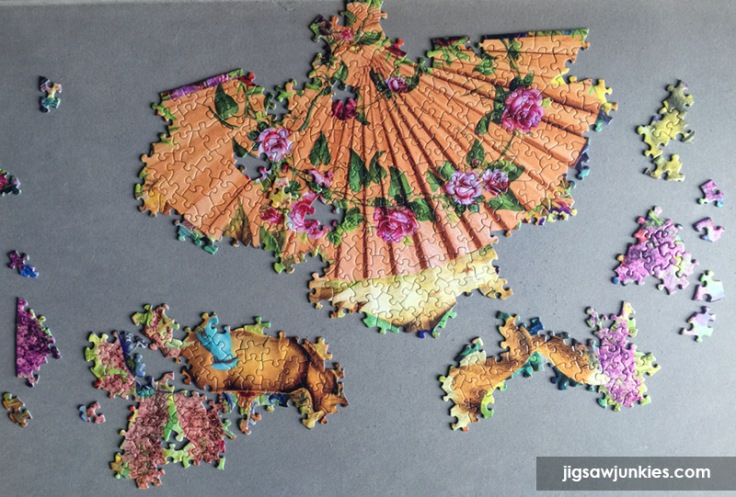 The ribs in the fan make it very easy to put together. Just keep the lines straight.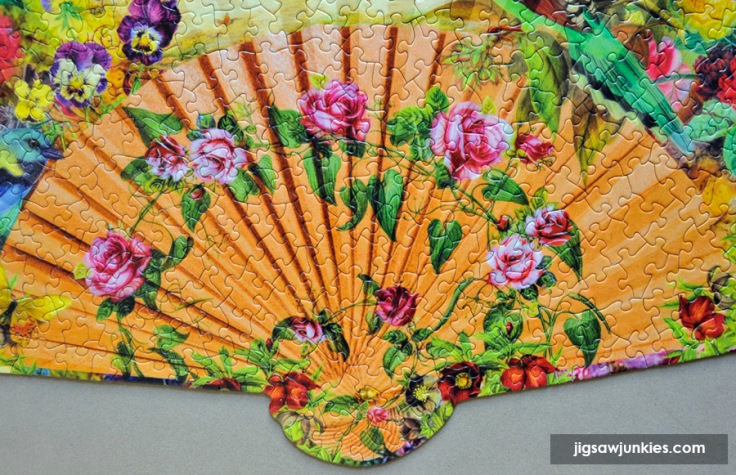 DAY TWO:
In the garden area, I did the yellow central peacock with deer, the blue peacock in the upper left, the pansies, and morning glory flowers first.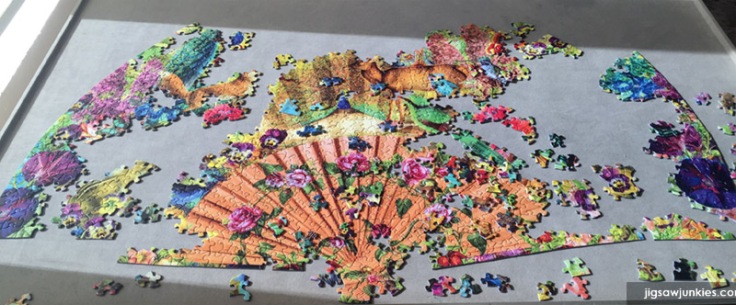 The yellow peacock is easy to find because of the small aqua 'eyes' in the tail feathers.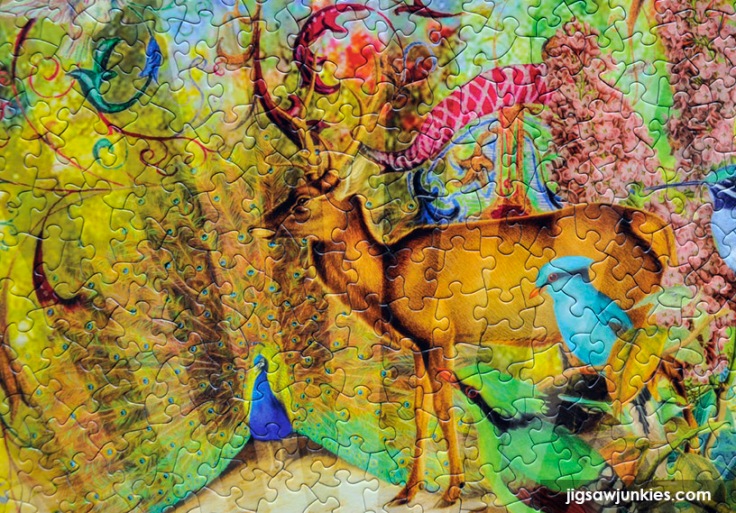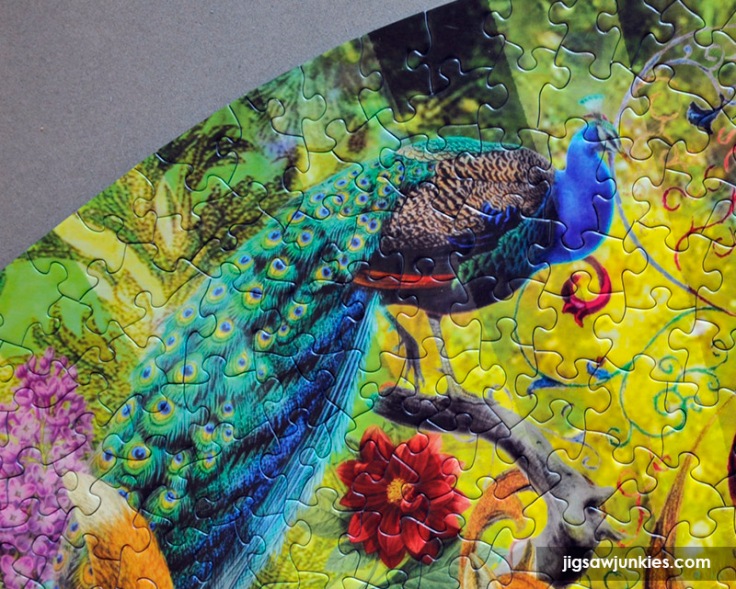 DAY THREE:
The final session was filling in the rest of the garden. There are lots of greens-browns-yellows, but everything in the garden has a unique texture. It's pretty easy to figure out where a piece goes by looking at the box cover. I expected the puzzle to be harder because of the soft-focus, run-together areas, but it really wasn't difficult.
It was a pleasure to see the details of the image as they came together, like all the birds and butterflies. So pretty!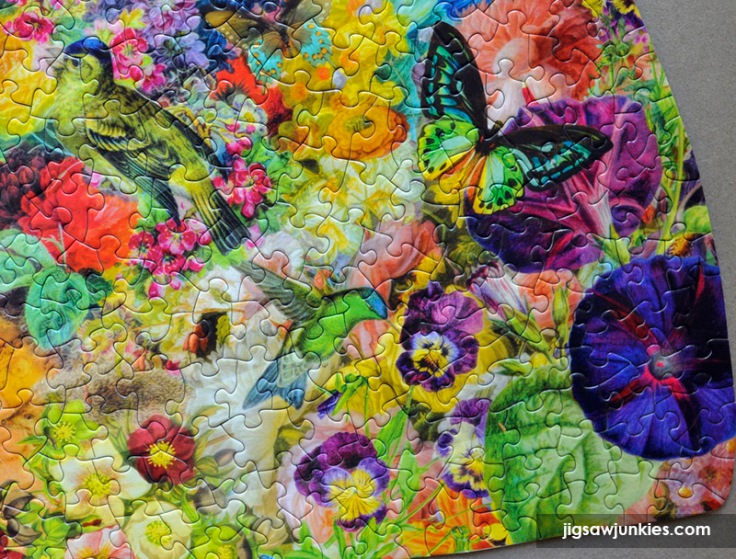 The fox adds a lot to the composition.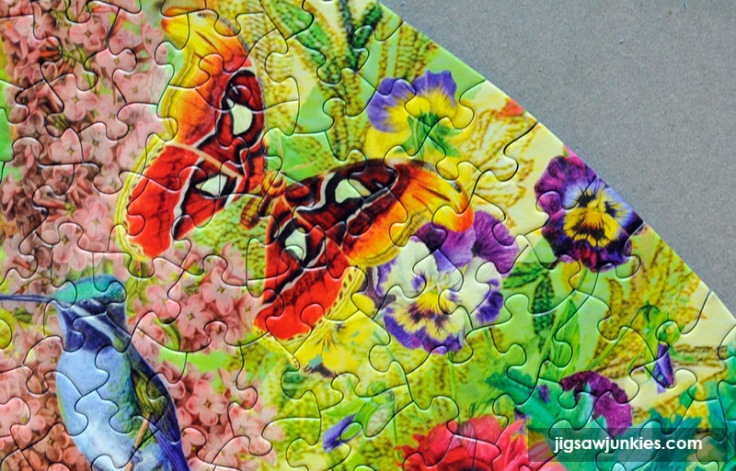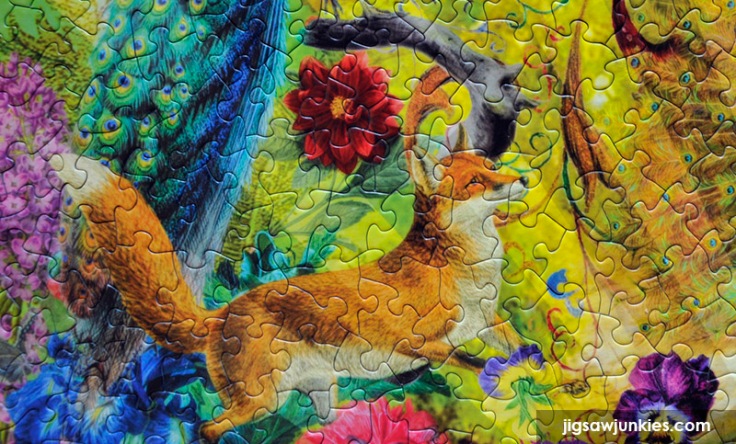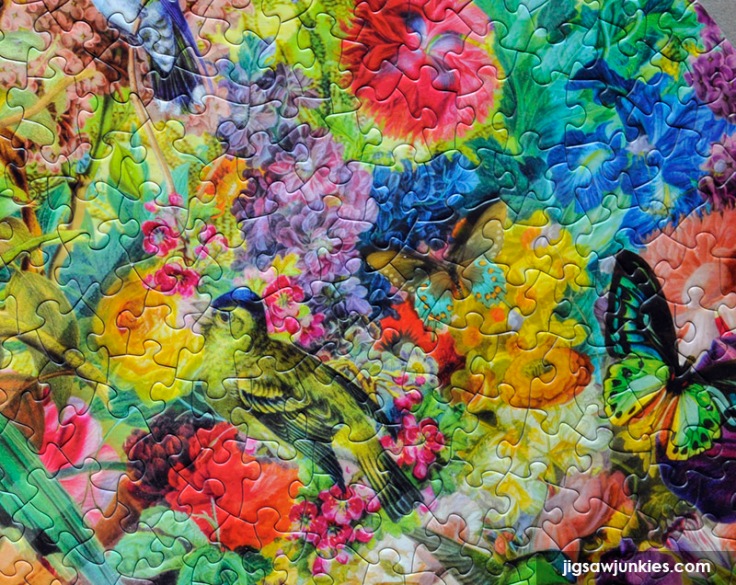 There are little surprises in the art to discover, like the blue eggs in the nest below.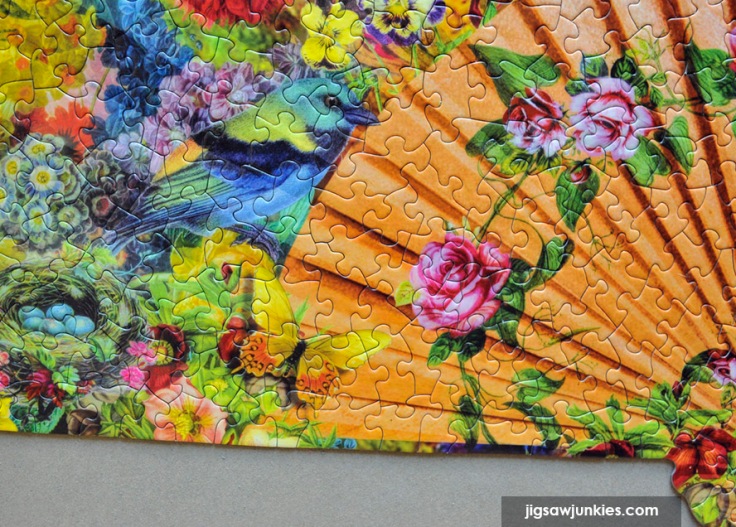 I've given this puzzle a '9' for assembly.
Summary:
This is a gorgeous and fun-to-assemble shaped puzzle from Sunsout. The garden is filled with vibrant flowers, colorful birds, cute animals, and other surprises to discover as you assemble it. I really loved the soft art style, which feels airbrushed. The image is full without feeling crowded and there's no real 'background color', dead space, or dark areas. Assembly is of moderate difficulty but everything has a unique color or texture, so if you reference the box lid, you can always tell where a piece goes. The Sunsout quality is excellent with thick, sturdy pieces and a wonderful random cut. I particularly liked the unusual, fan-shaped border, which was a nice change from rectangular puzzles. Highly recommended.
I've given this puzzle 1 bonus point for being shaped.

Where to find:
This puzzle is 15% off for the next 3 days (til 8/28/2016).
Click below to see the puzzle on Puzzle Warehouse.
Click here to see all Aimee Stewart puzzles.

More fan-shaped puzzles from Sunsout.
"Japanese Garden", 1000 pieces — my review here. This puzzle is still in print. Click on the image below to view it on puzzle warehouse.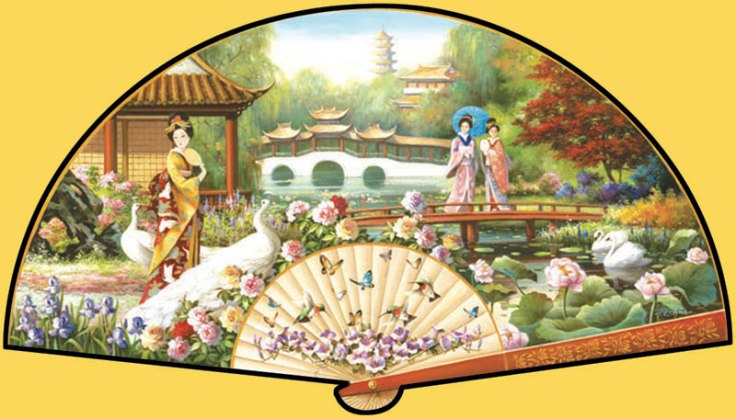 "Panda Elegance", 1000 pieces. This puzzle is still in print. Click on the image below to view on Puzzle Warehouse.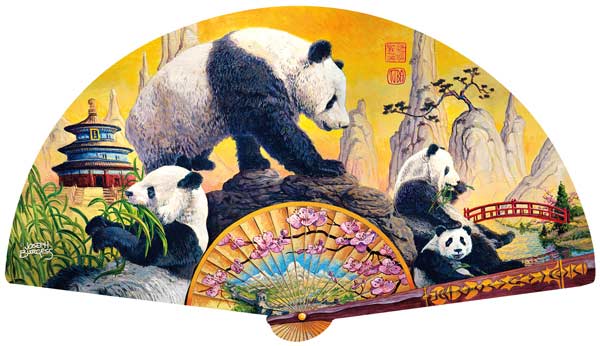 JJ