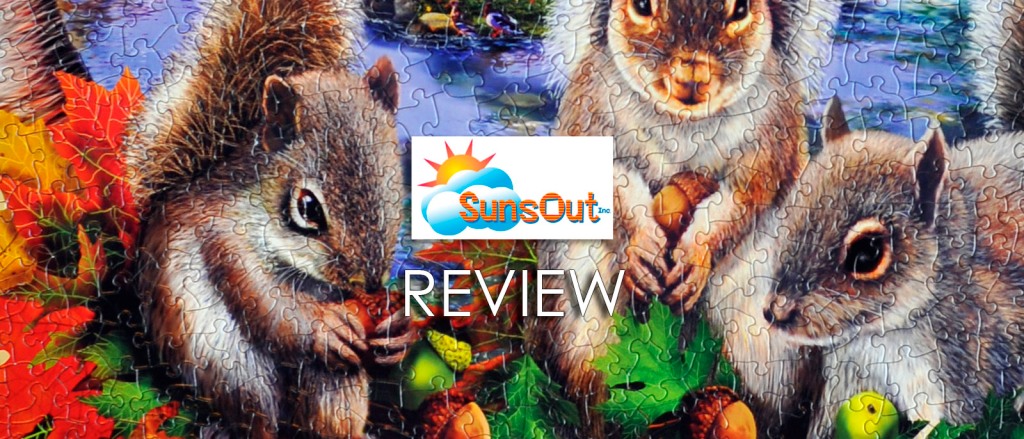 Review: "Autumn Squirrel" by Mary Thompson — Sunsout, 9/10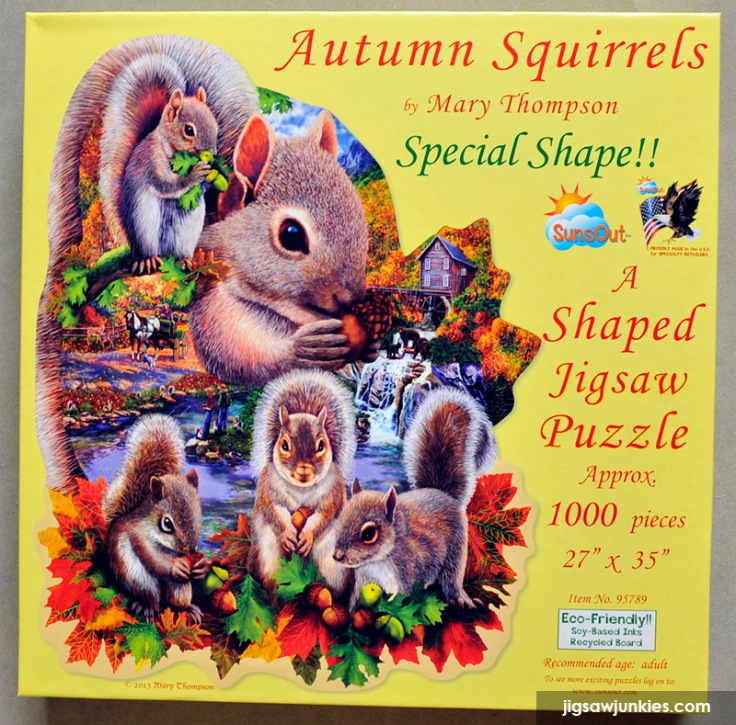 Publisher: Sunsout (US), published 2014 (?)
Title: "Autumn Squirrel" by Mary Thompson, 1000 pieces shaped
Finished size: 35″ x 27″
OUR RATING: 9/10

SHAPED PUZZLES
This week we're featuring shaped puzzles. I'll be reviewing two shaped puzzles this week ("Autumn Squirrel" by Mary Thompson and "Abundant Garden" by Aimee Stewart). We'll have a top ten list on the weekend.
After this week, Jigsaw Junkies will be on hiatus for two weeks while I take a trip to England. We'll be back the week of Sept 13th.
Enjoy the end of your summer!
Box Quality: (7/10)
The Sunsout boxes are very large and square in shape. They're oversized compared to most boxes on the market. This takes up more shelf space but also provides a nice big image when you use the box lid for reference.
Sides:
Three of the sides are the same, showing an image of the puzzle, puzzle name, artist name, piece count, finished size, and Sunsout logo. The fourth side has a bar code. Sunsout does a good job of promoting their artists and I like how prominent the artist's name is on this box cover and sides. Unfortunately the year of manufacture isn't given. The oldest review I was able to find online was written in Aug 2014, so this is likely a 2014 puzzle. It's still in print.


Back:
The back of the box is plain white and made of a thinner cardboard.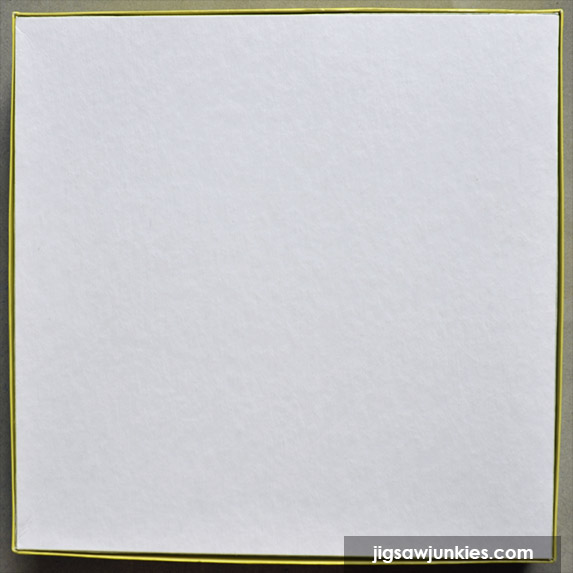 Inside:
Nothing comes inside the box except the bag of puzzle pieces and a very small paper slip with the company url and a short blurb. I did not notice any puzzle dust in my bag of pieces. The pieces were fully separated and undamaged.
The Image: 9/10
I'm a big fan of shaped puzzles. As far as I'm concerned, there aren't nearly enough on the market! So I am always interested in new shaped puzzles, and an image I wouldn't find compelling enough to buy in a regular rectangular puzzle might just pass the muster if it's shaped.
That said, this image ticks a lot of boxes for me. I love fall-themed puzzles generally, and this one has a nice amount of colorful fall leaves.I like the rural, nostalgic landscape with the old mill and the horse and buggy. And it has cute animals too!
I prefer images that are hand-drawn and painted, and were are designed specifically for the puzzle market, as this one is. The artist, Mary Thompson, does quite a few puzzles for Bits and Pieces and Sunsout. I guess I'd categorize her as an Americana artist, though her images feel more contemporary than some in that category. I particularly like her shaped puzzles with Sunsout.
The outline on this image is quite nice, being roughly squirrel-and-leaves shaped. The colors are bright and there's a nice variety of things going on. There is a lot of brown fur in the image, and some of the elements, such as the small animals around the stream, are so small you can hardly see them even in the completed puzzle. Despite these quibbles, it's a cute image and it's fall-themed, so it gets a thumbs-up from me. Overall, I've given this image a '9' rating.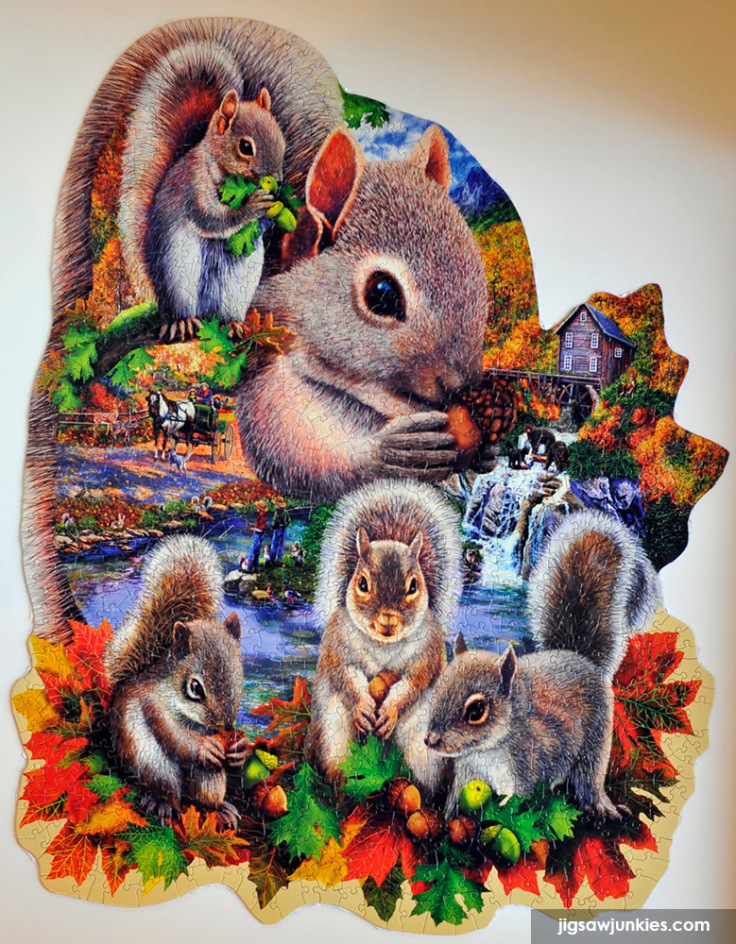 (Click on any of the images in this review for a closer look.)
Puzzle Quality: (10/10)
Sunsout did well in our brand comparison. You can see our full brand comparison on Sunsout here.
I really enjoyed the feel of this puzzle. The pieces are thick and sturdy. There's no bending of knobs, warping, or image lift. I also really like the very random cut. But none of the pieces get crazy small, as can happen on some shaped puzzles.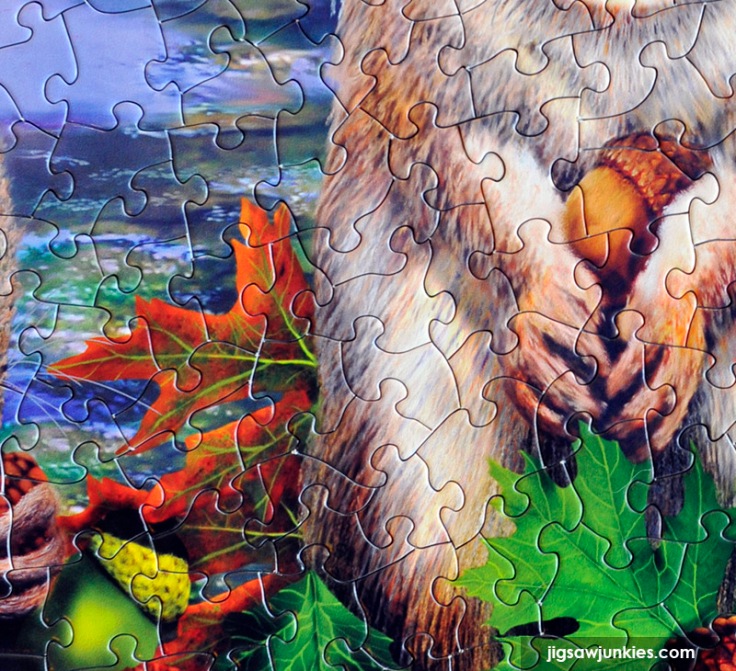 The edges of the pieces, and of the overall puzzle, are very clean with no fraying or bumps.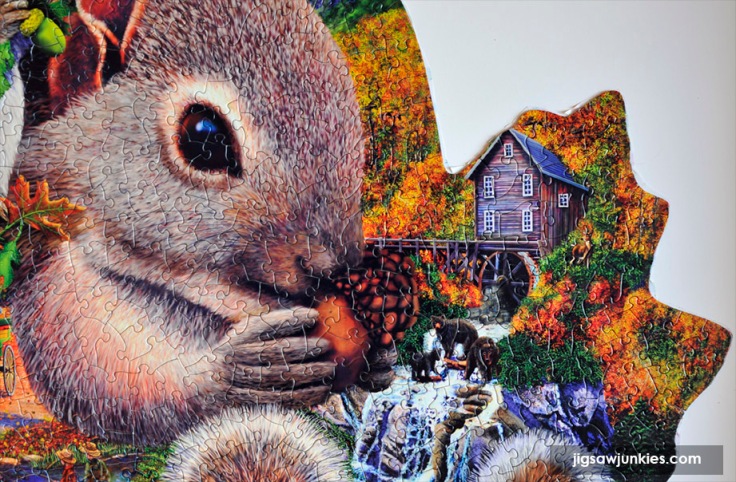 The unusual and unique shapes allow the puzzle to hang together very well, which is nice during assembly. You can move groups of assembled pieces around without them falling apart. [Note: the image below is "Abundant Garden", but that's also by Sunsout and "Autumn Squirrel" hung together in the same way.]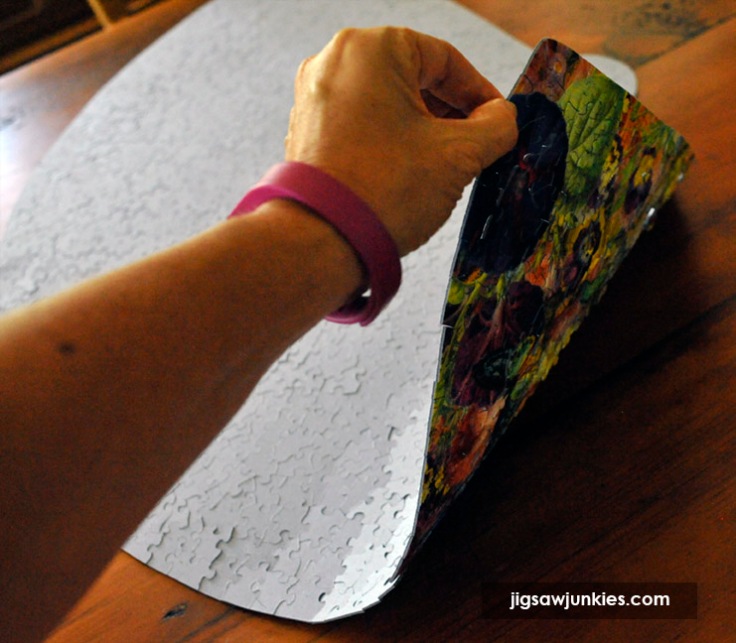 I'm giving a full 10 score to quality in this puzzle. Sunsout does a great job of putting out a shaped puzzle that has a quality feel.
Assembly: (9/10)
This puzzle was a lot of fun to put together. I always love assembling shaped puzzles, and this one was no exception. I'd rate the difficulty as moderate, mostly because of the shaped border and the brown fur. It took me three sessions to complete (2-3 hours each)
DAY ONE:
Since this was a shaped puzzle, I didn't do the border first. I started with some areas that were easy to identify on the pieces. The cream border outside the leaves at the bottom of the puzzle was done first.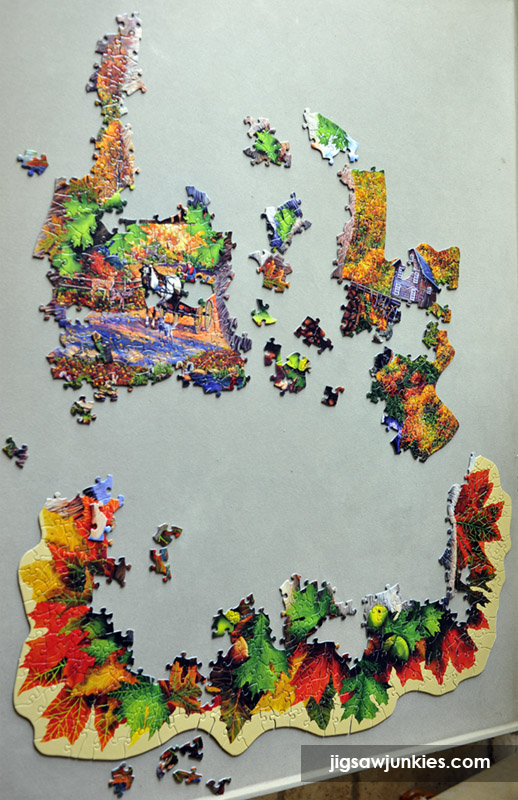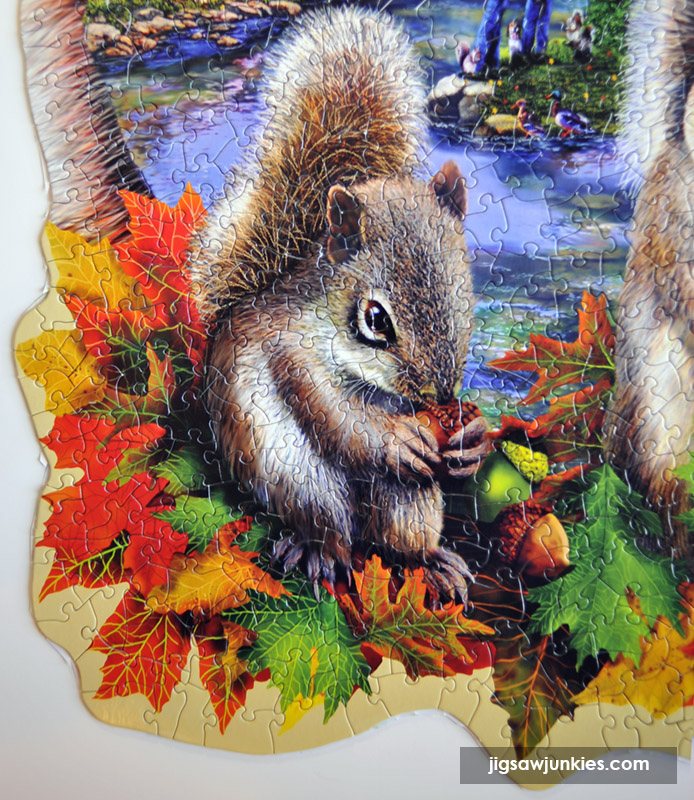 Also, the fall foliage throughout the puzzle doesn't take up as many pieces as you might think. Those areas got assembled next. I love the leaf-shaped border around the mill.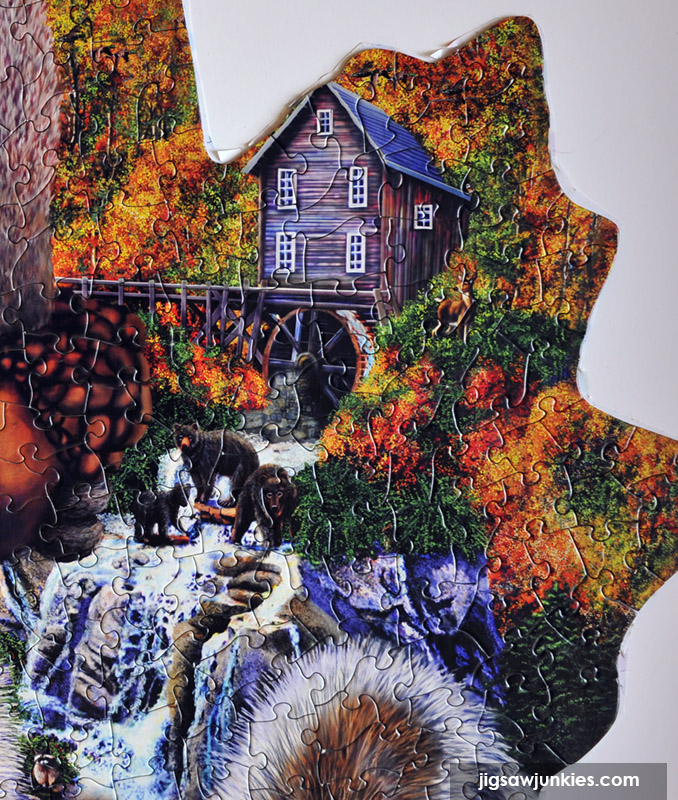 The little horse-and-buggy vignette is another small and easy area to assemble.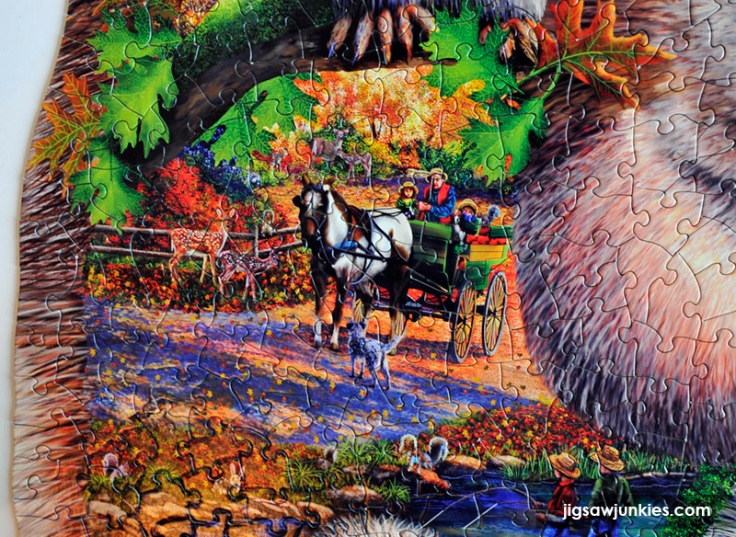 DAY TWO:
In my second session, I completed everything but the squirrel fur.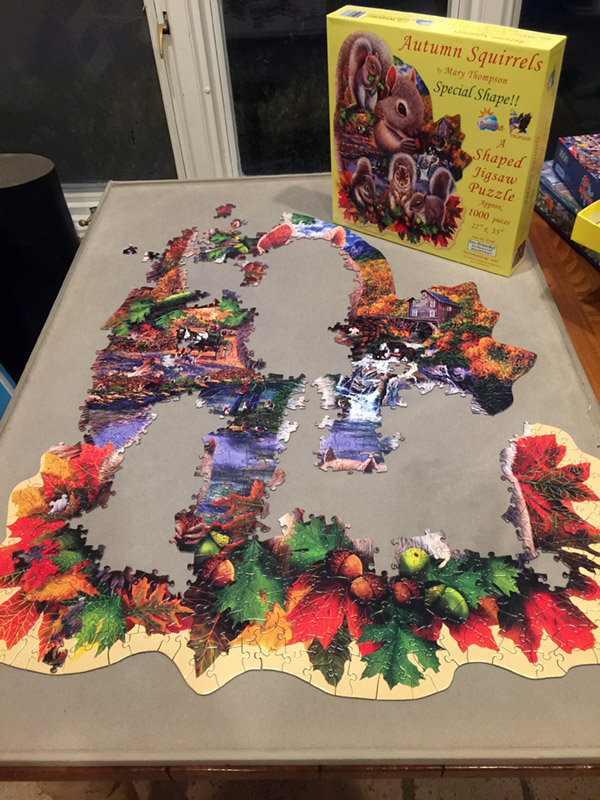 The water in the image is blue and white and appears in small areas in different sections of the puzzle.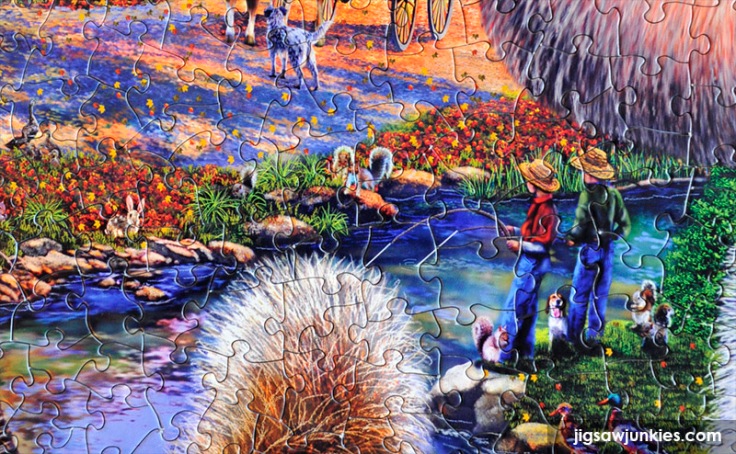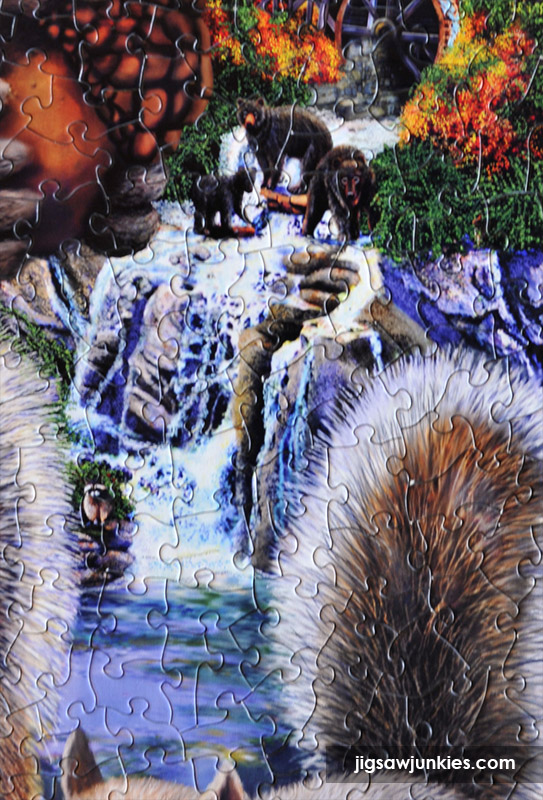 DAY THREE:
The final session was completing the various squirrels. Although each squirrel has variation in its fur color–from dark brown to gray to white-ish, all the squirrels have similar hues, so finding one brown-with-whiter-tips piece might obviously be a squirrel tail, but it could go in any one of the six different squirrel tails in the scene.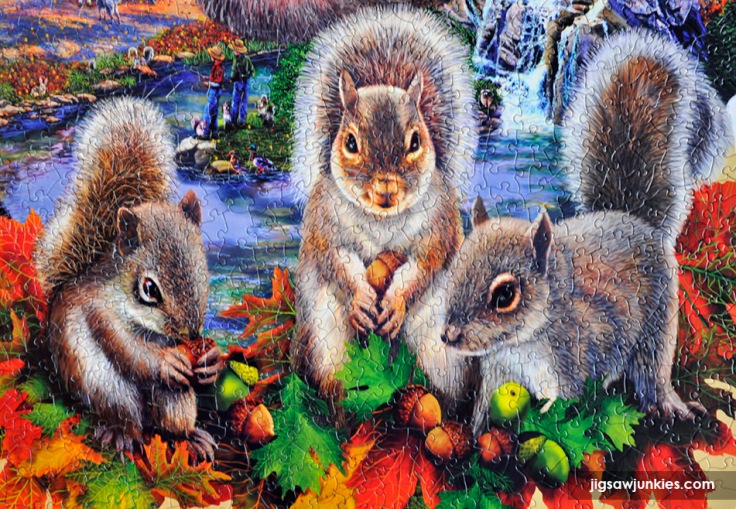 With just the fur pieces left, the ones that stood out the most were the border pieces, because they have one curved edge. Next came the reddish areas, such as the inside of the squirrel's tail below.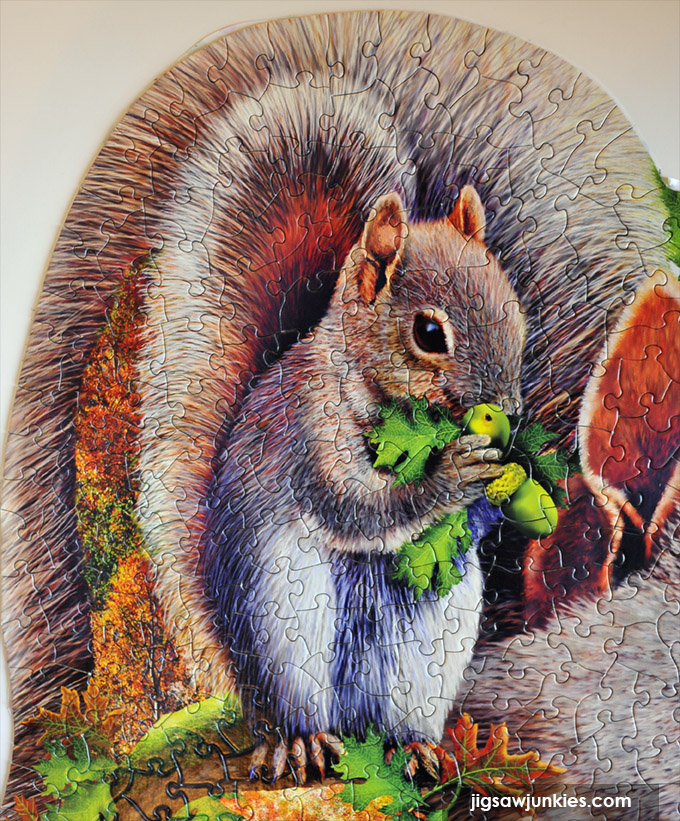 After that, it's just a matter of working methodically and having some patience. The piece shapes are so unique, that you can often look for a specific piece shape to fill a hole in the puzzle, so that helps. I thought the fur gave a little more challenge to what was otherwise an easy puzzle, but it felt a little more rote than fun.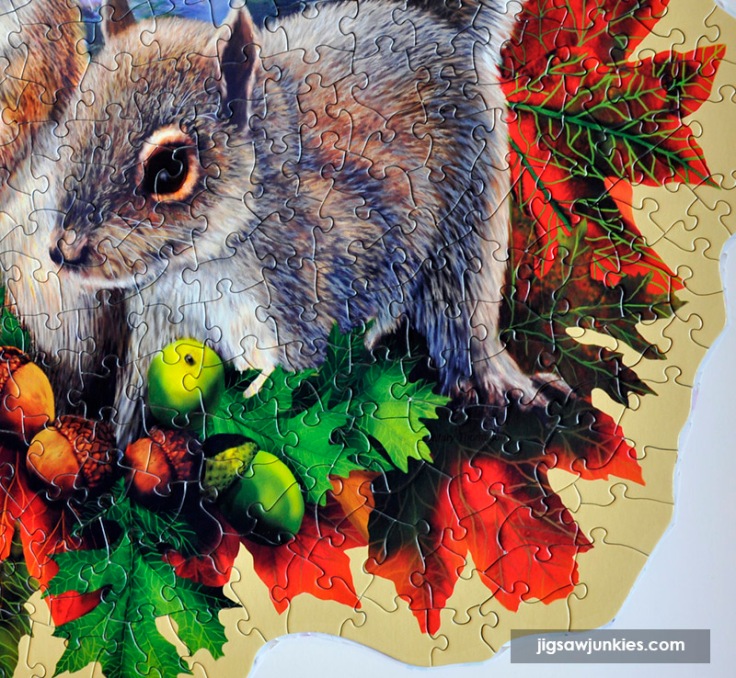 I've given this puzzle a '9' for assembly.
Additional Images: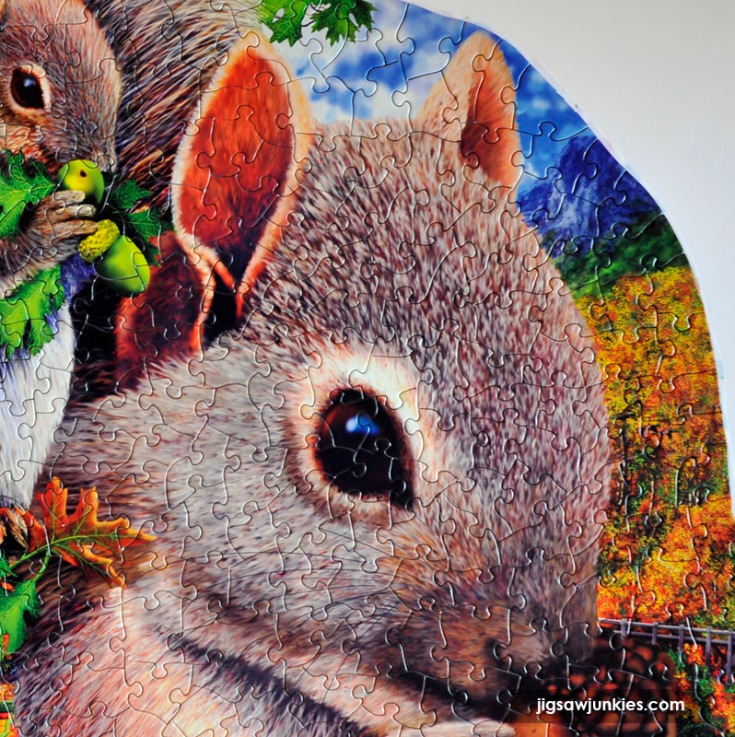 Summary:
I loved shaped puzzles and fall-themed puzzles, so this puzzle was extra fun to assemble. The image has lots of fall leaves, both large and small. It really puts me in the mood for crisp autumn days! The Sunsout quality is excellent with thick, sturdy pieces and a wonderful random cut and hangs together really well. The overall difficulty is moderate. Most of the puzzle is easy, despite the shaped border, but all the squirrel fur gives the puzzle a little more challenge at the end. Highly recommended.
I've given this puzzle 1 bonus point for being shaped.

Where to find:
This puzzle is 15% off for the next 3 days (til 8/26/2016).
Click below to see the puzzle on Puzzle Warehouse.
Click here to see all Mary Thompson puzzles.

JJ