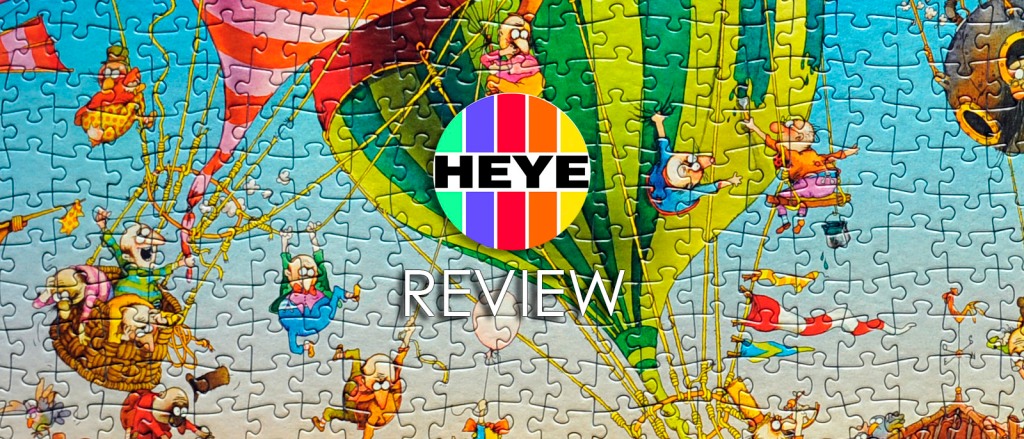 Review: "Ballooning" by Jean-Jacques Loup, Heye, 9/10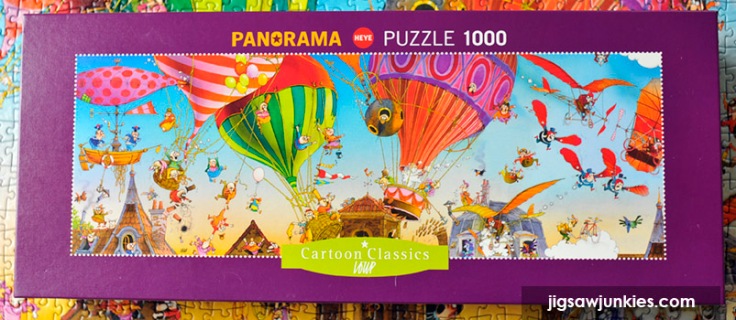 Publisher: Heye (Germany), published 2016
Title: "Ballooning" by Jean-Jacques Loup, "Cartoon Classics" Edition, 1000 pieces
Finished size: 37.2″ x 12.8″
OUR RATING: 9/10

LOUP WEEK:
This week at Jigsaw Junkies we're featuring one of my favorite puzzle artists, Jean-Jacques Loup He made puzzle images for Heye from the 1970's up until his recent death in 2015. Our reviews this week are of "Ballooning" and "Castle of Horror" (it is almost Halloween, isn't it?) This weekend, we'll have a retrospective of Loup puzzles from the early days to today. Hope you enjoy our coverage of this awesome cartoonist.
ALL LOUP PUZZLES AT PUZZLE WAREHOUSE ARE 15% OFF ALL WEEK. Here's a link.
"BALLOONING" REVIEW
The History of this puzzle — a "Cartoon Classics" reissue
Heye has a long history of cartoon puzzles (since the 70's). and many of their out-of-print puzzles go for big money. Their "Cartoon Classics" series reprints a few of these older cartoon images each year and reissues them in the newer rectangular packaging. The original puzzle of this Loup image was called "Balloon Happening" and was produced in 1974. You can see the original triangular box below. Personally, I'm a big fan of the "Cartoon Classics" series. Although I would love to have these puzzles in the triangular boxes, it's nice to be able to get them in any fashion at current retail prices.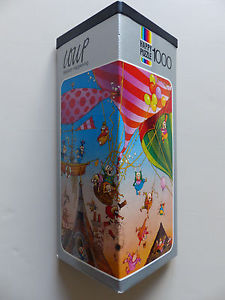 Above: "Balloon Happening", 1974
Box Quality: (9/10)
Heye is famous for their triangular boxes, which they've used for their cartoon puzzles since the 70's. You can see examples of them here. However, in more recent years they have produced many of their puzzles in rectangular packaging. These days only a few of their premium new cartoon puzzles each year are in the triangular boxes. The "Cartoon Classics" reissues are always in the rectangular packaging.
You can see the front of this box above. It's an unusual shape for a box, having a long panorama format. On the front we see the artist's name "Loup" as well as the piece count and the logo for "Cartoon Classics". Like most German board and puzzle games, the box is of excellent quality–very thick and sturdy with a lovely and clean design.
Sides:
The sides of the box all have the artist name, puzzle name, piece count, image of the puzzle and Heye logo. The two short sides are identical and are nicely designed to face out on a shelf. The year of manufacture is given as 2015 (for Loup) and 2016 (for the new Heye release). It's interesting that the Loup copyright is 2015 since we know this image is dated from the 70's at least. Perhaps the image was updated somewhat. I don't have the original to compare, but they appear to be very similar if not the same.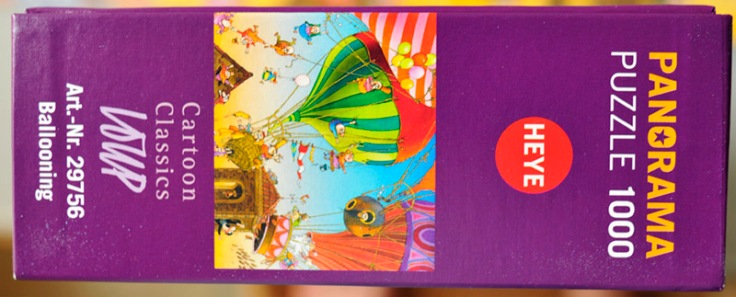 Back:
The back of the box promotes the "Cartoon Classics" puzzle series. There are some nice photos of other puzzles in the series and some pull out characters from the art.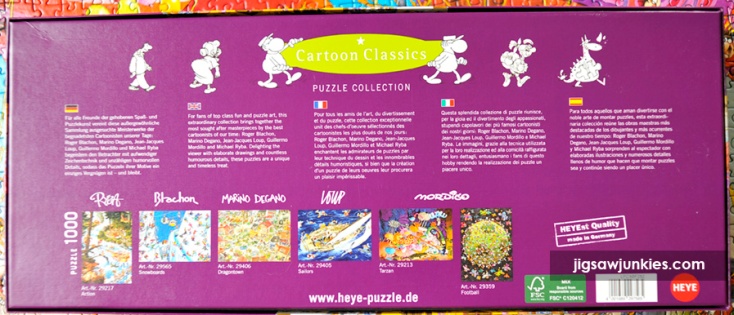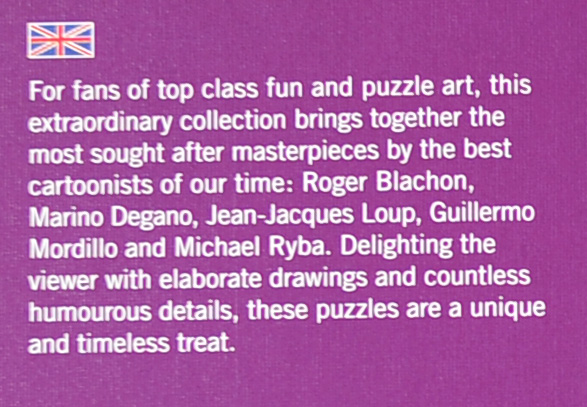 Inside:
Heye boxes are generally what I would consider "deluxe packaging" and this puzzle is no exception. Inside the box we have the bag of puzzle pieces, a multi-page mini-catalogue in full cover of the 2016 Heye puzzles, and an information sheet about Heye. Nice! I love getting these mini-catalogs. It's a wonderful permanent record of what the company released in a given year.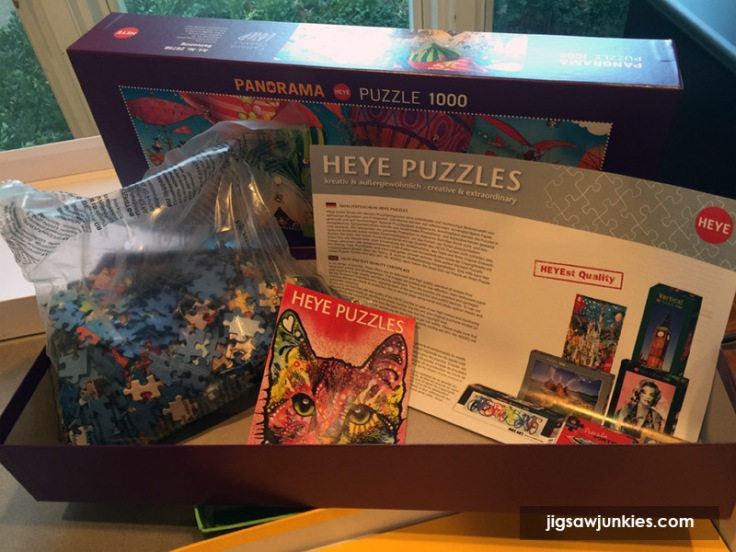 Overall, I've given the box a '9'. It didn't earn a '10' only because I would prefer the triangular box to go with all my other Heye triangular boxes. But that's just me being picky!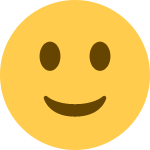 The Image: 10/10
Jean-Jacques Loup (1936-2015) was a very famous cartoonist in Europe. He did illustrations for magazines, comics, and puzzles as well as creating some graphic novels of his own. I'll be getting more into Loup's life in our weekend feature. But for now, let's talk about this image, "Ballooning".

(Click on any of the images in this review for a closer look.)
As usual with a Loup image, this is a fun scene with an assortment of interesting little characters doing crazy things.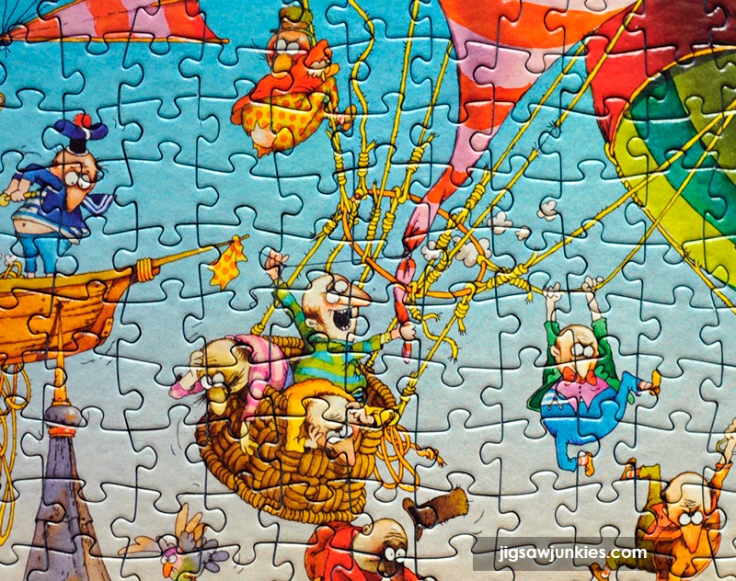 I like that this image is not as over-crowded as some "busy cartoon" puzzles, but has some negative space in the sky. The balloons give the image brilliant colors and a few nice large areas to work without having to refer to the box lid. Nevertheless, there's lot of detail to discover as you put the puzzle together. The sky is gradated in color to assist assembly, and each little character has a unique outfit so you can figure out what piece of a figure goes where by looking at the box lid.
As you can see in the close-up above, the quality of the cartoon art is flawless to the tiniest detail and the image reproduction from Heye is excellent. Everything is very sharp and clear and the colors are bright without being overblown.
I love all of Loup's puzzles and can only wish they were more. Unfortunately, Loup passed away in 2015, so unless we get some of his unpublished work in future, we will not be seeing new Loup puzzles. Hopefully, Heye will continue to reissue some of his older images in the "Cartoon Classics" line.
This classic Loup image gets a full '10' score.
Puzzle Quality: (8/10)
Heye is a premium German-made puzzle. You can see our full brand comparison on Heye here.
I normally rate Heye quite high, but I've dinged this puzzles score a bit because the fit on this unit was a bit loose. The puzzle looks fine, of course, and I never had any difficulty knowing if a piece fit in a place or not. The pieces interlock well. But it was difficult to move a small grouping without it falling apart, and I had a few instances where nudging the puzzle accidentally with my elbow causes the edge pieces to break up. So it was definitely "looser than normal" for a puzzle.
Interestingly, I'm currently working on 2000 piece "Castle of Horror" (Heye/Loup) and it is a tighter, "normal" fit and less prone to breaking up. I'm able to move grouped pieces around. So it's likely that the "Ballooning" unit I got is looser due to its position in the factory run or possibly it had a different manufacturer. In any case, it's not a big issue for me, nor did it seriously detract from the puzzle, but it's worth mentioning.
Heye puzzles are grid-cut, but they have a wide variety of piece shapes as you can see in the close-up below. Slanted edges and lots of variation in knob/hole sizes and shapes mean you rarely or never think a piece fits where it doesn't actually go. The fine line art in the image is very clear and the colors are perfect. The pieces have that solid German feel and are thick and sturdy. I also really like the more matte finish which, unlike glossy finishes, doesn't cause light glare.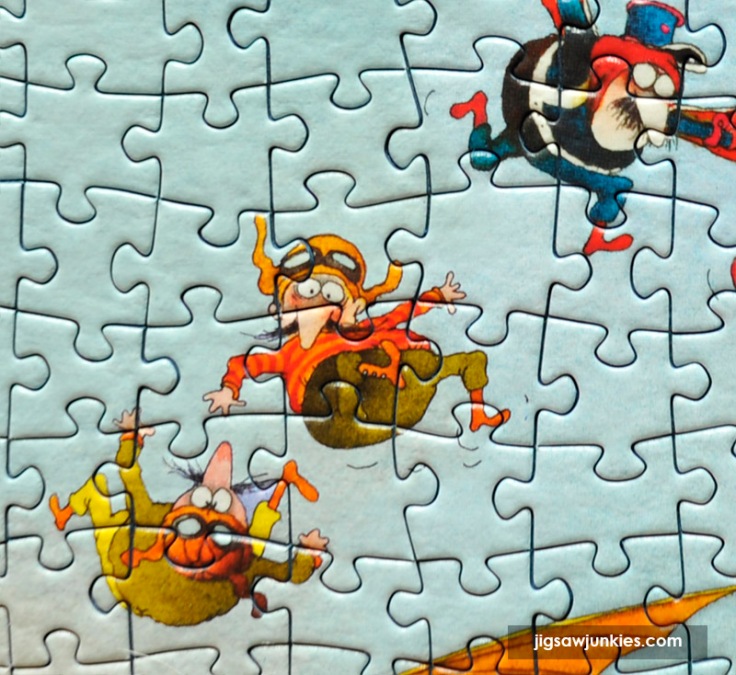 Overall, I'm giving an 8 score to quality in this puzzle. Heye is a pillar of my personal collection and I'm comfortable recommending them to anyone.
Assembly: (9/10)
Ahhh! I love cartoon puzzles, and it's always a treat to do one. This was the first puzzle I did after returning from a 3-week vacation, and I'd missed my puzzle addiction! This was a fairly easy puzzle to do for a "busy cartoon" puzzle. It took me just two evenings.
DAY ONE:
I assembled the border first. Next I did the large, bright balloons because it was so easy to pick out the pieces for them. I had a little extra time so I put in the darkest blues in the sky.

On the second day I finished the puzzle. You can see the completed puzzle image in the previous section.
Of course, the thing that makes this puzzle come together quickly are the large, colored balloons. The three largest balloons take up a good 20% of the puzzle area. These balloons have stripes that make them easy to assemble without needing to reference the box lid. The gold ropes and the characters around the balloon help with assembly as well.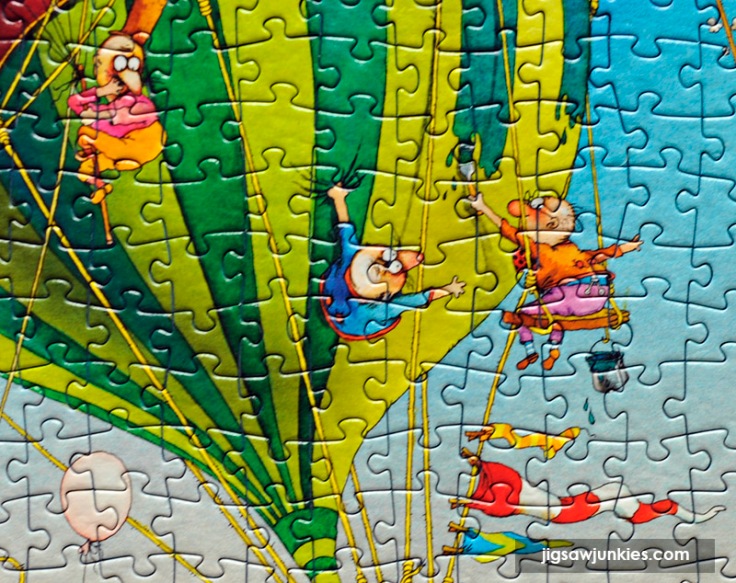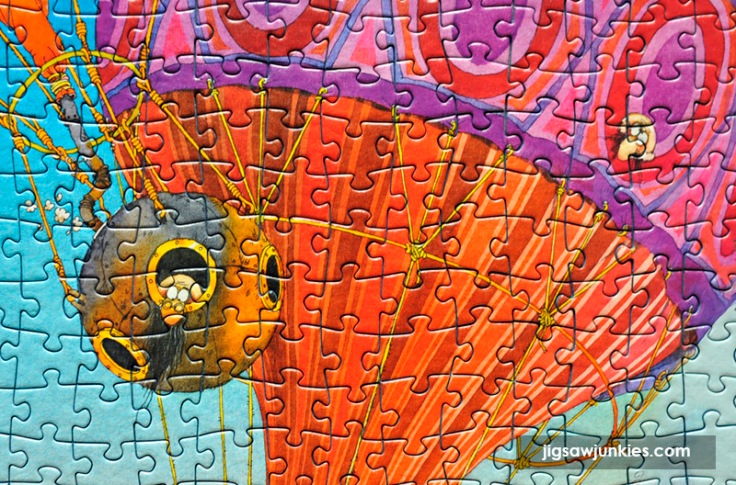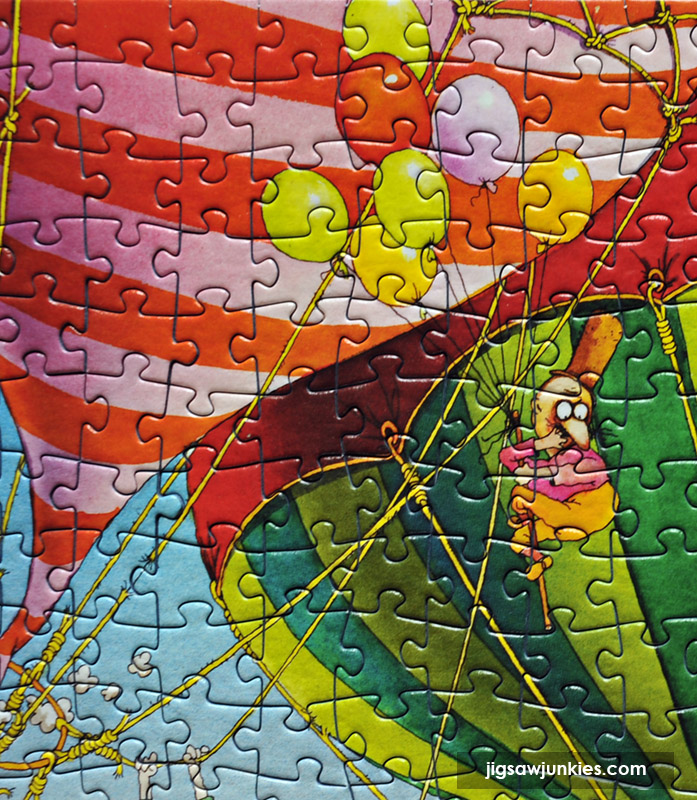 After the large balloons, there are other solid areas to tackle like the buildings in the bottom of the image.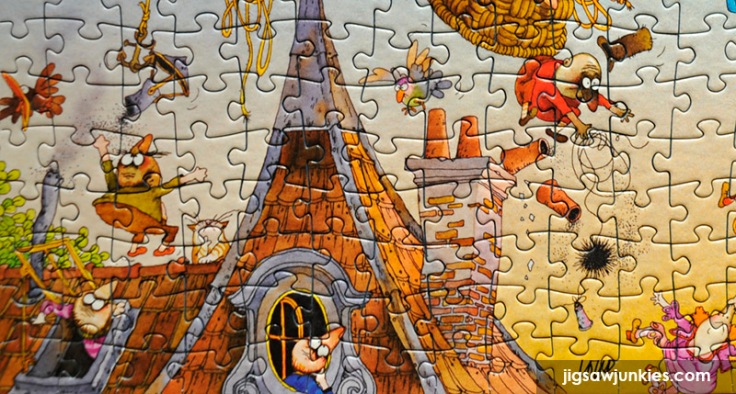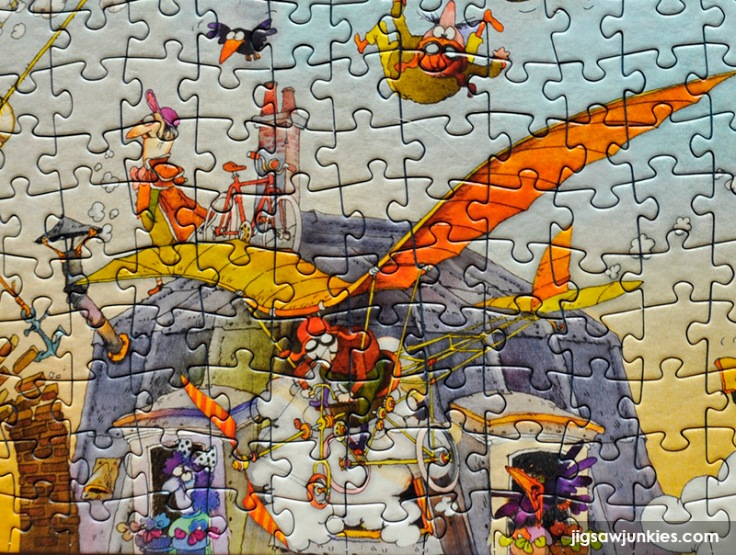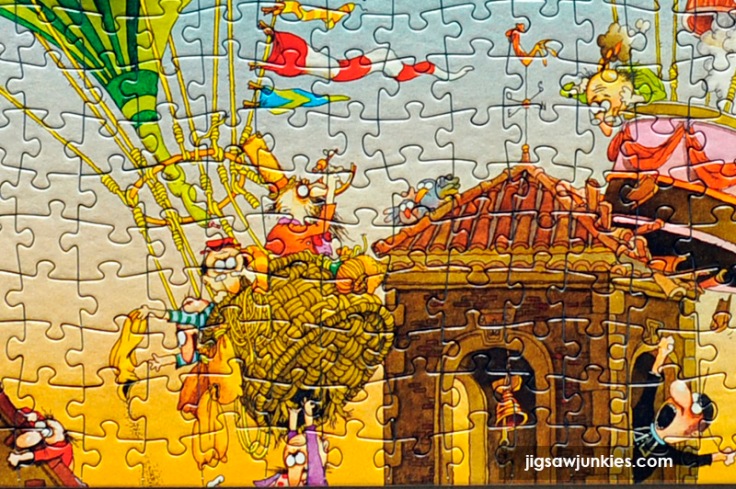 The woven texture of the balloon baskets are also easy to distinguish.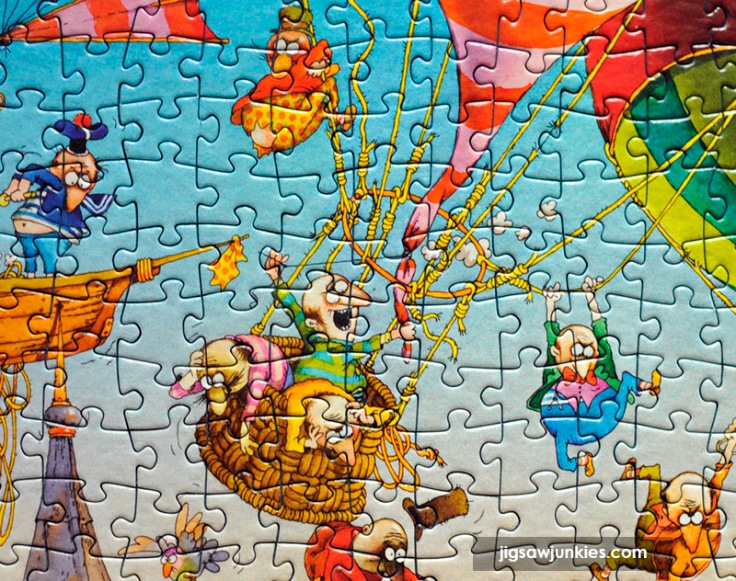 After these bigger objects were done, I pulled all the pieces that had bits of characters on them and put those together. A lot of Loup's figures have similar bald heads and googly-eyes, but it helps that each character has a unique outfit and expression. I did need to refer to the box lid to figure out where each character went and to place them in approximately the right place in the puzzle.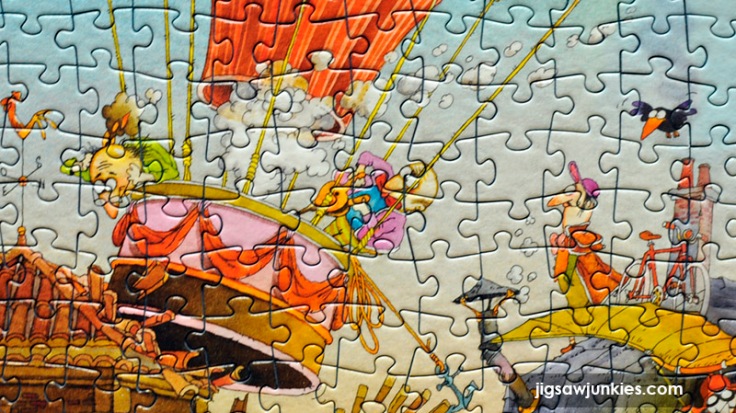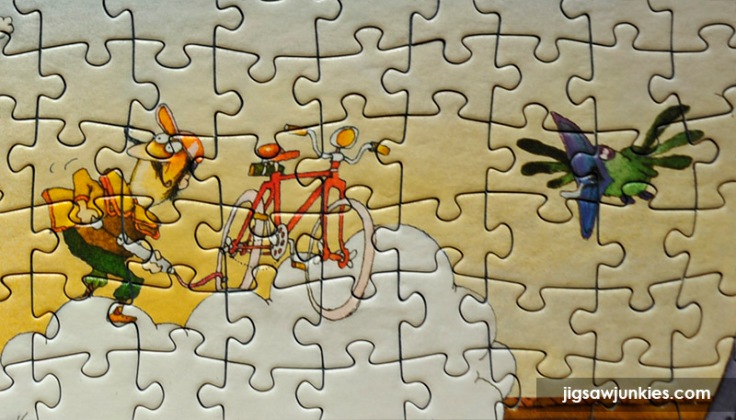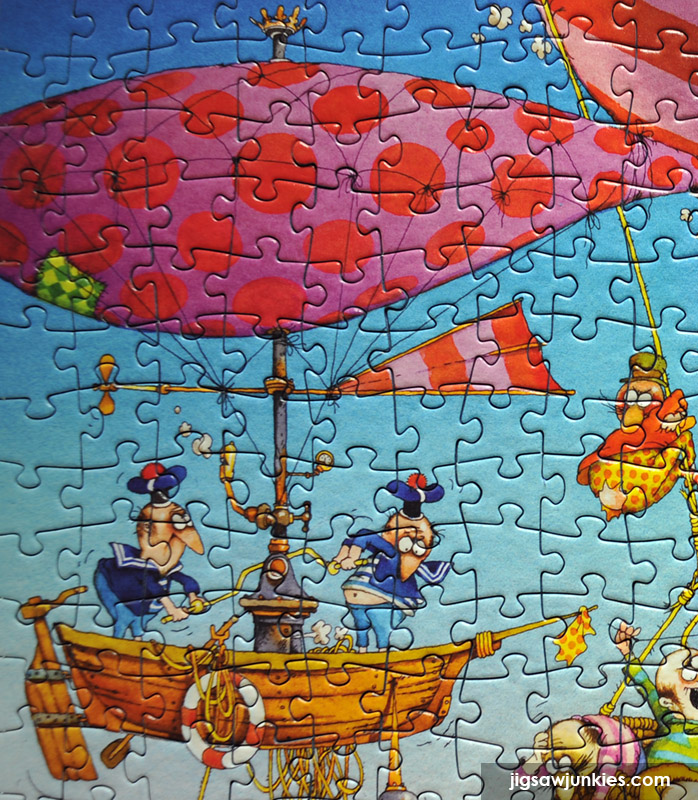 The last thing to go together were the remaining areas of background sky around the elements in the puzzle. Due to the gradated color of the sky, and all the little details that break up the sky, like puffs of smoke and birds, this was pretty fast and easy. There aren't that many pieces that are "just blue" without having a bit of something else in it.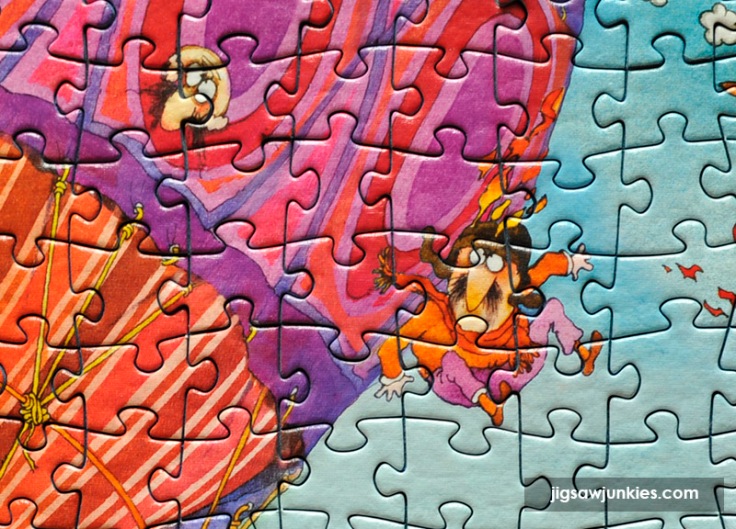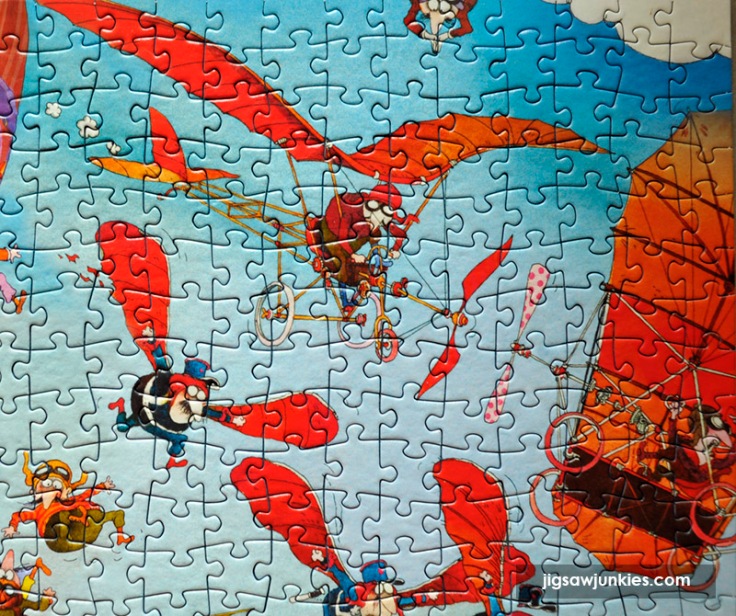 I've given this puzzle a high '9' score for assembly.
Summary:
Heye's "Cartoon Classics" line reissues some of their best loved cartoon puzzles from the 70's-90's, puzzles that are hard to find and go for big money. This delightful image from famous French cartoonist Jean-Jacques Loup is a breeze to put together. The large balloons and the buildings in the image go together quickly. There are a myriad of cute and funny characters in the scene, each with unique clothing and expressions that help you figure out what piece goes where. The blue sky background is kept from being frustrating by the use of gradated color and a lot of objects and birds in the air. If you have considered a Heye puzzle but wondered if you were up to the challenge, this is a good one to start with. Heye is a German brand with overall excellent quality. Their boxes and pieces are sturdy and the pieces have a nice matte finish. The puzzle cut is a grid cut, but there's a wide variety of piece shapes which means there's never a question of whether a piece fits or not. The interlock is a bit on the loose side, so use care when moving around assembled pieces. Highly recommended.

Where to find:
ALL LOUP PUZZLES AT PUZZLE WAREHOUSE ARE 15% OFF ALL WEEK. Here's a link.