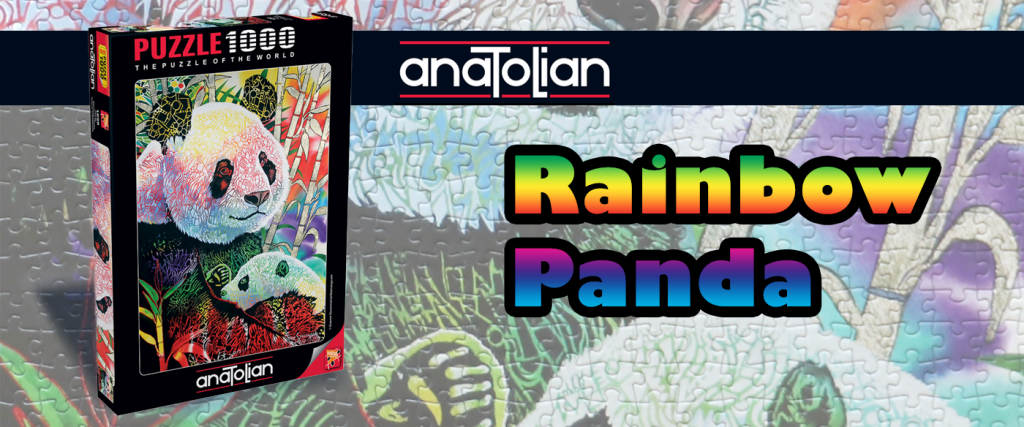 Anatolian/Perre Group – Brand Review
Over the years I have done a few Anatolian puzzles. Each one that I have done has had very unique and different art. Anatolian is the trademark of the Perre Group, whose corporate headquarters are located in Turkey. In fact, Anatolian is the first puzzle company in Turkey.
In general, I stick with 1,000 pieces or less when I puzzle, but a couple years ago I did complete a very challenging and beautiful 1500 piece puzzle from Anatolian called Flower Power. I'm not going to focus in this one for the brand review simply because there have been many manufacturing changes with the rise of puzzle popularity. BUT because it is in stock at Puzzle Warehouse, I wanted to show a few pictures. This puzzle was extremely challenging for me and took around 21 hours to complete (that is a guess, I don't typically time my puzzles). Majority of this beautiful puzzle had very pale colors. It is absolutely stunning though and reminds me of my friend, London, who is a florist. I actually preserved it and gave it to her. As you may know, I record a time lapse of all my puzzle assemblies. I have a longer time lapse of this one posted on YouTube.
When I was browsing Puzzle Warehouse, I saw that Anatolian had some new releases. And one practically jumped into my cart – Rainbow Panda. It is a combination of two things I love on puzzles – animals and bright colors. I don't think it is possible for a puzzle to have too many bright, vibrant colors. Let's take a closer look at this puzzle starting with the pieces.
Coming in at a solid 2.0 mm, the Anatolian pieces are definitely well made and sturdy. There are a few different piece shapes, which is always helpful.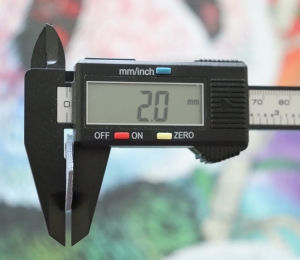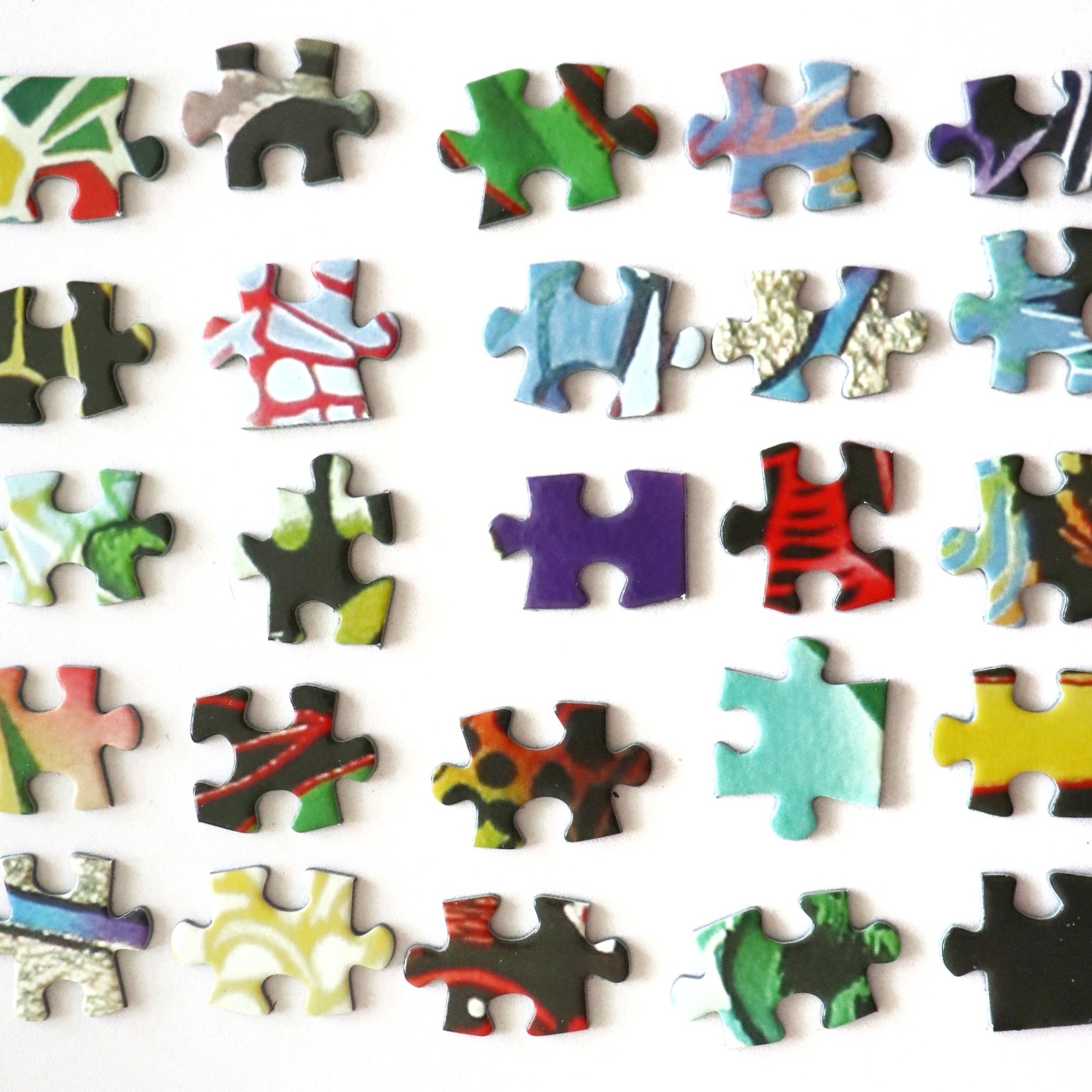 There are variations to each piece. However, I will say the bottom section with the red and black pieces was a little difficult. The connector variations can be a little tricky on the dark pieces. A great tip is to hold up the 2 pieces you are connecting and look at them from the back. You can also check to see if there are any gaps or light shining through. I used this method a couple times to ensure pieces were in the right place.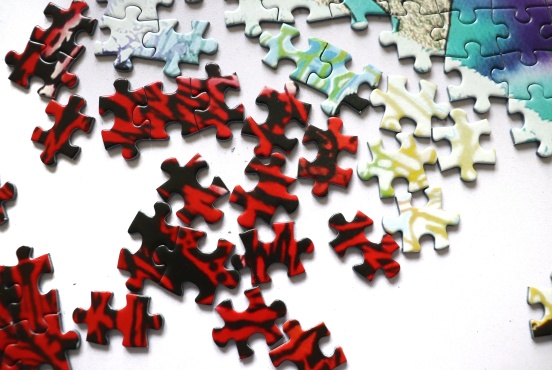 I really loved the calm gradient that is behind the bamboo in this puzzle. I started with the purple portion, because in my opinion, purple is a superior color. I also was intrigued by the almost "tv static" texture on the bamboo. It helped the gradient to really pop.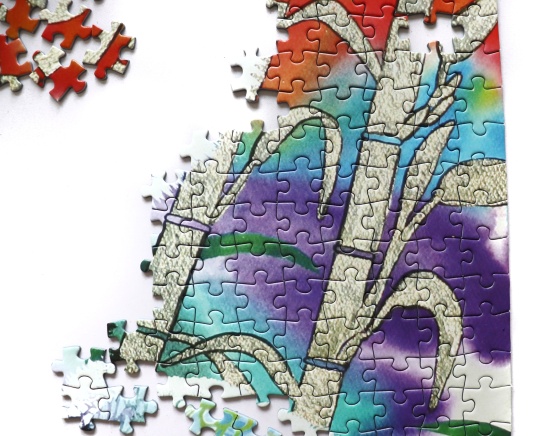 This puzzle ended up being much harder than I had anticipated! Usually when I do gradient puzzles, they come together very quickly for me. With this one having the patterns on top of the gradient it was harder. I really appreciate the different take on the gradient. There are many gradient and rainbow puzzles available, but they are mostly just the gradient or several objects collaged and grouped by color.
The more I worked on Rainbow Panda, the more familiar I became with the different patterns and the Anatolian pieces themselves. And when it is finished, it is a stunning puzzle. The artist, Graeme Stevenson, is an award winning Australian artist and it is easy to see why! On Australia Day, Jan 26th, 2017, Graeme received the Medal of the Order of Australia (OAM) 'for service to the visual arts'. The award is one of the highest honors an Australian citizen can receive. Congrats Graeme! He also established a charitable foundation, 'Paint Your Life', in 2013, which uses art to brighten the lives of the disadvantaged or physically impaired. AND he has a YouTube channel series called Colour In Your Life where he features various artists. The sheer amount of talent in this one individual is amazing.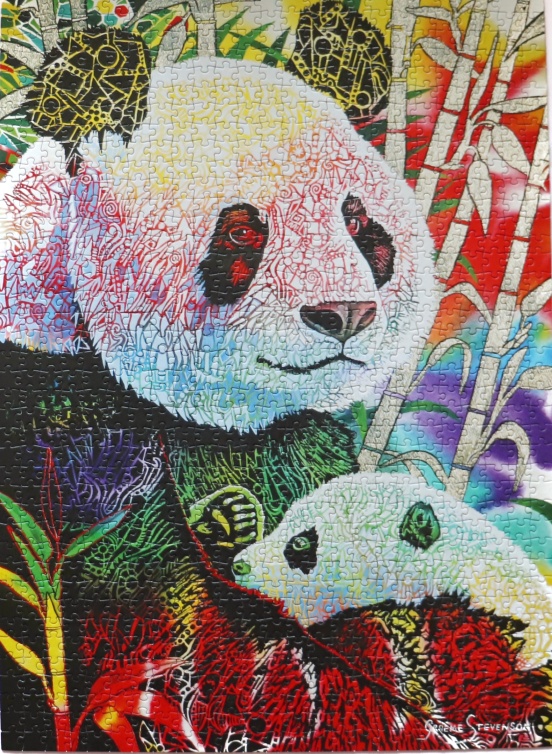 As a nice bonus, inside the puzzle box is a cardboard box top stand. It holds the lip up perfectly making it easier to look at the image.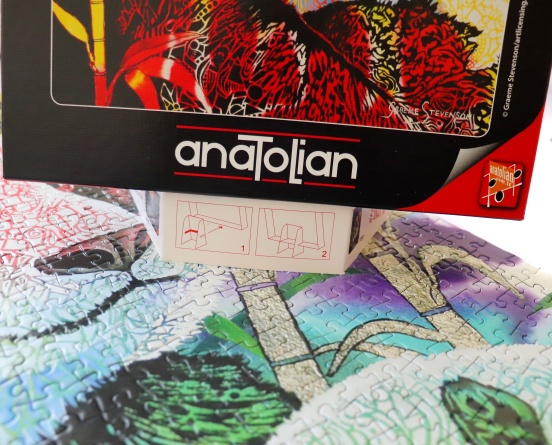 And finally, let's take a quick look at the box. Anatolian exports puzzles around the world. On the back of the box is a description of the puzzle pieces, box stand, and piece replacement policy in various languages. The lid has a very nice linen texture, which sets is apart from other boxes. The box is a bit oversized, at about 26 x 19 inches. Each side has a thumbnail or portion of the entire puzzle image so no matter how you store it, you can easily see which puzzle it is.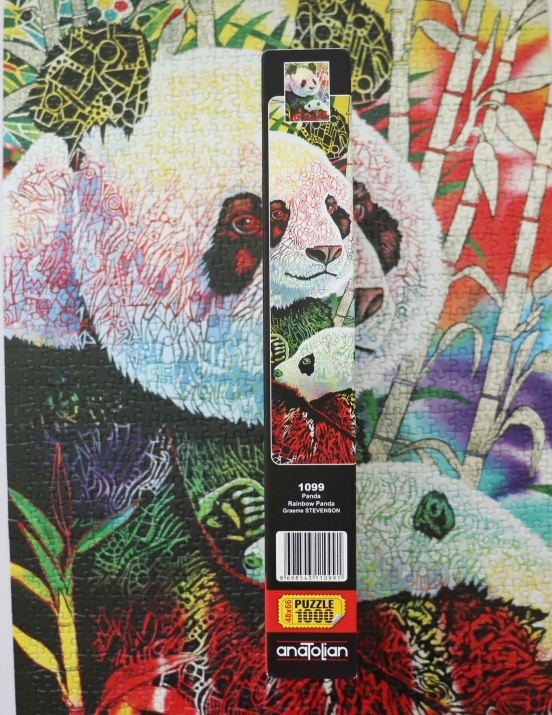 If you haven't checked out Anatolian Puzzles yet, you definitely should. They have a wide range of images including wildlife, cats, landscapes, culture, cities, cars, art, dance. I am sure there is an image to appeal to every puzzler. And if you are feeling adventurous, they have some really stunning 2,000 piece and 3,000 piece puzzles.
Take a look at my time lapse to see how I approached this puzzle.
Happy Puzzling!
Diane aka Bizzle's Puzzles