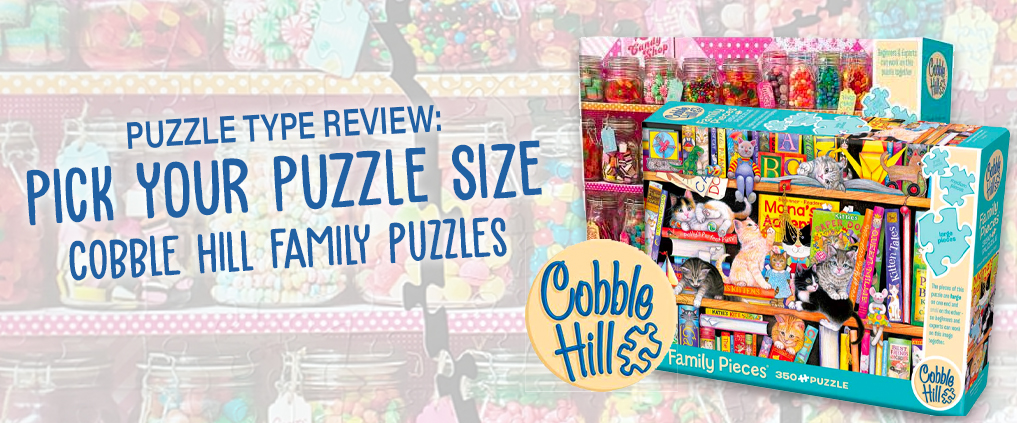 Pick Your Puzzle Size – Cobble Hill Family Puzzles
As I was researching information about Cobble Hill puzzles I ran across their Family Pieces Collection. These puzzles have three different sized pieces – large, medium, and small. Puzzlers of varying age or skill can work together on these puzzles. I wasn't sure I understood how these would work, so being forever curious I ordered one from Puzzle Warehouse.
Candy Counter is a 350 Family Pieces puzzle from Cobble Hill, made in the U.S. from 100% recycled chipboard. It came in a sturdy, linen finish box with a poster. The poster was a welcome addition because two of us were working on the puzzle and we didn't want to be negotiating for the box.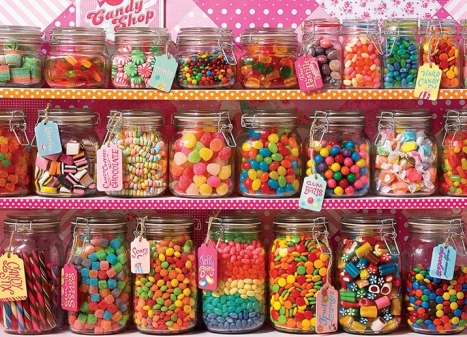 The picture itself is clear, crisp, with excellent resolution. The pieces have that lovely linen finish that means no glare whatsoever, and there was almost no puzzle dust. The pieces are random shaped and do not align at all four corners, but come in three sizes as shown below: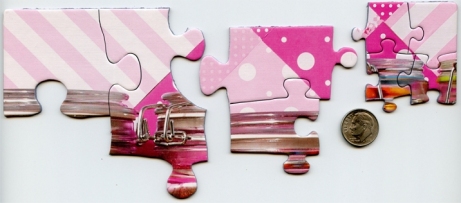 I admit I thought this would be ridiculously easy. Afterall, it only had 350 pieces. How difficult could it be? I asked my 12 year-old granddaughter to help. Although puzzles are not her favorite activity, she graciously agreed in the interests of "scientific research." We discussed whether to pull out the larger pieces for her or just let her hunt for them on her own. She chose the thrill of the hunt. I started on the smaller edge pieces and then moved on to the pink and orange polka dot shelf edges as that would give us something to build on.
It became very clear after a while that this was not going to be as easy as I had thought. My medium and small pieces were not just "falling into place." It wasn't too long before the left side of the puzzle, my granddaughter's side, was just about finished and my side had some large empty spaces. Before I excused her to go play on her electronic devices I asked for her opinion about this type of puzzle.
She thought that smaller children, with their shorter attention spans, might have to work on the puzzle for shorter periods of time to keep their interest. Then she pointed out that each jar contained unique candies which made it easier. Excellent points! I hadn't noticed that about the jars – maybe because I was working upside down, but I appreciated her mentioning it.
After she left, I finished my part of the puzzle. The picture below shows the large pieces on the left, the medium pieces in the middle, and the small pieces on the right as best as I could determine and separate.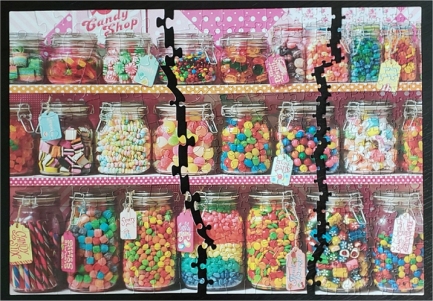 Although Candy Counter isn't currently in stock, Puzzle Warehouse does have plenty of Cobble Hill puzzles available, including a large selection of these Family Pieces Puzzles.
The Family Pieces Puzzles are all 350 pieces and made in the U.S. from 100% recycled chipboard. Cobble Hill is working at including posters so some puzzles might have a poster, but others might not. While my Candy Counter puzzle went from large pieces on the left to small pieces on the right, some might cascade from top to bottom. Here are a few that caught my eye.
Storytime Kittens – What is it about adorable kittens and libraries that seem to attract puzzlers? It's almost too cute! These kittens have put together a library just for cats. Artwork by Amy Rosenberg.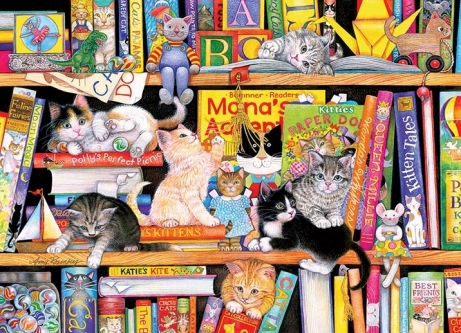 Puppy Love – It seems only fair to include a puzzle for dog lovers. Because the names of the dog breeds are given on the border of the picture it might be fun to see how many everyone can identify. Artwork by Robert Giordano.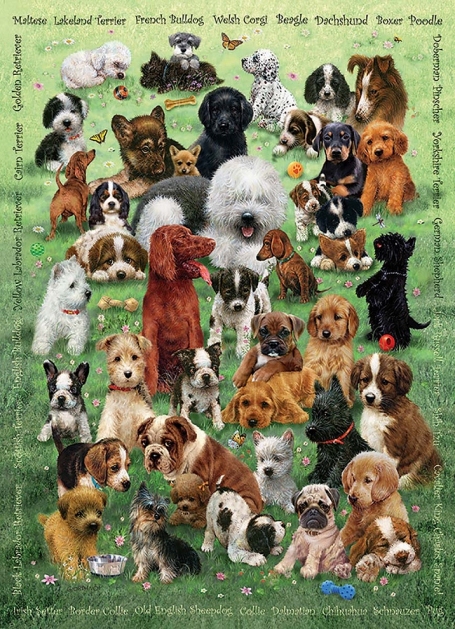 Frog Pile – This is what happens when no one wants to be left out of the annual neighborhood photo! The brilliant colors are sure to appeal to puzzlers of all ages. Artwork by Lori Anzalone.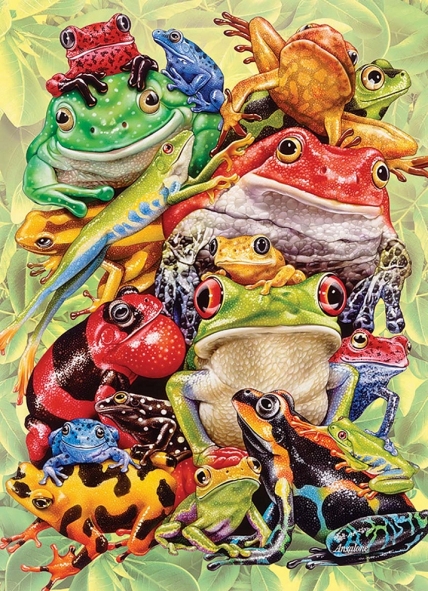 Sweet Treats – If you can't decide whether you want donuts, cupcakes, ice cream, or candy, you can have them all in cookie form in this collage.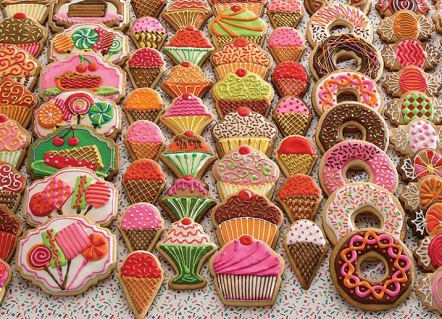 These Family Pieces Puzzles would be great for a holiday family gathering as Cobble Hill also has Halloween, Christmas, and Easter puzzles in this collection. Folks could come and go as the mood struck them. It might save some adult egos if there were extra puzzlers working on the smaller pieces. Or you could just say that the adults were slower because they were "helping" the younger puzzlers.
Happy puzzling,
Madelle