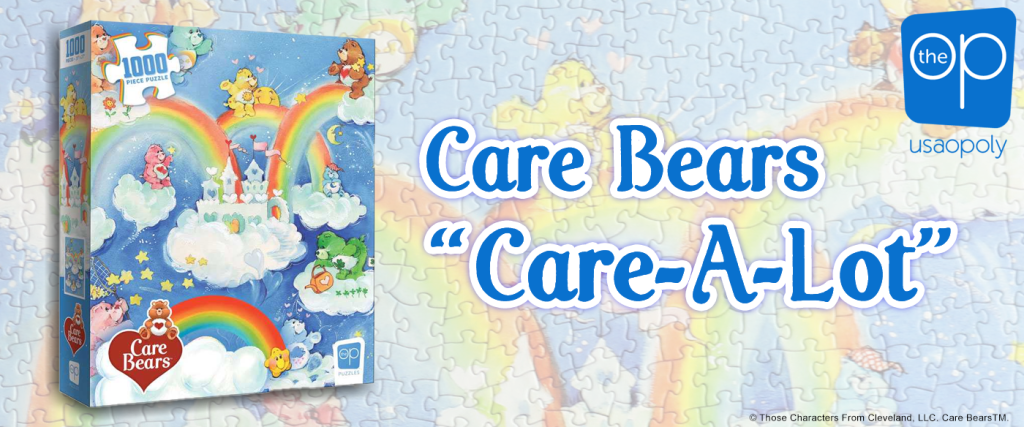 USAopoly (The OP) & Care Bears
I shared my latest haul from Puzzle Warehouse on Instagram in July and asked which puzzle I should review. Overwhelmingly, Care Bears Care-A-Lot had the most votes. Without further ado, let's take a closer look at USAopoly and Care Bears Care-A-Lot.
USAopoly, aka The OP, began with the idea of putting a hometown spin on the classic Monopoly board game. They first focused on cities (San Diego was the first edition of its Monopoly games) and expanded to colleges and other licensed including movies, tv shows, and more. Then they branched out to produce interesting versions of other classic games. Today, the company has expanded even further to include original games and puzzles. The puzzles are influenced by pop culture – and some of them bring back to many memories of my childhood and young adult years.
The Care Bears was one of my absolute favorite cartoons in the 80s. I would always be sure to wake up early on the weekends so I could watch. I had a few Care Bears (Funshine and Tenderheart) as well as Care Bear Cousins (Braveheart). One of the memories this puzzle sparked was when I would sleep over at my grandparent's. My siblings and I would ask them to make sure we wake up early for cartoons on Saturdays. I remember one Saturday waking up disappointed that I missed Care Bears. My grandpa insisted he came in the room and whispered "wake up, wake up". I don't doubt that he did and it makes me smile thinking about how he knew sleep was more important after the long days of playing with our cousins.
The cut and piece shapes reminded me of Cobble Hill puzzles. (I wrote a review about the Easy Handling Cobble Hill Puzzles. Click here.) The pieces have a textured linen finish and are a random cut.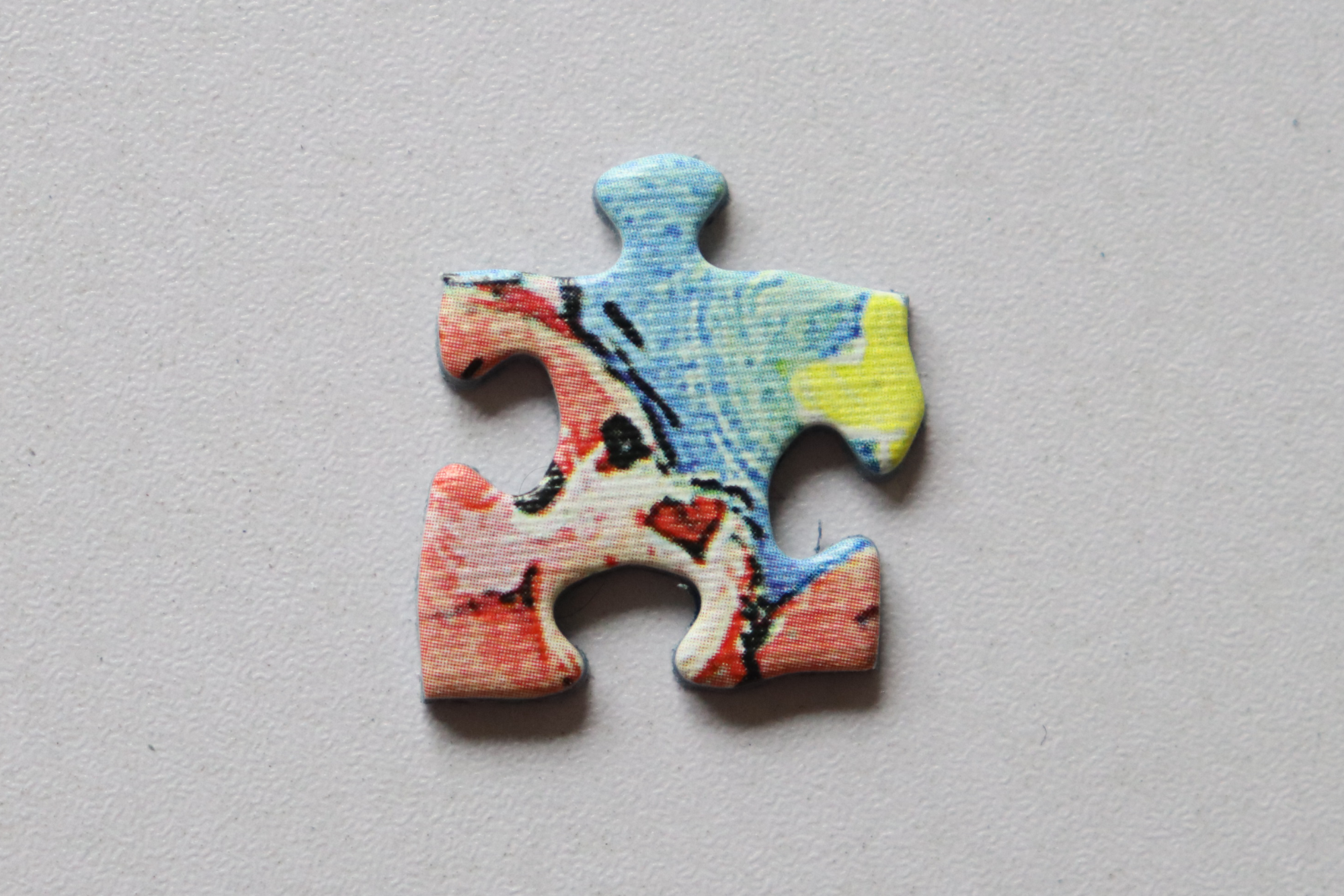 My style of assembling puzzles has evolved over the years. For the longest time, I would always do the edges first. I was stubborn with this at times. However, for this one, I decided to start with the letters first. They stood out from the rest of the puzzle pretty well so it was easy to sort them into one pile.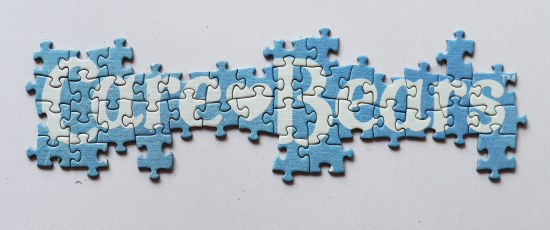 The next obvious part for me were all the Care Bears and the rainbows in the Care Bears Care-A-Lot puzzle. When I began these sections, I was just piecing them together without figuring out exactly where the sections went on the puzzle. This was not my smartest move. The fit on this puzzle is pretty loose. While I typically slide sections around, it was still a challenge on this one. I am very happy I have a nice, large puzzle table. I'd definitely recommend knowing the general area of where each Care Bear belongs when putting this puzzle together. It helps immensely.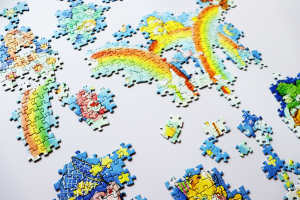 I am SO glad that the Care Bears Care-A-Lot puzzle has a random cut. There are so many blue pieces and the unique shapes really helped me conquer that sea of blue.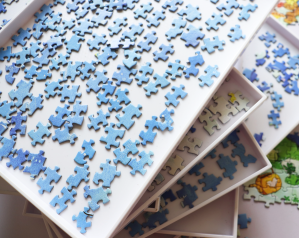 From there, it took a little time and piece reorganization (I love organizing by shape and color) to get the rest of the puzzle done. Besides the piece shapes, the different hues and details on each blue piece really helped me to get the Care Bears Care-A-Lot puzzle completed.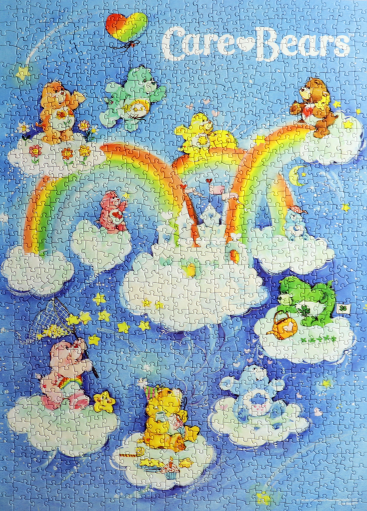 Here are a few of my favorite details from the Care Bears Care-A-Lot puzzle – of course Funshine and Tenderheart bears included!
You may have noticed in some of my pictures there is puzzle dust. This is more common with random cut puzzles and this one did have quite a bit of dust. I recommend using the Cobble Hill sorting trays because the holes in the bottom really help get the dust off. To clean puzzle dust off your area, I recommend using tape (the lint tape rollers are awesome), a duster, or a desk vacuum/hand held vacuum. Puzzle dust happens! It's inevitable with puzzles. Knowing some tricks for cleaning it up helps immensely.
I also wanted to share my hack for when puzzle pieces that are in non-resealable bags. I used to rip open the plastic bag and then use a ziplock to put the pieces into when I was finished. But that can get costly. Now, I will carefully open the plastic bag (or cut the top off with scissors) and save it to put the pieces back into when I am done. This helps keep the pieces safely in the box, even if I accidentally have a puzzle avalanche. Sometimes usually use painter's tape to reseal the bag, but I ran out so just used packing tape. (Also, let's just take a minute to giggle at the tiny reference image that came with the Care Bears Care-A-Lot puzzle – thank goodness the full image is on the back of the puzzle.)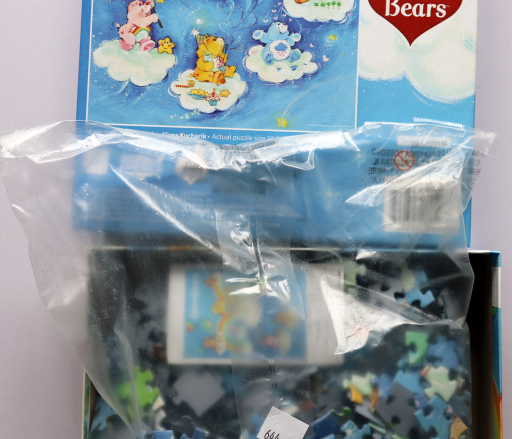 As I did this puzzle, I kept singing (in a completely non-obnoxious way) the Care Bears theme song. So it's only fitting that is the song for my time lapse.
Do you have a favorite Care Bear? I am wishing for a Care Bear Cousins puzzle (please, USAopoly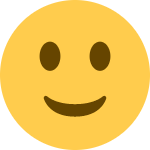 )
Happy puzzling!
Diane aka Bizzle's Puzzles