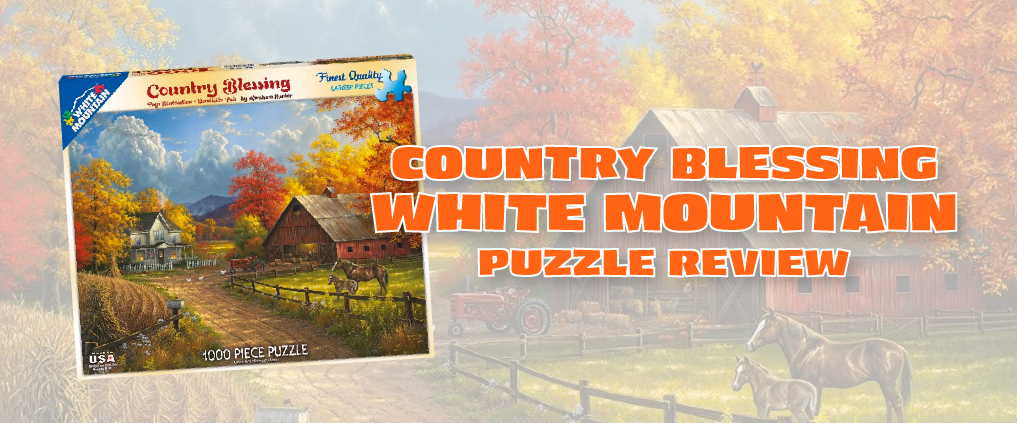 Country Blessing by White Mountain Puzzle Review
Title: "Country Blessing" by Abraham Hunter | Publisher: White Mountain (USA) | Release Date: April 1 2019 | Piece Count: 1000 | Piece Finished Size 24″x 30″ (61cm x 76cm)
My Rating: 9/10
I love seasonal puzzles. They are definitely some of my favorite puzzles to assemble. Fall puzzles are especially vibrant with all the fall foliage and beautiful countryside scenes. So I decided what better way to kick off the fall season, than with a beautiful puzzle from my collection, "Country Blessing". I know you guys will enjoy this one as much as I did. If you don't already own it, then definitely add this one to your wish list, or your collection. You can pick this one up at Puzzle Warehouse.
Box quality: 10/10
The Front of the box shows the image as well as the title. You will also find the piece count and of course the artists name along with the White Mountain logo. On the back of the box you will find many images from the White Mountain catalog. All four sides of the box also show the image and the White Mountain logo, which comes in handy when storing your puzzle. Also on all four sides you will find the artists name, the title, piece count as well as the dimensions of the fully assembled puzzle.
Inside: Included in all White Mountain puzzles you will find a clear bag of the puzzle pieces along with a stand for the box lid and a flyer with images from the White Mountain catalog. There is also a little bonus, a free puzzle drawing. Just fill out the info on the back and mail it in (no postage necessary), for a chance to win a free puzzle. As far as the amount of dust, there was very little, although I must add for someone who has done a countless amount of puzzles, I have yet to find a puzzle brand that didn't have at least a little dust. Now for the overall quality of the box, I find white mountain boxes very sturdy and not at all oversized. Some manufacturers use very large boxes which can make your storage process a little more difficult.
Image: 10/10
As I mentioned earlier, I am huge fan of seasonal puzzles. You will find so many beautiful fall puzzles from other manufacturers, such as SunsOut (Great Pumpkin Festival), Eurographics (Old Pumpkin Farm) just to name a few. I find "Country Blessing's" image to be the quintessential fall scene. Its a perfect fall day on a quaint country farm. The colors of the leaves are vibrant with every color that screams fall, such as golds and burnt oranges, copper, yellows, purples, red with some subtle brown undertones. The barn has the aged warn look that adds to the country vibe of this image. The pastures compliments the farm with it its sage and yellow as well as gold and slight copper undertones. All of these colors and undertones blend so perfectly in the image. The sky has so many different shades of blue and you will also notice how the intensity of clouds is sporadic throughout the sky that makes it look so authentic. I find the mountain range off in the distance with its many shades off purple and midnight blues seem to tie it all together. The colors in the image are sharp and distinct. I found absolutely no glare on this puzzle while assembling it, even with the glossy finish. "Country Blessing", isn't trendy its timeless. I am sure you will revisit this puzzle year after year and never tire of it. If you love fall vibes, I know you will really enjoy this image.
Puzzle Quality: 9/10
I am a big fan of White Mountain, although I have had a lot of issues in the past with image lift as well as pieces not correctly cut in the factory. It seems White Mountain is infamous for these issues. And yes I did have similar issues while assembling this puzzle. Hence the 9/10 rating for quality. I would like to add in White Mountains defense even though there clearly are some factory issues it has never affected my overall experience of assembling White Mountain puzzles. White Mountain puzzles have always been one of my favorite puzzle manufacturers. The pieces lock in very tightly but never too tightly. You can easily move assembled groups of pieces on your board without the fear of them coming apart. The ease of assembling White Mountain puzzles is unique. The pieces just seem to flow together so easily. I dont just mean the interlocking of individual pieces fitting snuggly together, what I mean is the ease in finding your next piece as far as the image on each piece cannot be mistaken for the wrong piece. I have always found White Mountain puzzles extremely relaxing to assemble. Even though you may run into some factory issue with White Mountain, I certainly wouldn't let that detract you from future purchases. The images are bright and vivid and unique. The random cuts and larger pieces are definitely a plus while assembling. I do appreciate the completed size of White Mountain puzzles. You will find they are larger than most 1000 piece count puzzles when completed, 24″x30″. While assembling "Country Blessing", I found the image reproduction extremely clear . I didn't find any blurry areas in this puzzle. It does have a glossy finish but you will find no glare on this puzzle.
Assembly: 10/10
I would rate this puzzles difficulty as easy to moderate. I assembled this puzzle in six hours. I always assemble the border first my only exception is when assembling shaped puzzles, then I work from the inside out. As I mentioned earlier you will find an ease in locating your next piece while assembling, in my experience all white Mountain puzzles. I found the colors on the image of the box are extremely similar to the pieces, which make assembly that much easier. After separating all my pieces into my sorting boxes, I concentrate on one section at a time . First I worked on the sky then all the trees and worked my way down to the farmhouse and the barn. I find this a very good method. If you concentrate on one area of the puzzle using your image as a guide you will find ease in moving from one piece to the next and before you know it you will have completed" Country Blessings" and I might add feeling quite pleased with your accomplishments. I hope you enjoyed White Mountains "Country Blessings as much as I did. You can pick this puzzle up at Puzzle Warehouse. Enjoy and Happy Fall Y'all
Donna C