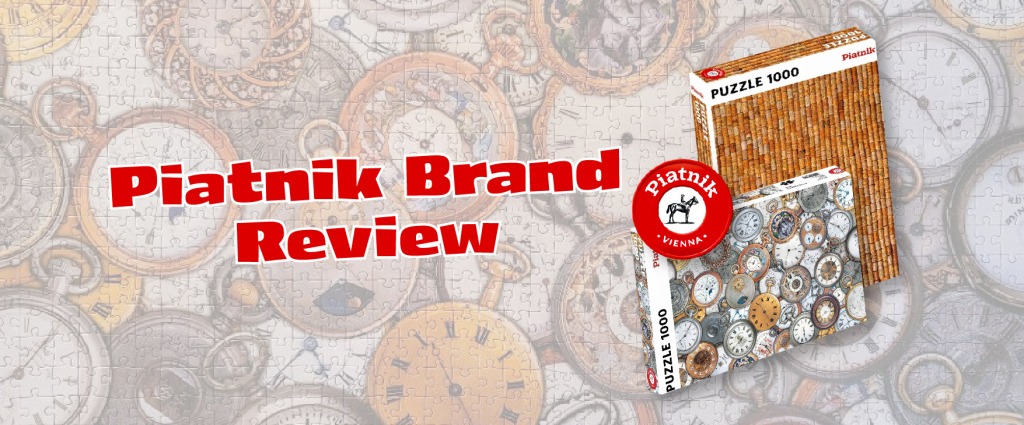 Piatnik Brand Review
My Rating: 9/10
Time flies when you're having fun, and boy did I have fun with these two exceptional puzzles from Piatnik. Welcome to all my fellow Jigsaw Junkies, there's no time like the present for a fun filled day of puzzling, and I promise you will have tons of fun with both these puzzles. Let me introduce you to "Timepieces" and "Wine Corks" by Piatnik. Now I Know, I know, you may look at these images and think, "yikes they look too difficult" but I am here to assure you, that is not the case. Let's begin with "Timepieces" a beautiful image of pocket watches, with so many distinct watch faces and styles, you can't help but be intrigued by this image. Piatnik is a top notch brand. They are family owned and operated out of Vienna. Piatnik who prides themselves with keeping up with the Viennese heritage, which is truly enjoying each other's company and chatting together. So when they play games whether its card games, board games, party games, puzzles, or games for the whole family they like to interact with one another. That is their true passion. They produce their line of games and puzzles right in the center of Europe, and use high grade raw materials from local suppliers. It was back in 1824 that Ferdinand Piatnik established the company and to this day the firm is successfully run by the founders family. Their products are available in 72 countries. Piatnik is an outstanding brand, and is about as close to perfect as it gets. I love Piatnik's puzzles. They are definitely on the top of my list of favorite brands, not only because the quality of their puzzles are second to none, but also because of their original images. Take the time to browse their library of images, I know you will find one that inspires you, as I always do. I will admit I have several of their puzzles on my wish list. I am constantly on the hunt for new images from Piatnik to add to my collection. This is such a fun brand and I have had nothing but positive experiences while assembling these puzzles. If you don't own a Piatnik then I promise you its's high time that you do. I promise, you will loose track of time while assembling Piatnik, I always do.
Box Quality: 10/10
Piatnik boxes are larger rectangular boxes measuring 10 x 15.5. They are very sturdy well made boxes that will last the test of time. The front of the box has the image, piece count, (1000 piece), and the brand name. All four side has the logo, the piece count as well as the image, which always helps for shelving purposes. Inside the box you will find the bag of pieces along with a flyer of several of their images. On the bottom of the box you will find 35 images from the Piatnik Library. Paitnik boxes, though larger than most brands, are as well made as the puzzles themselves. I know smaller boxes makes storage a lot easier, but most vendors boxes are on the larger size, so I won't deduct a point here. When you become more and more familiar with different puzzle brands, and the quality of those brands, I think, like me you won't want to trade quality for convenience.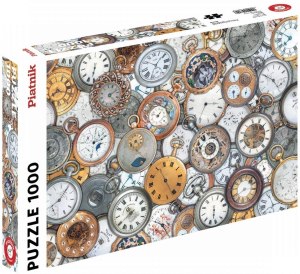 Image: 10/10
From time to time you find an image you just love and this is one of those times. I had so much fun assembling this puzzle. I tend to lean towards fall and holiday puzzles as well as winter, and country vibe puzzles. When I need a change and to get out of my comfort zone, my go to brand for interesting images with a hint of a challenge is always Piatnik. This is such a unique image, I just simply had to own it. This image is perfectly clear. It is without a hint of blurriness. The image reproduction is perfect, so I had no problem giving the image the highest rating. You will be hard-pressed to find an image with more detail than, "Timepieces". Each pocket watch in this image is not only stunning but riddled with detail. Not only are the cases of each pocket watch brilliant, but the faces of each watch are clearly remarkably intricate and precise. The only way to describe the artwork on some of the watches is just exquisite. Imagine how amazing this image would look framed and hanging in an office. This is a classically brilliant image. What better way to pass the time of day, than to assemble this magnificent puzzle.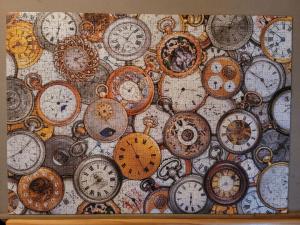 Puzzle Quality: 10/10
Without hesitation I can give the quality of this puzzle the highest rating. Piatnik prides themselves with high quality puzzles and time after time they truly deliver. I found practically no dust in the box. Each piece was perfectly cut, with no pieces left joined together. I found no shards left behind on any of the pieces. There was no fraying on the backs of the pieces. Although the pieces may be a bit smaller than some other top vendors, they certainly aren't lacking quality. They are thick and sturdy, well made pieces. They were no raised edges and when completed, the puzzle had a smooth even surface. Piatnik is a highly respected brand in the puzzle community, with their dedication to quality and detail they have earned the highest praise. Treat yourself to a Piatnik, I promise you won't regret it!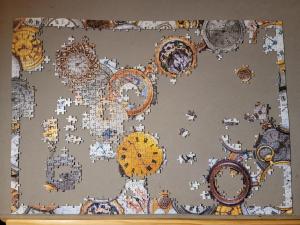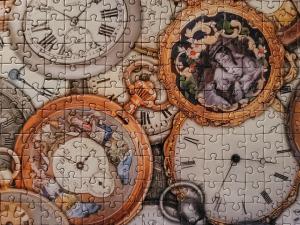 Assembly: 9/10
As I mentioned earlier, Piatnik is as close to perfection as it gets, but for one exception, the tightness of the fit of puzzle pieces. Unfortunately I do have to take a point here for loose fitting pieces. It pains me to do so, because this is an exceptional brand, but I try to be as impartial as possible when I give a review. My biggest issue when puzzling is tight fitting pieces. Although I have experienced much worse issues with loose fitting pieces, there definitely is an issue with the fit here. Now to be clear you shouldn't have a problem as long as you're careful moving small assembled groups around the board. So the good news here is that many of you, after seeing this image may feel you are in for a bit of a challenge, I couldn't disagree more. I didn't find this puzzle to be overly difficult at all. I would rate it as moderate as far as difficulty goes. As always I started with my border. Once my border was completed, I began to assemble each pocket watch individually. Let's go back in time a little, in the beginning when I first got into puzzling, before I started a new puzzle I would separate all the pieces by all the different shades of color. It was a time consuming task and I have long since given it up. Now when I begin a new puzzle I simply separate all my pieces in 3 or 4 sorting boxes in no particular order. I realized after gaining some experience that sorting the pieces by shades of color was not only a colossal waste of time, it really didn't make my assembly any easier. What I do now is once my border is complete I pick a certain section to work on, then looking through my sorting boxes I collect all the pieces that match that section and begin to assemble. I usually like to work on what I consider to be the most difficult area first. With "Timepieces", I really can't say that one area is more difficult than an another, so I just went from one watch to the next collecting all my pieces and assembling them. Eventually when you have enough watches assembled they all begin to come together very nicely. What you may find a little difficult is all the different roman numerals, but if you look closely you will notice all the different font sizes and depths of color and style, using this as a guide it should make it that much easier for you to find the pieces you need. This is ribbon cut puzzle, there are a few shape variations that will definitely help guide your assembly. You will find some duplicate watches throughout the puzzle just be aware of that. I probably spent maybe seven hours assembling "Timepieces", give or take. Overall I had a lot of fun assembling this puzzle. It truly is a beautiful image.
Wine Corks: 9/10
I know you all may be thinking that you will need a few glasses of wine to get you through this puzzle lol. I'm here to tell you to have no fear this is easier than it looks, I promise. I know just looking at all the cork screws is intimidating, but seriously it really isn't as difficult as it seems. Back when I first started puzzling my husband was on a mission to find difficult puzzles for me to assemble. He gave me this puzzle for Christmas one year and he was so proud of himself, thinking this was going to be a real challenge for me. I must admit my first impression of this puzzle was, "oh boy I'm screwed", no pun intended, lol. Admittedly I avoided this one for awhile, but because I really didn't have many puzzles back then, I decided to give it a whirl. I am so glad I did, it was this puzzle, my first Piatnik, that got me hooked on the brand. Now once you get pass your initial fright, look closely at this image. You will notice that there are so many different rich hues of color in each cork screw. There are different words and numbers also in different colors. You have some black lettering, red, brown, and different font sizes as well. Some cork screws appear to have had the writing worn off, some have only numbers, some only letters. So the closer you look the more detail you see, which really makes assembly much easier. My strategy here was I assembled my border and then I did each row completely across and then started my next. I continued this pattern throughout the entire assembly and before you know it the puzzle was completed. I puzzle to relax it's like meditation for me, that being said, I really don't enjoy a very difficult puzzle. I really did enjoy this puzzle because it really is more fun than difficult. It is challenging, but in a fun way. Though I won't go through a detailed review of, "Wine Corks", I will say again this is a top notch brand and the only issue I had here was again the loose fit, that will be the only point I will take here. To all my fellow Jigsaw Junkies if you haven't already checkout Piatnik. They have so many interesting images to see, and yes for you die hard Christmas fans like myself, they even have Christmas puzzles, which are quite fun. They are all 1000 pieces, and I promise they will never disappoint. Remember piece by piece and you will be on your way.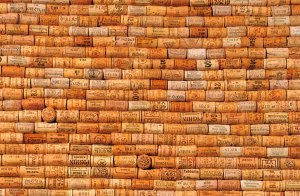 Summary:
For those of you who haven't already had a chance to check out Piatnik, I am attaching a link so you can have a look see. I am sure you will all find so many images you will want to add to your puzzle collection. Also if you enjoyed, "Timepieces", as much as I did, and would like to add similar puzzles to your collection I found another one I know you will love. It also is titled, "Timepieces", by Cobble Hill, another high quality brand, and one of my personal favorites. Happy puzzling folks!
Donna C