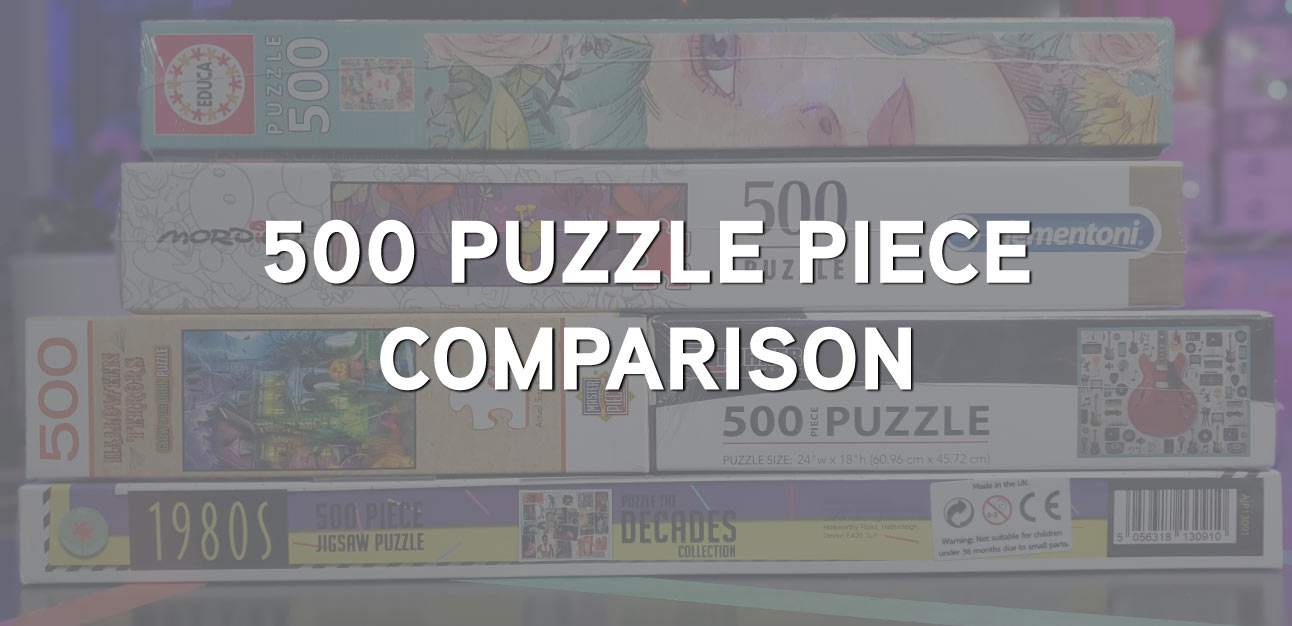 500 Piece Puzzle Comparison
Ready to go on a journey with me through the rabbit hole and get a smidgen analytical to compare (5) different 500 piece puzzles? No? I'll wait....
Ready now? OK, let's go! I've done the easy part of putting together the puzzles, and I have measured several key factors across all five. I will also provide my overall enjoyment and opinion on each completed puzzle. You can do the same on your side, and then we can compare notes after. (It's not cheating if the pop quiz already happened.)
Information/Factors:
Puzzle Brand
Puzzle Name
Completed Puzzle Size (+ Orientation)
Time to Complete
Note, all puzzles took 10-15 minutes for initial sort, and remaining time to complete was assembly. I did not try to speed puzzle at all, and various days events or moods may have affected my time.
Type of piece shape or cut
General piece fit
Note: On a scale of 0-10. 0 = Unable to move any pieces while connected, 10 = move giant sections while connected.
Pick Up and Put Down challenge
Overall enjoyment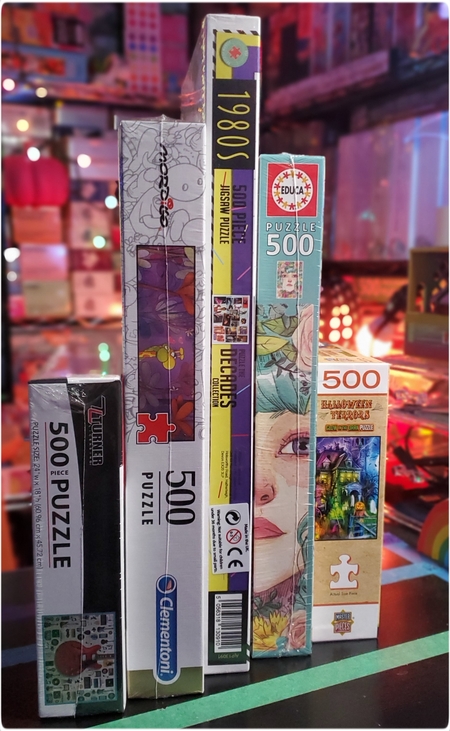 Puzzle A: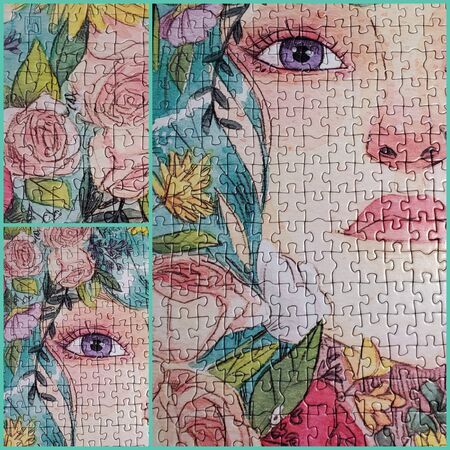 13" x 19" (Portrait)

137 minutes

Wobble Nubby Shapes

Fit = 1. Only able to move 2 pieces together at a time, and only while holding the middle.

Pick Up = Fail. Put Down = It never got more than .5" off the table.

Oh May, put your arms around me.....Wait, that's Johnny Rzeznik's words and not mine. This puzzle has had a spot in the wish list for a long time. Although I am typically drawn to vibrant and outlandish colors, the subtle tones on this one are SO PRETTY to me. I wish purple eyes were a real thing as well. I don't know if the piece shapes have a proper name, but Wobble Nubby Shapes is what I've chosen for my life. You know the ones, they don't have an innie or an outie, they just have a hump and a divet that slide next to each other and stick together with Thoughts and Prayers. The piece shapes and pastel color tones did make this more difficult than your average 500 piece puzzle, but not any less enjoyable. Keeping it interesting with a little razzle-dazzle of uniqueness.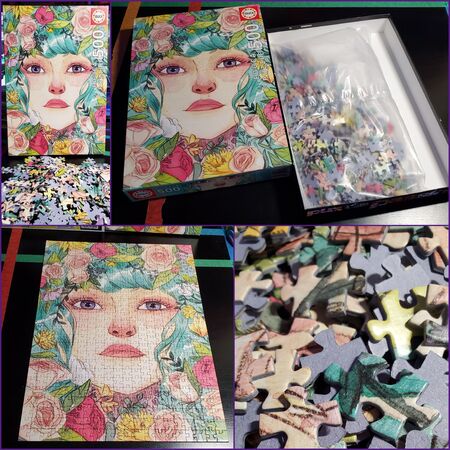 Puzzle B: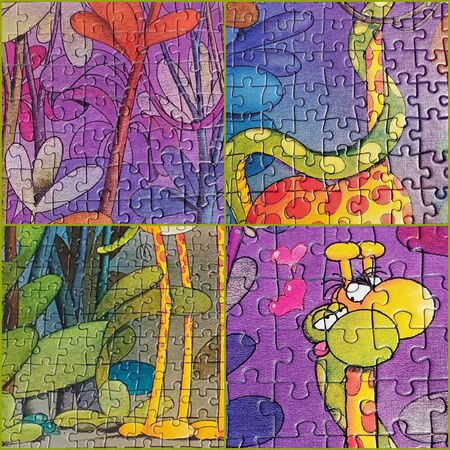 14" x 19" (Portrait)

83 minutes

Ribbon Cut

Fit = 3. Able to move 2-3 pieces at a time, while precariously holding.

Pick Up = Yes, but only for a moment. Put Down = Crumbled while in air and fell down to table. (Check out the end of this post for a blooper/Pro-Tip)

Memory is a little fuzzy, but I think this is my first Clementoni I've completed. Own several, but been slacking on getting to them. This image in particular was one that I was instantly drawn to. My normal moth-to-flame-ness with the colors and textures and overall good feelings from looking at it. Teetering on the line of humorous and some subtle political commentary (maybe that's just me, and I won't get into it here), there was no disappointment here. The snake and giraffe are the obvious place to to start with this, but the gradient background with its dainty texture lends itself to going together with ease. Seems to be time to grab my other Clementoni puzzles and get cracking!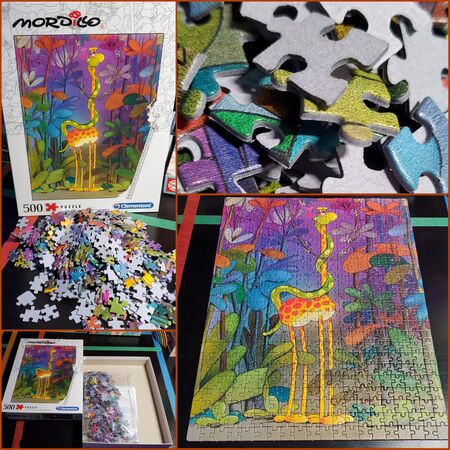 Puzzle C: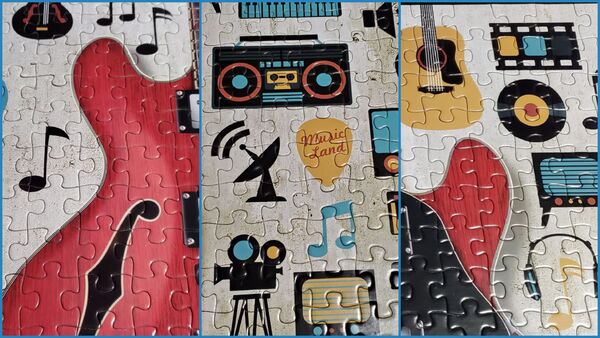 24" x 18" (Landscape)

99 minutes

2x2 Ribbon Cut

Fit = 8. Able to move large sections while together, minor fall out but nothing dramatic.

Pick Up = Excellent. Put Down = Excellent. Not scary on either direction.

I'm not a huge fan of 2x2 only piece shapes, but when the puzzle has clear delineation on design, shapes, and colors (even with a limited palette), it did not feel tedious at all. I did an initial quick sort on this to separate edges, the red guitar, and then the rest. Then after the edges and guitar were done, I did another sort of the rest into Yellow vs Blue vs Black pieces, and was able to whip them into place, sort of like a collage puzzle, making small sections and then joining them with filler. Overall, lovely puzzle, would puzzle again, but does help to have a subject matter that is an interest (Hubs collects guitars like I collect puzzles...).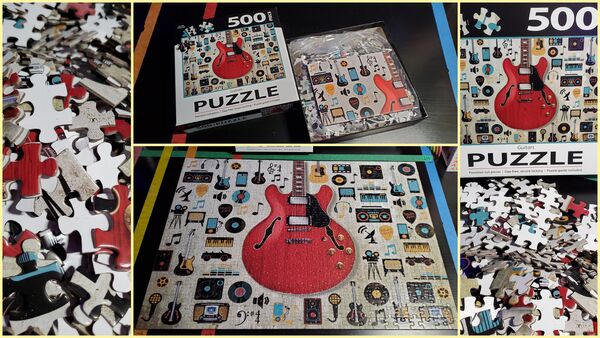 Puzzle D: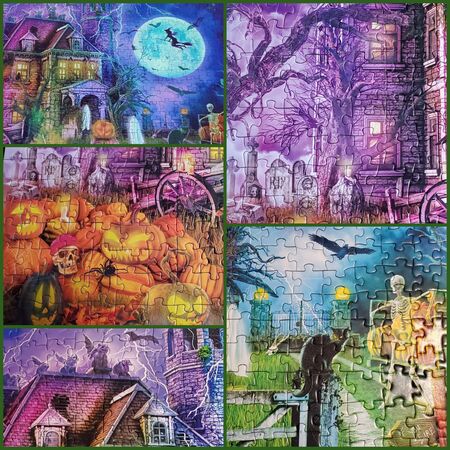 21" x 15" (Landscape

91 minutes

Varied Ribbon Cut

Fit = 10

Pick Up = Perfection. Put Down = Perfection. Could stand puzzle on end and have it stand on its own.

Confession...this puzzle has been on my wishlist since the moment I first saw it, and every time I've gone to buy it, it was out of stock. Which really just made me want it even more. Did it live up to all the hype? ABSOLUTELY. The colors...*Chefs kiss*. Glow-in-the-dark...*Mind-blown*. Spooky and creepy stuff??? OMG sign me up. Sprinkle in some of that MasterPieces great fit and varied piece shapes...I don't want to say it's the perfect puzzle...But it's right up there in the top 10 for me. (If you've seen my collection, you know the magnitude of that statement.) My only possible complaint for this, is that it comes in a single-use/non-resealable bag and I hate the plastic waste. Otherwise, if you see this puzzle for sale, grab it before it's out of stock again. It's deserving of flying off the shelves!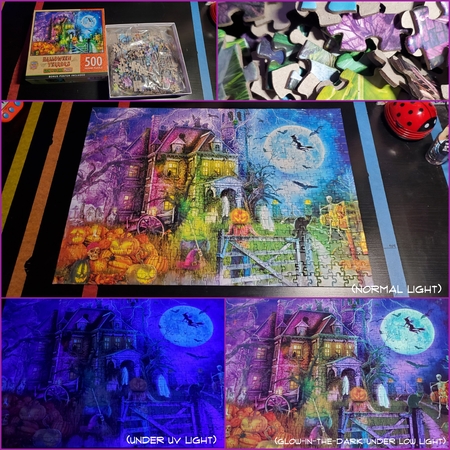 Puzzle E: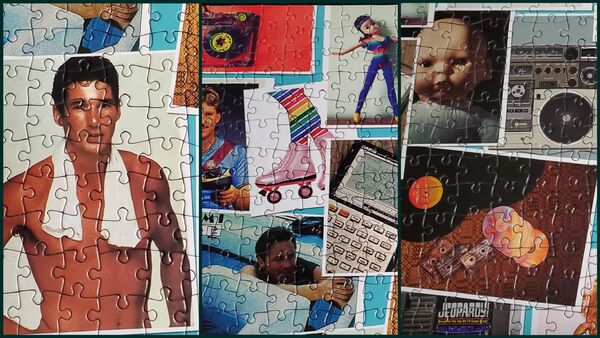 19" x 15" (Landscape)

68 minutes

Varied Ribbon Cut

Fit = 4. Able to move some sections OK, others not so much. Depending on the type of piece shapes in that section.

Pick Up = Mostly a fail. Put Down = Pieces fell out while holding in air. Did not go down flat/gracefully.

Collage puzzles do tend to fly together for me, mostly because it's so easy to break it down into the small little sections and really feel accomplished, which helps keep the speed and enjoyment up. The nostalgia that came with this puzzle was great. Some wonderful memories, some absurdities. I'm not entirely sure I needed a shirtless Richard Gere in a puzzle, but well, I got one. I'm headed off to my room to make a mix tape of my feelings. Overall, enjoyed this puzzle, and would gladly do others in the Decades series by All Jigsaw Puzzles. If the 80's weren't your thing, they currently have 1950s-2000's in both 500 and 1000 piece form!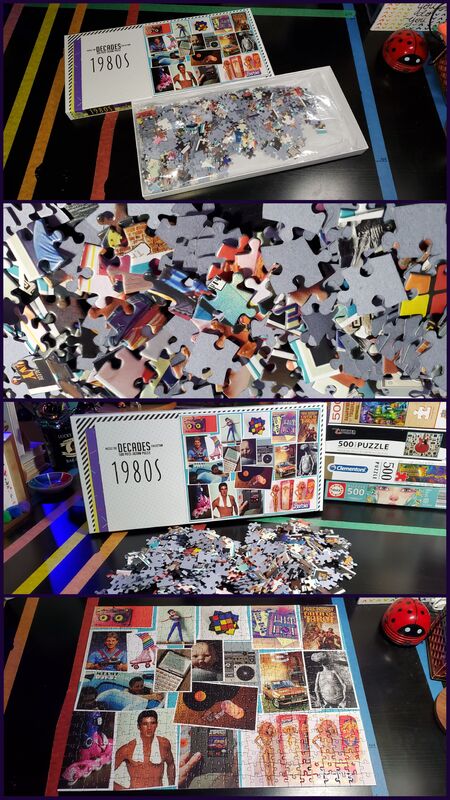 All in all, there is a wide variety of 500 piece puzzles, which offer a lot of enjoyment with minimal amount of time and space commitment. Several brands, including many not mentioned here, also offer the same image in multiple piece count sizes, allowing for you to choose how much time and effort you want to put into it. Since 500 pieces are...less pieces (shocker I know)...than 1000 piece puzzles, more intricate details in an image are going to be on...stick with me here...less pieces. Which makes it easier to do. And less pieces makes the overall puzzle size smaller, which means you need a smaller surface to puzzle on. Whaaatttt?! This is ground breaking information. I may be the first person to catch on to this ever.
I'm going to quit while I am ahead, and say, that each of the puzzles that I've tried out here have their perks and their "Meh" moments, but all of them were overall enjoyable, and are puzzles that I would absolutely do again, or do similar puzzles from the brands. For me, that is one of the beauties of puzzling, a wide variety to suit every whim, need, and mood imaginable.
-Jenn / PuzzleKnucks
P.S. The Pro-Tip is...Do the puzzle pickup challenge AFTER you take completed photos, unless you really really want to do the same puzzle twice....