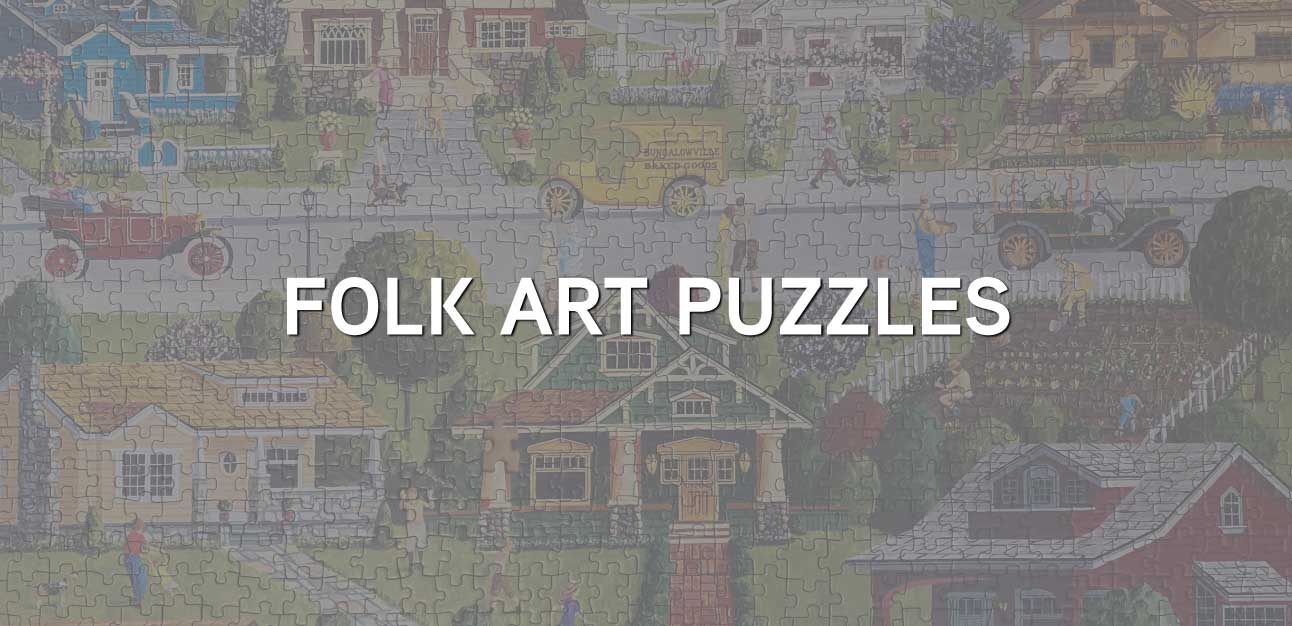 Folk Art Puzzles
I enjoy working on puzzles of neighbourhoods, with details of different coloured houses with lovely yards, people, animals and plants. I love searching out pieces and finding where they fit in the overall picture.
I just finished this beautiful 1000-piece puzzle from MasterPieces' Hometown Gallery series, Bungalowville. The box is small, 7.75 "square, and the pieces are a bit small but regular puzzle shapes, all made from recycled materials. There is a large poster included which helps with seeing some of the finer details of the image. Finished size is 26.75" x 19.25".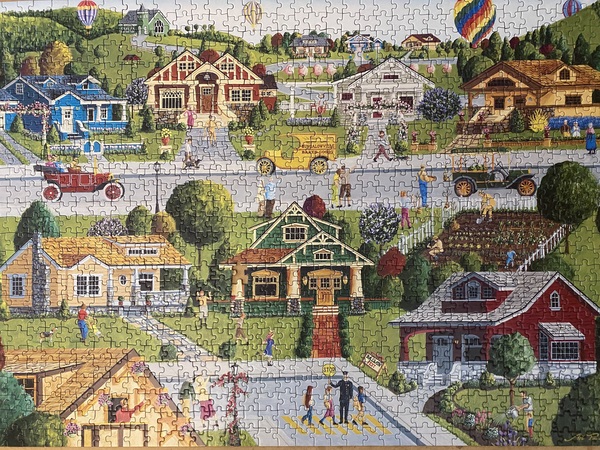 Bungalowville | MasterPieces | 1000 pieces
As I neared completion of this masterpiece, it became obvious that a piece was missing! I searched the floor and under everything I was able to get under! It was gone, maybe eaten by the dishwasher or the cat! I have had this experience before, unfortunately. Our house is often full of people, most hovering over the puzzle board at some point. Well, as some pieces go missing, I sometimes find a random piece. And sometimes, I still have the puzzle it is a part of!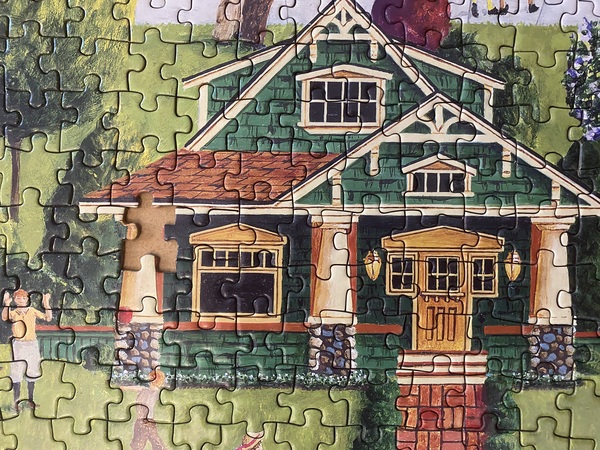 Bungalowville was painted by folk artist, Art Poulin. As I researched other puzzles using Poulin's images, I discovered what an amazing creative person he was.
Art Poulin was born in Maine to French-Canadian parents. He received a degree in fine arts and studio painting and then spent close to 30 years in the military. He was a tenor in the US Army chorus and sang for 6 presidents, many world leaders, and entertainment personalities. Poulin regularly performed at the White House, Carnegie Hall, Radio City Music Hall and other famous venues. He was also a classical pianist and performed at the Kennedy Center. Art Poulin died in 2018 but his art lives on.
Puzzle Warehouse has a large selection of folk art scenes done by Poulin. There are wonderful illustrations of country fairs in Apple Annie's Carnival and beautiful scenes of life in days gone by in Great Balls of Yarn. Bank & Brew could be a scene from the past or the present! These are all 1000-piece puzzles that measure 26.75" x 19.25" when completed.

Apple Annie's Carnival| MasterPieces | 1000 pieces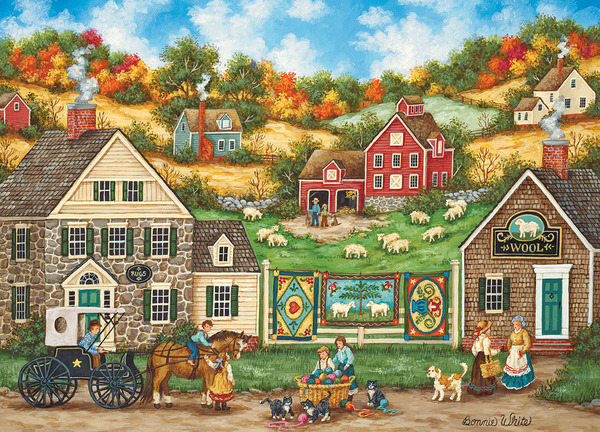 Great Balls of Yarn | MasterPieces | 1000 pieces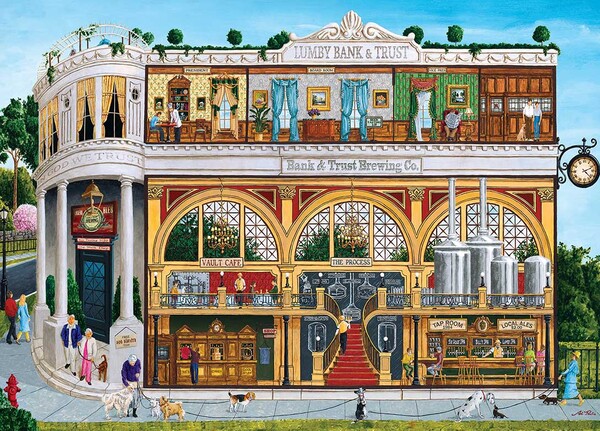 Bank & Brew | MasterPieces | 1000 pieces
The Old Country Store and Harvest Festival are 300 piece EZ Grip puzzle pieces that finish to 18" x 24" A fun way to puzzle together with the entire family.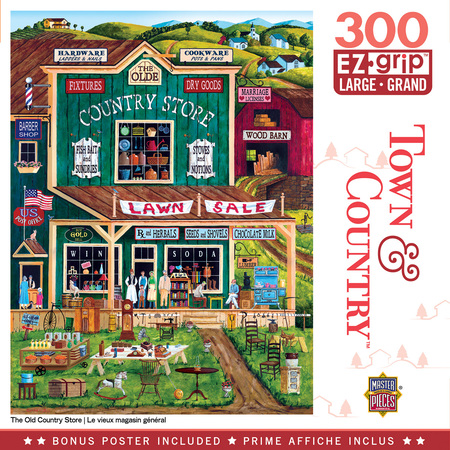 The Old Country Store | MasterPieces | 300 pieces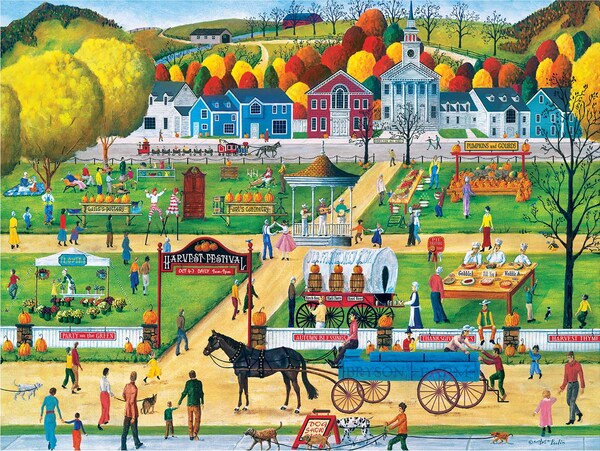 Harvest Festival | MasterPieces | 300 pieces
I encourage everyone to search through the wonderful collection of Folk Art and Art Poulin offerings. I am sure you will find new favourites!

- Mary Ellen