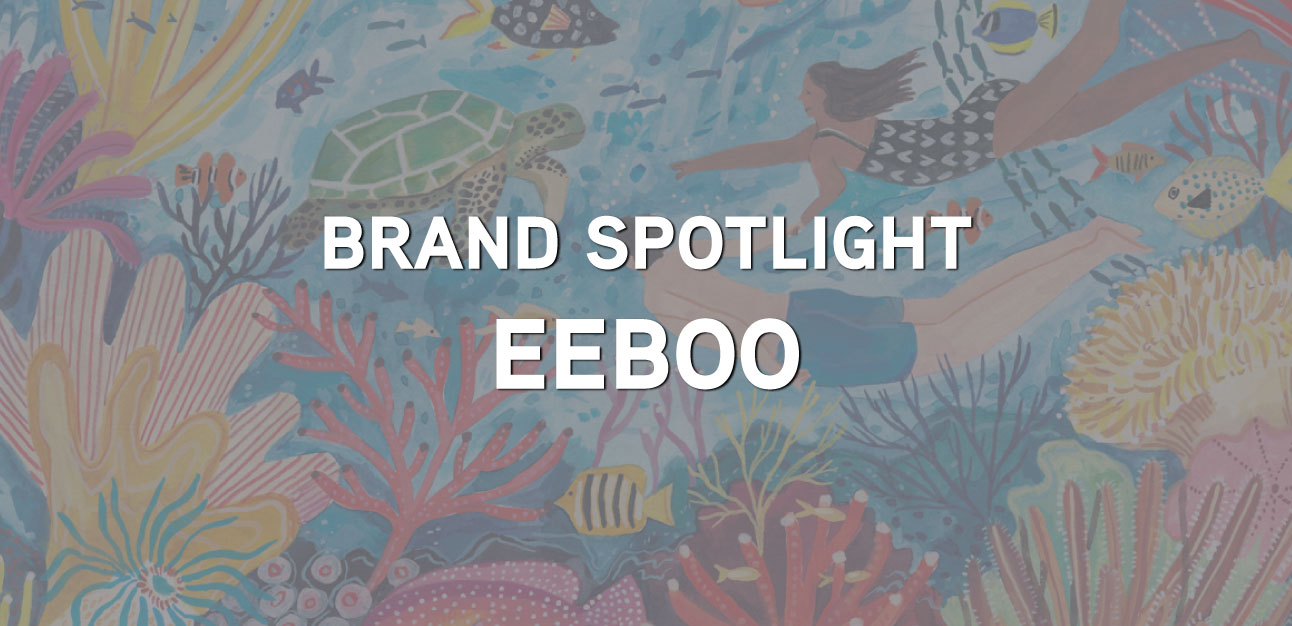 Brand Spotlight: eeBoo
Prior to 2019, I stuck to photography puzzles and never even considered illustrated puzzles. Pre-2019 Sarah had no idea what she was missing! Then a friend of a friend started posting photos on Instagram of these fun, bright illustrated eeBoo puzzles she was doing and her feed suddenly became my Pandora's Box entry into the world of modern puzzles.

It's three years later and now eeBoo ranks very high on my favorite brands list, with something in the neighborhood of 40+ of their puzzles in my collection. I've done everything from their 20-piece children's puzzles up through some now out of print 2000-piecers. My favorite is definitely their wide selection of round puzzles. A round puzzle will get me every time! There's something magical to me about the special combination of the art, the shiny finish, and the overall brand aesthetic. It makes every eeBoo puzzling experience all-consuming. It's rare for me to get up from the table once I've started an eeBoo until it's done. I just can't stop them once I've started.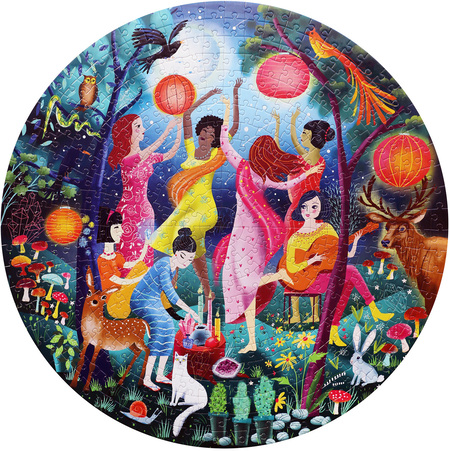 Moon Dance | eeBoo | 500 pieces

With their newest puzzles dropping over the next few weeks, it's the perfect time to take a closer look at this wonderful brand. I was fortunate to connect with their Digital Manager, Katie, who indulged all my questions (and some of yours too) in the following interview.

Editorial Note: This interview has been lightly edited for length and clarity where appropriate.
First of all,what is the meaning behind the brand's name? Rumor has it, it's close to the sound of the French word for owl. If that's true, why an owl?
Yes, exactly! eeBoo is the French word for owl (hibou) written phonetically. It is a fun and simple nonsense word, that sounds a bit like Peek-a-Boo or EEK! BOO! Founder Mia Galison's first child had big round eyes and looked like an owl, as did Mia, whose grandmother, years before, had given her the Romanian word for owl as a nickname.
Being a woman-owned, mother-led company is at the heart of eeBoo's identity. What role do those characteristics play and why has the brand chosen to highlight them?
eeBoo was created by Mia Galison* as her children were being born. Mia wanted to create safe, useful products that would be beautifully designed and responsibly produced. She wanted to encourage creative thinking, open-ended play, and meaningful communication. These aspirations and the joys and challenges of giving her own children everything they might need to grow, learn, and flourish have always been the inspiration behind the eeBoo line.
*Yes, that Galison. Mia is the daughter of the founder of Galison Books. She worked there briefly – long enough to launch the Mudpuppy brand – before she branched out on her own when she was expecting her first child.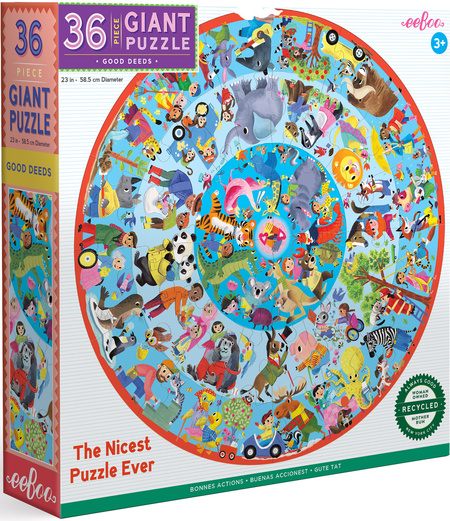 Good Deeds | eeBoo | 36 pieces
Another important aspect of eeBoo's ethos is environmental responsibility. What are the brand's sustainability goals and achievements?
From the beginning—for almost three decades-- we have prioritized sustainability. We have always used recycled materials and vegetable-based inks, avoided plastics and used minimal packaging. We recently expanded our commitment to sustainability by using FSC®-certified paper. By choosing FSC®-certified products, you are supporting responsible management of the world's forests to preserve biological diversity and benefit the lives of workers and local communities while sustaining economic viability.
We also believe in reducing waste, which is why quality is so important to us. Our products are designed with such care that they can be handed down and used again and again.
eeBoo is now a certified carbon neutral company through Climate Partner. Climate Partner is a business that helps companies calculate their greenhouse gas emissions, provide support on how to continuously reduce them and offset unavoidable emissions through carbon offset projects.
And this season we launched the "Good Green Bag" that will hold all our puzzle pieces. This bag is made with plant-based materials: compostable, biodegradable, and non-toxic.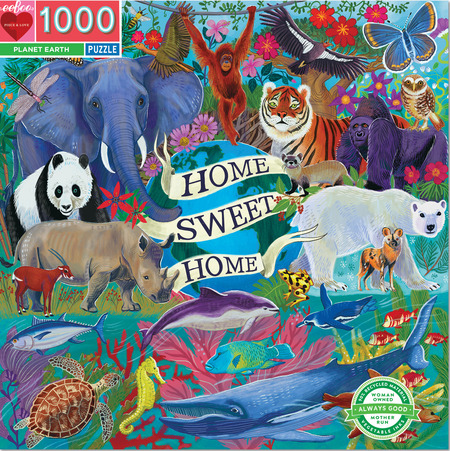 Planet Earth | eeBoo | 1000 pieces
What is that shiny, almost candy like finish on the pieces called and how do you get them so enamel-like?
The shine comes from a non-toxic water-based UV varnish.
How do you source the art? Do you commission work, take submissions, spend time scrolling IG looking for artists to collaborate with?
Our creative director and founder, Mia Galison, looks for artists to work with through a variety of sources, but we do love to explore illustrators on social media, through a submission form on our website, and through artists we work with already. We work very closely with our artists to create thoughtful, beautiful imagery. Some of these relationships have lasted for decades.
How are the artists compensated?

We commission original artwork for our puzzles and games and compensation depends on the scope and nature of the project.
Are all of your artists women?

Many of our artists are women, but we work with anyone who inspires us.
eeBoo puzzles come with a QR code linked to a playlist. Who creates the playlists that go with the puzzles?
Each artist curates their own playlist with music they like to listen to while they work. Because our artists come from all over the world, it is a great introduction to new music and a wonderful window into the lives of our collaborators. Doing a puzzle can feel like you are collaborating in the creation of the image. Listening to the artist's playlist adds a level of intimacy with their process.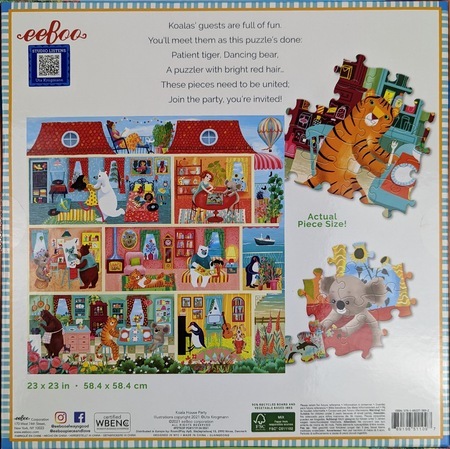 How many times a year do you release new designs?
We release new designs two times a year. [Editor's Note: New designs are coming out soon. Keep an eye on the New Arrivals page as they become available.]
Are there any plans to release 2000-piece puzzles again? Or start producing 300-piece puzzles?
We don't have plans to make higher than 1000-piece count puzzles at this time, but we are always looking to expand or improve our line with alternative piece counts, so we may consider 300 in the future.
What's the all-time best-selling eeBoo puzzle?
Tree of Life 1000 Piece Puzzle is one of our all-time best sellers, as well as Women March! and Votes for Women.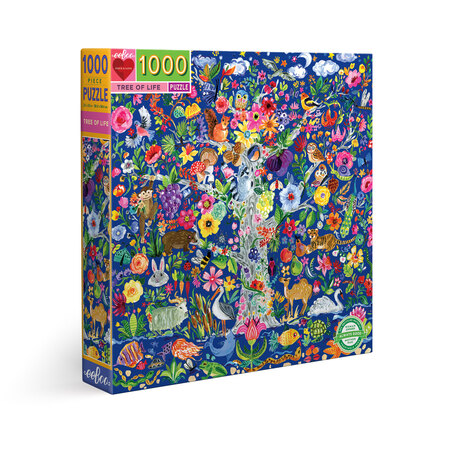 Tree of Life | eeBoo | 1000 pieces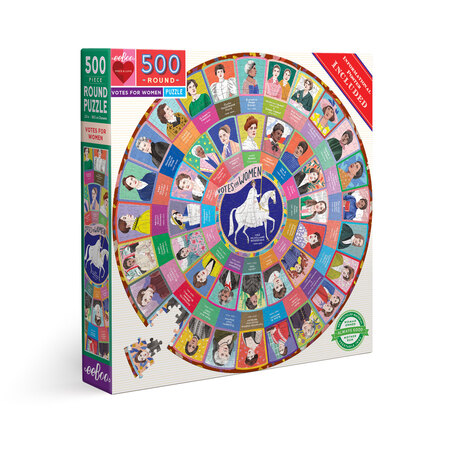 Votes for Women | eeBoo | 500 pieces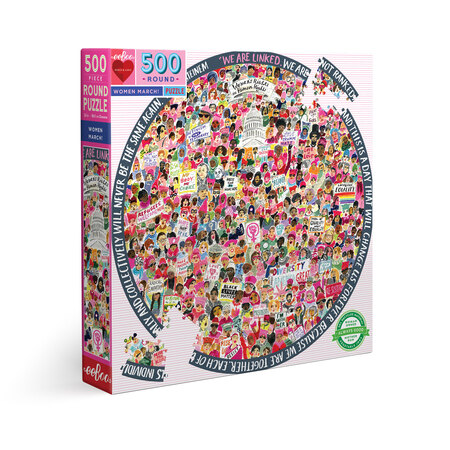 Women March | eeBoo | 500 pieces
With the new releases coming out soon, what should puzzle fans be keeping an eye out for?
We are so excited to be switching our bags that hold the puzzle pieces inside the box to a "Good Green Bag" which is entirely compostable. We have so many new products that we are excited to share, from adult puzzles to a wonderful line of our children's toys, games, and puzzles as well.
A favorite innovation is our narrative extensions of existing projects.—creating threads of continuity between different puzzles. Our Alchemist's Home puzzle for example, shows the entire house that contains the Alchemist Cabinet, the subject of an earlier puzzle by the same artist. We have done a number of these, with more to come!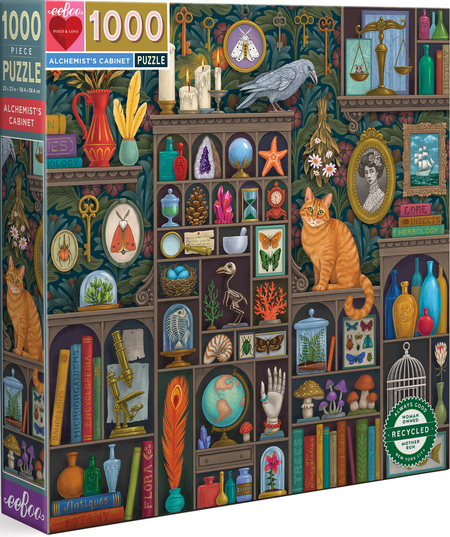 Alchemist's Cabinet | eeBoo | 1000 pieces
One last question – Is there anything else you'd like to share with the puzzle fans?
We love to hear from you on what you are looking for in our line! Let us know on social media or email what you'd like to see included in our line. We always consider this in our product development.
eeboo's Instagram: @eeboopieceandlove
eeboo's email: website@eeboo.com
If you haven't given eeBoo a try, I highly recommend them. Some of their puzzles even come in children's and grown-up versions so you can puzzle along with your small humans!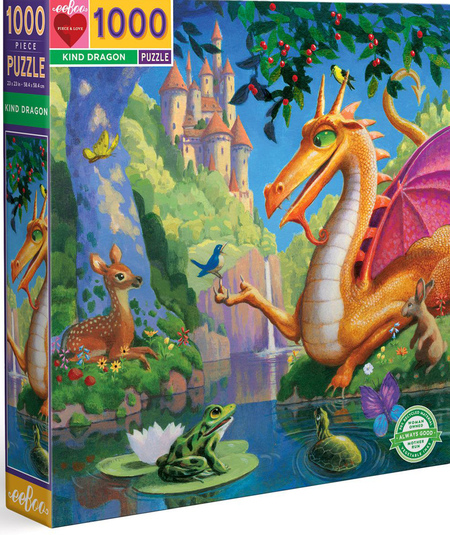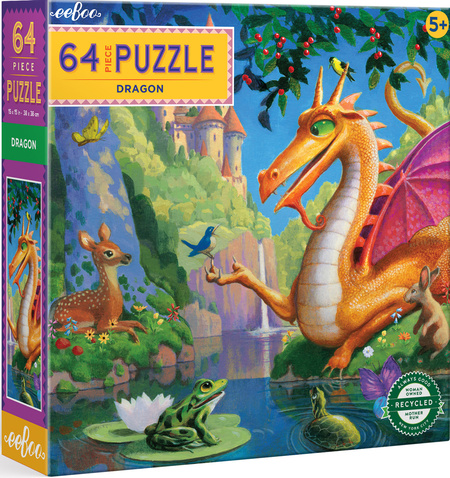 Happy Puzzling,
Sarah B. @necessarahly_puzzles