Armchair Travelers' Souvenirs
You'd never know it based on the past few years, but I absolutely love to travel! Whether it's by plane, train, or automobile I'm all in, and someday I need to add a 'ship' to that list and take an Alaskan cruise. Since a trip to Europe was cancelled thanks to Covid a few years ago, my passport has been in a drawer, and my excursions have consisted of driving one state to the east to visit my Dad. I've suddenly become the epitome of an armchair traveler, vacationing vicariously watching episodes of "The Amazing Race!" Clearly, I need to pack a suitcase and go…somewhere!
I've been fortunate to have traveled to all but a baker's dozen of the 50 States and hope to visit the rest in the next few years—including the elusive Rhode Island! Part of the fun on my vacations has been collecting small souvenirs that have special meaning for me. Whether it's patches, post cards, pins, fridge magnets, and especially charms for my collection of charm bracelets, seeing those little treasures always triggers happy memories of special places I've seen or experiences I've enjoyed. Here's a sample of some of my mementos from around the country.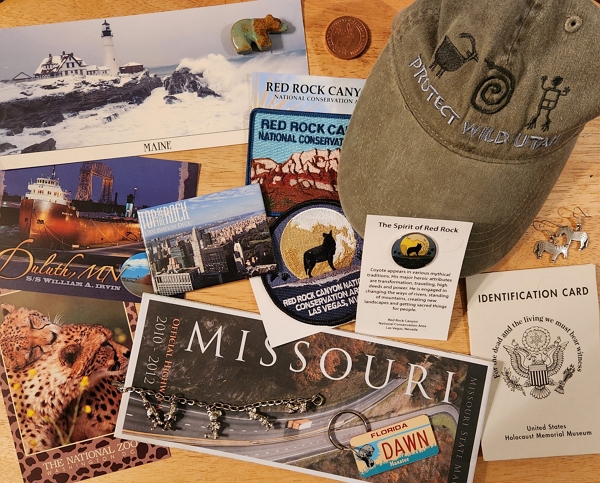 Dawn's Travel Mementos

I'm a big fan of collage-style puzzles and I've had fun exploring all the travel-themed puzzles that include ephemera and keepsakes as part of their design. One of my favorites that inspired this blog topic is A Traveler's Animal Journal from Ravensburger. Being a huge animal lover and a former zoo supervisor, traveling to any of these destinations to see these critters in their natural habitat would be the trip of a lifetime! Red pandas from Asia, secretary birds from Africa, margays from Central and South America and quokkas from Australia—it was so fun to see the "photos" of all these animals come together and discover all the details in this 1000 piece puzzle!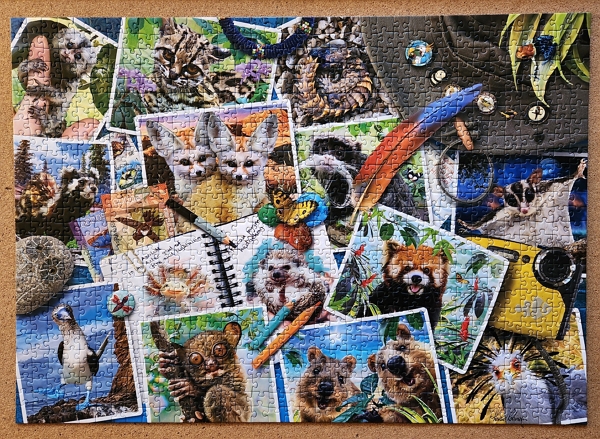 A Traveler's Animal Journal by Ravensburger
Thanks to technology, some travel souvenirs are unfortunately becoming a thing of the past. With GPS at our fingertips, road maps and atlases are becoming obsolete, and e-tickets are fast replacing the printed tickets for concerts, sporting events and travel that we used to save in our vacation scrapbooks. One of my wish list puzzles is Re-Marks Travel Atlas with its bright retro covers from around the world. The insert that comes with this Vintage Travel Tickets puzzle from Galison explains how it echoes "the romance of a bygone era" with a collage of old bus, train, metro and trolley tickets when you could travel "with a beautiful piece of paper in your pocket." With its variety of patterns and colors, this 500 piece was a quick one for me.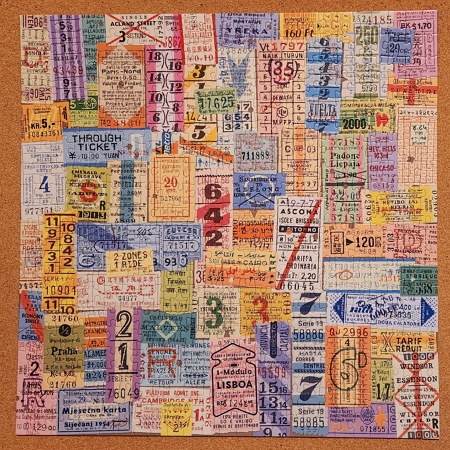 Vintage Travel Tickets by Galison
Travel posters and advertising have always featured eye-catching artwork that translates to great puzzle designs! Here are just a few that Puzzle Warehouse has to choose from. If you're a fan of 2000 piece jigsaws, check out USA Travel Posters from Buffalo Games. Eurographics Travel the World Vintage Ads features a variety of beautiful retro art. Exotic Travels from Willow Creek Press is 1000 colorful pieces of posters from around the world. Buffalo Games has lots of those same posters in their Colorful Destinations puzzle. If you like 300 piece puzzles, this one is a great choice! It's also available in a 1500 piece.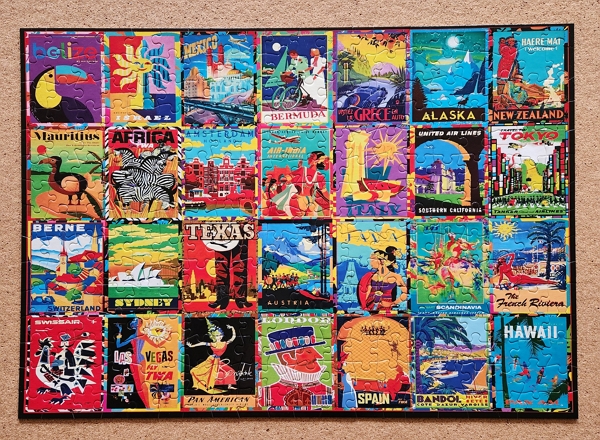 Colorful Destinations by Buffalo Games

When it comes to international travel, the U.K. is right up there on my bucket list! Two of my friends traveled across the pond this year, and I may have been just a little jealous. Eurographics 500 piece London Bus puzzle features a variety of fun souvenirs from a trip to Great Britain, including a puzzle of Queen Elizabeth! Best of all, it comes in a keepsake London Bus tin with a poster!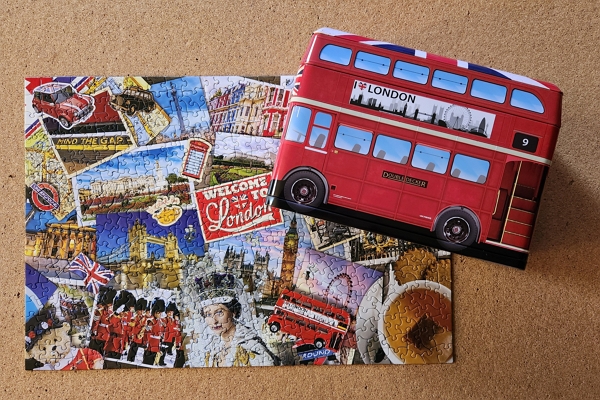 Some of my favorite travel destinations have been our beautiful National Parks. MasterPieces Patches of the National Parks of America shows just some of the amazing variety of the 63 National Parks across the country—and how many I still need to visit and add to my patch collection!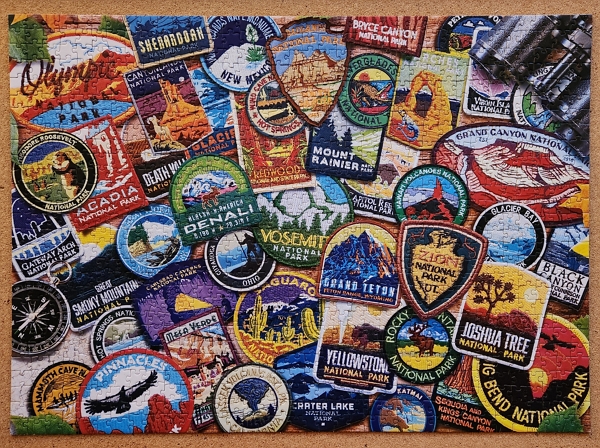 Patches of the National Parks of America by MasterPieces
One of those parks I have been lucky enough to visit is Yellowstone—the first National Park signed into law in 1872. This Yellowstone puzzle was the first from Hart that I've put together—and it definitely won't be the last! I was so impressed with the quality and the great fit. At 24" x 30" Hart's 1000 piece puzzles are a little large for the puzzle board I typically use, but I'll just have to set up my larger one! I'm a big fan of Kate Ward Thacker's collages, and this puzzle is one reason why. She included so many details that are fun to discover--from stickers, patches, and a pennant, to a plate, belt buckle and those silver charms I'm so fond of! Puzzle Warehouse has a lot more of her travel-themed and other puzzles to explore, from Florida to Alaska and points in between!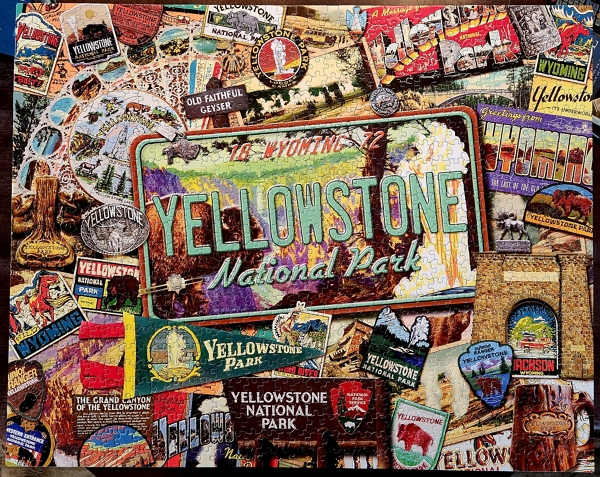 Whether you're a globe-trotter planning your next adventure or a staycation armchair traveler, pick a favorite destination and have fun assembling a puzzle with some souvenirs from around the world.
Safe travels!
Dawn @5wolves
5 Stars
Richard G S. - Saint Petersburg, FL
5 Stars
Susan - Gulf Shores, AL