Artist Spotlight: Darrell Bush
The summer months are a perfect time to visit the lake, sit on the dock or take out a canoe, and finish out the day with s'mores around a campfire. Although the opportunities to actually go to the lake may not be as frequent as I would like, I really enjoy reminiscing about days on the lake and feeling the lake vibes with the fabulous artwork of Darrell Bush. Buffalo Games carries quite a few puzzles with his art, and it is perhaps no surprise that I have amassed quite a few of them!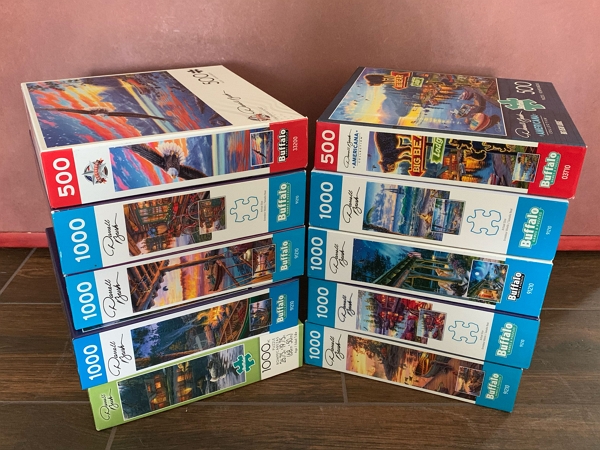 This photo doesn't include the many of his puzzles that I have already done and passed on! Many of Darrell Bush's puzzles feature a cabin or a lodge, such as this 1000-piece puzzle called Moonlight Lodge.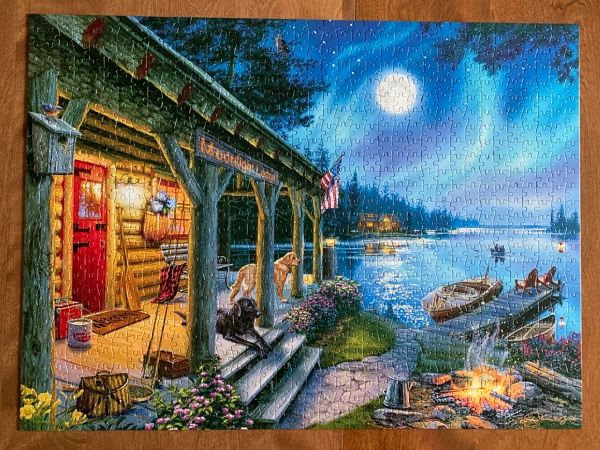 I decided not to start with the edges on this one, instead working the sections that called to me first, like the red door and the lake. This puzzle is a great example of how Darrell Bush uses light. In addition to light from the moon bouncing off the clouds and lake (in stunning fashion!), the porch light highlights the inside edges of the cabin pillars. This not only makes for a realistic and compelling image, but it makes the puzzling a little easier too! Cabins are also prominently featured in Early to Rise (also called Summertime) and Life's Reward, both in 1000 pieces.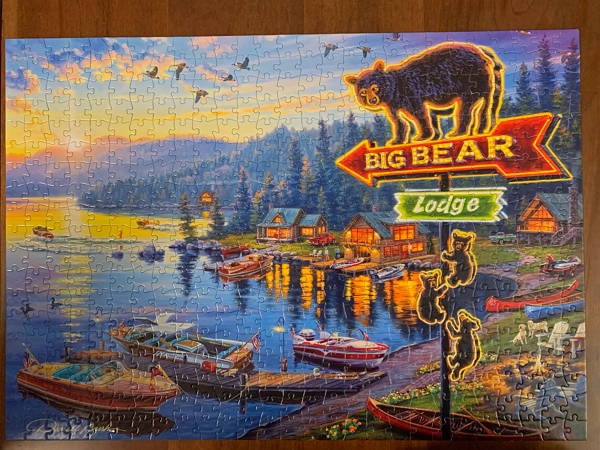 In addition to the lakes themselves, Bush's puzzles often contain docks, boats, dogs, trucks, and campfires, and this 500-piece puzzle called Big Bear Lodge seemed to have a bit of everything! I really love the sunset colors reflecting in the lake on this one, but the little bears on the signpost were probably my favorite part. These common features can also be found in Blue Moon Bay, Autumn at the Lake, and The Perfect Getaway, all in 1000 pieces.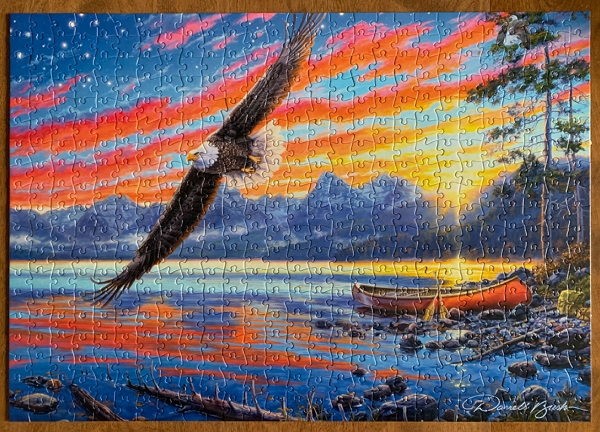 The colors in this 500-piece puzzle called Star-Spangled Sunset really called to me, even if I put it together well beyond the July 4th U.S. holiday. I always find puzzles of Bush's artwork to be very well balanced, and I never feel overwhelmed by too much sky or water, for example. The texture in the sky and the water always look a bit different, so it's easy to sort them out, and at 500 pieces I found this puzzle very manageable–and enjoyable! For more of a challenge, this puzzle also comes in 1000 pieces. Water birds are another common feature of Bush's puzzles, like loons and ducks, and the geese in the 1000-piece Sunny View Farm.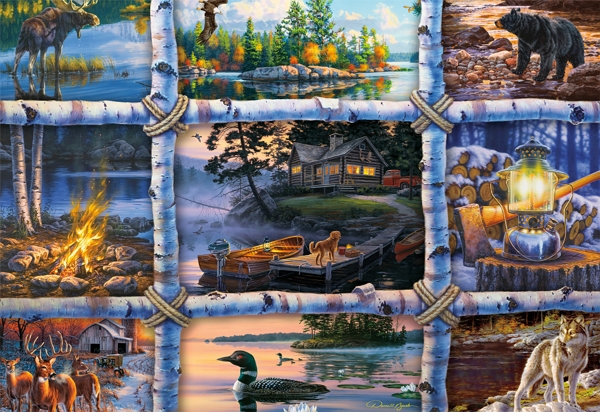 Can't decide which elements you like best? Put it all together in this collage called North Country offered in both 1000 pieces and 2000 pieces. Bush describes himself as a wildlife painter, and that definitely comes through in this one. I love the moose and bear, and this one is definitely on my wishlist!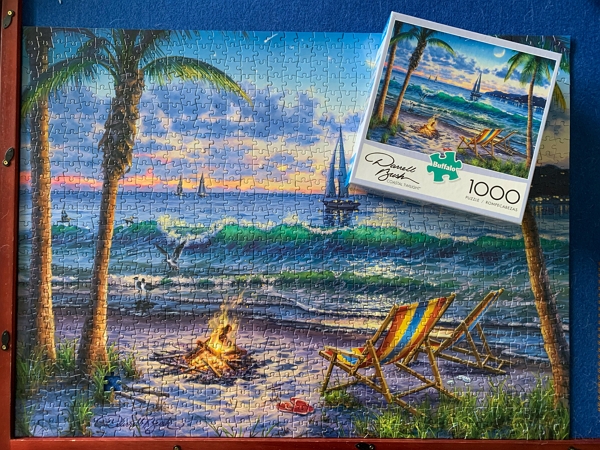 Of course, Bush doesn't limit himself to lakes! I also enjoyed putting together this seaside scene called Coastal Twilight in 1000 pieces. I started with the line where the water meets the sky—again with the lovely sunset colors!—and then changed gears and worked on the beach. Some of the ocean and clouds were a little tricky to finish it out, but what a beautiful end result! (Don't mind the missing piece—one of my dogs probably walked away with it!) If you can't get enough of those beautiful greens and blues in the ocean waves, check out Seaside Escape and Sunset Cruise, both in 1000 pieces.
Darrel Bush also has quite a few puzzles featuring farms, and there are some really great winter scenes too! Look how cute the 1000-piece Woodland Christmas is!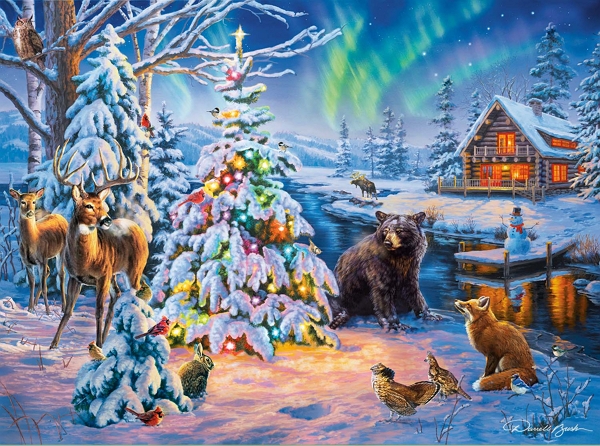 I hope those of you in the northern hemisphere are enjoying your summer, be it through travels or puzzles. If you need me, I'll be over here trying to resist buying winter puzzles in July!
- Gail, @jiggies_and_gems