Peace, Love & Puzzles
Even though I was born too late to be part of the 60s hippie culture, I think I've always been a bit of a flower child at heart. Since August is the month the Woodstock Art and Music Festival was held (in 1969) and also happens to be when Hippie Fest is held in my town for a weekend, it seemed like the perfect time for some peace, love and puzzles with a nostalgic bohemian vibe.
The first puzzle that got me trippin' on 60s themes was this psychedelic Ceaco featuring the work of award-winning pop artist, Howie Green.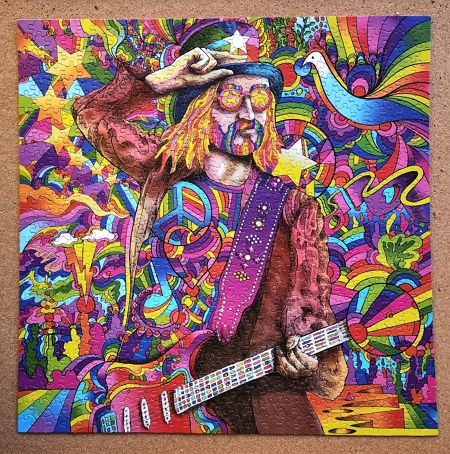 All those rainbow colors make this 750 piece a challenge for puzzlers who like to sort everything first. I tackled this design by putting together the guitarist first and then filling in all the color. I did a little research and discovered this piece is called "Rainbow Ranger" which seems pretty fitting! For another puzzle featuring Howie's work, check out Ice Cream Pop Art in 300 pieces from Buffalo Games.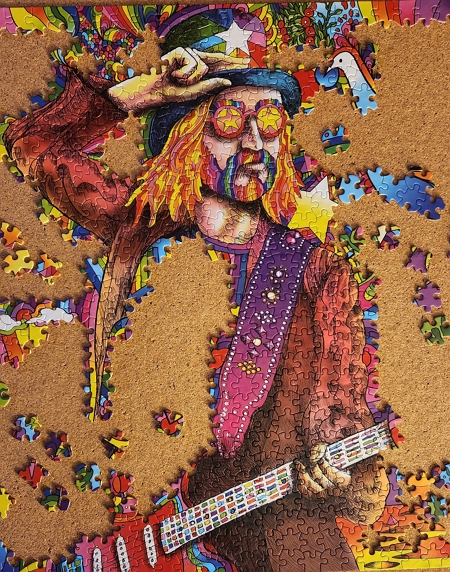 In the Sixties, whether you were headed to Woodstock, the beach, or just hitting the open road with a bunch of other free spirited friends, you were probably driving a VW van. Originally introduced as the Type 2 Transporter, the Volkswagen Microbus became the ultimate hippie van, usually painted with peace signs, hearts and flowers. The Wave Hopper from Eurographics was a blast to put together and best of all, this 500 piece puzzle comes in a collectible VW tin with a poster. Groovy!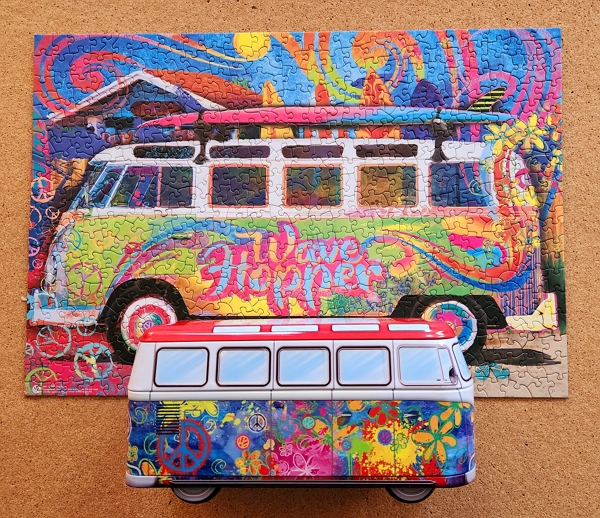 If you think 1000 piece puzzles are far out, check out the Love Splash van or Kimbination puzzles, or if the classic "slug bug" VW Beetle is your thing, the Beetle Splash. All three are 13" x 39" panoramic puzzles from Eurographics. Jacarou has another colorful Beetle featured in their Peace And Love puzzle!
When you're in the mood to mellow out with a tranquil scene, Hippie Heaven from Buffalo Games is a fun and relaxing puzzle that's still a bit challenging. You can get lost in the pastel colors and just go with the flow.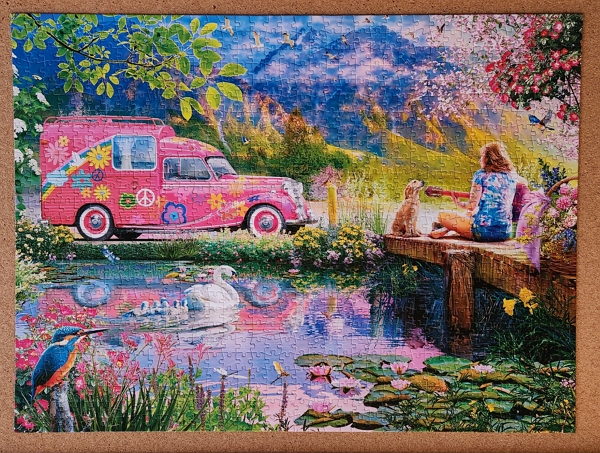 Along, with peasant blouses, halter tops, and fringed vests, Sixties threads were all about tie-dye. Has it ever really gone out of style? If gradient puzzles are your vibe, Turner's Groovy Tie-Dye is a great choice and with the matte finish, makes an awesome poster.
Whether you want to spend some bread on incense, lava lamps or bell bottoms—The Happy Hippy Shop has it all! There's a lot going on in this 1000 piece puzzle from Springbok and those psychedelic colors are a challenge to sort, but the doorway, VW Beetle and all the details in the windows make this a primo design!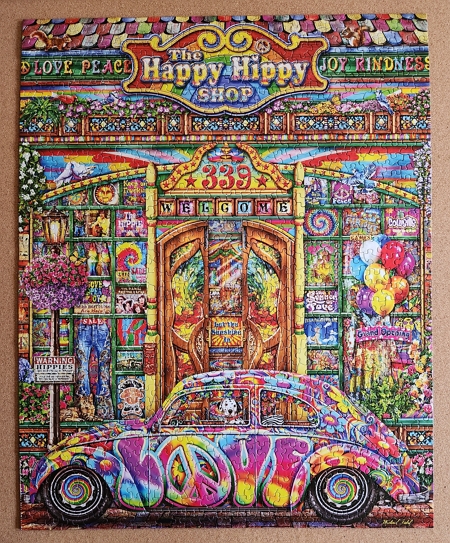 Groovy Records is another Springbok Sixties storefront puzzle. You can smell the patchouli even before you open the door! In my former life, I was once a DJ at a Classic Rock station, so I could really dig all the album covers and concert posters in the window.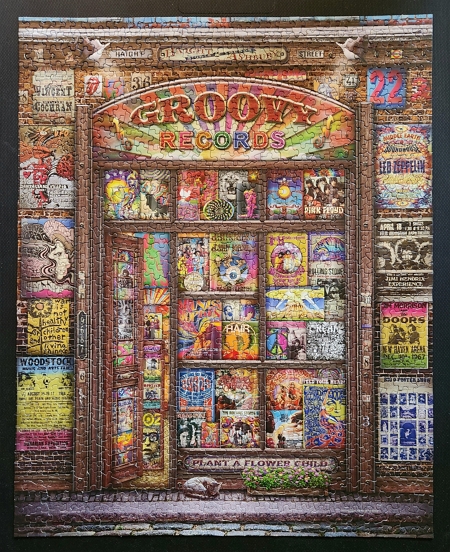 It looks a lot smaller than Woodstock (where 50,000 people were expected and the crowd grew to at least 400,000!) but the 1960's Festival by Falcon is a 1000 piece puzzle with nothing but 5 stars from the Puzzle Warehouse customers who rated it!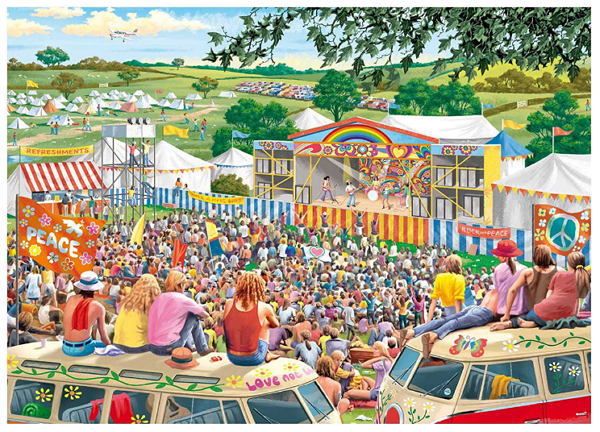 Speaking of Woodstock, I couldn't resist this 100 piece puzzle from RoseArt, Peanuts Woodstock Love, especially after I found this bit of Peanuts history! Even though the little yellow bird first appeared in the Peanuts comic strip in 1967, he wasn't officially named until June of 1970. In a 1982 interview, Charles Schultz explained, "…after reading Life magazine and all about the Woodstock Festival, I decided that Woodstock would make a good name for the bird."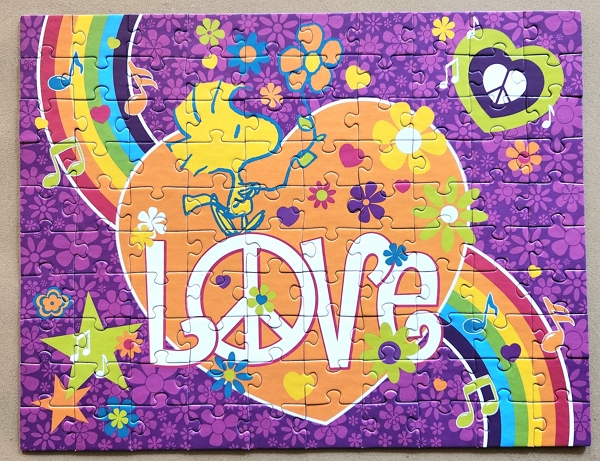 Whether you're a nostalgia buff, a fan of 60s and 70s music, a hippie at heart, or just enjoy trying some new and far out puzzles, I hope you found some inspiration here. After all, when it comes to being a Jigsaw Junkie, if it feels good, do it!
Peace and love,
Dawn @5wolves
Great puzzle picks - I love VW buses and have a few of the Eurographics bus puzzles, but not this one - on the list now!
Gotta love the 70's. Loved the write-up!