Fall Foliage Tour
No doubt about it—autumn is my favorite season. I'm no fan of heat and humidity and I sunburn in mere minutes, so I'm one of those people who can't wait for the "ber" months to begin and the leaves to start turning. My only complaint about fall? It doesn't last nearly long enough! Those beautiful reds, oranges and yellows fade far too fast, and I know it won't be long before I'm trudging through snow instead of walking through a blanket of fragrant fallen leaves. Fortunately, I've found plenty of autumn-themed puzzles to stretch the season just a bit longer and enjoy some beautiful fall scenes any time. I won't get away to enjoy the maples in Vermont or the aspens in Colorado this year, but I can still take my own fall foliage tour close to home and on my puzzle table!
There's no better time to walk my dog than on a gorgeous October day, so I love this puzzle from Galison titled "Autumn in the Neighborhood!" It has such fun details, like the cat in the window and the squirrels on the sidewalk—just like the black squirrels on my street! I was so impressed with the quality of this 1000 piece design. I'm a big fan of grid-style puzzle and this one had no false fits, which was a big help putting together those leaves!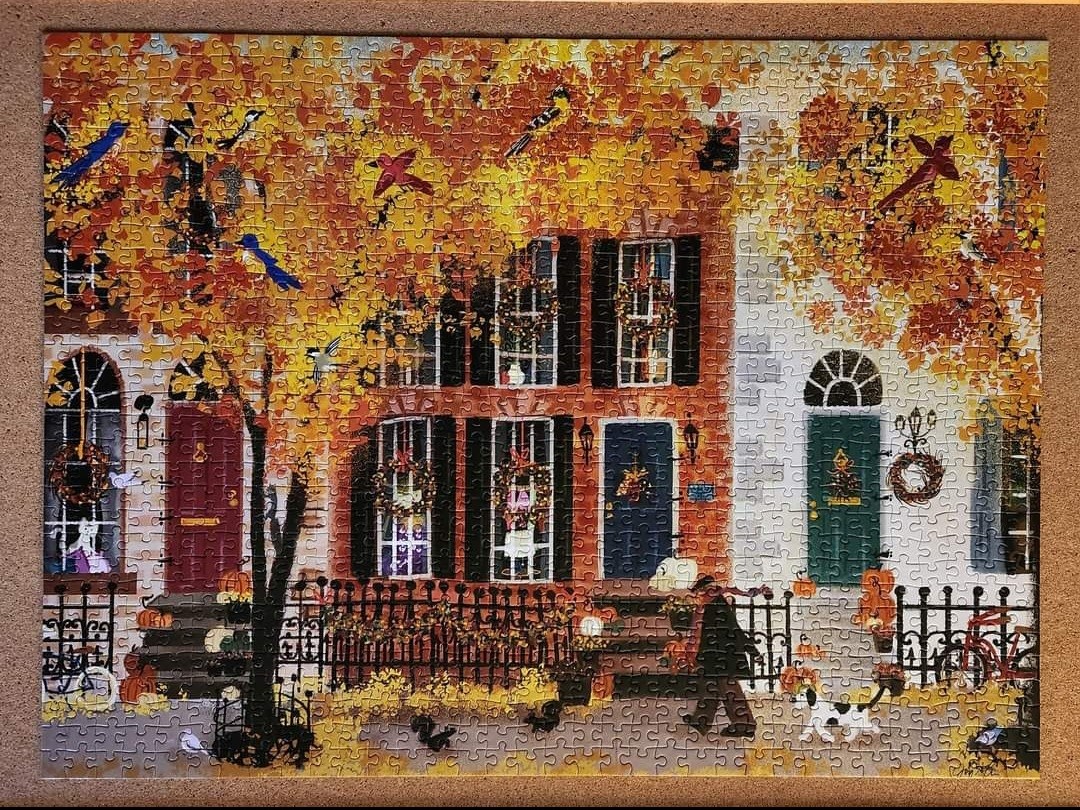 Autumn in the Neighborhood by Galison

A fall weekend is the perfect time to load up the dogs (and the pumpkins!) and take a drive on a quiet country road with the windows down. This Cobble Hill puzzle is appropriately titled "Joyride." For a 500 piece puzzle it was a bit of a challenge to assemble, but such a beautiful result!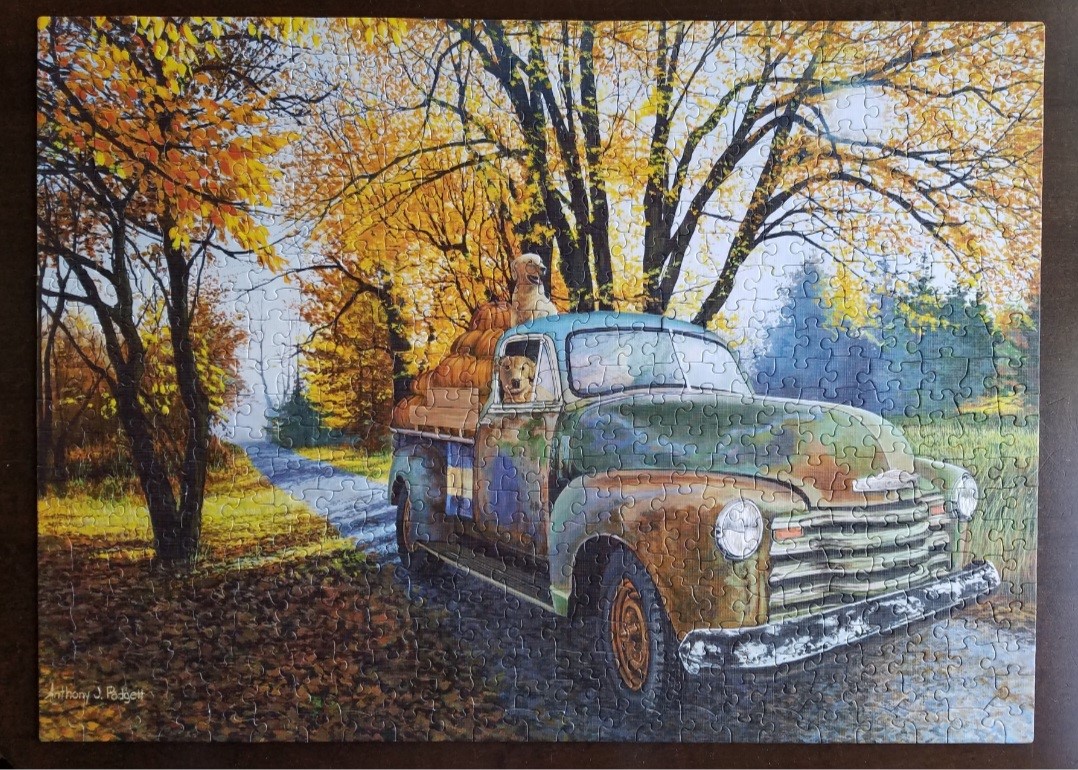 Artist Chuck Pinson has painted the perfect rural road for a drive to view the fall foliage, and spot some bonus wildlife, too. "Country Roads Take Me Home" is 1000 pieces from Buffalo Games.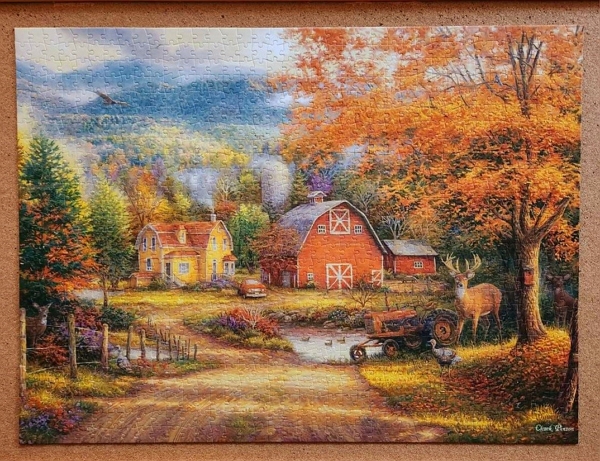 Country Roads Take Me Home by Buffalo Games

New York Puzzle Company has a couple of puzzles with a true Fall Foliage Tour theme, like the charter bus to a "Covered Bridge." I'll admit, I haven't tackled those 1000 pieces with all that yellow and orange, but if you decide to take the challenge, be sure to leave me a comment when you finish it!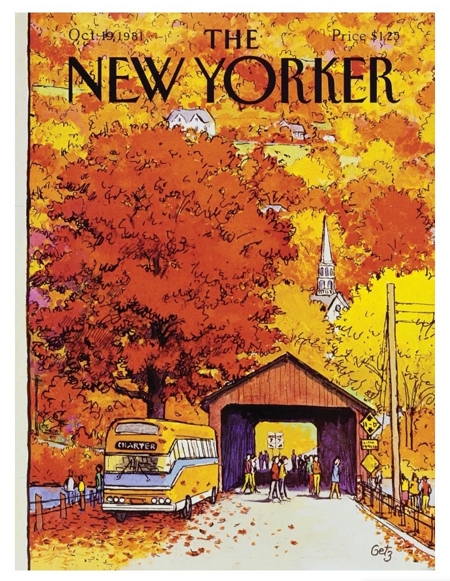 Covered Bridge by New York Puzzle Company

I'd love to take a fall hiking tour with a park ranger, and am anxious to assemble "National Parks" also from New York Puzzle Company. Such a fun, nostalgic design of a vintage Sunset Discovery book.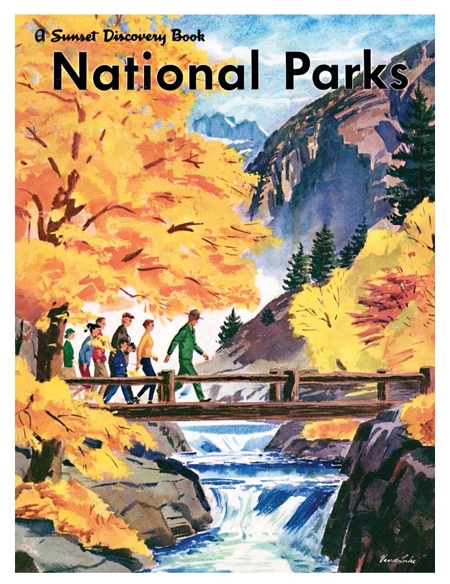 National Parks by New York Puzzle Company
If I could ever magically step into a puzzle, "Fall Walkway" from Educa would be the one. Just looking at this beautiful image, I can almost smell the clean air, hear the crunch of leaves underfoot and feel the sun through the trees. Definitely a "frame-worthy" puzzle!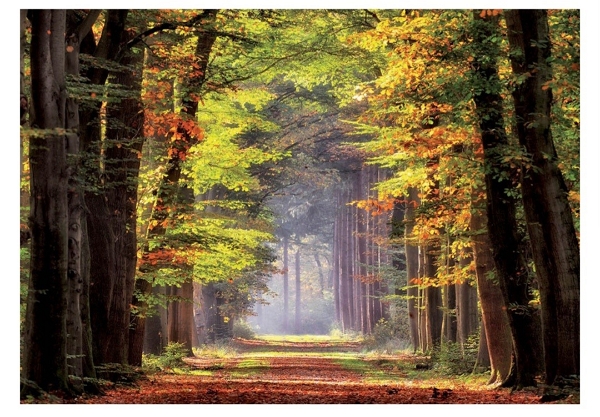 Another image that transports you right into the middle of a fall forest is "Forest Stream" from Eurographics. I highly recommend assembling this puzzle in front of a sunny, open window while listening to a soundtrack of a babbling brook or a waterfall. Jigsaw puzzle Zen!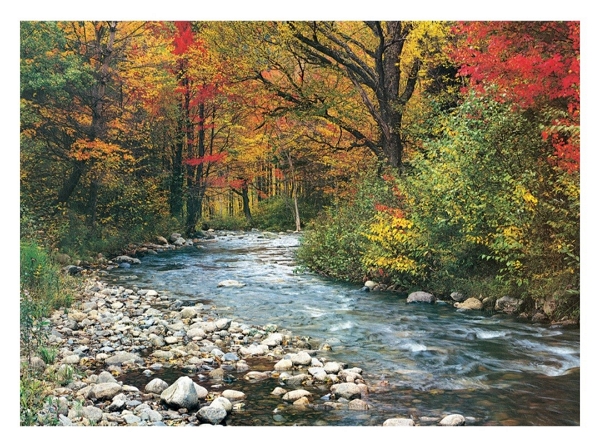 Just like my Mom, I'm a big fan of artist Charles Wysocki and have collected more of his puzzles than I care to admit! So many of his paintings are of nostalgic autumn scenes with plenty of pumpkins and fall colors. One of my recent favorites is "Candlemaker, Tobacconist, Hat Shop" from Buffalo Games. It was a fun and quick 1000 piece to put together.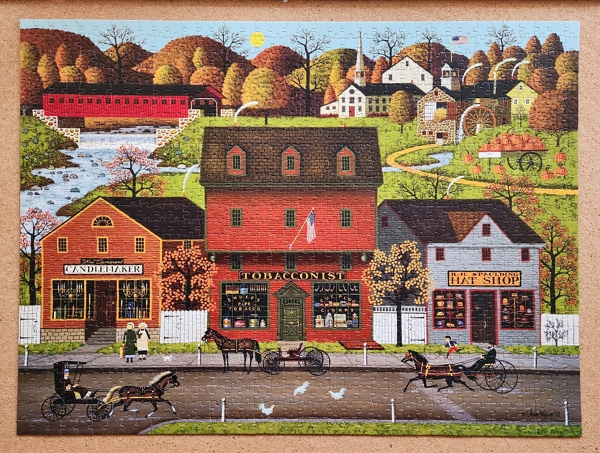 Candlemaker, Tobacconist, Hat Shop by Buffalo Games

Even though the late fall snow can hold off as long as possible (in my humble opinion) it's a great contrast to the last of the autumn leaves in one of my favorite Wysocki puzzles "Vermont Maple Tree Tappers" another puzzle from Buffalo Games that comes in both 500 and 1000 pieces. How can you not enjoy a puzzle that features "Oliver Sapsucker Dripalot" and his spotted cows?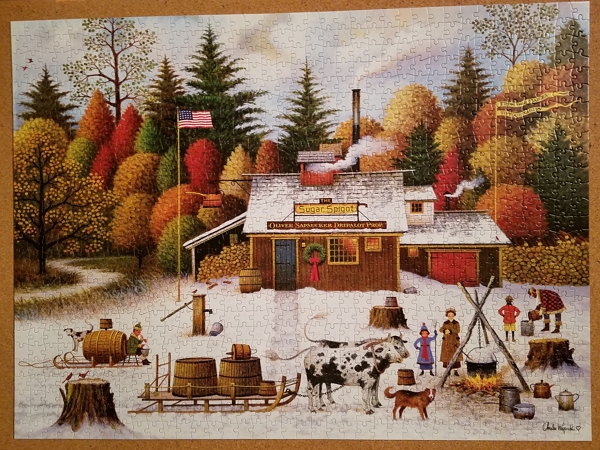 Vermont Maple Tree Tappers by Buffalo Games

Even though summer is still hanging on in my part of the country, autumn will be over far too soon—for me, anyway! If you enjoy the season as much as I do, I hope you'll have plenty of time to take some long walks through crunching leaves, leisurely drives to admire the brilliant fall colors, and relax with some new puzzles to celebrate the season.
Dawn @5wolves