Holy Puzzles, Batman!
For fans of comic books and pop culture, there are two major highlights in the year – the advent of San Diego Comic Con in July, and New York Comic Con in October. As a lifelong comic book fan, I look forward each year to hearing the big announcements and news out of San Diego, but I've never had a chance to visit that convention live and in person. New York Comic Con, on the other hand, has been a staple of my October for the last ten years or so.
I'm not a cosplay guy (for the uninitiated, cosplayers are fans who dress in elaborate, often handmade, costumes of their favorite pop culture characters), but I like to attend the convention to celebrate the art form of comics, and to attend various pop culture panels. Though the convention has expanded vastly over the years to encompass other mediums (TV, movies, video games, etc.), its first focus was comic books, and that remains my favorite part of the con.
Since I was a middle schooler, carrying around graphic novels of my favorite comic book series, ElfQuest, I've been interested in various comic books. My dad and I used to collect Wizard of Oz-themed comics (see my past blog on Oz puzzles). Over the years, I've oscillated between various Marvel and DC comic series, including Ms. Marvel and X-Men among others, as well as some series from independent publishers. I love visiting conventions, because it's a chance for a comic book fan to find new creators and new books to follow, in a setting where you can actually pick up the books, flip through, and in some cases say hello to the writers and artists themselves.
At last year's convention, I picked up a discounted hardcover book, Harley Quinn: 30 Years of the Maid of Mischief, and reading through this brilliant collection all about one of Batman's funniest and most popular villains of recent years ended up sending me down a monthslong rabbit hole of reading and collecting various Batman graphic novels.
Since this year's New York Comic Con is upon us, I wanted to do a special puzzle in the run-up to the event itself, which is running from October 12th through 15th this year. I ended up choosing this spectacular 1,000-piece puzzle by Ravensburger, Batman Collector's Edition. There are a couple of things about this puzzle that stood out to me off the 'bat' – especially that it's from Ravensburger, one of my favorite puzzle brands, and that the artwork featured a whole host of villains from the Batman "rogues gallery" from both comics and movies, including Joker, Penguin, Mr. Freeze, Two-Face, Bane, Poison Ivy, and none other than Harley Quinn.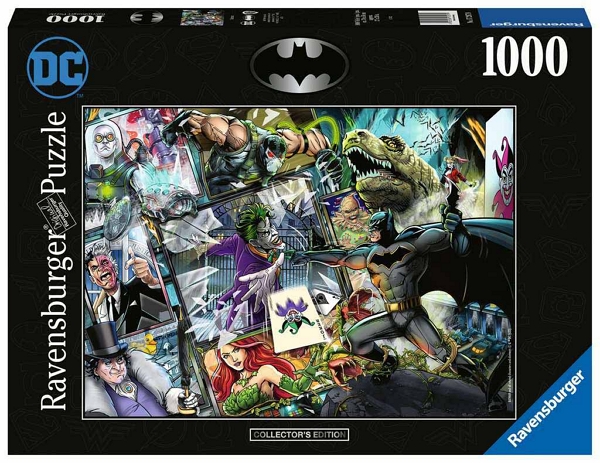 One of the first things that I noticed about this puzzle after I opened the box and poured the pieces out was the incredible crispness of the image in terms of the printing quality. I pulled out some of the more vibrant, distinctive-looking pieces so I could give you, Dear Reader, a good sense of how they looked.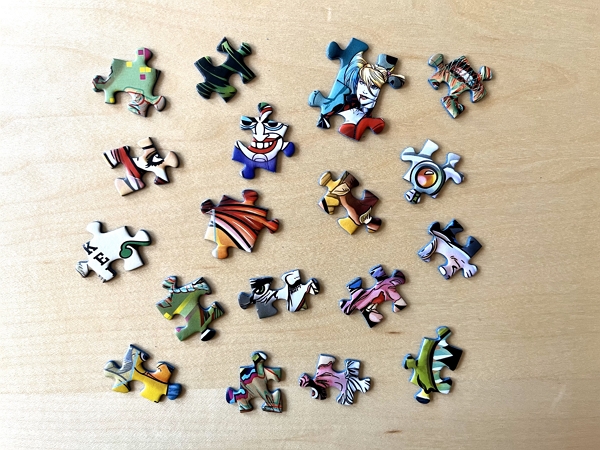 Usually when I'm doing a 1,000-piece puzzle I do a preliminary sort where I separate pieces by color, pattern, etc. But for this puzzle, when I looked at the busy-but-detailed image, I thought it would be most fun to take a more spontaneous approach. I decided that instead of undertaking my usual sort I would separate out the edge pieces and then simply flip over all the other pieces in the box.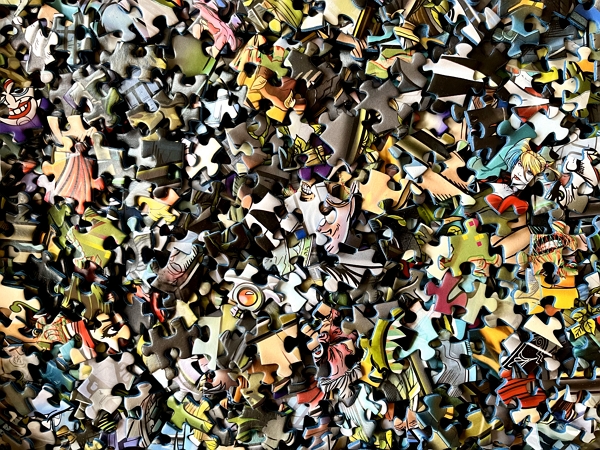 The visual of all the pieces together, face-up, was quite striking. The vibrantly-printed colors and textures, as I highlighted on individual pieces above, looked incredible all together as a larger group.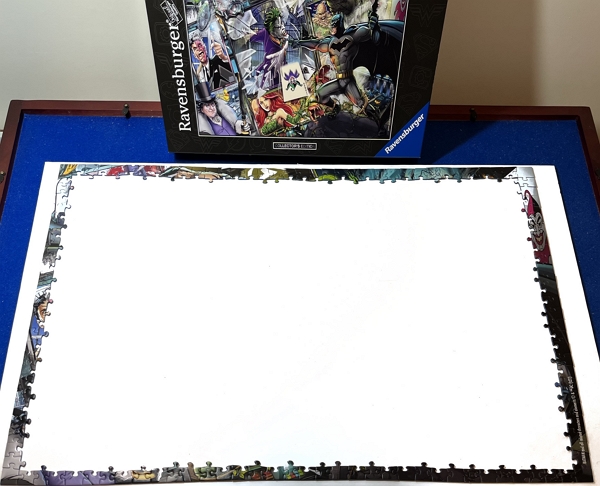 First, quite logically, I put together the border of the puzzle. For this particular puzzle, it wasn't too difficult.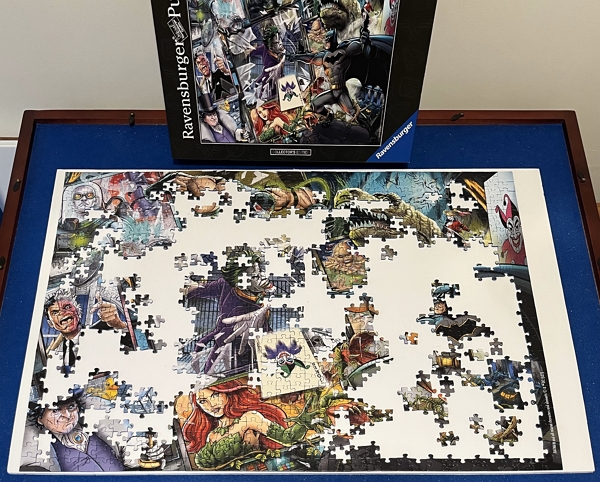 My haphazard approach ended up working rather well for this puzzle. There were some distinctive colors and patterns that jumped out to me right away, especially Poison Ivy's red hair and green outfit, and the parallel lines of the Arkham Asylum gates to either side of the Joker. I quickly got into the groove with the puzzle, and by the time I came up for air I was probably about two-fifths of the way through.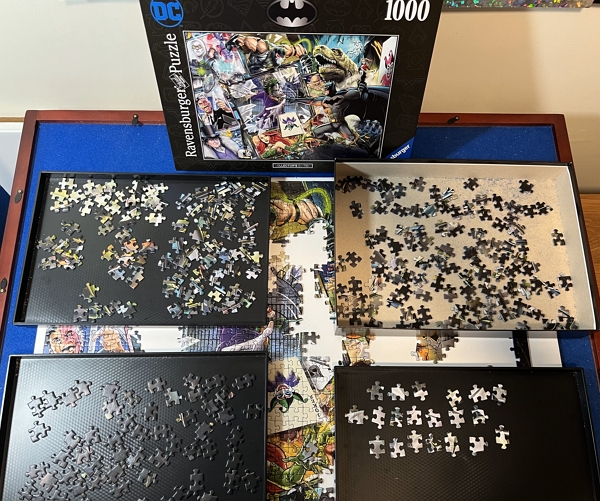 By this point, I decided that in spite of my initial instincts, I needed to undertake at least a small sort. I picked out black (or mostly black) pieces, smoky/hazy pieces, pieces that had bits of broken glass imagery, and pieces that had parts of the colorful borders between frames within the image.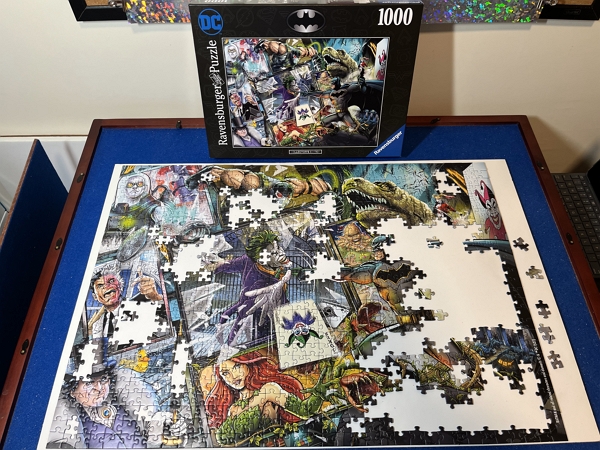 My sorting ended up being a huge help. Once I had the remaining pieces in categories, most of the left-hand and center sections of the puzzle came together, leaving mostly the dark gray and black pieces from Batman's body and cape.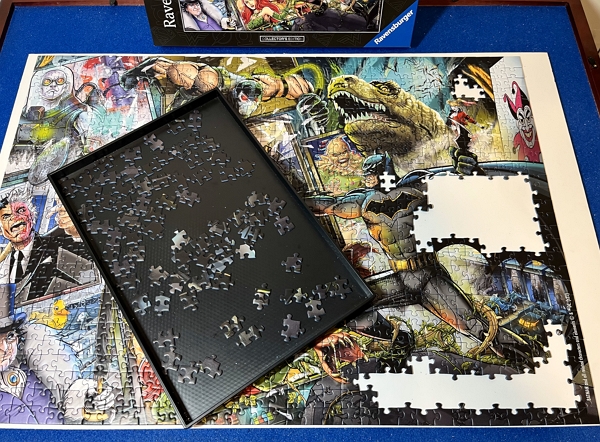 It took a bit of patience and perseverance to finish the remaining darker section of the puzzle, but by the time I got to this point I had a sense of accomplishment that fueled me through to the finale.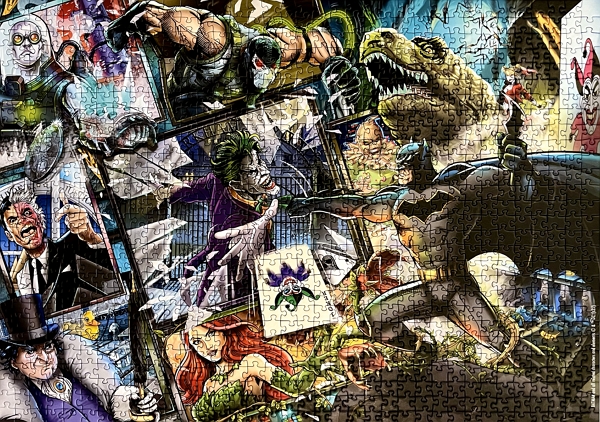 Batman Collector's Edition by Ravensburger
Here it is completed! To say that I loved this particular puzzle is an understatement. One of my favorite things about puzzles with comic book art is that the process of putting together the puzzle makes me admire the intricacy and detail of the line work in the artwork even more than at first glance. Unfortunately, I wasn't able to find an artist's name for this collage piece, but whomever it was who illustrated this puzzle did an incredible job with these well-known characters.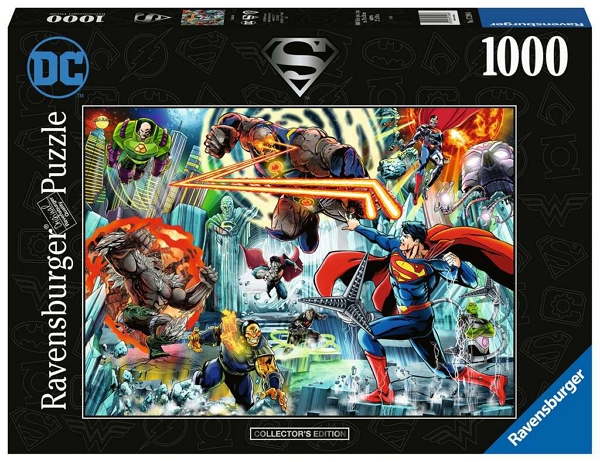 Superman Collector's Edition by Ravensburger
If you like the style of this collector's edition Batman puzzle but are more of a Superman fan, Ravensburger and Puzzle Warehouse have also got you covered with this incredible 1,000-piece Superman Collector's Edition puzzle.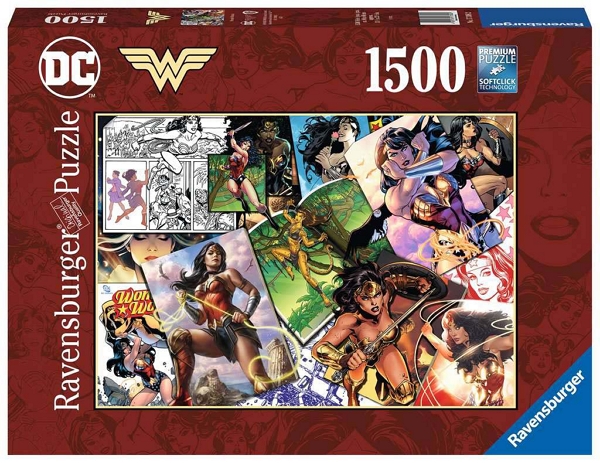 I also love this 1,000-piece Wonder Woman Ravensburger puzzle. There are so many different distinct colors and textures throughout that it looks quite doable.
If you're more of a Marvel Fan – or Buffalo Games fan – there are quite a few puzzles to be had in these categories as well. For a while, I was collecting as many Buffalo Games Marvel puzzles as I could, because on my YouTube channel I undertook two separate '12-Hour Marvel Puzzle Challenges (here and here)." That means I've spent over an entire day of my life puzzling Marvel/Buffalo puzzles!
Here are a few of my favorites that are stocked by Puzzle Warehouse:
Here's The Amazing Spider-Man #800 (500 pieces) from Buffalo Games.
And here's The Amazing Spider-Man #24 Variant (500 pieces), also from Buffalo Games.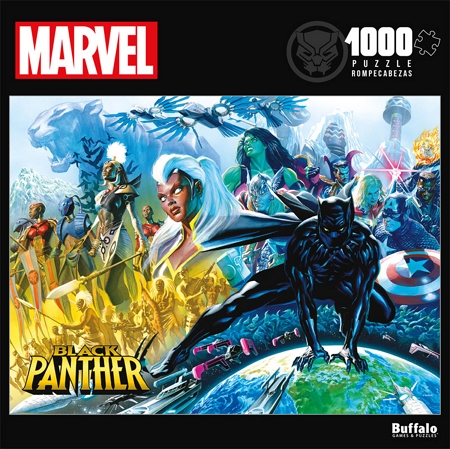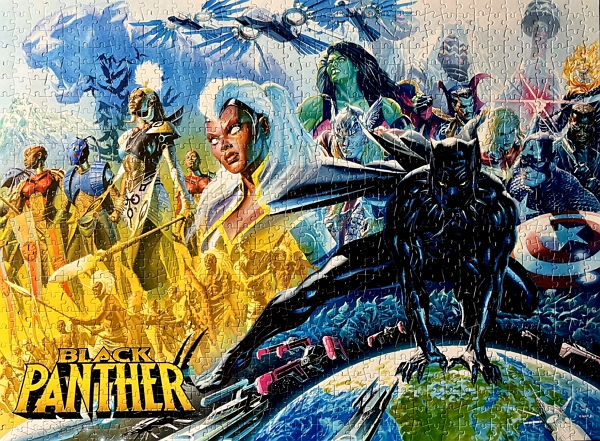 Rounding out this list of featured puzzles is a striking 1,000-piece Black Panther #1 puzzle from Buffalo Games. I find this cover image particularly striking.
Many of Puzzle Warehouse's comics-related puzzles can be found on the site's Pop Culture and Cartoon pages.
Whether or not you're attending Comic Con (or if you're attending a local con some other time of year), I hope this post has inspired you to pick up both an issue of a comic book – or a graphic novel – as well as a comic book-themed puzzle. Illustrations are truly my favorite images to puzzle because of how much the artist can imbue the individual scene with their own distinctive flair and style, and there are so many super options to choose from through Puzzle Warehouse to whet your appetite for heroes and villains.
-Richard (@piecebypiecepuzzler / YouTube channel: Piece By Piece Puzzler)