Happy Birthday!
October is my birthday month, so to celebrate I thought I'd bring the party to my puzzle board and share it with you! I'm one of those people who loves "my" special day. Well, mine and the approximately 15 million other people who share it (and any birthday)! If you, like me, would rather the cardboard someone spent money on be in the form of a puzzle instead of a card (the average person receives 7 birthday cards and that money would add up to a nice puzzle), read on for some "asks" that you can put on your wish list…
I never had a birthday party quite like the one illustrated by Jan Van Haasteren in this 1000-piece Children's Birthday Party by Jumbo – perhaps because my parents were concerned that it would turn out like this! All of Jan's "usual suspects," which you can read about in fellow blogger Madelle's post, appear here. However, unlike many of the artist's other creations there are no racy images, so it is a child-friendly puzzle. And just look at all the faces of those children on these pieces! Despite the artist celebrating 87 birthdays himself, he still releases around 3 new puzzles every year, ensuring my birthday list will always have a JVH listed on it!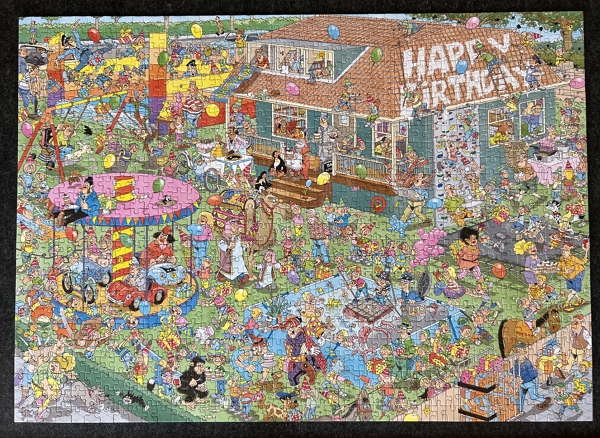 Children's Birthday Party by Jumbo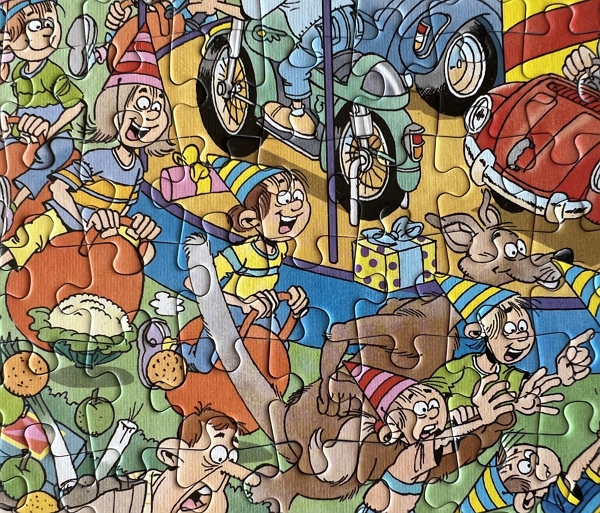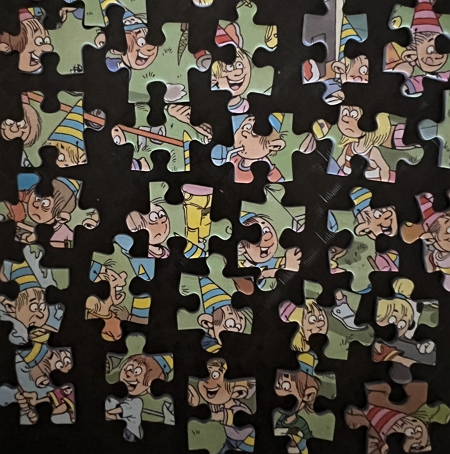 One famous celebrity I share my birth month with is Winnie the Pooh, who was "born" on October 14th. I spent many a Sunday night watching Winnie The Pooh on The Wonderful World of Disney growing up, so it's no wonder I gravitated towards this 1000-piece Winnie The Pooh from Ravensburger. I'm partial to Eeyore, which is interesting as his personality is the exact opposite of mine (I've lost count as to how many people have called me "perky") and look…even HE is smiling in this one! You will too if you get this puzzle, as the artwork and the precision-cut, high-quality "Softclick Technology" you get with all Ravensburger puzzles makes assembly a joy.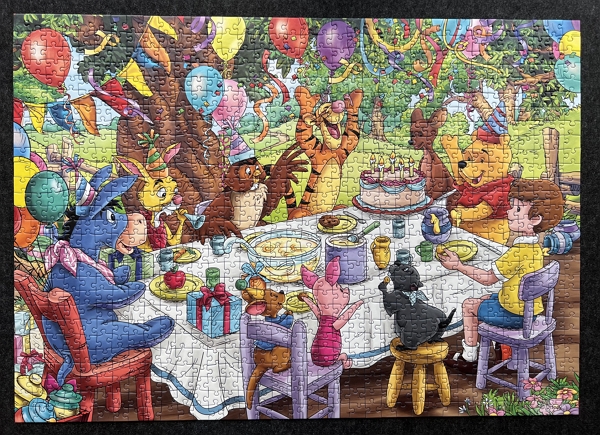 Winnie The Pooh by Ravensburger
There are some "must haves" for every birthday party, so now it's time to call in the clowns! Well, one clown at least, as pictured on this 500-piece Thank You puzzle by Heye. I know some find clowns creepy, but this little guy is anything but! At first that green border was no laughing matter. However, once I focused on how the confetti colors joined up between two green background pieces as seen in this picture, the build became easy to juggle. Heye is one of my favorite brands with their thick and sturdy pieces. Their images are delightful and Mordillo, an Argentinian whose cartoons were widely published in the 1970s, is my favorite artist featured by the brand.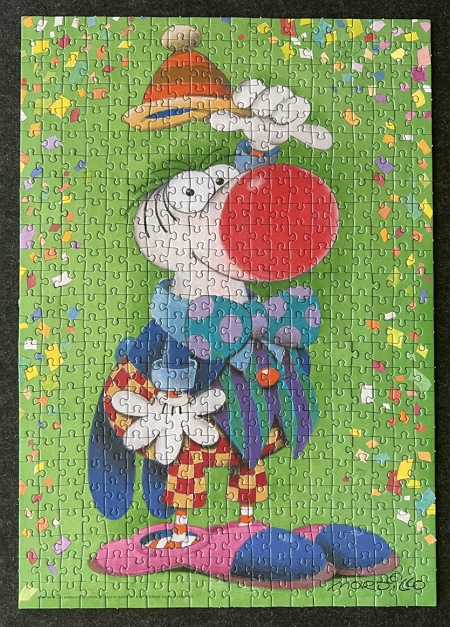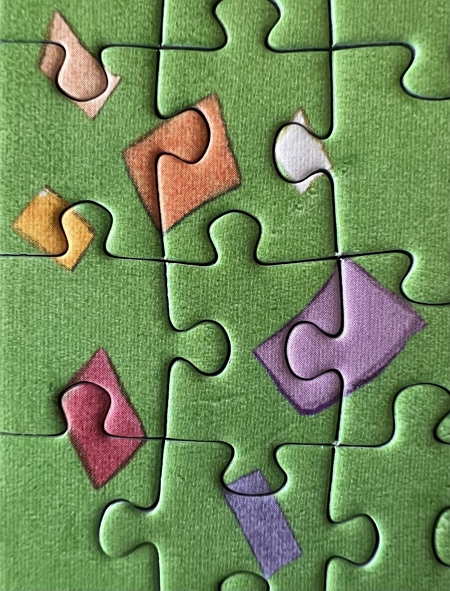 Next up, it's time to decorate with some Party Balloons and these, as seen in this 500-piece by Cobble Hill, blew up my board. I'm a big fan of their funky-shaped pieces and their linen feel. While no two pieces are alike, they are only slightly different than the typical puzzle pieces, making this brand an ideal one to start with if you ever want to try random cuts for the first time. The pieces on this one were quite large with very little duplication in design, meaning the colors – unlike the balloons – really popped! Fun fact about party balloons before I move on…before two pieces of rubber were pressed together to make the very first party balloon back in 1824, people used to inflate pig bladders and animal intestines. Ew! That gives a whole different meaning to balloon animals…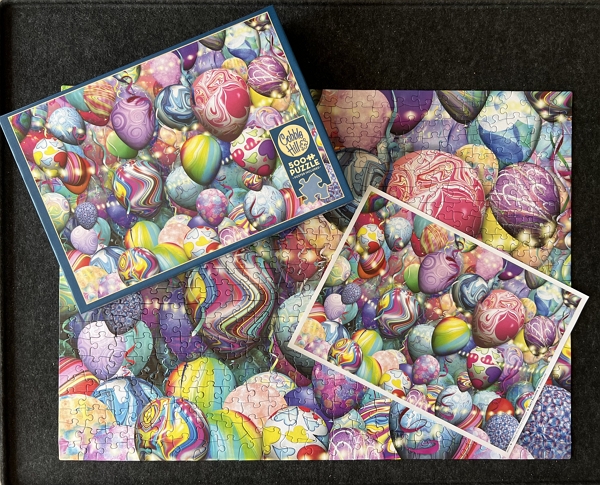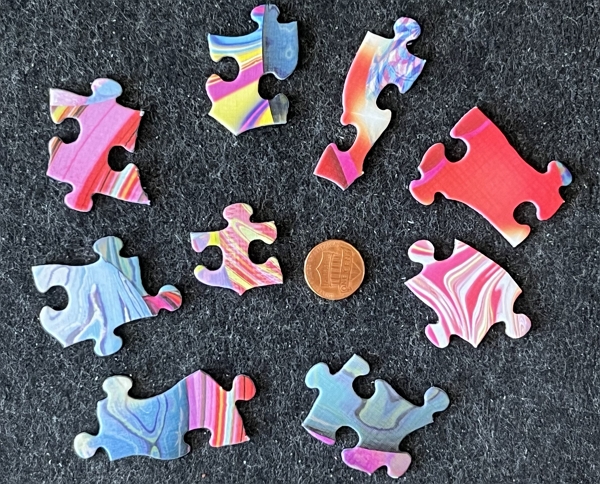 I can't fill up on cake due to a gluten intolerance, but this Gateau des Anges, 300-piece puzzle by JaCaRou rose to the occasion to fill my heart instead! Colette Falardeau is a self-taught, Canadian artist who originally worked as a fashion illustrator before turning to painting. Her love of color, creativity and fantasy really shines through on this little fashionista cake angel! The puzzle includes a resealable bag – something I wish all manufacturers would do – and the big, vibrant pieces stayed securely in place. I thought this one would batter me at first, as the colors all swirl together, but focusing on the center of the flowers helped me whip this one into shape. Another fun fact to chew on…did you know that the reason you rarely hear characters sing Happy Birthday on screen when the cake is brought out is due to the fact that the production must pay a licensing fee to do so? The song rakes in over $2 million dollars a year!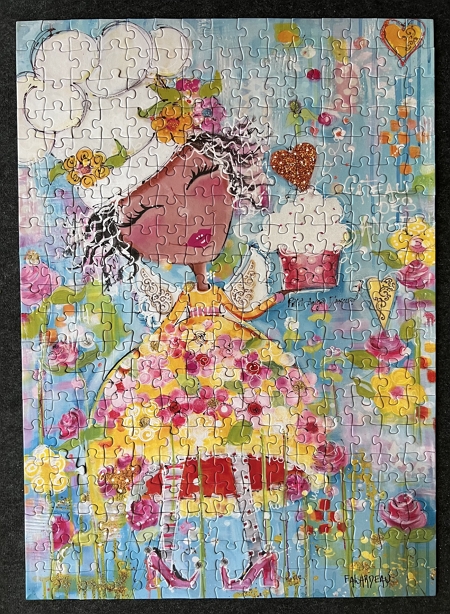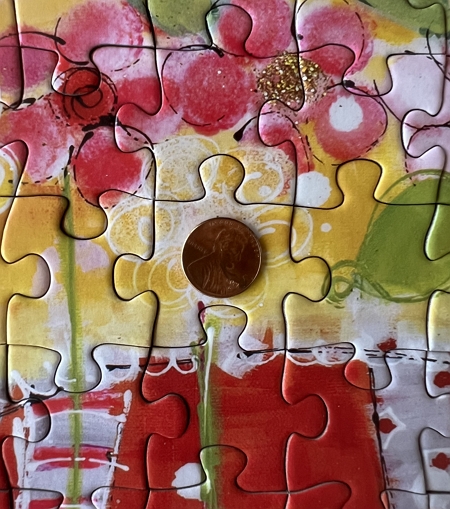 Presents are always de rigueur at a party, so even though I should be the one getting them, I thought I'd give you some to look at instead! The Pretty Presents shown on this 1000-piece from Colorcraft were more challenging than I thought at first, due to the dark spaces between each gift, as you can see below the red polka dot box. But the colors in the festive wrappings were the bow on top that made it all worthwhile. Sadly, Colorcraft, which is aptly named as their puzzles are always brightly colored, went out of business last year, but I highly recommend picking up a few while supplies last as their random cut, recycled European cardboard pieces have no puzzle dust and are excellent quality.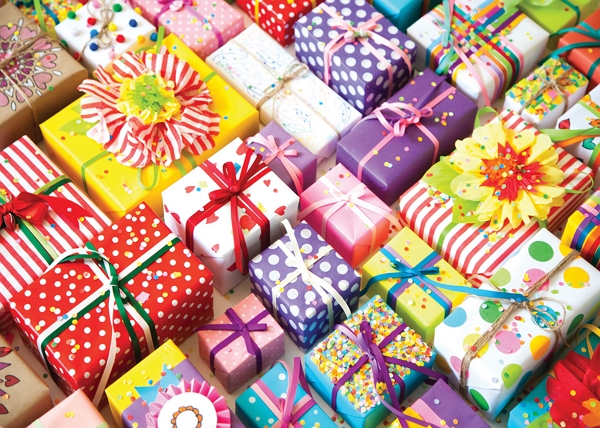 Pretty Presents (End of Life) by Colorcraft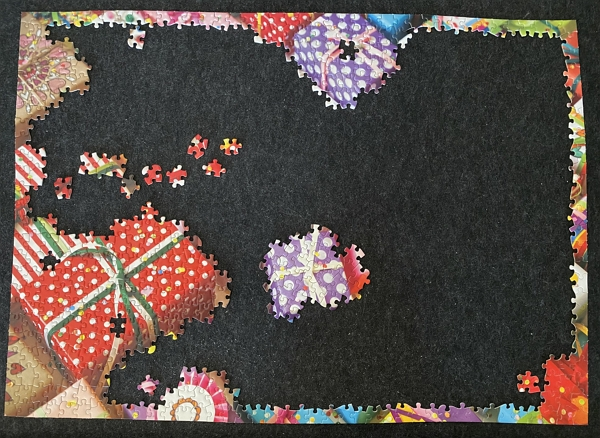 So, what birthday am I celebrating this year? A lady never tells, however I did this Spirit of the 60s puzzle from Gibsons (available as both a 1000 and 40 piece) to celebrate the decade I was born in. And those of you who have a sharp eye may notice that there is only one year highlighted on it, which just so happens to be my birth year! Get your magnifying glass out if you're curious… It was fun doing a puzzle from the decade I was born in to get a sense for what was hot then. Although Gibsons is a British manufacturer, a lot of the same things were popular both here and over the pond. I got a kick out of the fashions, TV shows and especially the music, as I am a huge Beatles fan and watched reruns of The Monkees growing up!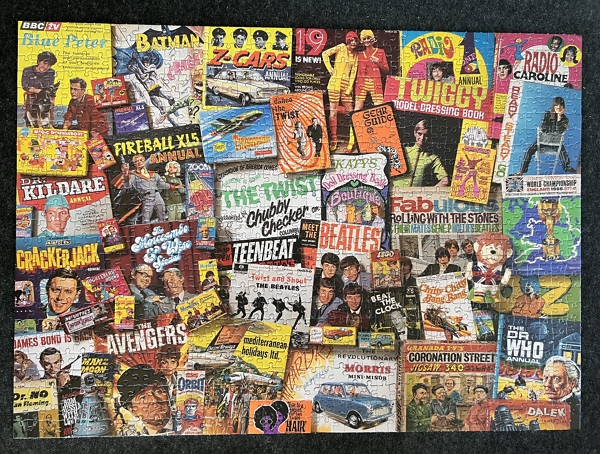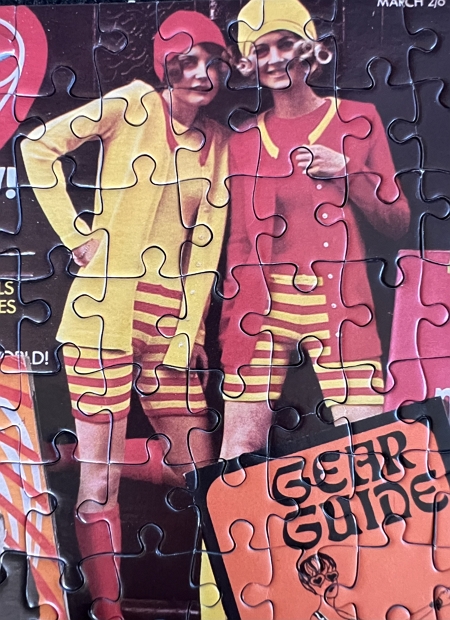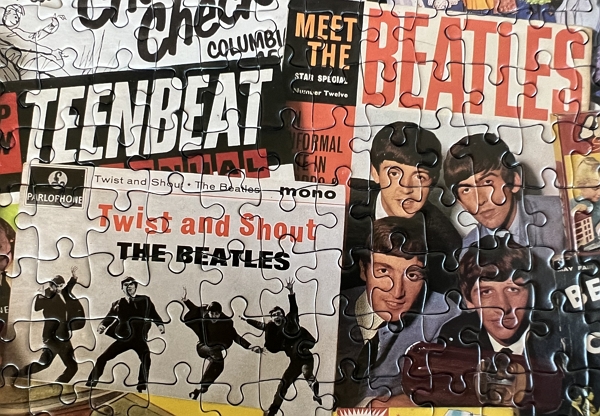 If you want to send a puzzler a unique birthday card, you may want to consider this 12-piece Birthday Truck or 60-piece Confetti Birthday Cake greeting card puzzle. Other puzzles that I would be happy to receive for my birthday would be two by RoseArt - a 100 piece Peanuts Birthday and 300-piece Colorluxe Vintage Birthday Candles – this 1000-piece Birthday Cupcakes by Vermont Christmas Company, and finally this equivalent to a surprise party in a box, a 1000-piece Wasgij Mystery 16: Birthday Surprise by Jumbo!
Time to blow out the candles on this blog! I hope you enjoyed this goody bag of suggestions for yourself or a loved one who will soon be celebrating their birthday.
– Lisa @lisalovespuzzles
5 Stars
Puzzle Buster - St. George, UT
5 Stars
Rhonda C. - Sanford, FL
Wonderful blog, as a fellow Oct baby I especially enjoyed all the birthday themed puzzles!
5 Stars
Jill B. - Gotha, FL
Another fantastic Blog Lisa! Makes me want to run to the Puzzle Warehouse site and grab them all! Have a great Birthday Month and Birthday! You have a gift of making puzzles come alive through words and photos! Puzzle Warehouse Lisa is a Puzzle Ambassador Extraordinaire!
5 Stars
Kevin G. - Winter Park, FL