All Lit Up! Puzzles that Glow
Happy October puzzle friends! Guess what? I am NOT going to talk about Halloween puzzles. Threw ya for a loop there, didn't I? We are going to talk about one of my favorite styles of puzzles that make me smile big every single time I do them. Glow in the dark puzzles! For the next few minutes I am going to geek out about puzzles that glow, and I hope by the end, you'll be heading over to the Puzzle Warehouse site and filling your cart with all the glowy puzzles your heart desires.
We all know puzzles come in all shapes (circle, square), styles (gradient, collage) and piece counts (500, 1000), but the style that I think brings out the most joy and fun in puzzling are glow in the dark puzzles. There's a childhood nostalgia attached to anything that glows in the dark, so I find that these puzzles bring out the child in us and stirs up such glee when we see them glow. I swear, it's the little things in life that bring the most joy!
Starting off our glowy puzzle journey is a puzzle from a company that has mastered the glow in the dark puzzle game… Masterpieces. And the first image I'm going to gush about is named A Dark Brew. Oh what fun this 500 piece spooky glow in the dark image was to put together!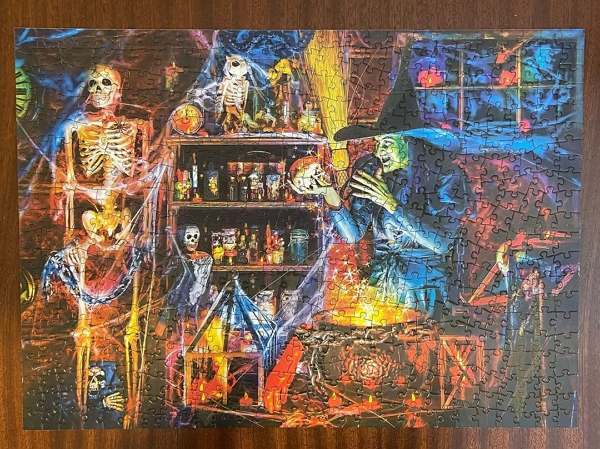 The attention to detail in the images is pretty fantastic. This image was a little on the darker side, which gave it a splash of difficulty, but the bright details and several cool hidden accents made it fun to puzzle. It doesn't matter how long or how often I stare at the image on the box, I still kept getting surprises when putting it together.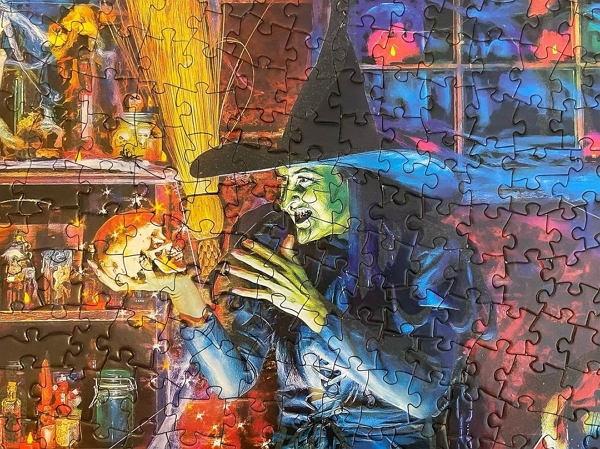 Masterpieces is such a great brand! Their quality is so good, the pieces are my favorite random cut, and they have little to no puzzle dust. Best part is that Masterpieces has so many amazing glow in the dark puzzles in various styles and piece counts. And boy did they perfect the art of puzzles glowing! Just look at how amazing it looks when it glows! It's like magic.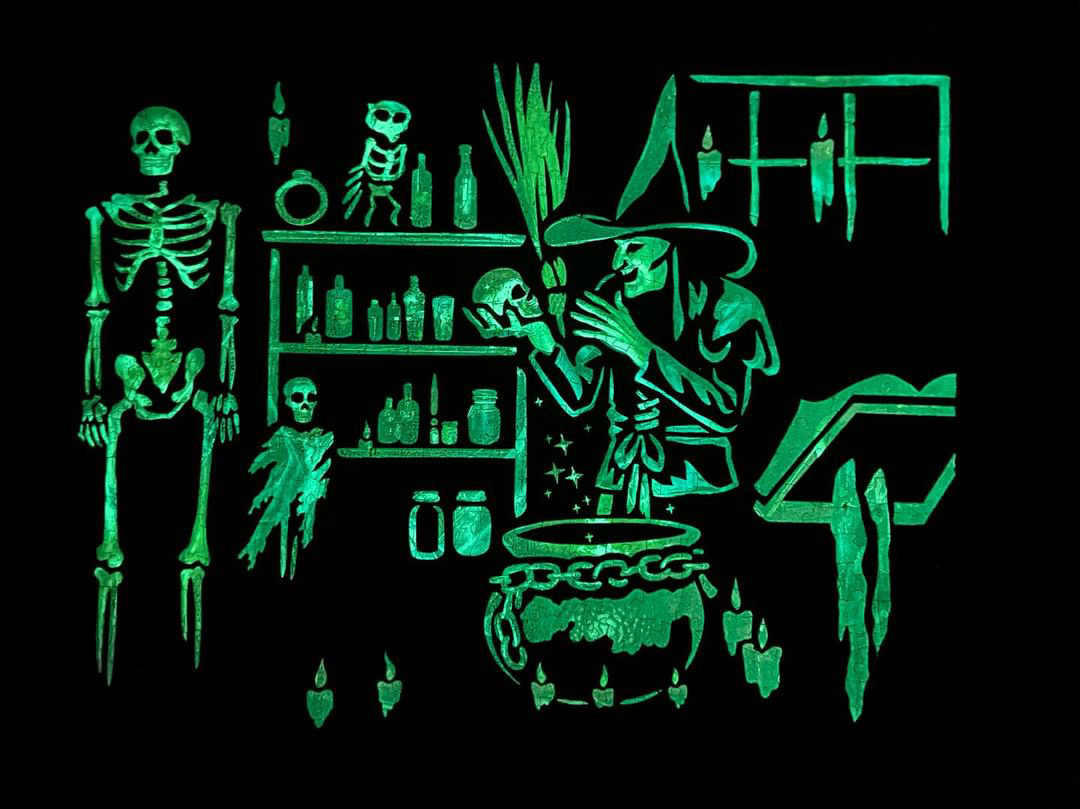 Another good one is the Masterpieces puzzle 4-pack of 100 piece puzzles. They glow in the dark too! I love these 4 packs because I do them with my kids. These 4 packs come in different styles and variations (glow in the dark or regular). This one is called Glow In the Dark Blue and I love the very different images. Who doesn't love variety?!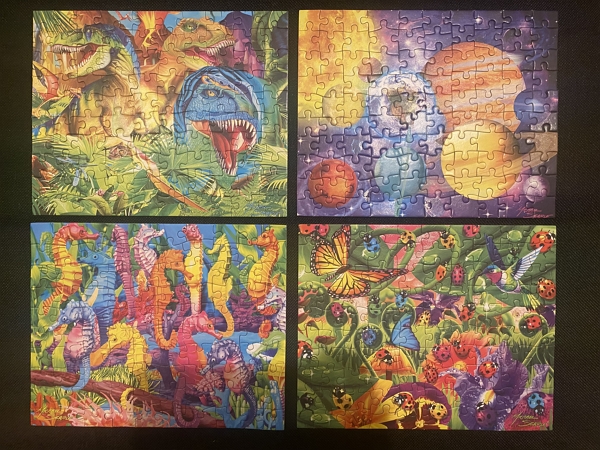 Glow In the Dark Blue by Masterpieces
My sons, their friend, and I puzzled this variety pack. It was fun to spend time with the kids chatting, and putting these mini snack sized puzzles together. They were quick and easy, which kept them from getting bored and giving up. Then we got to squeal with joy seeing them glow in the dark. It was their friend's first time seeing a glow in the dark puzzle and it was so fun watching her face light up.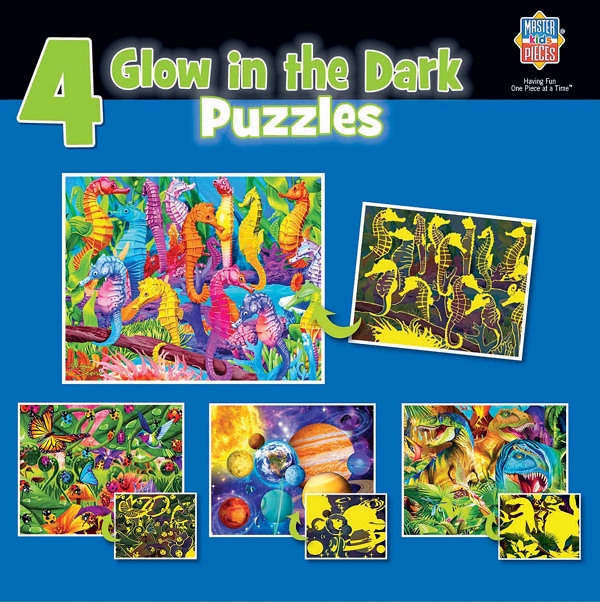 Glow In the Dark Blue by Masterpieces
Keeping up with tradition, we each signed the last piece for memory keeping. We now invited a new friend to join in on the tradition with us.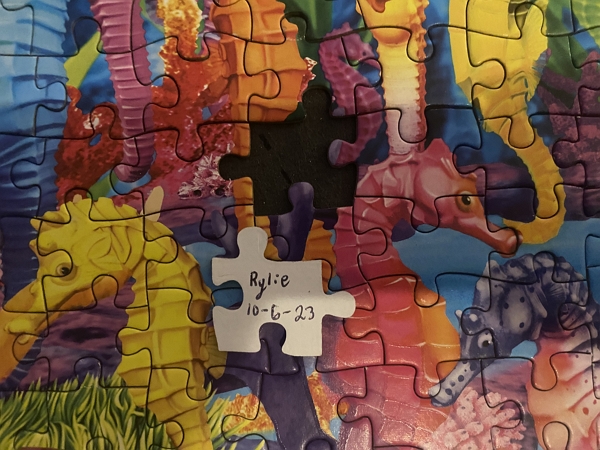 Another brand that Puzzle Warehouse has that makes glow in the dark is Puzzle Life. As much as it looks super challenging, I am secretly dying to give it a try because it's so pretty! And no, I don't love this image because I am a Capricorn and the puzzle is coincidentally named Capricorn Luminous… ok maybe a little bit. But look how pretty it is… it's a mermaid!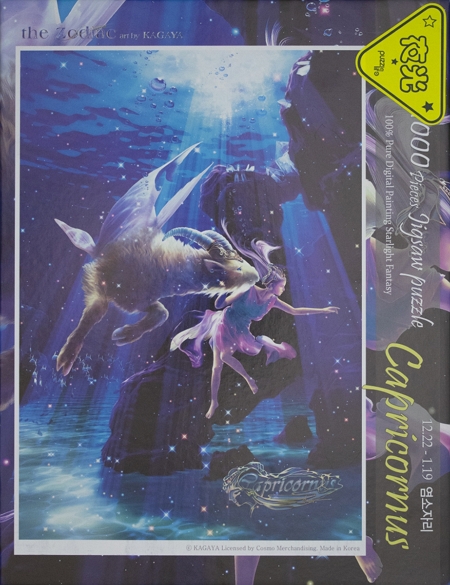 Capricorn Luminous by Puzzle Life
Puzzle Warehouse has so many options of glow in the dark puzzles in various piece counts, and I really hope you go take a look because they are so much fun! I have several in my stack and some of which are Christmas themed and I can't WAIT to bust them out once the spooky season is over. So which did you like? Which have you done? But more importantly, what is your favorite brand of glow in the dark puzzles? I want to know everything! Share it all with me below in the comments.
Have a spooky month!
Marwa puzzledprincessdiaries