Happy Thanksgiving
To me, Thanksgiving is a perfect holiday because I love to cook and it's a low-fuss celebration. There's no need to write cards, buy presents, etc., but I still get to be surrounded by friends and family. Add to it that not only do I enjoy eating Thanksgiving leftovers (which is good because I always cook enough to feed an army), I also get to USE the time left over from not having to do all the preparations associated with other holidays to puzzle and that is bliss!
While Thanksgiving doesn't require the same level of commitment to decorating as Christmas does, it is a nice touch to add flowers, pumpkins, or a scarecrow for ambiance. If you assemble this Harvest Truck puzzle by Lang, you'll get all three and Susan Winget's artwork, which depicts her love of family and farms, epitomizes what Thanksgiving is all about! This 750-piece panoramic puzzle measured in at 20 x 29 inches, making it too long for my board, but that is why I also have a puzzle mat that can accommodate larger puzzles. One pleasant surprise I can steer you towards noticing is this puzzle's pieces were inside a bag that also held a reusable bag. This is ideal in case you, like I have accidentally done, rev into high gear to rip open the package and realize too late it can be used again!

Harvest Truck puzzle by Lang

Now that the decorations are sorted, it's time to go shopping for the Thanksgiving feast! I am a big fan of farmer's markets, and apparently of puzzling them as well, because I really enjoyed the subject matter and nostalgia of this 750-piece Hickory Grove by MasterPieces. In artist Joe Holodook's own words, he "paints the way I would like the world to be – a friendly, warm and welcoming place never mean and uncaring." He definitely warmed my heart with the little details in this treasure, especially of the kids scrambling to pull mom away from the vegetable stall. It made me smile about my yearly, mostly unsuccessful try at including at least ONE healthy vegetable with the high-fat favorites of the season!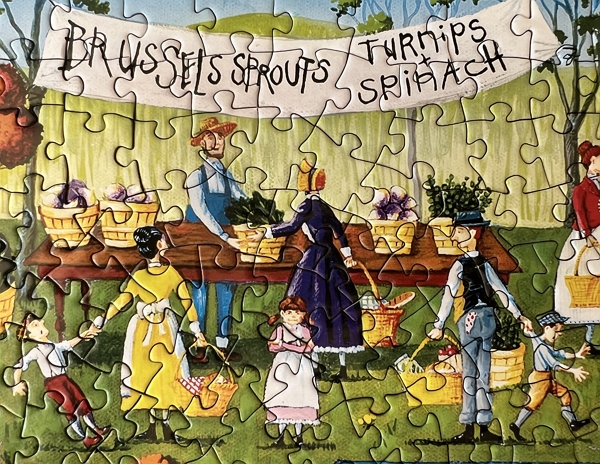 I really enjoyed the funky-shaped pieces as well, which are random cut, but not too "out there" to squash your efforts at finding what may be the perfect fit!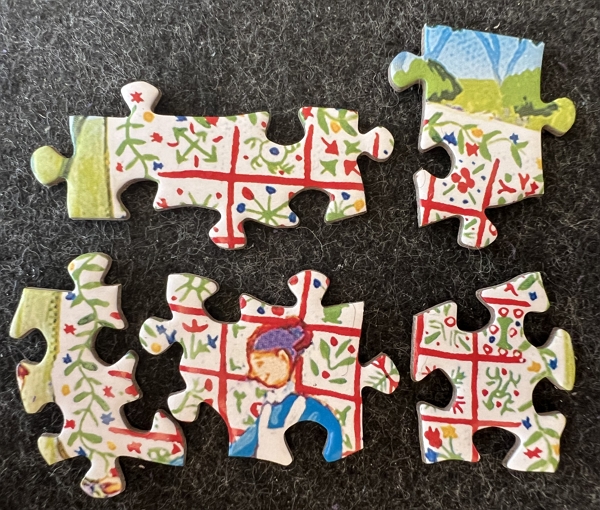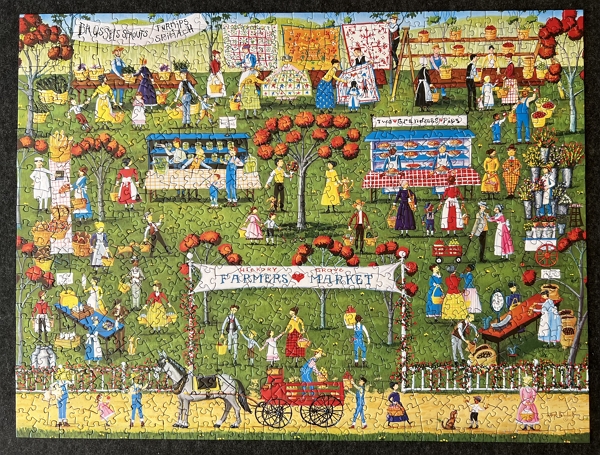 So, now it's time to talk turkey…the turkey that is being served up (and the other that is "stuffed") in this adorable Thanksgiving Togetherness puzzle by Cobble Hill, which is available in both 1000 piece and 350 piece sizes.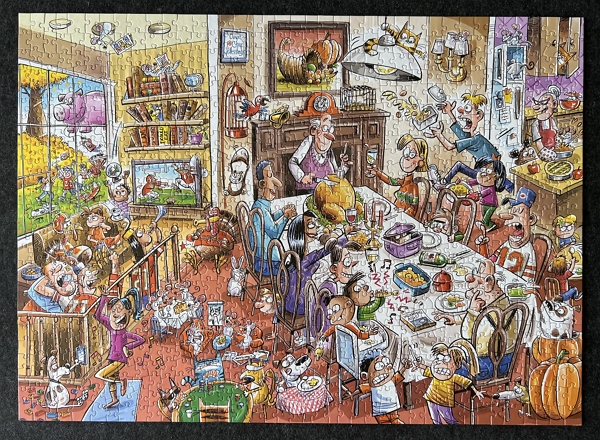 Thanksgiving Togetherness puzzle by Cobble Hill

This one reminded me of holidays when I was growing up…I can remember my annoyance, as the youngest in the family, at having to sit at the kid's table; I had a great aunt who used to get a bit tipsy every year and I'd watch as her wig would slowly turn askew throughout the meal; and the men would always end up in the living room watching football!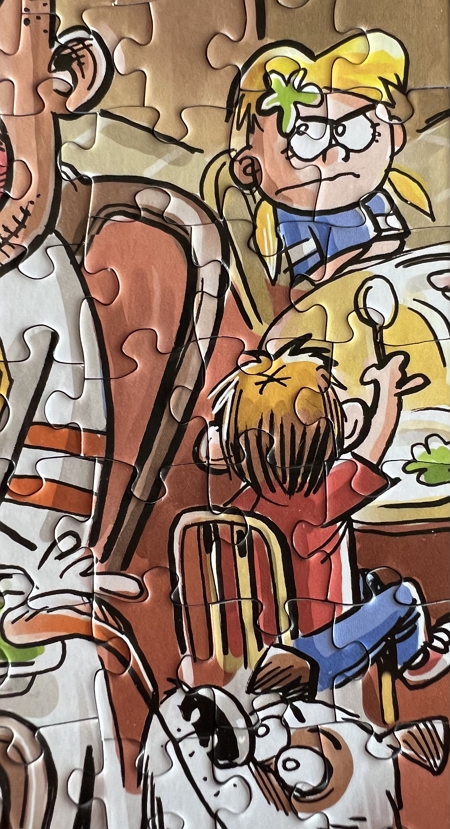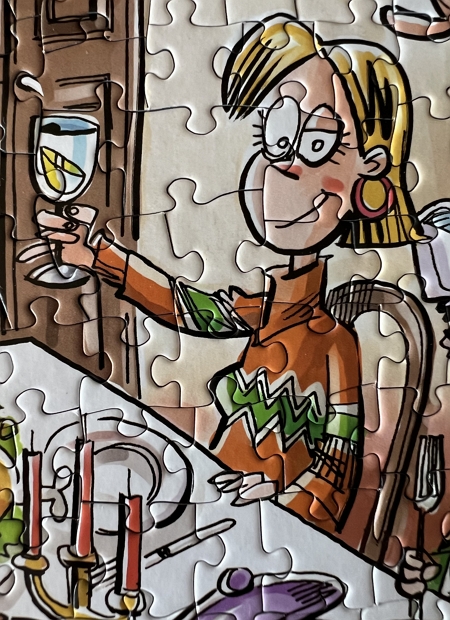 Speaking of which, I got a kick out of assembling this NFL Mascots puzzle by MasterPieces. At only 100 very large pieces, I crossed the goal line in just 15 minutes – the perfect puzzle to squeeze in as the potatoes boil! I'm big on college football (go Noles!), but don't really follow pro ball, so I enjoyed learning the different mascots' names, including Roary, who is sure to appear on all our television sets come Thanksgiving Day. Did you know the reason the Detroit Lions play every year is because their owner started the tradition back in 1934, as he wanted to attract more fans by hosting a game on a holiday?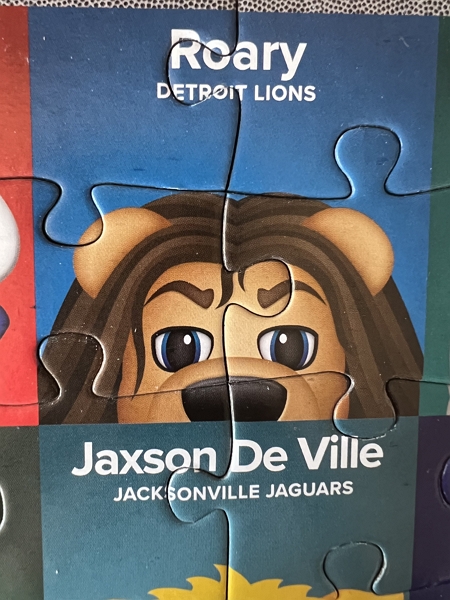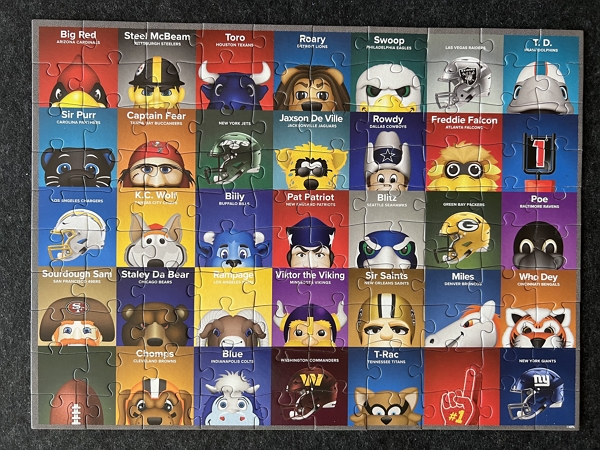 NFL Mascots puzzle by MasterPieces

Another Thanksgiving tradition that is near and dear to my heart is pie! As a child, the only thing my mother would let me help with in the kitchen was to take everyone's pie order. There were almost as many to choose from at our house as you can see in this 1000-piece Pie Time by Cobble Hill. My joy in the subject matter almost crumbled at seeing all the pieces with pie crust and fruit filling, but in the end, there were distinct differences that made this easy as, well…pie! And who could get crusty about all the little pie-related quotes throughout?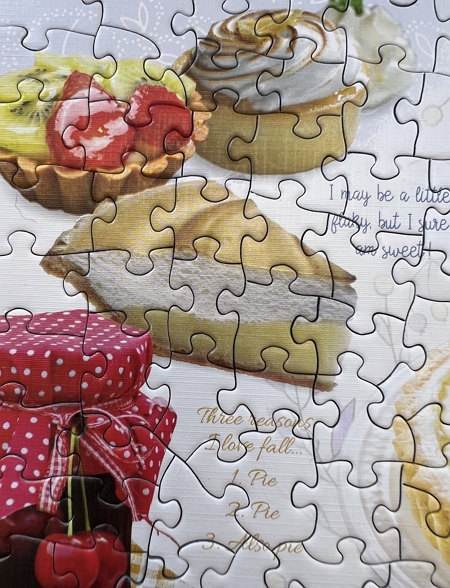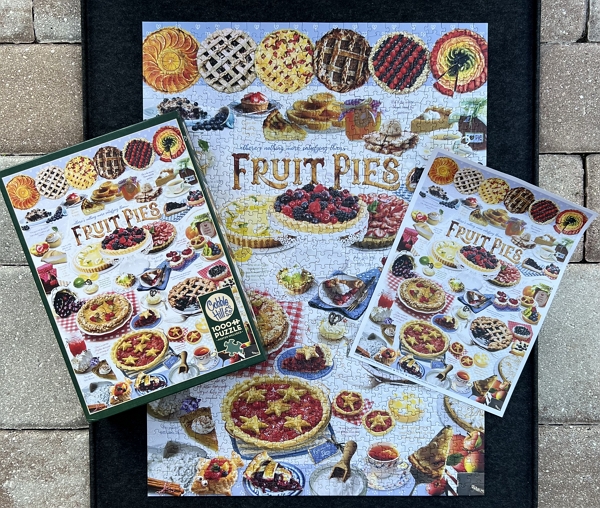 While you won't find electronics at my Thanksgiving dinner table as pictured on this 750-piece Search and Funny Family Dinner by Ceaco (I believe in connecting with one another, not connecting via Wi-Fi) you WILL have fun trying to find the 14 hidden items in this puzzle, such as this Loch Ness Monster hiding on the baby's head!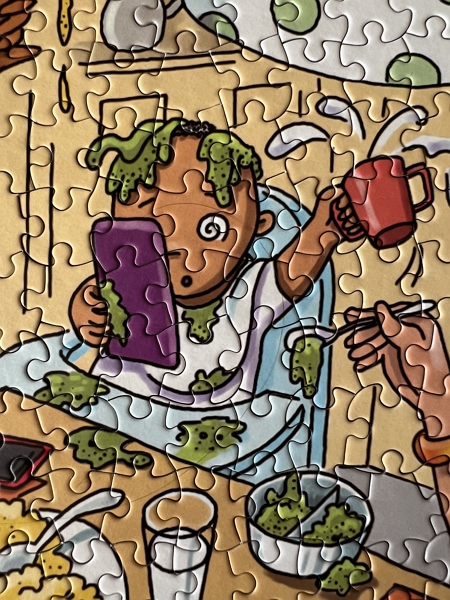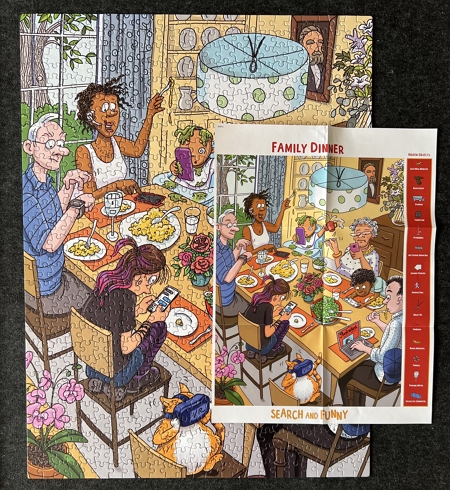 Search and Funny Family Dinner by Ceaco
Want to get your family talking instead of surfing this Thanksgiving? Quiz them on the following (answers are at the end of this blog):
Which president was the first to proclaim Thanksgiving a national holiday?
How much did the largest turkey on record weigh?
Which Christmas carol was originally meant by the composer to be a Thanksgiving song?
Perhaps the family from the last puzzle are all on their devices looking for Black Friday sales? Hmm…that is another "never" for me. While I will happily complete a shop 'til you drop-themed puzzle as seen in this 1000-piece Lifting The Lid - Department Store puzzle from Gibsons, I would not step foot in a department store the day after Thanksgiving! The artist, Andy Tudor, worked for leading advertising agencies as an illustrator and designer, so it must have been fun for him to depict the frenzy good advertising for a sale can bring about!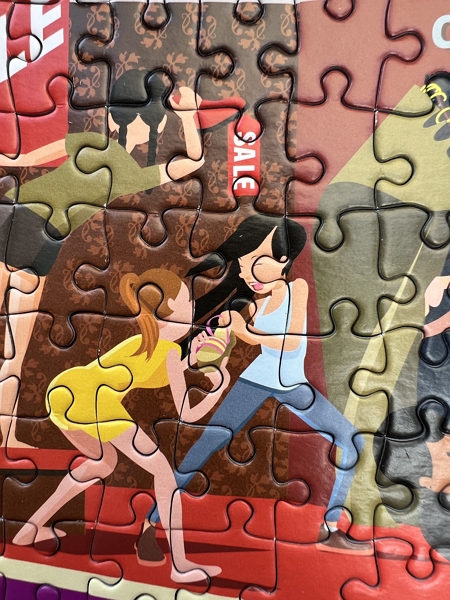 Gibson apparently believes in truth in advertising themselves, as they state right on the box that they use the thickest puzzle board available and this one truly was high-quality. They also found a way to overcome a pet peeve of mine for which I am grateful. Although they put branding on the box cover, theirs (like the stockings people are fighting over in the puzzle) was opaque, which didn't block out the picture underneath.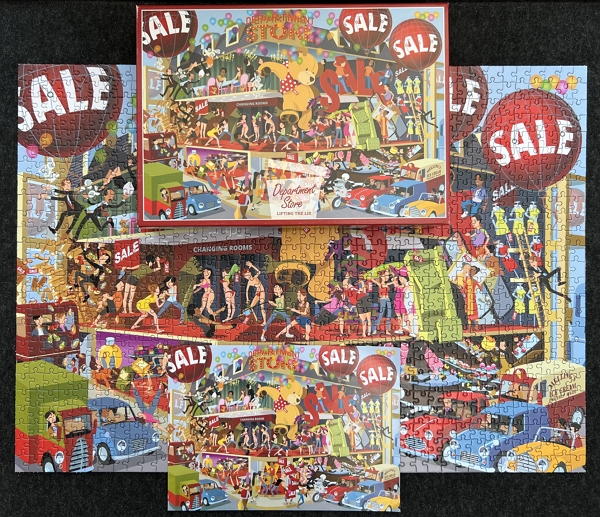 Lifting The Lid - Department Store from Gibsons

In closing, some additional Thanksgiving-themed puzzles I'd gobble up include Thankfulness by New York Puzzle Co (a twist on electronics being found at the table), Autumn Harvest by Vermont Christmas Company, City of Gratitude by Galison and Pies Table by Eurographics.
I am grateful to all you Jigsaw Junkies readers out there! As promised here are the answers to the trivia questions above – 1) Abraham Lincoln, 2) 86 pounds (talk about leftovers!) and 3) Jingle Bells. Hope you'll be laughing all the way through Thanksgiving this year!
– Lisa @lisalovespuzzles
5 Stars
Jill B. - Gotha, FL
Once again I have been thoroughly entertained by your Blog. I love that the links to the puzzles are right there! It's so easy to flip back and forth from your Blog to the Puzzle Warehouse site to fill up my cart with me to me Thanksgiving Gifts. I love your Blog and can't wait to read the next one!
5 Stars
Rhonda C. - Sanford, FL
Your blog made me laugh.. I loved how along with the traditional Thanksgiving puzzles food, family, desert, you included the Department Store! Back in the day, Black Friday was a fun adventure for my daughter and I.
5 Stars
Bari Zepernick - Winter Garden
Loved this! Happy Thanksgiving!!