Things I Overheard at the World Jigsaw Puzzle Contest
Hello there! I'm back from my first ever trip abroad, where I both loitered at and competed in a massive international jigsaw puzzle contest.
The contest was 4 days solid of puzzling, where contestants could compete in up to 7 rounds of competition in a geodesic dome with naturally good lighting in a town where 15th-century buildings nestle among modern apartments and shops, where the public garbage cans are consistently undersized for the number of people in any given space, and where food is both reasonably portioned and reasonably priced.
Is this Heaven? No, it's the World Jigsaw Puzzle Contest in Valladolid, Spain.
Let me begin by saying that anyone with an internet connection and the right attitude toward puzzling can sign up for this thing. So there were people who had barely competed at puzzling before alongside folks who do this thing with some serious speed. There were teams who have practiced long hours and teams whose members connected the morning of the contest via social media. It was all terribly democratic.
You may have read speedy puzzler Alyssa's post leading up to the contest, but in case you missed it, I'll explain what happens.
Everyone gets the same puzzle, and contestants compete as individuals, pairs, and teams to see who can put together their puzzle the fastest. And people get into it! We're talking team shirts, puzzle clothing and jewelry, and cheering and chanting when contestants snap those last pieces into place.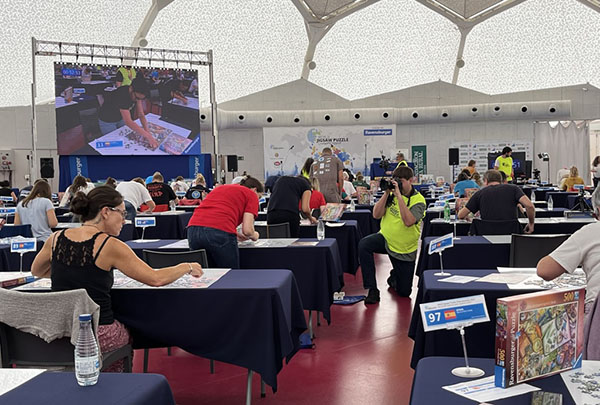 Picture at the World Jigsaw Puzzle Championship Event

Because there were about 600 individual contestants, the individuals were broken into 6 heats over one whole day of puzzling followed by two semifinal rounds – all to narrow things down to the top 180 puzzlers for a mad sprint to determine the fastest puzzler in the world.
Turns out, a handful of people are indeed faster than the rest of us. Their names are Alejandro, Kristin, Marketa, Andrea, Mercedesz, and Tereza, and their fingers fly.
Then there was the pairs contest, which had three qualifying rounds of 500-piece puzzles and a brutal final round with a 1000-piece geometric illustrated puzzle that only 9 out of 99 pairs even managed to finish. I paired up with my sister for this one, because we traveled together and we don't let 40 years of built-up resentments and petty disagreements get in the way of a good puzzle, even though it was definitely my Berniece doll – she didn't even have one so how could she claim that it was hers? It doesn't even make sense and...well.
The event was capped off with the teams contest. In two qualifying rounds, teams choose two out of four 1000-piece puzzles to complete to determine the finalists. For the final round, each team completed two 1000-piece puzzles to vie for fastest team in the world. I teamed up with my own sister and two other sisters. And I mean they were sisters to each other, not sisters to me. Or to my sister. Let's just say neither of them ever stole my Berniece doll.
The teams contest was truly fun. From the puzzle choice debate and decision at the start of the qualifier, to the banter and constant communication of frenetic teamwork, to the tangle of arms in a whirlwind of piece-putting at the very end…the teams contest stole my heart.
Ravensburger sponsored the contest, and puzzles were from the Spain catalog. Qualifying puzzles have been living their best lives out in the world, so it's possible contestants had done them before (which is a big advantage). But all finals puzzles were new and, thus, unseen by any contestant before the contest. Unfortunately, several of the competition puzzles are not available stateside (although some are). But for those of us who competed and were able to lug and/or ship our puzzles home, we have several souvenirs of our adventure (and in the case of the pairs final puzzle, an artifact of our recent tribulation)!
Now that you have a sense of what nerds do on vacation, it's time for a pop quiz!
With people coming from all over the world, there is bound to be lots of puzzle talk. Put your knowledge to the test and see whether you can guess which phrases were overheard during which rounds of competition.
Which of these comments was overheard while working on this Poke Bowl puzzle in the singles semifinal?
"Finally, I'm in a qualifying round Alejandro's not in."
"This trip has been 8 days straight of ham stuck in my teeth.
"Stop cheating off me!"
All of the above.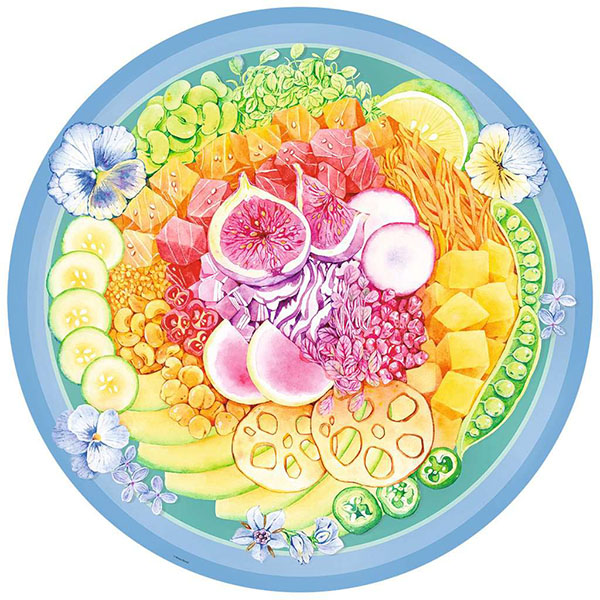 Which of these comments was overheard while working on this Ocean puzzle in the other singles semifinal
"There's a turtle in this puzzle? I don't know how I missed that.
"Did she just get the same time on this puzzle that we got when we did it together?
"There are 13 puzzles in my suitcase right now."
All of the above.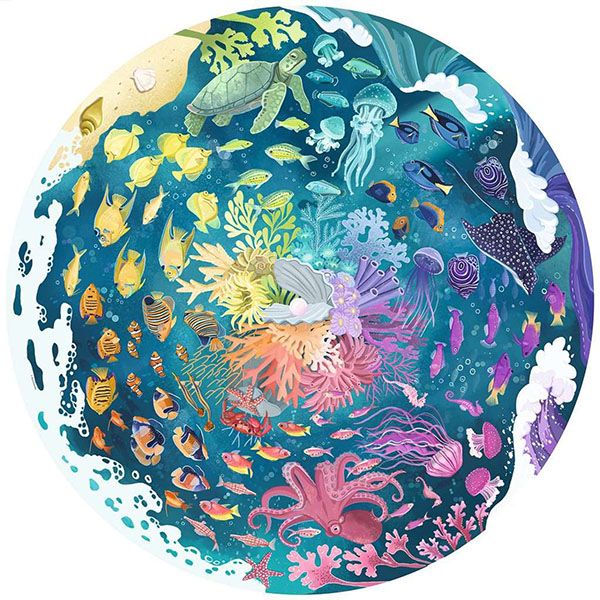 Which of these comments was overheard while working on this Ladies Brunch puzzle in the teams qualifying round
"The ladies went together quickly. The brunch? Not so much."
"I know this is a speed contest, but we chose this puzzle because we like a bit of a challenge."
"Hi. I'd like a welfare check on my family. I haven't heard from them in 4 days. Maybe check the tub? I'm the only one who picks hair out of the drain, and I'm worried they're just treading water."
All of the above.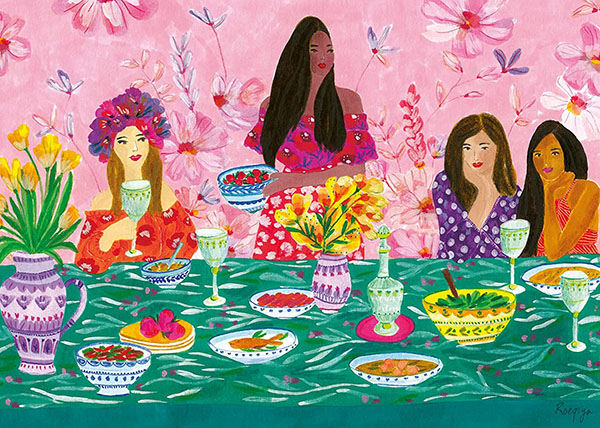 Which of these comments was overheard while working on West Coast Tranquility in the other teams qualifying round?
"We're 4,000 miles from home, and you haven't had a dog in 50 years, Dad. Where'd you get this one?"
"You can call it 'Rahhvensburger' for now, but when we get back to the states you'll get beat up for that."
"I wouldn't have asked you to be on my team if I had known you were going to wear so much fringe."
All of the above.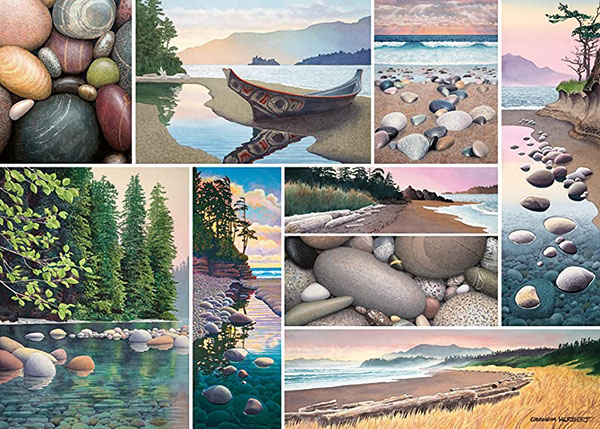 West Coast Tranquility by Ravensburger

Well, how did you do in your World Jigsaw Puzzle Contest trivia? In case you didn't already know, the answer for all of them is D!
But if you didn't answer them all correctly, don't worry! If you love puzzling for days in a row under pressure while sweating profusely on the world stage in a contest that's live-streamed on YouTube (and that your mother or favorite aunt will get up in the middle of the night to watch), get those puzzling fingers ready, head to Spain next year, and see and hear it all for yourself!
-Robin
5 Stars
Susan W. - Alpharetta, GA
5 Stars
Gail M. - State College, PA
:D :D :D I love it! Those are some fabulous statements. Hoping to make it to world's next year and hear the chatter for myself!
5 Stars
Alyssa Z. - Stevenson Ranch, CA
Great recap! I love your blogs!
5 Stars
Betsy P. - Roseville, MN
Fun article! Oh...and one other thing...what was it?...oh yeah. Berniece is mine.
5 Stars
Cecily B - Annapolis, MD
What fun-- even if Betsy claims Berniece! (It only matters if Berniece can puzzle faster than Betsy,)