It's A Trip
Over the years I've noticed something of a pattern to my puzzle solving. Most of the time when I'm looking for a puzzle, I'll check my stash and choose one totally at random. I'm not picky about the brand, the artist, the subject of the picture, or the number of pieces it has (usually the more the better). But is it really random? I've always thought it was, but in looking through the photos of those I've solved I noticed some interesting patterns. Apparently, my subconscious brain is hard at work when my "random" brain is supposed to be in charge.
Last week I was sifting through the puzzles I've completed in the last four months, and noticed that they weren't as random as I thought. Instead, they fit neatly into three categories that I labeled
Places I've been or want to go
Artsy puzzles
Puzzles I chose because they helped in a contest I was in
There were several that fit into more than one of these categories, but none that strayed outside my three category box. Not very random after all!
Today I'd like to show off the ones from that first part of my list - places I've been or want to go. I've posted a couple of them in previous blogs, most notably the Dowdle puzzles featuring Catalina Island and Cannon Beach, Oregon. I see those as proof of my unintentional themes because, in the next few puzzles I chose this one with a cool take on London, England, and the two that follow. First, London…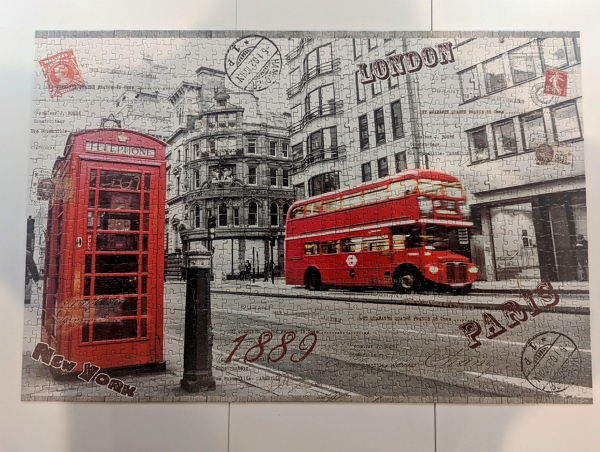 Note: This puzzle no longer available
Shortly after this one, I followed up with another European capital, moving across the channel and a wee bit south to Paris. This one, titled Eiffel Magic, was a typical Springbok, with the usual odd-shaped pieces and the good, tight fit. It was easier (for me) than many 1000 piece puzzles I've done, but no less satisfying.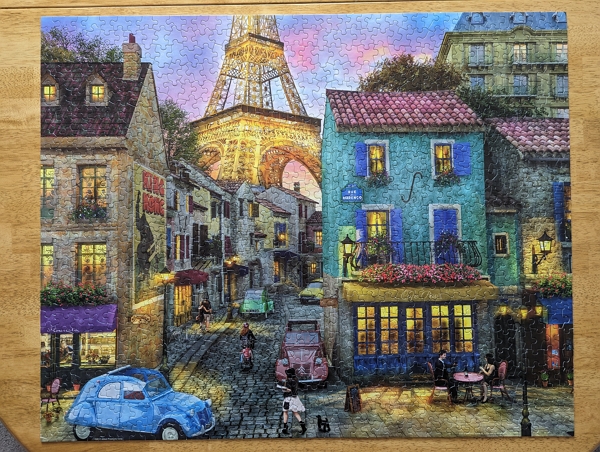 And I wasn't done with "places" yet. Here's a beautiful 2000 piece Buffalo puzzle called World Landmarks 360. I've visited many of these (the Colosseum, the Eiffel tower, the Golden Gate Bridge, and a dozen or so others), but there are a lot that are still on my list. Doing this puzzle had me ready to get out on the road to check them out; until the reality of day-to-day living brought me back to earth. So for now I'll settle for doing the puzzles. Here's my to-do list…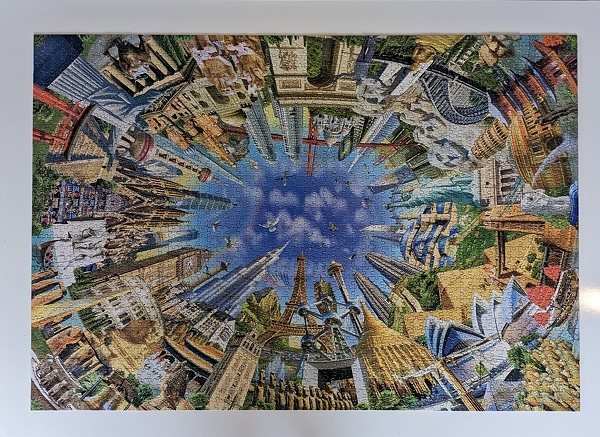 While I'm a bit disappointed that my random choices aren't truly as random as I thought, it's fun to look through my catalog and see so many wonderful places that I've been, and others that I long to visit. In fact, I'd better get moving on puzzles of Australia and New Zealand, because I've got a 2025 visit planned and the waiting isn't easy. Perhaps working on this fun looking Trefl puzzle of Port Jackson, in Sydney, or this Heye panoramic of Milford Sound, New Zealand, will keep my excitement in check. Can't hurt to try.
Happy Puzzling.
Phil (aka Puzzle Buster)