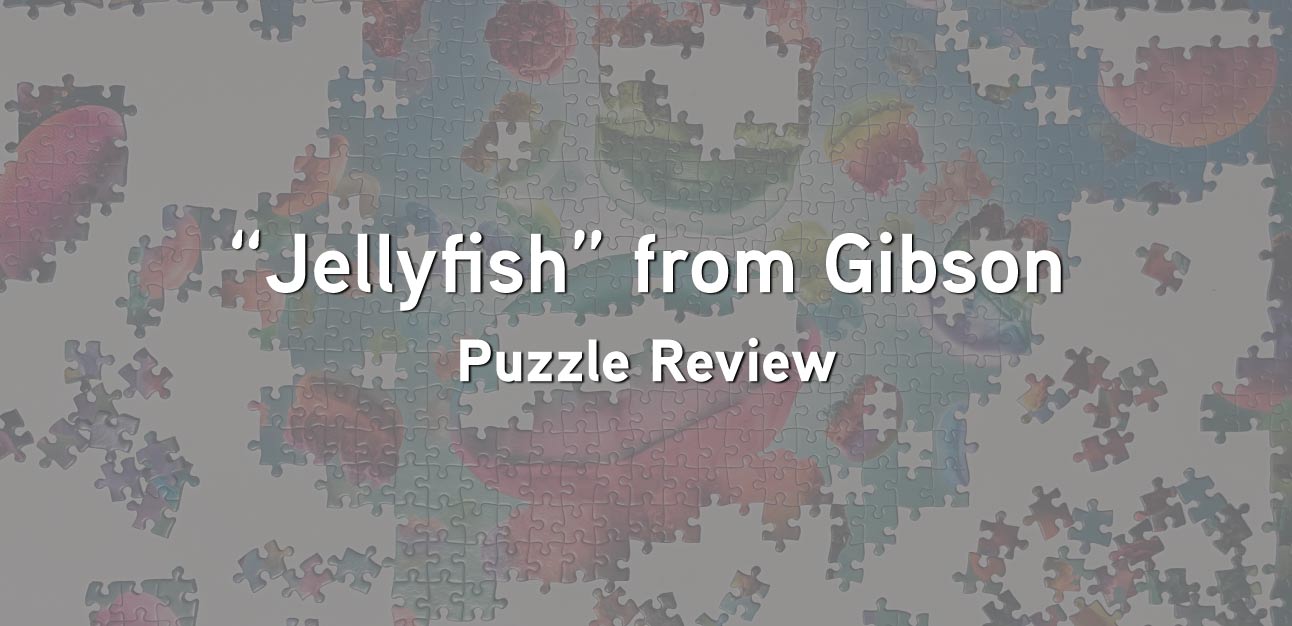 "Jellyfish" from Gibsons - Puzzle Review
Hi fellow Jigsaw Junkies! I am absolutely honored to be sharing my first blog post with everyone. I am a huge puzzle nerd and could chat about puzzles every hour of every day!
I have a confession. My favorite part of this crazy habit I call puzzling is getting to explore a completely new-to-me puzzle brand. I absolutely love dipping my toes into the proverbial water of a new puzzle: how are the pieces, will they fit well, is this going to be love, or hate, at first touch? Well- I have to tell you that I loved this puzzle! This is Jellyfish, a 1000 piece puzzle from Gibsons, and it is my very first puzzle by this UK based brand.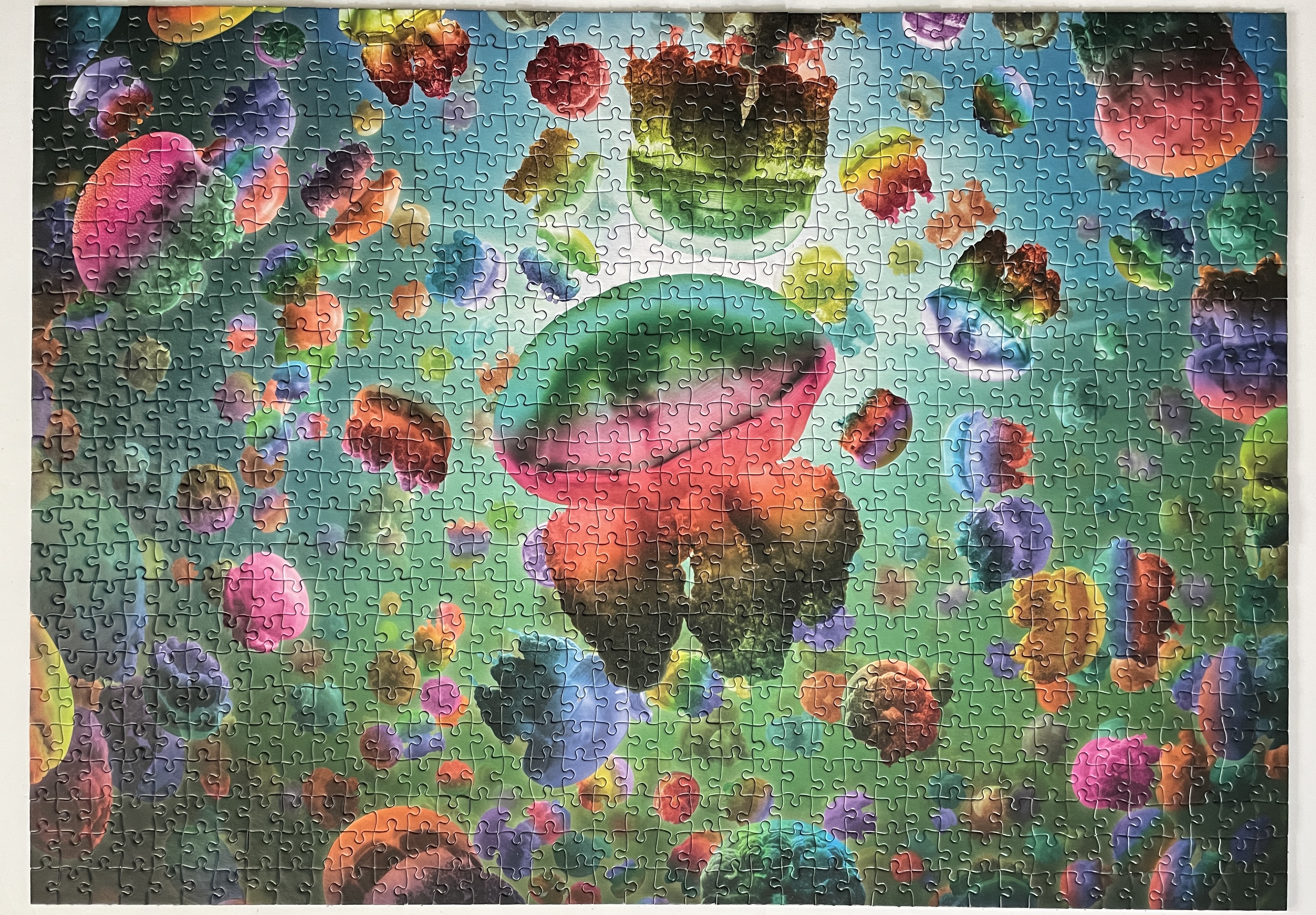 I was initially captivated by this stunning image. I am definitely a puzzler that judges a book (puzzle) by its cover (puzzle image). I am drawn to whimsical, colorful, odd, and unique puzzles, and this beautiful Jellyfish puzzle checked all my puzzle boxes. But I'll be honest, this was a spicy challenge! How did I attack this puzzle? By the background! I am definitely a puzzle sorter, so I pulled out all of my edge pieces, and then sorted into multiple color piles. There's actually a really pretty but subtle gradient, starting with the white above the main jellyfish. From there, it deepens into a beautiful blue towards the top, and a dark green as you move to the bottom. Then I used the colors of the jellyfish to help, and viola, the puzzle was over before I knew it!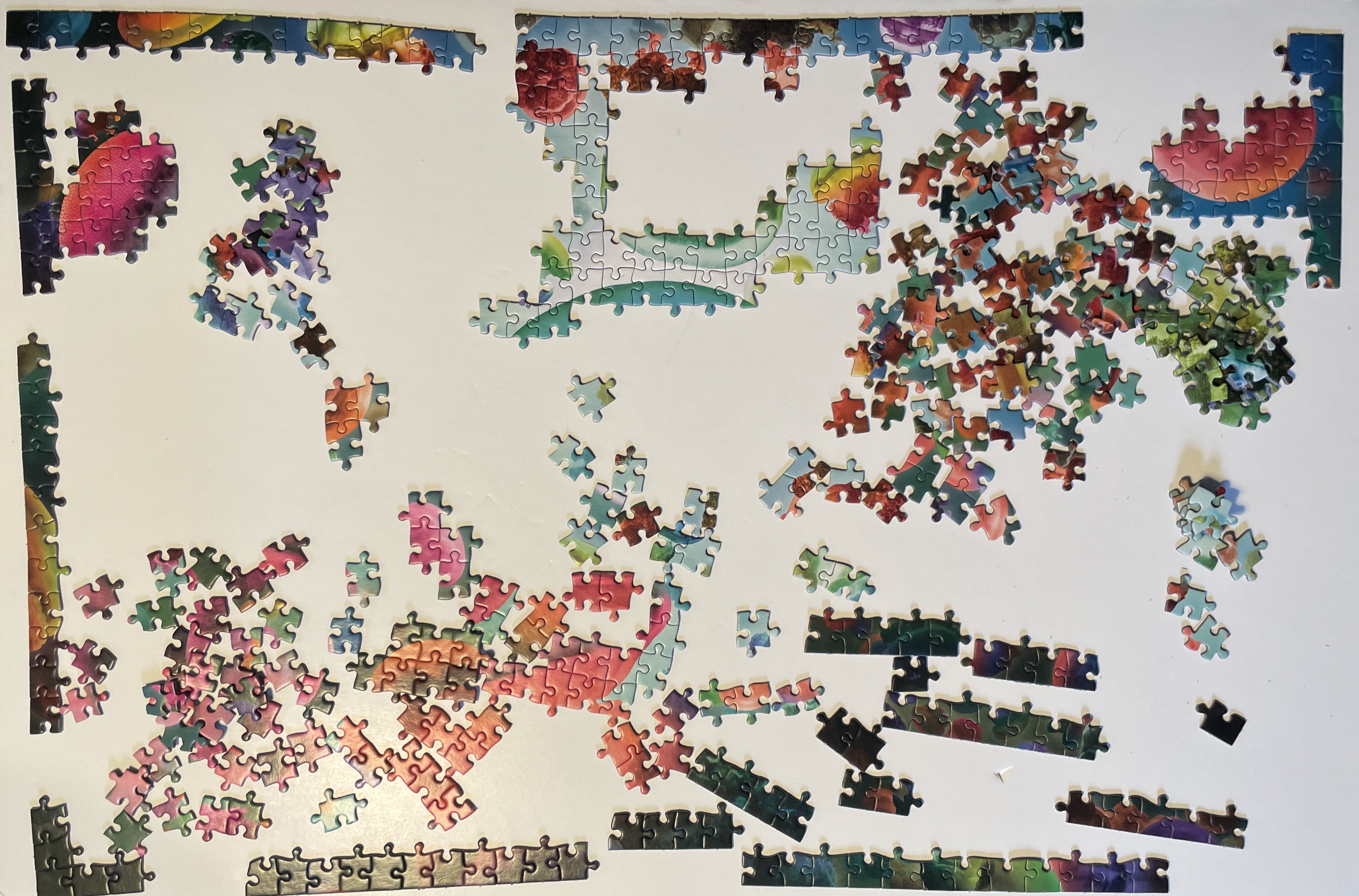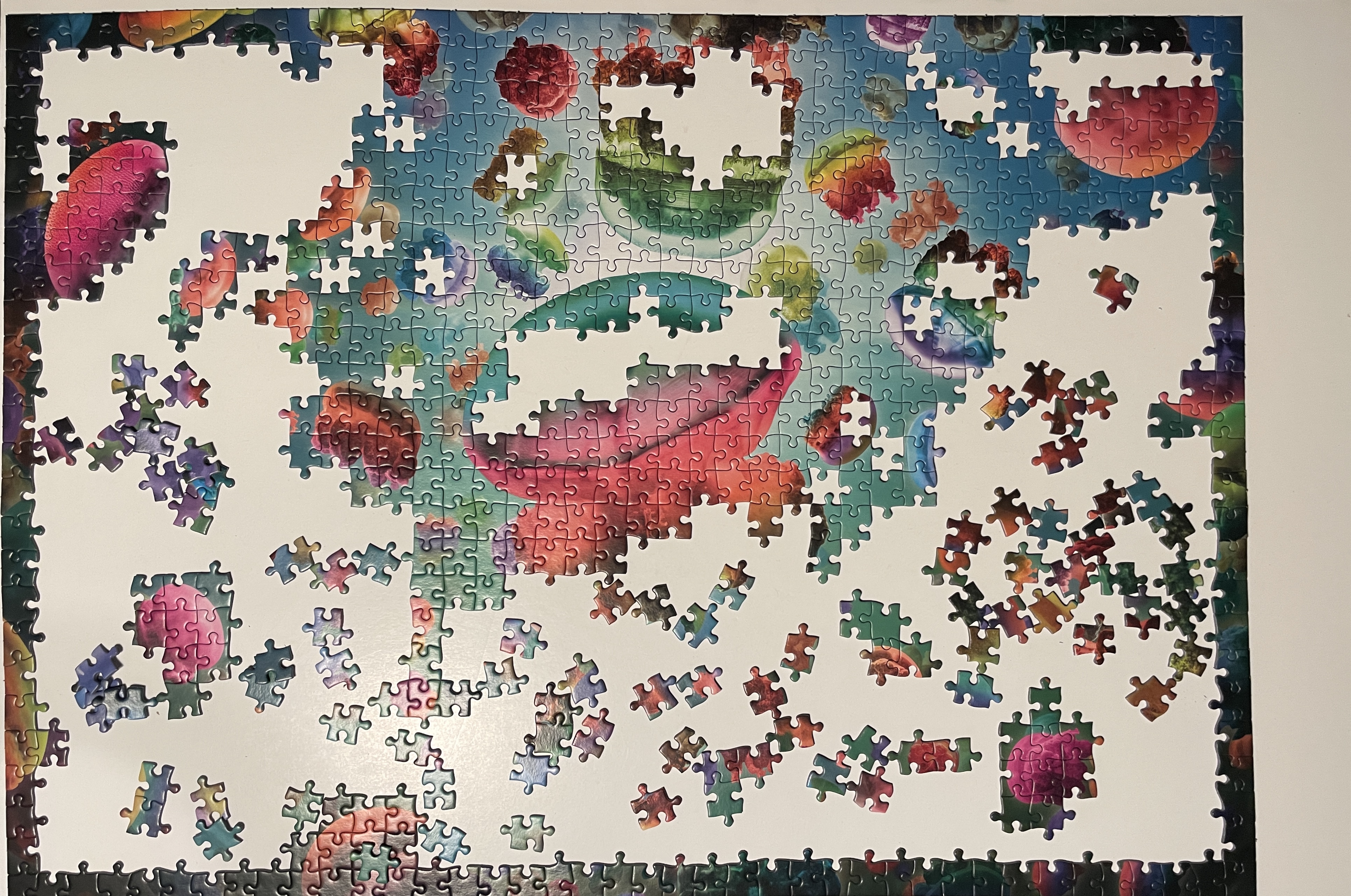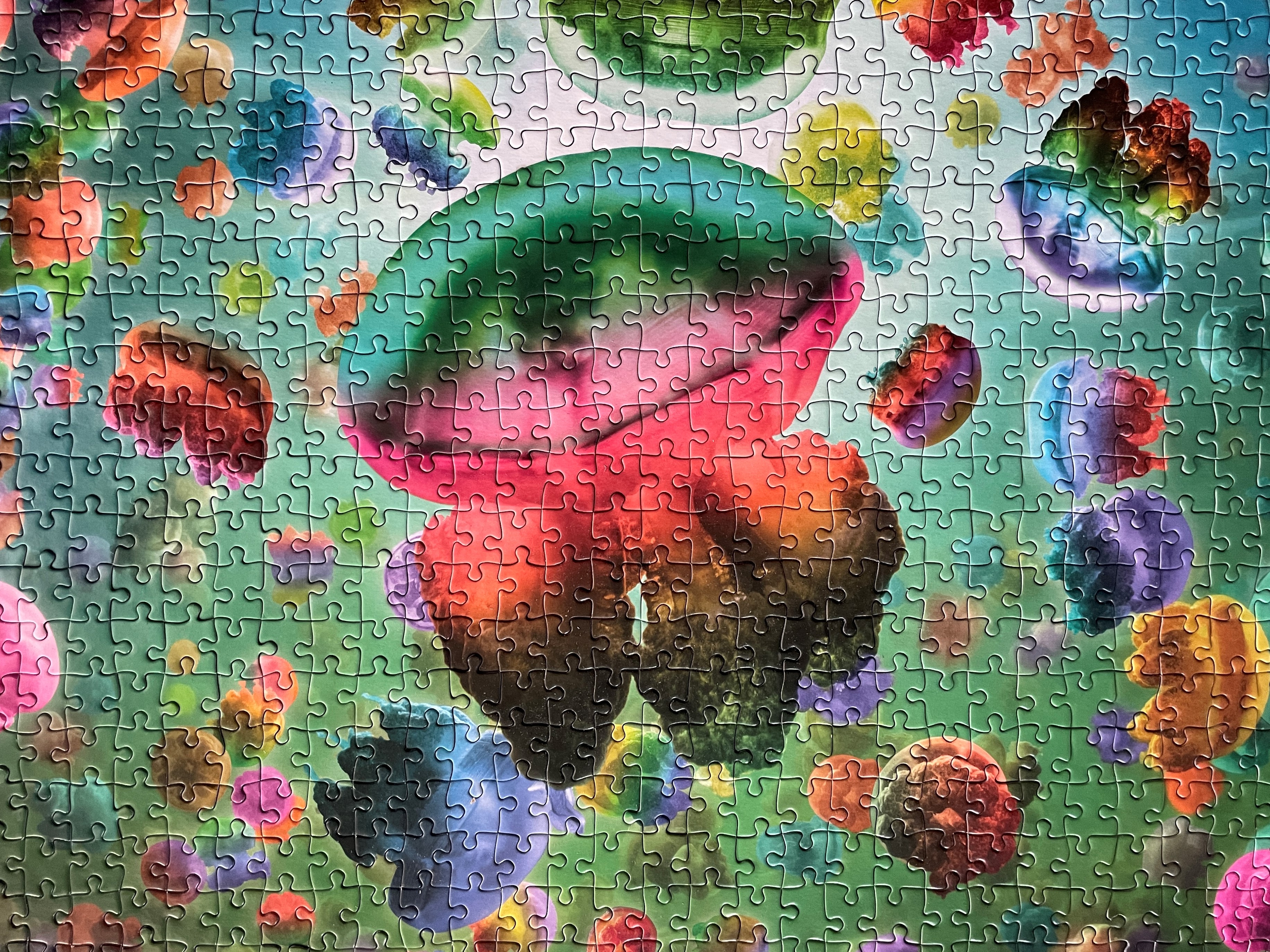 But let's get to the real meat and potatoes- how was the quality? If the quality is terrible, I'm probably not going to revisit a brand, even if the images are on point. So, I am very pleased to announce that the quality of Gibsons puzzles is very good! This puzzle was reminiscent of Ravensburger quality: the pieces are a solid 2mm thick and incredibly sturdy. All of my pieces were perfectly cut and separated. The only thing I had an issue with, was that some of my pieces were trying to peel. This made me handle them with care, and that got a bit annoying. Otherwise, they are semi matte (just the normal cardboard finish- no significant glare), grid cut with nice piece shapes. The piece fit is quite good. I was able to move small sections around easily.
The box is nice and sturdy, measuring 9.5 x 9.5inches and almost 2.5 inches deep. The pieces come in a non-resealable plastic bag and an 8 x 11 poster is included. I do want to mention that the entire image of the puzzle is NOT on the front of the box. The full image is on the back of the box, but a small portion in the upper right-hand corner is obscured. I am an avid box looker when I puzzle (we can debate later on puzzling with or without the image!!), and nothing frustrates me more when I can't use my box top holder to puzzle. So for this puzzle, I mainly used the back of the box as a reference, and used the poster every once in a while.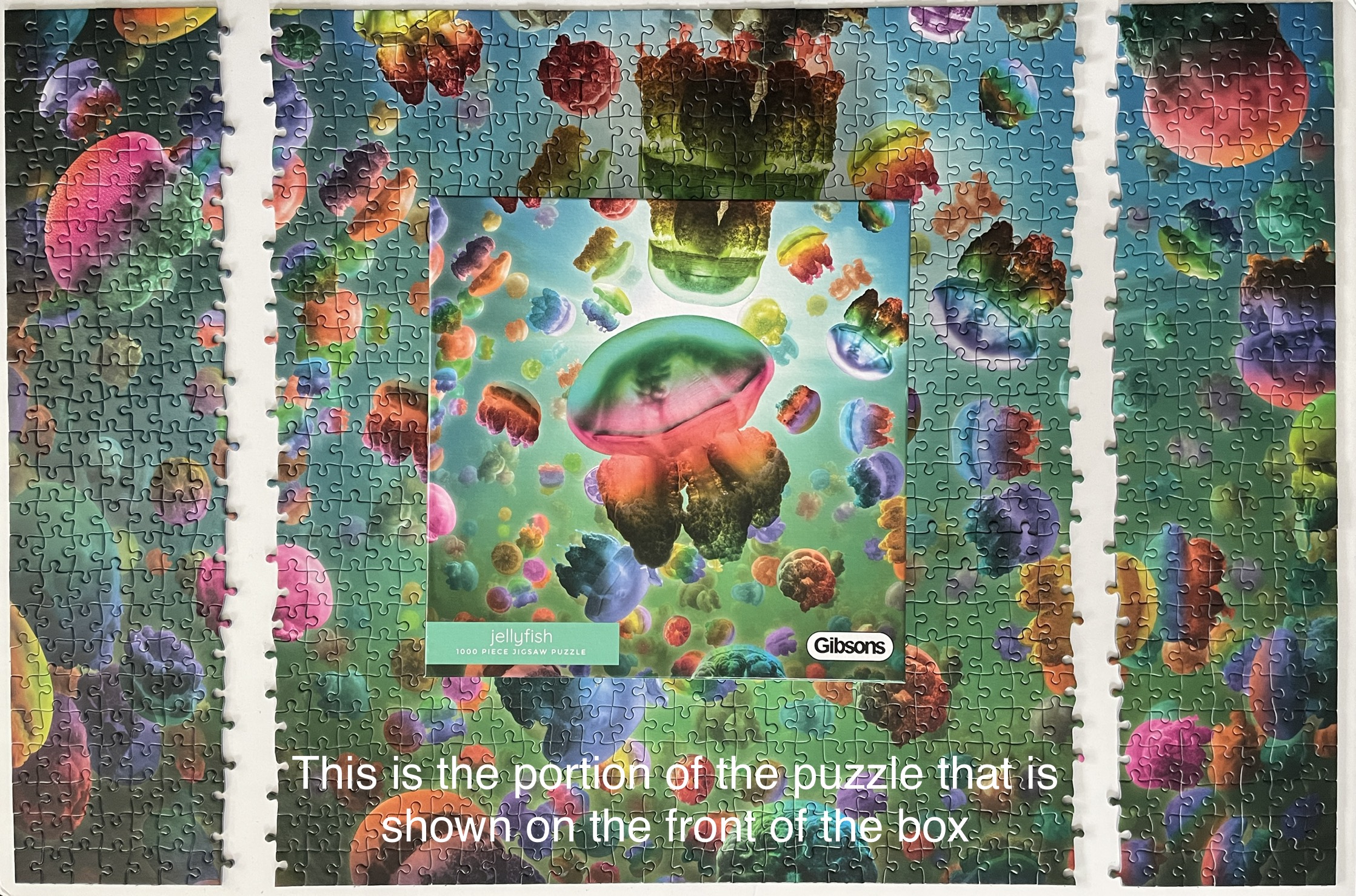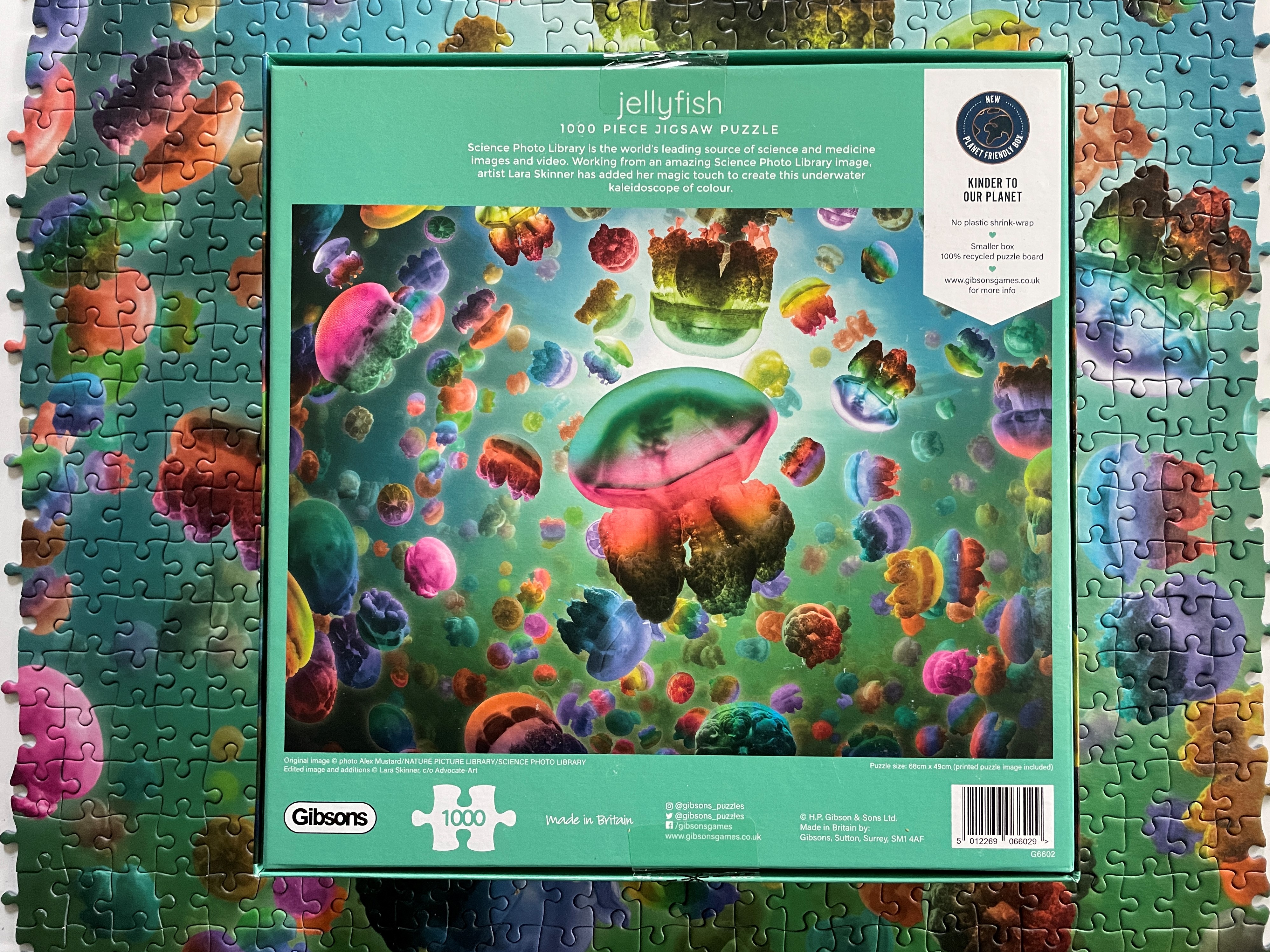 Gibsons is a brand I have wanted to try for ages. Celebrating its 103rd birthday this year, this brand is tried and true. But don't let its age scare you. Gibsons has proven time and time again that they will adapt to the puzzle market! In 2019, they created their White Logo Collection. This is a collection that features images that are much more contemporary in design, rather than the more traditional puzzle scenes that they normally use. Jellyfish is a part of their White Logo Collection and is an original image from the Science Photo Library, but has been enhanced by artist Lara Skinner. If you're interested in more contemporary designs, just look for the white Gibsons logo instead of the blue Gibsons logo on the front of the box. If you're a fan of the more traditional puzzles- stick with the original blue Gibsons logo!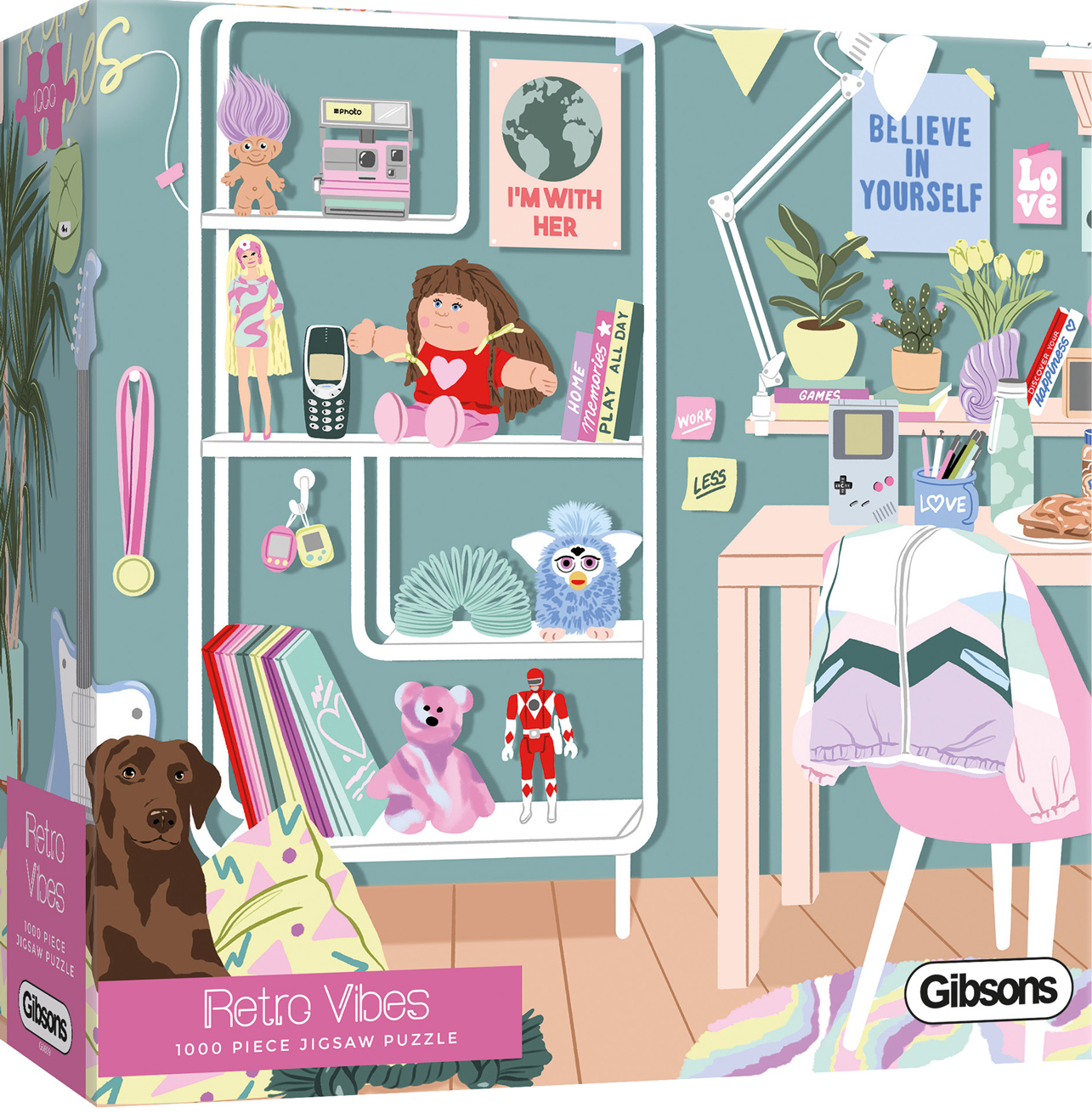 Retro Vibes | Gibsons |1000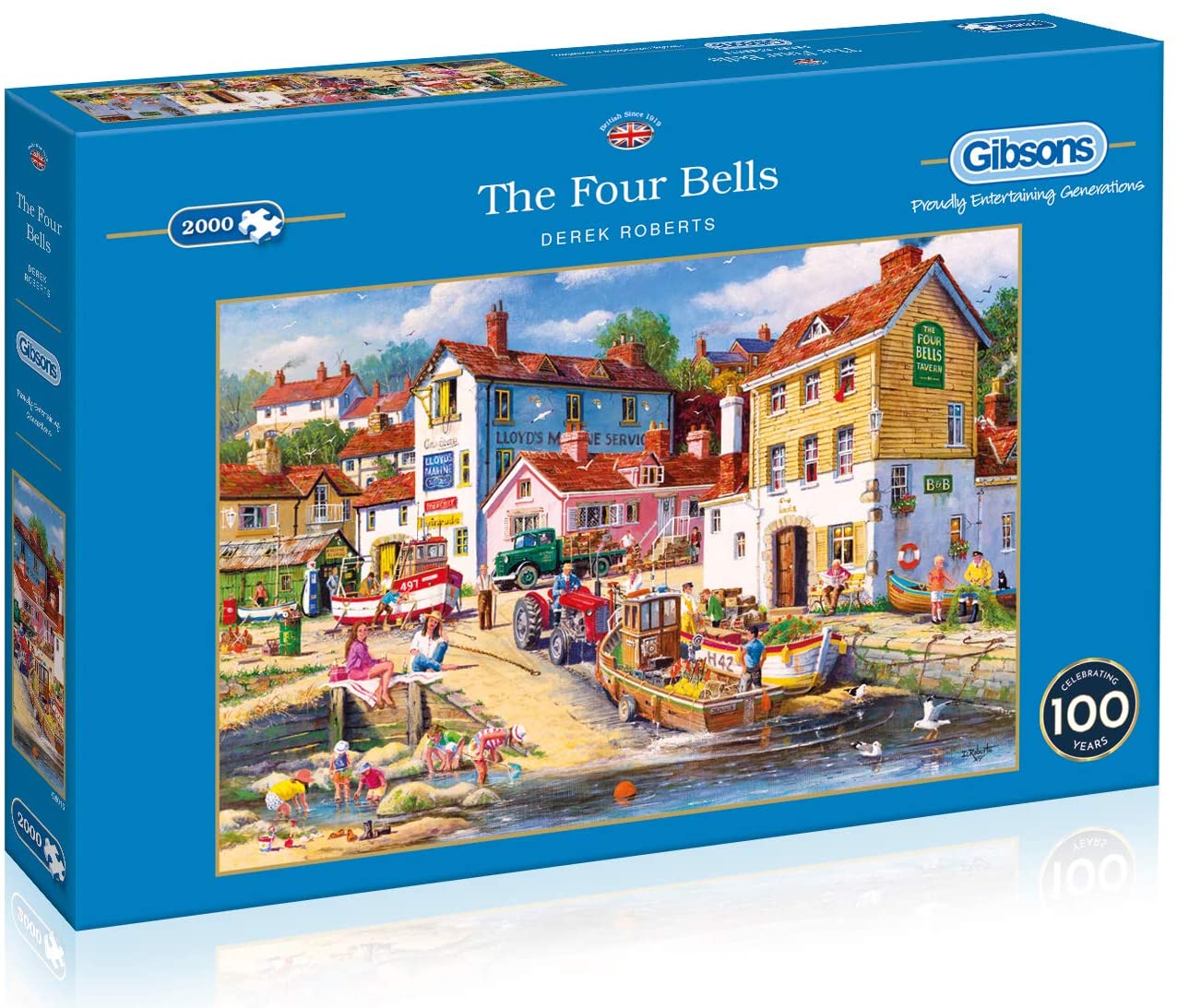 The Four Bells | Gibsons |2000
2019 was a big year for them (I mean, celebrating turning a full centennial is a big deal!) because they also launched their in house 'Green Gang'- which has a mission to improve sustainability. This included changes such as eliminating shrink wrap plastic around their puzzle boxes, making the actual puzzle box smaller, using vegetable-based ink, and using recycled board for their puzzles. I love any company that is willing to change and adapt to reduce their carbon footprint!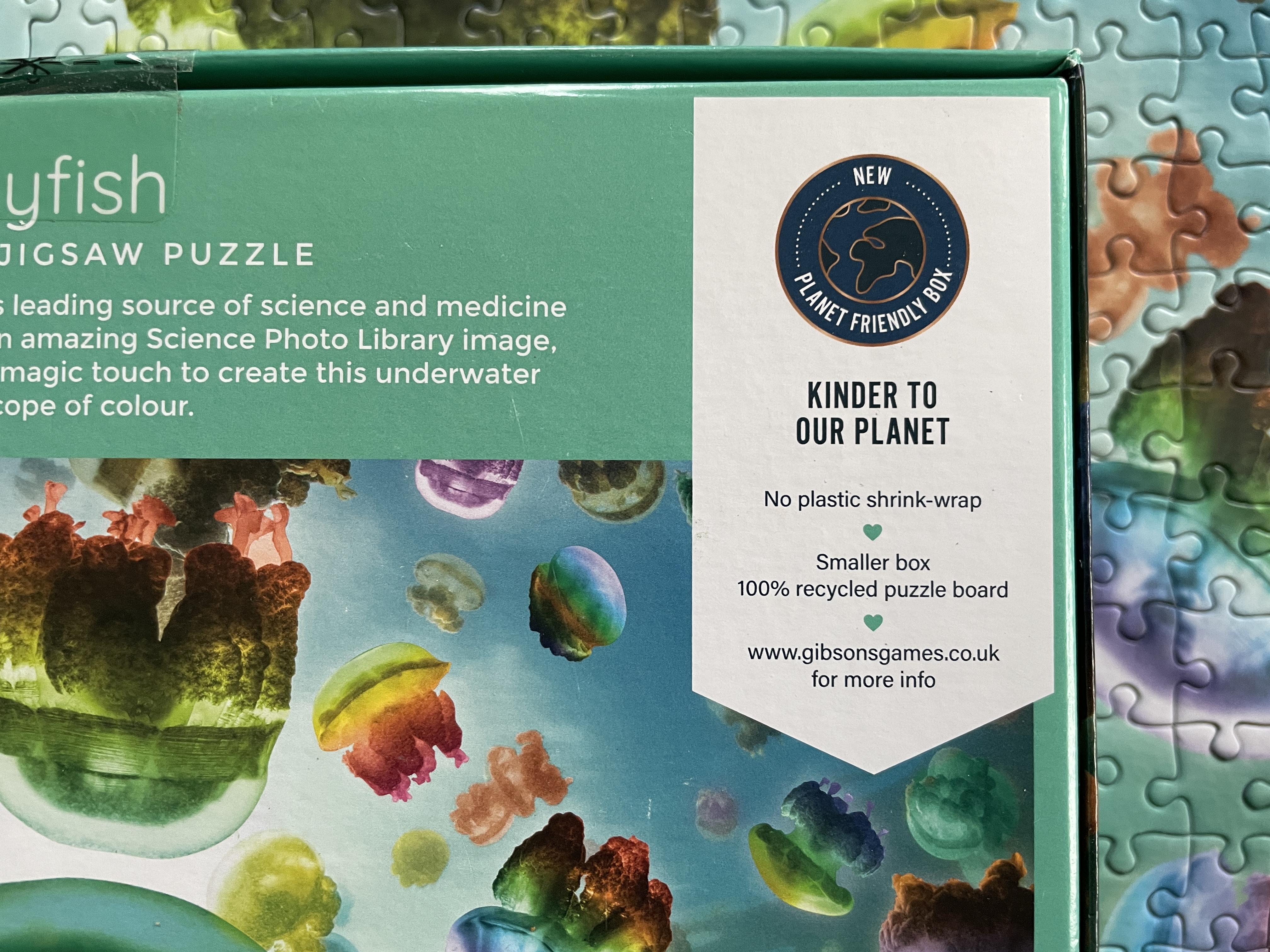 All in all, I will 100% look forward to doing another Gibsons puzzle. I was impressed with the overall quality of Gibsons puzzles, and really enjoyed learning about their White collection vs their Blue collection! If you haven't tried one yet, I highly recommend checking them out! I think my next Gibsons will be Bert's Bath Night- what do you think?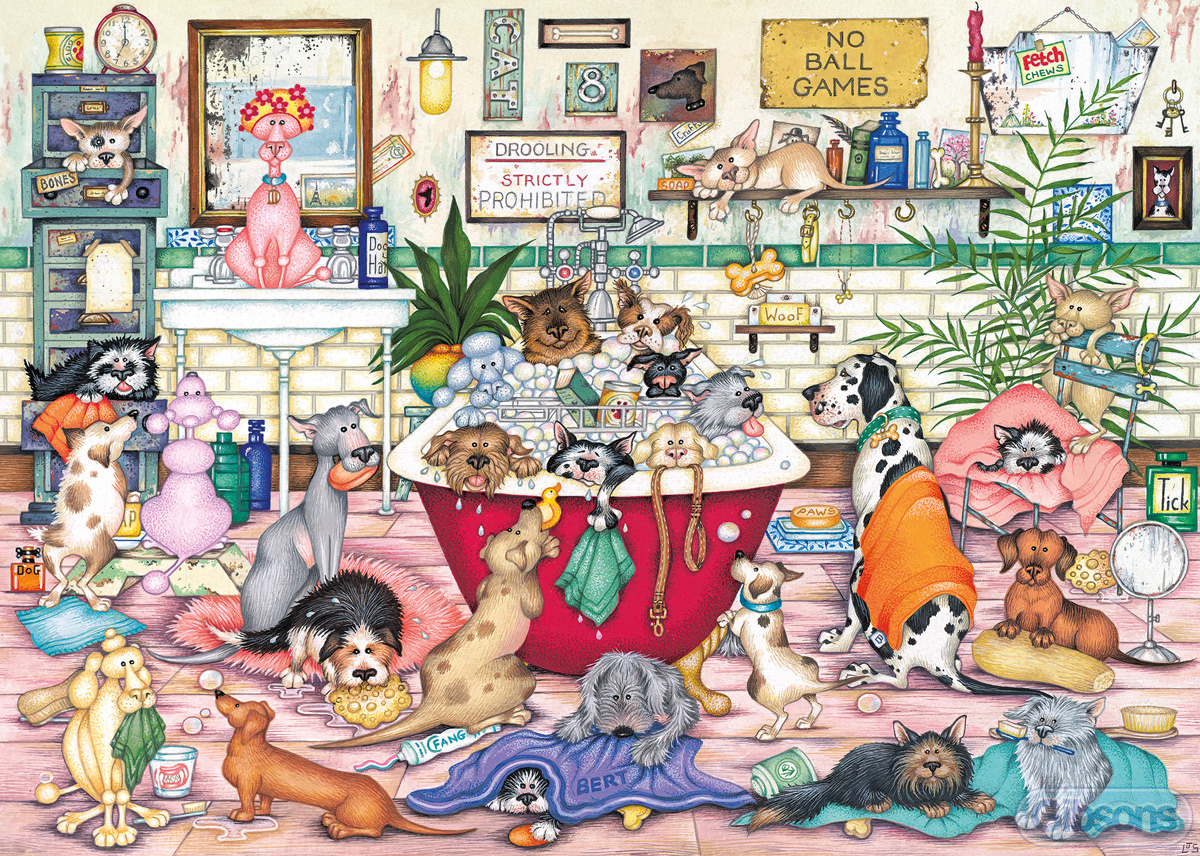 Until next time my Jigsaw Junkies- keep piecing out!
Amanda @600hoursofpuzzle
PS: my favorite Jelly!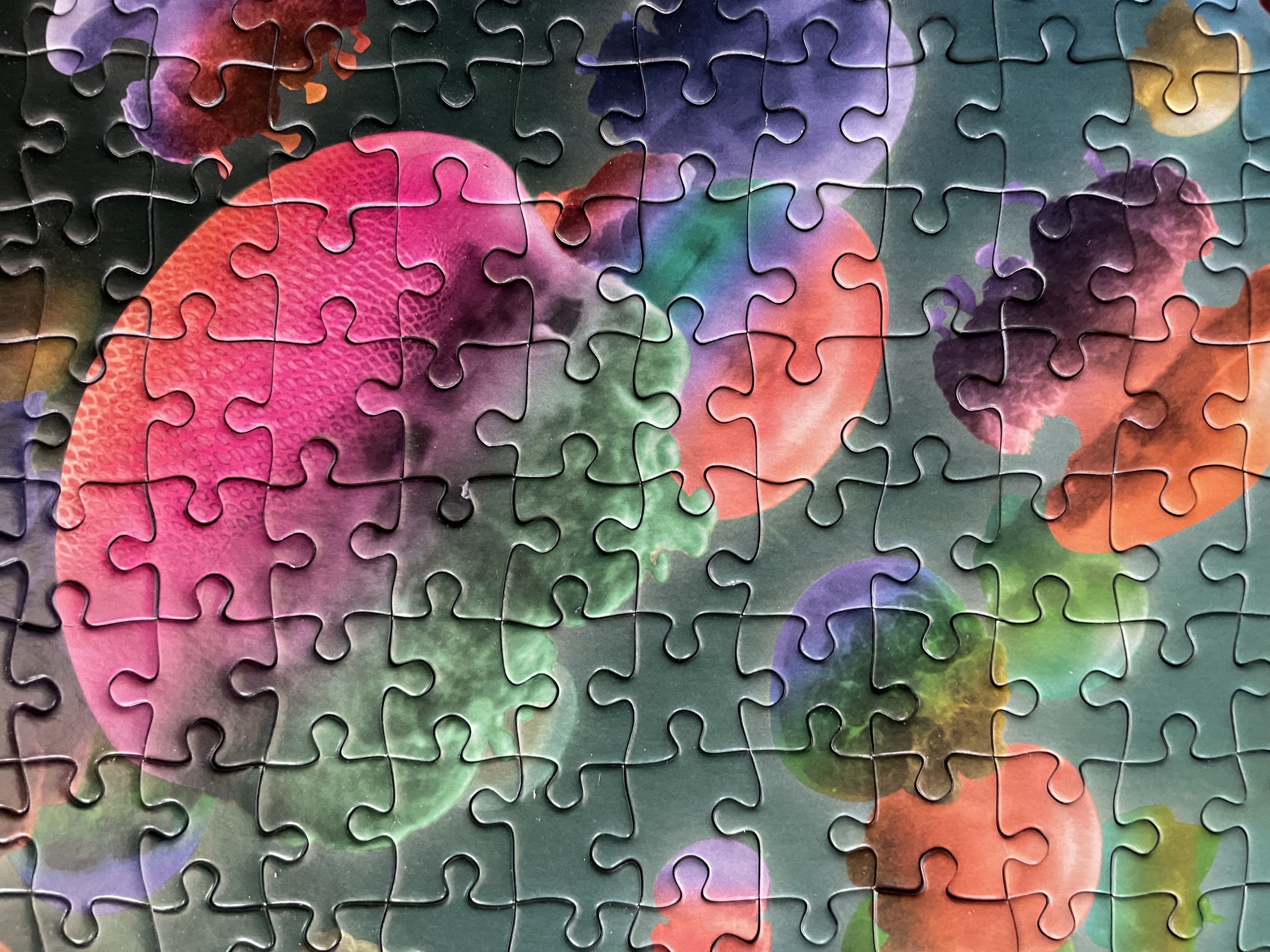 What a great review! Thanks for sharing what the colors of the logos indicate. I also did my first Gibsons puzzle recently, it's from the blue logo collection, so now it's time to try one of the white logo puzzles 😊
This puzzle has been lingering in my stash for a while, but I think I'm going to have to bump it up now that I've read your review! I was a little scared to tackle it, but now that you pointed out the gradient, it seems much more manageable! Great pics, great review!
I am pretty sure Gibsons have the thickest pieces that I have ever done (for cardboard puzzles).
I bought a puzzle from the thrift store with the identical image, but I haven't done it yet. I was put off because all the pieces were cut with the same shape and it looked difficult. It's not from Gibsons though. I think it's a Chinese knock off. Maybe I will try it one day, if I feel brave.