Brand Spotlight: Lantern Press
Hey everyone! I try and take every opportunity that I can to do puzzles from brands I've never tried before. I'm all for sinking into the comfort of a puzzle brand I know, but there's definitely something exciting about trying something new. Lantern Press is one of those new-to-me brands, and I wanted to share my thoughts with you!
Lantern Press is an art company that doesn't exclusively make puzzles, but since I'm talking about puzzles, that's what I'll focus on. All of their products are made in the USA and depict original artwork created by in-house artists. Much of the artwork is nature-inspired and portrays National Parks, various animals and nature scenes in different art styles. Puzzles come with an 11"x17" reference poster and are made from recycled materials. As far as I can tell, they are all 1,000 pieces.
One of my favorite art styles on their puzzles is the paper mosaics. They remind me of stained-glass windows. Sea Turtle, Paper Mosaic that I recently did was in that style. The art is of two sea turtles done in yellows, greens, browns, and whites in an ocean of swirling blues and purples. Light streaming down illuminates the scene, orange and red coral providing sharp contrast in one of corners.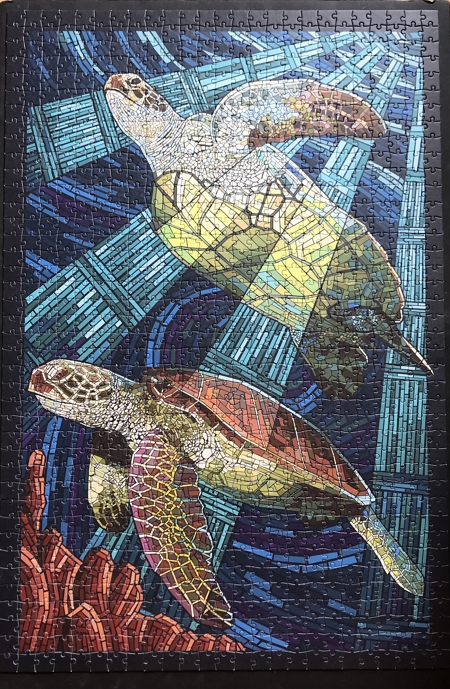 The pieces are standard cut with good variation. I didn't have any issues with false fits, even with there being a solid black border. That part was a little tricky, but not too bad as I left them for last and primarily just went by piece shape. The pieces are sturdy, and I only came across one slightly wrinkled piece. Otherwise, there was no issues with damage. The image on the puzzle was clear and I had no issues with glare. In fact, the pieces were quite matte.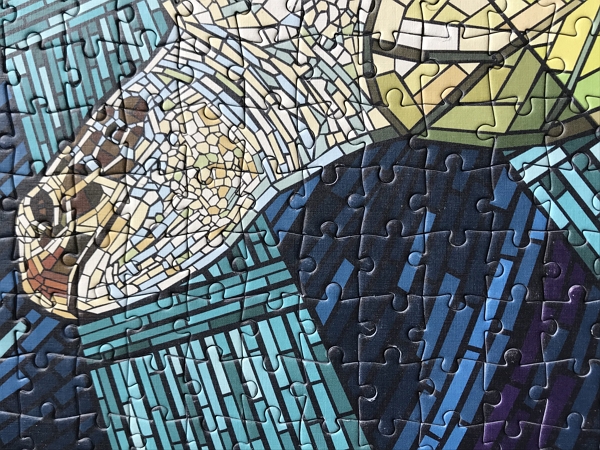 I really enjoyed this puzzle! The image made it challenging but in a really fun way. The quality and cut made it possible to get an image like this pieced together. I truly look forward to doing more puzzles by Lantern Press!
One of the Lantern Press puzzles I'm eager to do next is Marine Life, Geometric. The geometric art style, fun colors, and textures in the image make it feel so playful! There is something about this art style that is intriguing to me. I also think the blocky nature of the colors and patterns in the background make for an enjoyable and satisfying puzzle.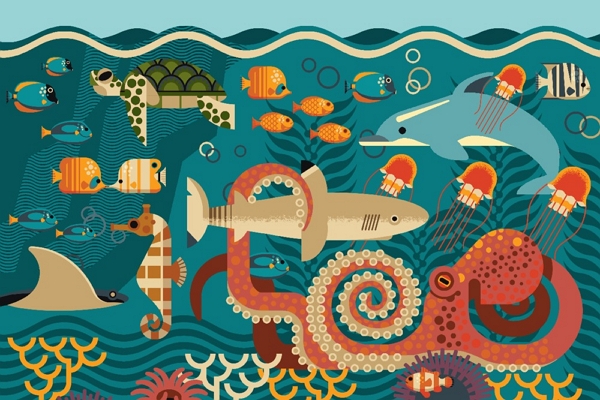 There are other puzzles with this geometric style including some different ecosystems like Forest Animals, Geometric. I love all the critters in this one, from the beaver gnawing on a stump to the eagle perched on top of a moose.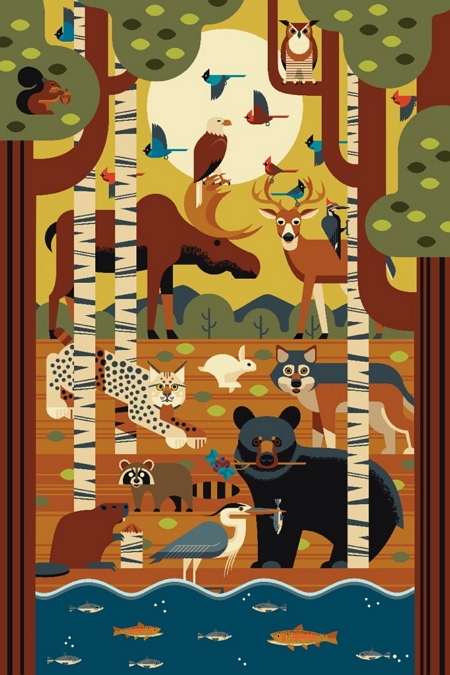 If collage style images are more your thing, Oil Painting National Park Series, Collage, Explore our National Parks is beautiful. As the name suggests, it's oil paintings of lots of different national parks that shows the diversity of US national parks.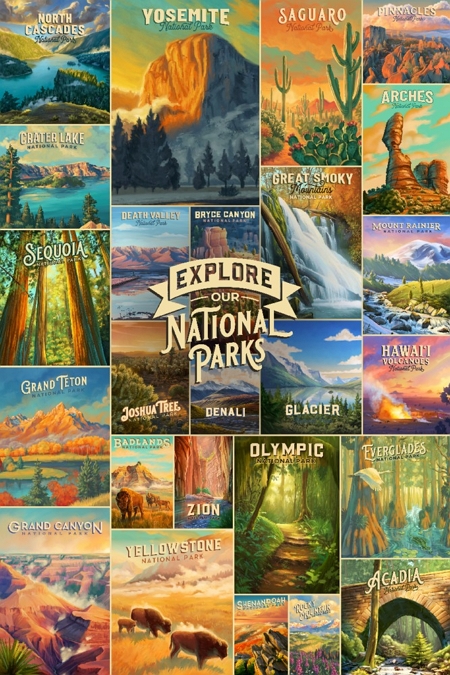 I also really like Distressed Vector, Collage, Ready to Roam. It features travel designs within different camping-related objects. I love the waterfall cascading out of a rocky hiking boot and the mountain vista in a water bottle. The color-blocking in the background is made up of bright and happy colors.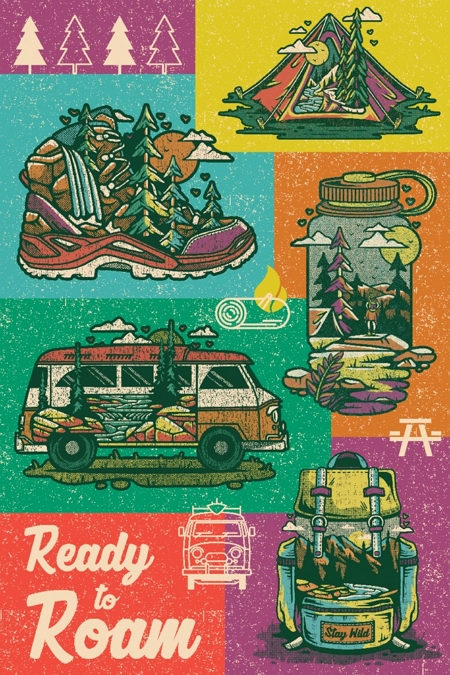 Woodland Mushrooms shows another art style. I really like the layered style of the bountiful mushroom image. The variety is impressive, and I think it would be a really interesting and potentially challenging build.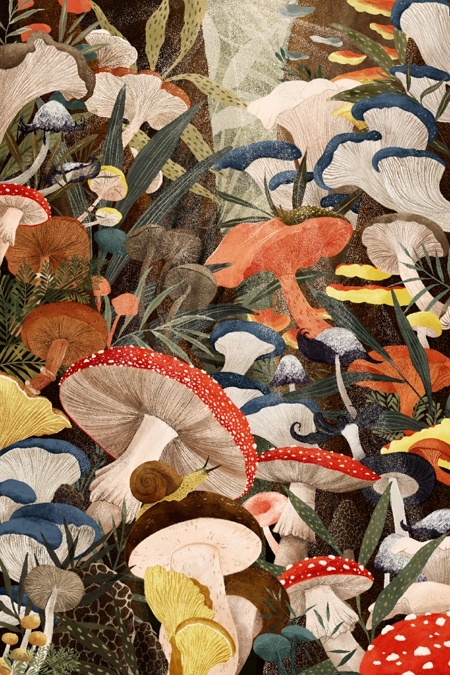 Like I said at the beginning, I think the paper mosaics are one of my favorite styles. I think they're stunning and the way all the small shapes come together to form such beautiful images has me gravitating to them. Besides the impressive Dragonfly, Paper Mosaic and African Elephant, Paper Mosaic there's the Octopus, Paper Mosaic. This design is so eye-catching. The vibrant reds of the octopus contrast dramatically with the churning blue, almost teal, water backdrop. The details are lovely, such as the way the umber and peach create colorful shading of the tentacles' underside and the segmented suction cups. There are even delicate bubbles in the water!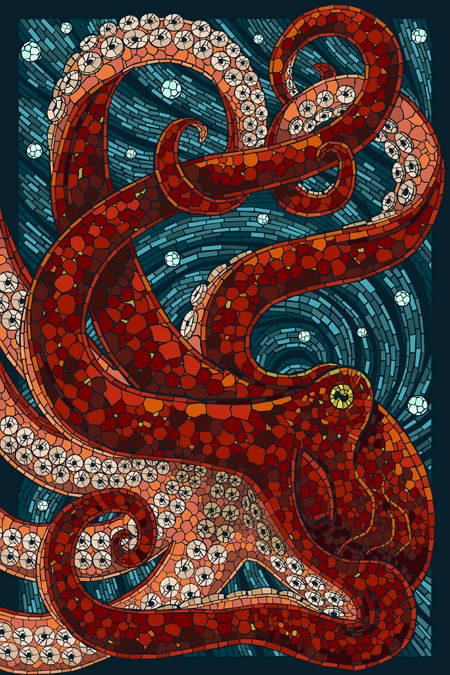 Overall, I have really enjoyed my Lantern Press puzzle experience so far! Between the puzzle that I completed, the ones I have in my to-do pile, and the variety of puzzle images that Lantern Press has available, I think they've easily become one of my go-to brands. I hope you'll try them out and let me know what you think!
-Alex @pokylittlepuzzler
Susan W. - Alpharetta, GA
I love that Octopus puzzle! I saw it on display at the Atlanta Gift Show last January and it is very captivating. I'm looking forward to trying this brand.
So many designs I love from this brand on my want list! The sea turtle is beautiful!