Training for the World Jigsaw Puzzle Championships
The World Jigsaw Puzzle Championship will be taking place September 20-24, 2023 in Valladolid, a city approximately 200km northwest of Madrid, Spain. In 2022 the US Jigsaw Puzzle Association (USAJPA) sent members to compete for the first time. I watched my friends in real time through the livestream on YouTube and it was so exciting - I couldn't believe something like this exists! Then last fall, the USAJPA held a National event which I was able to attend in San Diego, CA. I have officially been bitten by the speed puzzling bug and have decided to travel to Spain for Worlds.
There are cash prizes up to €1000 for first place. To be clear, I am not among the fastest puzzlers and my goal is just to qualify for the final round. But no matter how I do, I know it will be a great time. I get to participate in my favorite hobby with other puzzle enthusiasts!
As Ravensburger is the sponsor, one of the main strategies for training is to do as many Ravensburger puzzles as you can, to get used to the puzzle cut and types of images. In addition, you may be fortunate to encounter a puzzle you've done before in one of the preliminary rounds. Puzzle Warehouse kindly sent me 2 puzzles for this blog. Some friends and I have also been stockpiling 500 piece Ravensburger puzzles, swapping the puzzles and sharing how long it took to finish.
The puzzles will be hidden from sight and all participants will view the puzzle at the same time, when the contest begins. The puzzles are shrink wrapped and the rules do not permit any scissors to be used, so I've been practicing tearing open the boxes!
There are other strategies that may work better for some than others. One strategy is to dump all the pieces out and flip them face up first. When seconds matter, we flip as fast as we can, with both hands! It depends on the design but I usually try to assemble the border first.
Some people look for the piece that fits the space first. Some of us pick up a piece and then decide where it goes. Some excel in really busy detailed puzzles and some are stronger at solid colors or gradients.
Dolphins in the Coral Reef is a great practice puzzle. I love underwater scenes. The coral reef and various fish came together very quickly but as we get closer to the surface, it gets more difficult! Those dolphins were a real cute challenge! I managed to finish in 1 hour, 14 minutes and 12 seconds.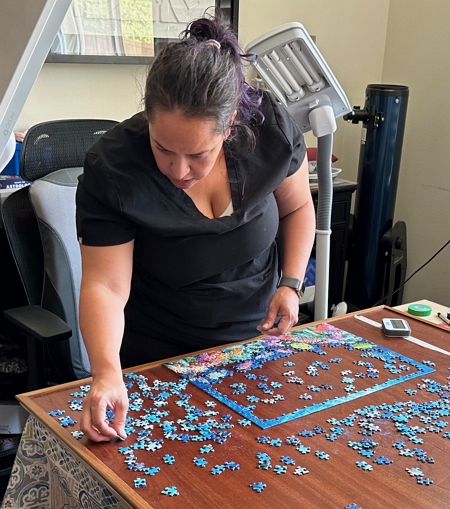 Puppy Pals is a good practice too! This collage style puzzle can be easy/fast because it breaks down easily into 12 mini puzzles. I finished in 55 minutes 40 seconds. Under an hour is usually good for me so it is a quick one but the fur definitely slows me down!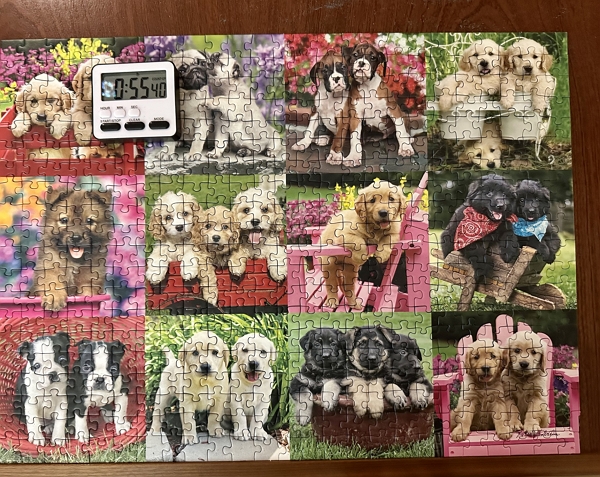 Zebras at the Waterhole is one I practiced as a pair with USAJPA board member Tammy. Puzzling as a pair or team is a very different experience, and I actually prefer it! For one, the races usually go faster, but also it feels like a more social and interactive experience. Tammy and I had never puzzled together as a pair before. This puzzle was used for a USAJPA event and the winners finished in an extremely impressive 24 minutes and 3 seconds! It was another 8 minutes before the 2nd place team finished, and my time was over 40 minutes. Click here to get your own copy of the puzzle to try out speed puzzling, and here to compare your times with the competitors.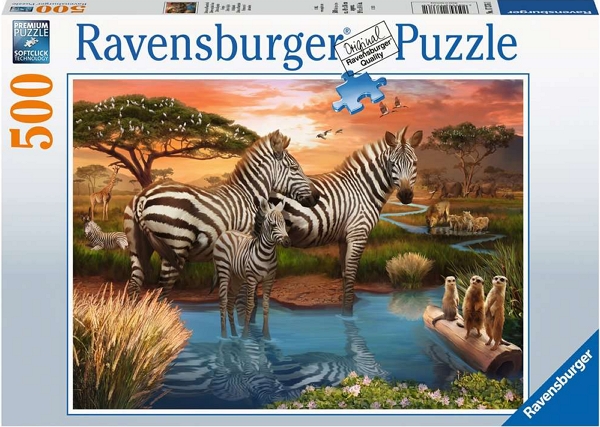 For anyone interested in getting involved with speed puzzling, I recommend joining the USAJPA. There are a lot of non-competitive events as well. Speedpuzzling.com also hosts virtual speed puzzling events several times per month.
Back to Worlds - For those still reading and interested in the nitty gritty details, the contest format is as follows:
Individual - The first round has 6 groups of up to 200 participants, balancing participants from different countries between the groups. (At the time of blog submission, 65 countries are represented, and nearly 700 puzzlers!) Members of each group will complete the same 500 piece puzzle within 90 minutes (but different rounds will have different puzzles). 60 from each group will advance to the semifinal round, including the fastest from each country. In the semifinal round, participants will complete another 500 piece Ravensburger puzzle within 90 minutes. From there, 90 participants from each semifinal, again including the fastest from each country, will compete in the finals. The final puzzle will be an unpublished 500 piece Ravensburger puzzle from the 2024 catalog.
Pairs - in the preliminary phase, 3 separate groups of pairs will complete a 500 piece puzzle within 90 minutes. The fastest pair from each country, then the next fastest puzzling pairs up to 30 will move on to the final round. (At time of blog submission, there are over 300 pairs from 45 countries!) In the finals, pairs will complete an unpublished 2024 1000 piece puzzle within 120 minutes.
Teams of 3 or 4: the preliminary round lasts 3 hours. Teams will be given 4 1000 piece puzzles and will have to choose which 2 to complete. There are 2 groups, of which the best 2 teams from each country will advance (up to 25), and a total of 50 teams from each group advance to the final round. (At time of blog submission there are 120 teams from 31 countries). In the final round, 100 teams will complete 2 unpublished 1000 piece puzzles within 3 hours.
And if you're STILL reading and want more, I recommend checking out YouTuber Karen Puzzles recap on worlds from last year.
Thanks for tuning in, and feel free to tune into the livestream here later in September to support me and my fellow USA puzzlers!
Best,
Alyssa @puzzlesatoz!
Josue C - Carson California
Nice Article! I think im gonna go ahead and join the USA JPA, and i didn't know you could compare times on this site! Thanks for the great info!
Ooh...how exciting! Good luck to you and thanks for sharing the details. Very interesting!
Tamara Essler - Santa Clarita
Great article Alyssa! I never knew this existed!