Masterpieces in Pieces!
I love art! I especially love seeing art in person. There is something truly amazing about standing in front of a masterpiece that has been admired for centuries and still holds people's hearts and minds.
So, now take that treasure and put it on a board and cut it into 1000 or more pieces. Is it the same? It definitely doesn't have the same 'awe' effect as the original, but it does offer something else.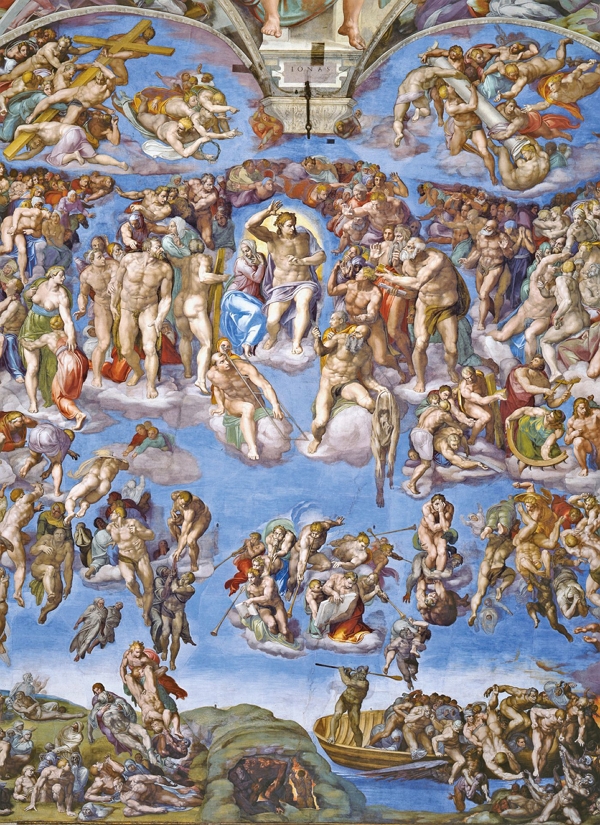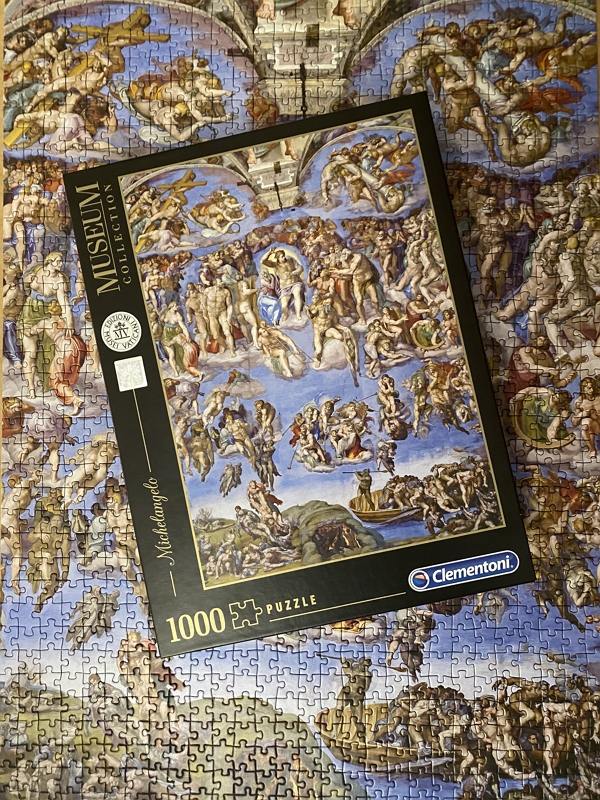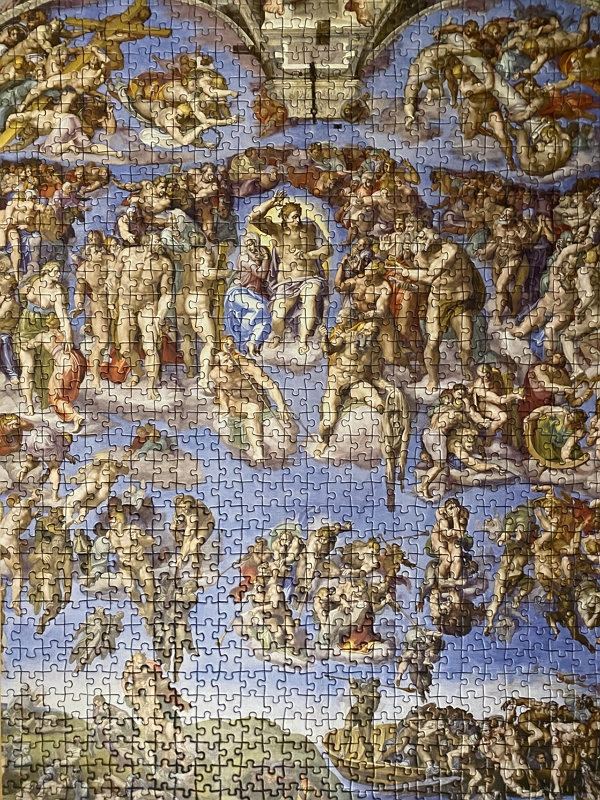 I just finished assembling Michelangelo's Universal Judgement. This is a 1000-piece puzzle made by Clementoni. The finished size is 19 2/3 "X 27 1/5 ". It's a part of Clementoni's Museum Collection and is made of high quality recycled materials. Clementoni is dedicated in their commitment to protecting the environment and avoid using polluting components in their products. The quality of the pieces is tops, sturdy and they fit together easily. The box is enormous, 14 ¾" X 11 ¼". There is room for at least another 1000 pieces in this box, but the extra size is wonderful for the larger image it provides. It would have been a nice bonus feature to have had an enlarged poster included.
The original painting covers one entire end wall of the Sistine Chapel in the Vatican Museum in Rome, Italy. Viewing details of this in the Chapel is difficult. There are always crowds, that need to keep moving. You can't get up close and personal.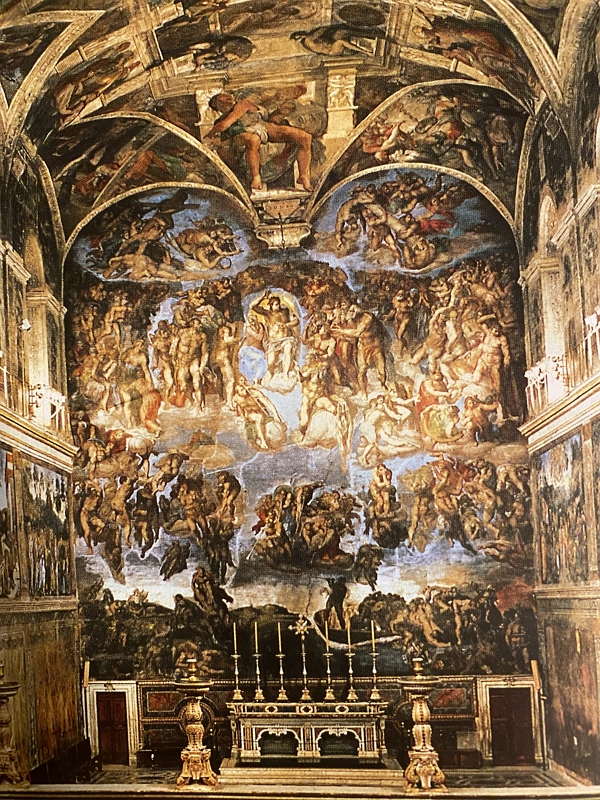 So, what is that 'something else' that a puzzle of a masterpiece offers? Details! Has anyone ever realized how many bodies are in this work?! Working on this puzzle was excruciating at times but so satisfying as well, especially when completed. You really get up close and intimate with all that is happening. So many bodies! So many clouds! You could gaze for hours at this masterpiece and never be able to connect to all the people and emotions portrayed. When you are working on assembling this picture you must study every face, head, leg, foot to see where it belongs!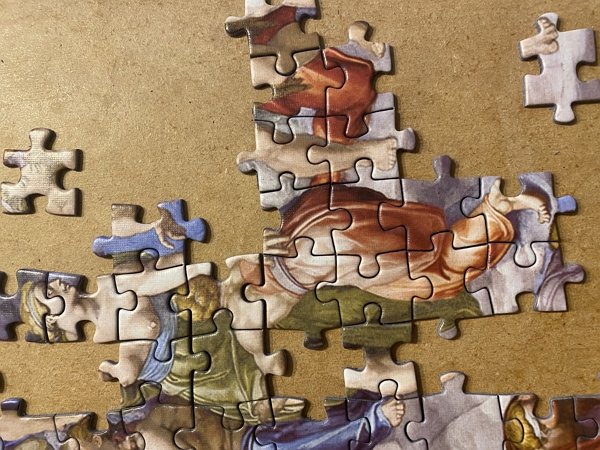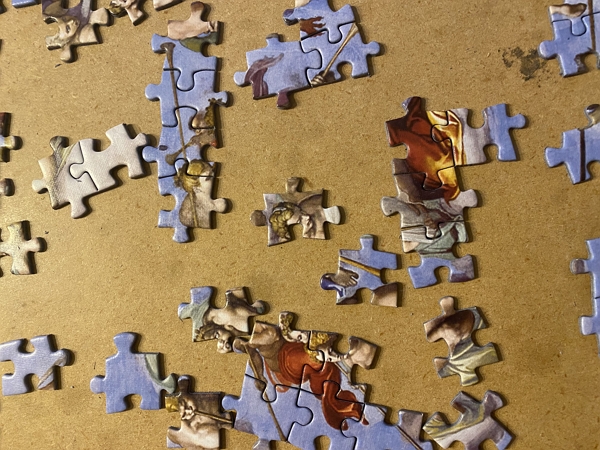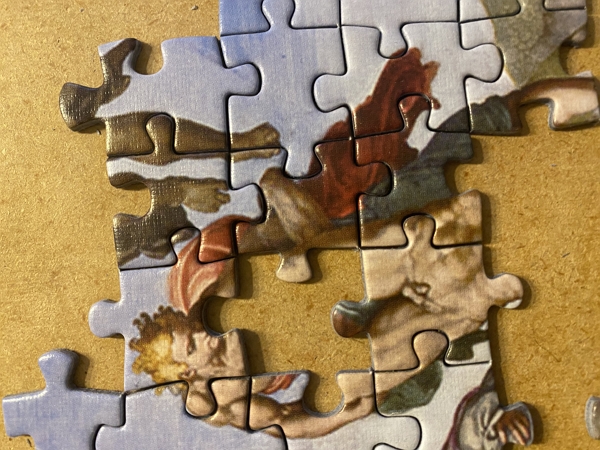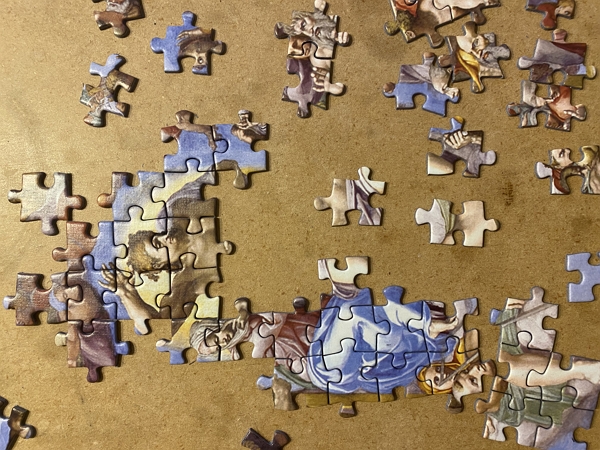 Another favourite puzzle art piece of mine happens to also be at the Vatican Museum, right outside the Sistine Chapel, Raphael's 'School of Athens'. I have the Clementoni version of this art puzzle, but you can also get it by Eurographics and Educa. It is another one that teaches you as you are assembling. All the philosophical ideas of the day, portrayed in gestures and faces.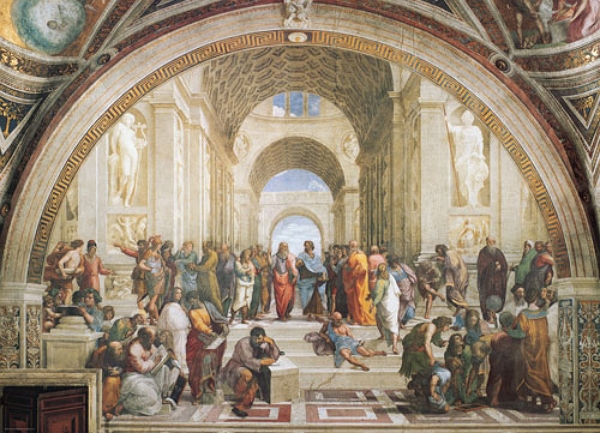 I have just begun to work on Renoir's Luncheon of the Boating Party. I can tell already this is going to be intense. The quality of this puzzle that is manufactured by Pomeganate is excellent, but the muted colours are a challenge when assembling. Stay tuned on this project!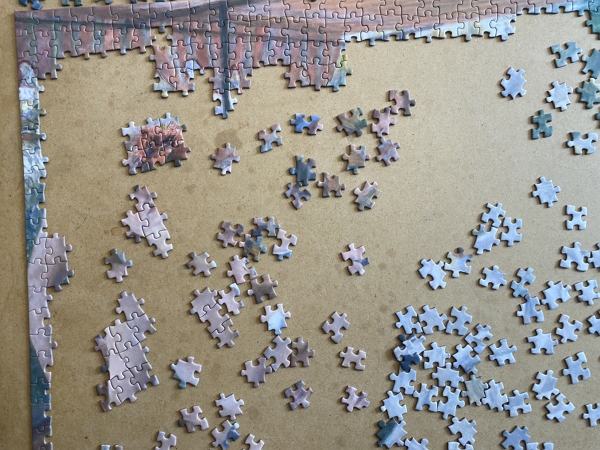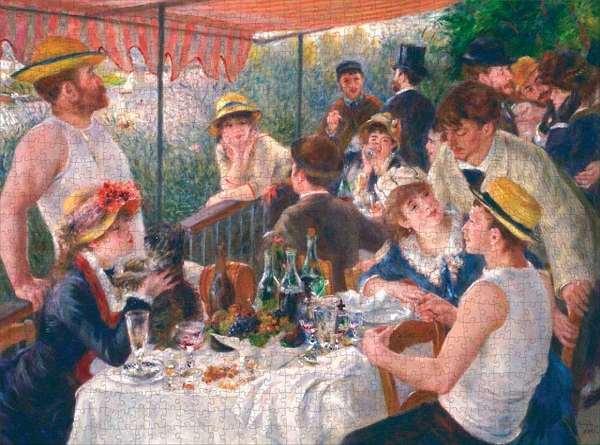 In the puzzling world, the art never stops. Every picture offers you a chance to enter another world. It may be a world of learning or may just give you an opportunity to enjoy beauty or maybe give you a moment to laugh or to reflect on life.
Never stop marveling at our wonderful, beautiful world and keep puzzling!
Mary Ellen
Is anyone feel as same as me that In the puzzling world, there is no one puzzling that can make you feel like you are standing in front of a masterpiece? In my point of view, one of the reasons is that paintings have a physical presence and a three-dimensional quality that cannot be fully captured in a two-dimensional puzzle. When standing in front of a painting, you can see the texture and depth of the brushstrokes and the way the painting reflects light, which creates a unique and immersive experience. A puzzle, on the other hand, is a flat and static representation of the artwork.
I loved visiting the Sistine Chapel too! The puzzle makes a great remembrance of my trip. Thanks for sharing.