Positivity Promoting Puzzles
Tell me something. Can you think of any reason why anyone wouldn't want a little positivity in their life? Well, I surely can't which brings me to my inspiration for this month's blog topic-Positivity Promoting Puzzles! (Say that three times fast.) I've had the pure delight of delving into all the puzzles that can inspire, uplift, and just put a smile on someone's face AND they all happen to be Galison puzzles- one of my favorite puzzle companies.
I've written about the importance of self-care in many of my posts and one way you can practice self-care is not only by doing things you enjoy (puzzles obviously), but by showing a little gratitude.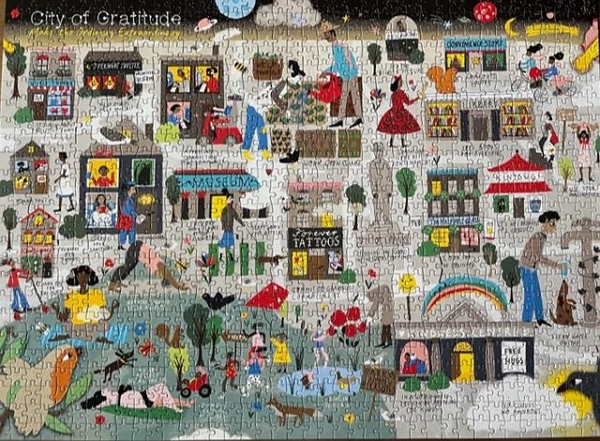 The City of Gratitude immediately put a smile on my face. This 1,000 piece puzzle includes all things big and small that we can be grateful for. Its positive vibes helps to guide us in seeing the glass half-full versus half-empty.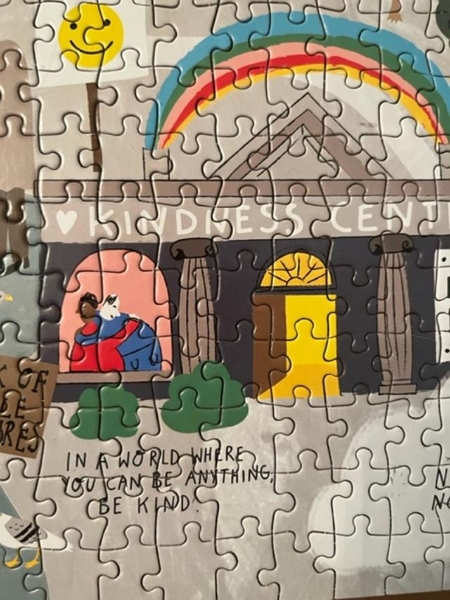 Stephanie Hofmann is the artist behind this illustration and she was able to capture gratitude through her artwork in a way that just makes you smile.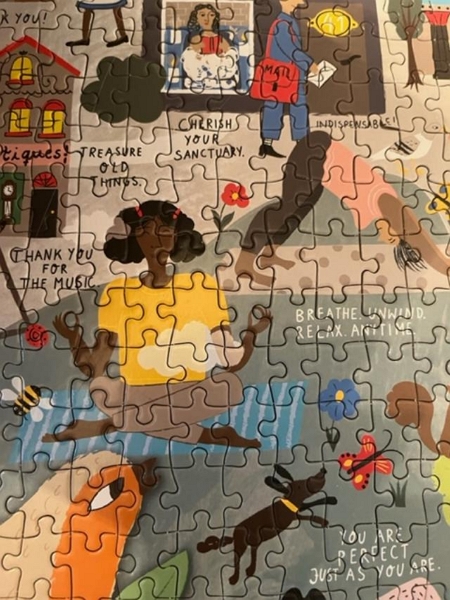 I'm pretty sure that this character is my favorite!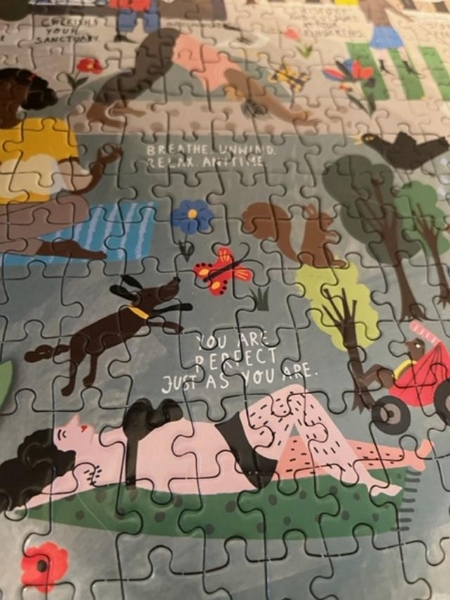 Stephanie Hofmann illustrated this adorable map for a company called Mapology Guides. Mapology Guides offers a variety of maps that are based on one's emotional wellbeing. They're meant to empower you and guide you on a targeted life journey. Mapology Guides took care to ensure that each of their maps provided visual references which can assist us with complex ideas. I know I'm definitely more of a visual person, so I love that they thought of this. And luckily for all of us, Puzzle Warehouse has them in puzzle form! Yay!
Also, be sure to also check out Galison's Who Are You?, featuring another Mapology Guides map.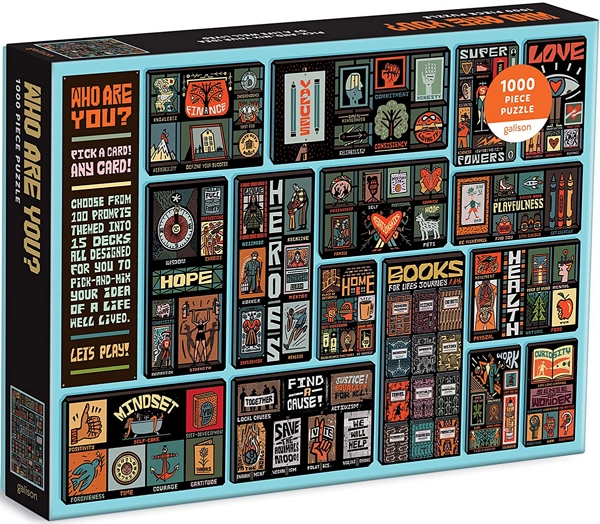 I also thought about how I can share my love of puzzles and my gratitude for others. While doing so, I came across yet Galison's Lift Each Other Higher. At just 128 pieces, it was so relaxing to put together. Galison refers to this as a matchbox puzzle. It's so small and so cute.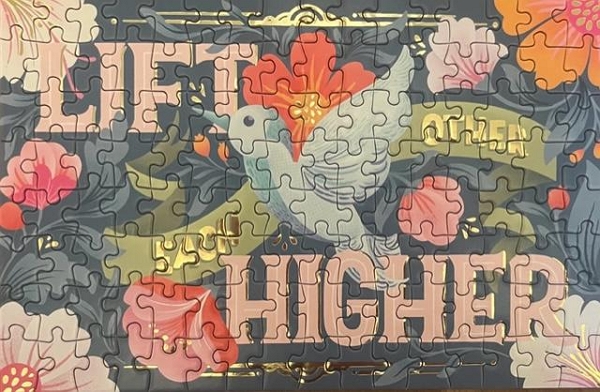 It comes in an adorable box that slides open.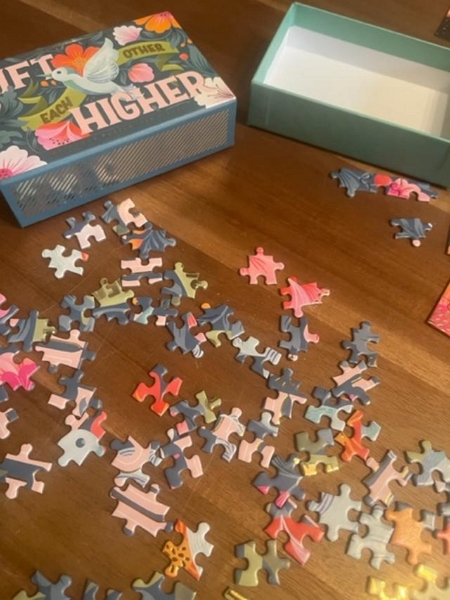 The back includes an area that you can write on. So, you can give it to someone with a little message and put a smile on their face. I know it would put a smile on my face.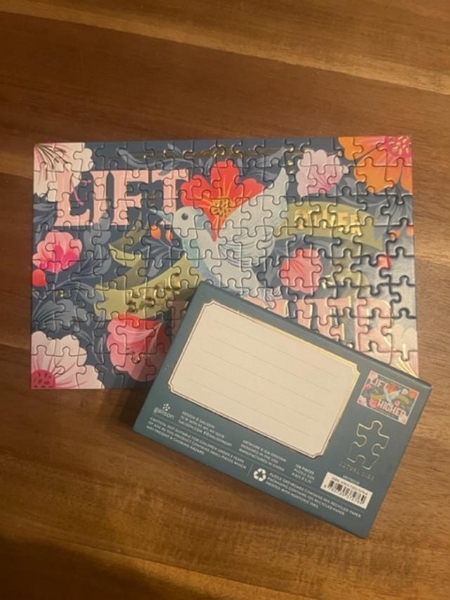 Another puzzle that brings pure positivity and promotes a good cause is the Be Kind Puzzle by you know who…Galison. This particular puzzle supports the BTW Foundation which promotes the wellness of youth. The BTW Foundation is helping to break the stigma about mental health…such a spectacular cause.

I work with children, so after I assembled this, I immediately hung it up in my office so that it could inspire anyone who passes by it. It's loaded with visual artwork and words describing the simple ways you can be kind to others.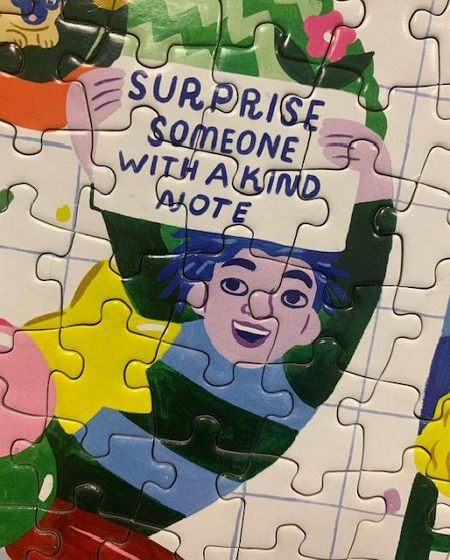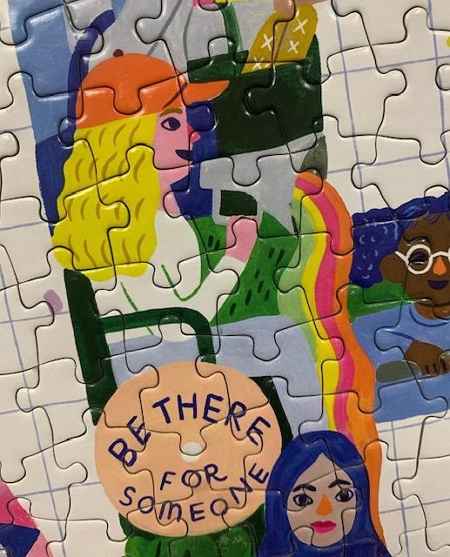 Before I conclude this blog post, check out Galison's Grow Through What You Go Through. Put one together, hang one up to inspire others, or give one to someone who could use some positivity.
If you take away nothing else from this blog, remember this…Your personal self-care can not only benefit YOU, but it can have a positive impact on those around you. I'm going out on a limb here by assuming you like puzzles. After all, why else would you be reading Puzzle Warehouse's Jigsaw Junkies Blog? Puzzles and/or any other activity you enjoy is a way to practice self-care. So, consider how you might share and promote positivity though this hobby of ours. Remember if you look at it and it makes you smile, chances are it's a positivity promoting puzzle. Like I said before, can't everybody use a little extra positivity in their lives? As always, make time to puzzle. : )
Jaime @introvertedpuzzler