What's Your Zodiac Sign?
One of the funnest, most age-old questions I noticed people love to ask after the formal "What's your name?" and "What do you do for work?" is, "What's your zodiac sign?" The best part is whether you believe in astrology or not, the conversation always turns interesting and entertaining - the comparison of traits amongst signs, compatibility of signs, or the listed traits that either describe you a tee or have it absolutely wrong. Whichever way the pendulum swings, I have always found it so fascinating to talk about astrology and to listen to people passionately take astrological signs to heart.
I guess you are fully aware by now as to which direction this blog is heading, right? Yes, you're correct! Astrology/Zodiac puzzles! I do not believe in the truth of astrology, but I do love reading about it, listening to people discuss it, even some of my favorite songs talk about astrology, but mostly, I just LOVE to puzzle astrology images. in case you were wondering, I am an on-the-cusp astrological baby. Being born on December 24th (yes I'm a Christmas Eve gift to the world) which puts me somewhat on the cusp of Sagittarius and Capricorn. Despite all the intricacies, I fully identify as a true Capricorn through and through.
Kicking off the astrology puzzles is this 500 piece beauty by Cobble Hill called Capricorn. Naturally I am going to start with MY zodiac sign first.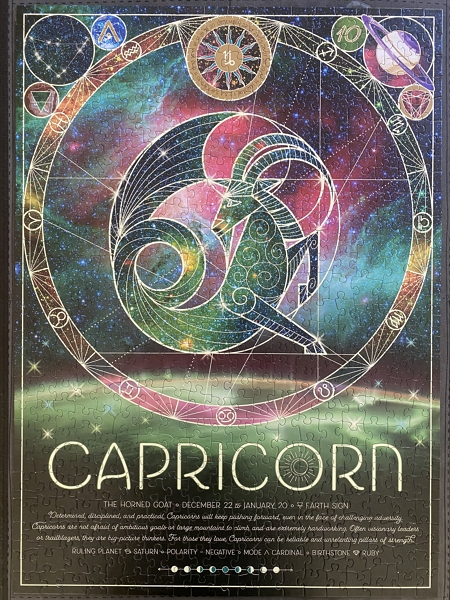 Cobble Hill is such a great brand and I feel they don't get enough love or recognition in the puzzling world! Their puzzles are of such great quality. The colors are always so vibrant, the thickness of the pieces and the texture is absolutely wonderful to the touch, and their cuts are so fun because they're random. So imagine how excited I was when they released their Zodiac collection?! Pretty darn excited! Just look at how pretty the image of my Zodiac is.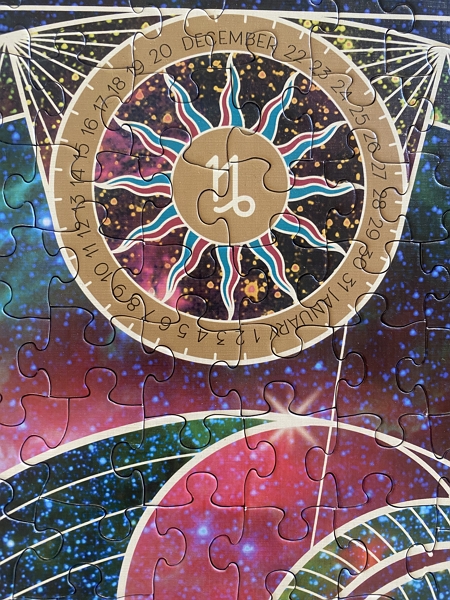 The little details were so amazing. The Capricorn description of the sign at the bottom was fun to read, the goat looking fancy in the middle of the image is so well depicted, and all the other zodiacs represented in the image are a really nice touch. But the detail I loved the most was the Capricorn sign at the top of the puzzle (which I drew all over my walls in the 90s) encircled with the days of the month which I found to be a cute touch. All of those details, against the stars and constellations tied the whole image together, and it was such a joy to put together! Needless to say, I ordered three more of these to add to my collection - Pisces, Sagittarius, and Gemeni.
If you are anything like me then mini puzzles are an obsession of yours too. Well, guess what? There are mini zodiac signs you can put together! Chronicle Books released a 12 mini puzzle that makes up the 12 zodiac signs and it's aptly called Whats Your Sign?.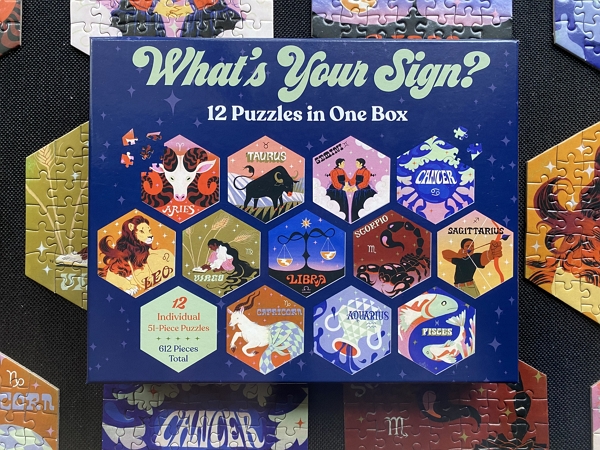 The quality, image, and color vibrancy of this puzzle was so great! I loved putting it together and seeing the art of each zodiac sign come together was really fun. Heads up though, the 612 pieces don't come separated by zodiac, and there wasn't even color coding on the back to help with the sorting. Despite that, I found this challenge as just another layer of fun. I got to spend more time enjoying the puzzle!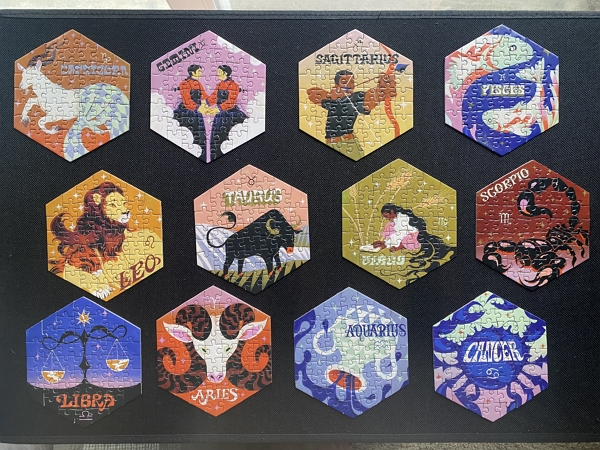 We covered 500 pieces with the Cobble Hill, and the minis by Chronicle Books, but if you're a thrill seeker, and demand a larger piece count, then don't fret. I got you! Galison has a gorgeous, gold foil astrology 1000 piece image called Foil Astrology and as pretty as it is, it looks like quite the challenge. But knowing the good quality of Galison, I imagine the challenge would be fun and totally worth it. Would you attempt this?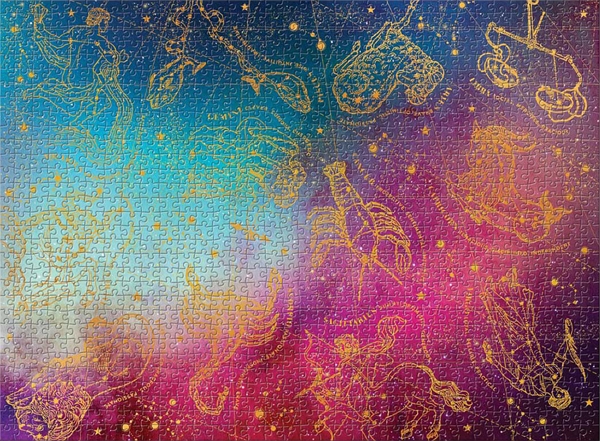 If you need an even bigger challenge then I introduce to you this stunning 2000 piece JaCaRou simply named Zodiac. It looks so stunning and I imagine feeling so satisfied once it's all put together. It looks sortable and can actually be a good kind of puzzle to escape reality and lose yourself in.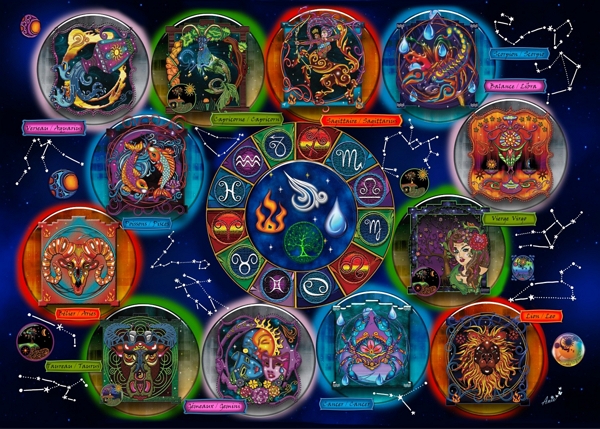 Puzzle Warehouse has so many more fun zodiac themed puzzles in various piece counts, and I really think you should go take a look because they are so much fun! I still have like seven other astrology puzzles to put together. I find them so fun and colorful and I feel like that's how all puzzles should be. So which did you like? Which have you done? But more importantly, what is YOUR zodiac sign? I want to know everything! Share it all with me below in the comments.
Happy puzzling!
Marwa
Alyssa Z. - Stevenson Ranch, CA
I don't really believe in astrology but I sure love zodiac puzzles!!
I love zodiac puzzles too!! I hope the Scorpio puzzle is as "fancy" as your puzzle! 🤩😂
santharamastrologer - Mysore
Remarkable! Your article has left me in awe with the valuable perspectives you've presented on What's Your Zodiac Sign? I'm thoroughly captivated and excited to explore this subject further. The extraordinary dedication and attention to detail you've demonstrated in creating this content are truly commendable. Much obliged to you for liberally sharing your insight and skill!