Quilted Puzzles
Whether woven or sewn, quilts have been around for a long time. The beauty of quilts is their defined shapes, appealing colorways, and functionality. After all, what do you do with a quilt? You hang it on display or use it to keep yourself warm. If you're a puzzler, you probably have an admiration for beautiful things and if not, at the very least, you probably would want to keep warm if it's cold. See that?!? A win win for everyone.
However, we're not talking about traditional quilts in this blog. Instead, we're talking about quilts in the form of Puzzles. Quilted puzzles if you will. And let me preface by saying puzzles of quilts are extremely fun to do. Because of the patterns on the fabric and defined sections of color, it makes the pieces easy to sort and the sections within easy to identify.
The first puzzle we're going to chat about is Common Quilt Blocks by Jack Pine Puzzle Co. This 1,000-piece puzzle is a must for two reasons, first it embodies the traditional quilt look. After all, since I'm focusing this blog on "quilted puzzles", I figured this would be a good one to include. Secondly, I've never tried a Jack Pine Puzzle before and was very excited to give it a go. This image is also carried by Cobble Hill in the larger box size.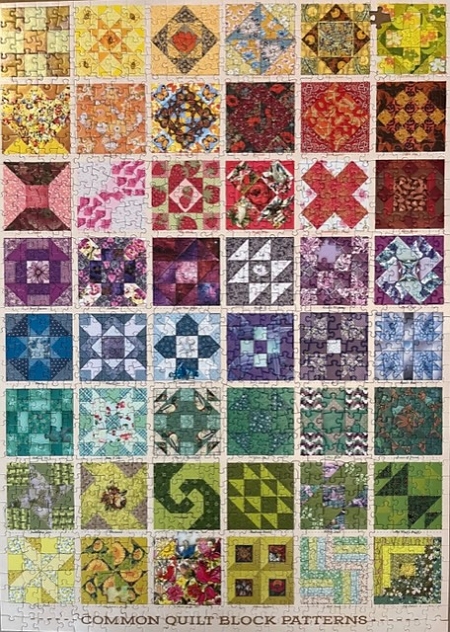 Common Quilt Blocks by Cobble Hill and Jack Pine

I'm a total sucker for gradient puzzles and any puzzle that has a rainbow of colors in it. This one fits the bill.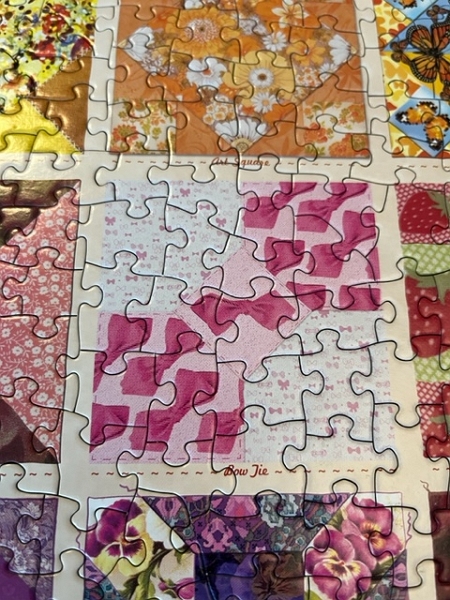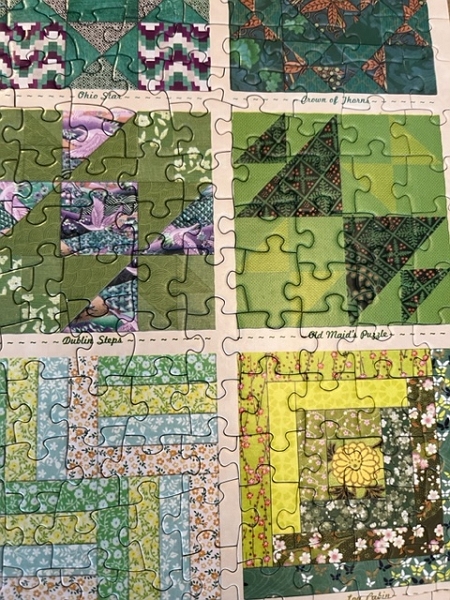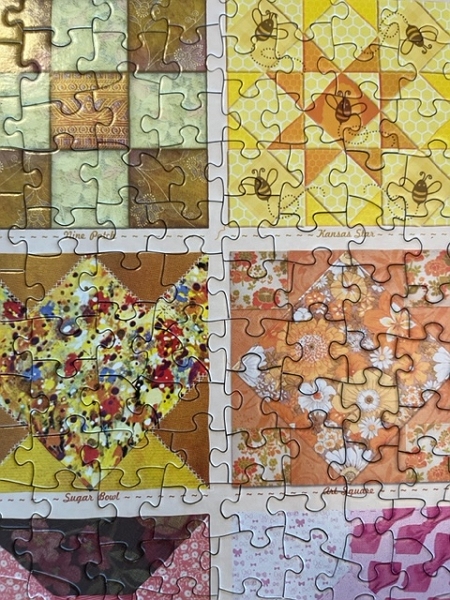 Literally each color is represented. Love that!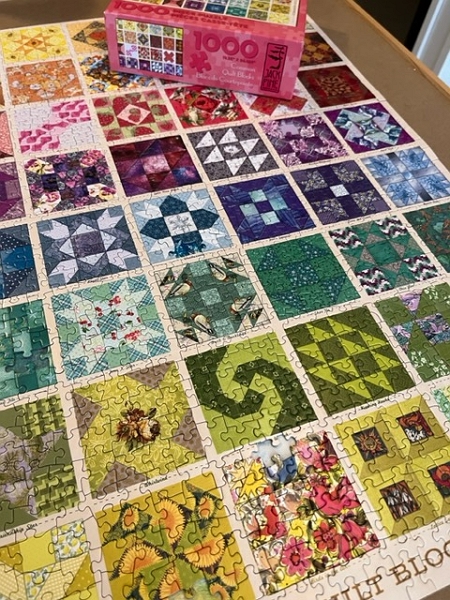 Common Quilt Blocks by Cobble Hill and Jack Pine

Next, I went back to one of my go-to brands, Eeboo. I love Eeboo for several reasons. It's a women owned; mother run company. So right off the bat you can't get any more awesome. They always make it a point to showcase their artists AND one of the absolute coolest things about Eeboo is that their puzzles include a QR code that links the puzzle to the artist's playlist. When you get an Eeboo puzzle, be sure to look for it on the box. I couldn't wait to listen to the artist's playlist while building the puzzle. It really makes me feel a connection to the artist. It's a cool experience for sure.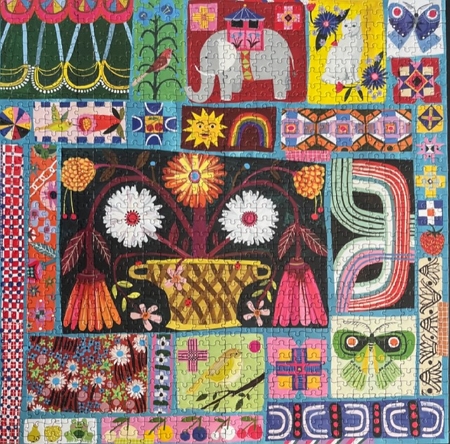 Dutch Quilt Sampler is not your traditional quilt. Clearly, I'm trying to showcase a variety here (haha). This, like practically all Eeboo Puzzles, has the most adorable artwork that I'm just drawn to. How is it that Eeboo knows exactly what I'd like?!?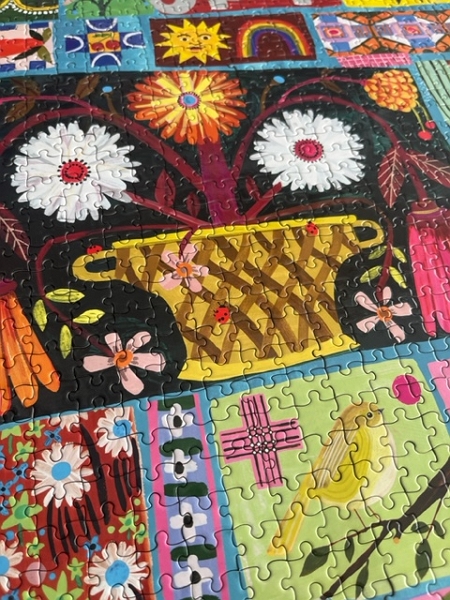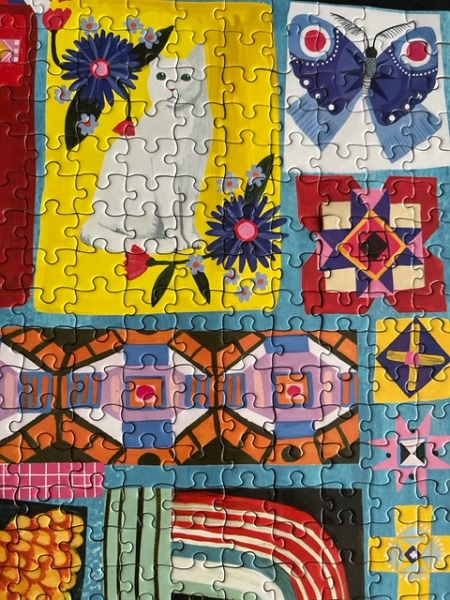 Show me a smiling sun next to a rainbow and it's all over for me. So cute!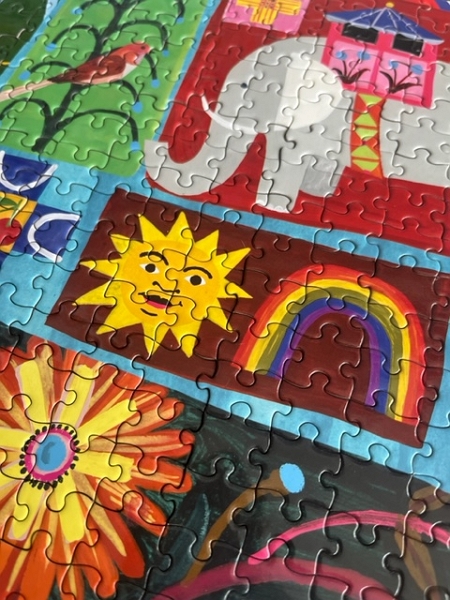 SunsOut offers Spools, a 1,000-piece quilt puzzle. This one has a more contemporary vibe because of its light and airy feel which contrasts beautifully with its vivid spools of thread in the foreground.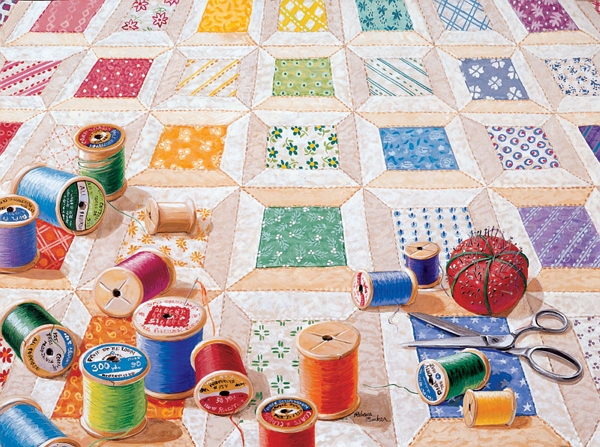 Quilts of Gee's Bend by Galison is slightly different. This is an important puzzle for what it represents. If you don't know, Gee's Bend is a black community located in Alabama. During the 1960s, the local women founded the Freedom Quilting Bee. According to the Soul Grown Deep website, the Freedom Quilting Bee founded them "much-needed economic opportunity and political empowerment". It adds that Gee's Bend's quilts (which happen to be featured in this puzzle) can be found in over 30 art museums.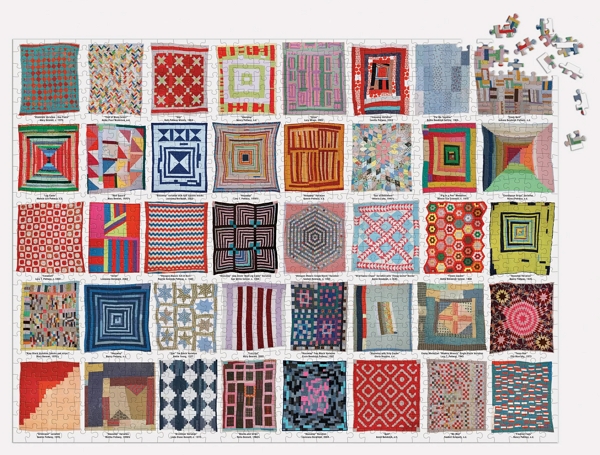 Quilts of Gee's Bend by Galison
Quilts of Gee's Bend is a compilation of all these quilted works of art. To find out more about all of Gee's Bend's quilts, visit their website.
Hope this blog inspires you to delve into the beautiful work that goes into quilt-making and the artists who portray quilts in their paintings. Find one you love, try it out, and as always make time to puzzle!
Jaime @introvertedpuzzler