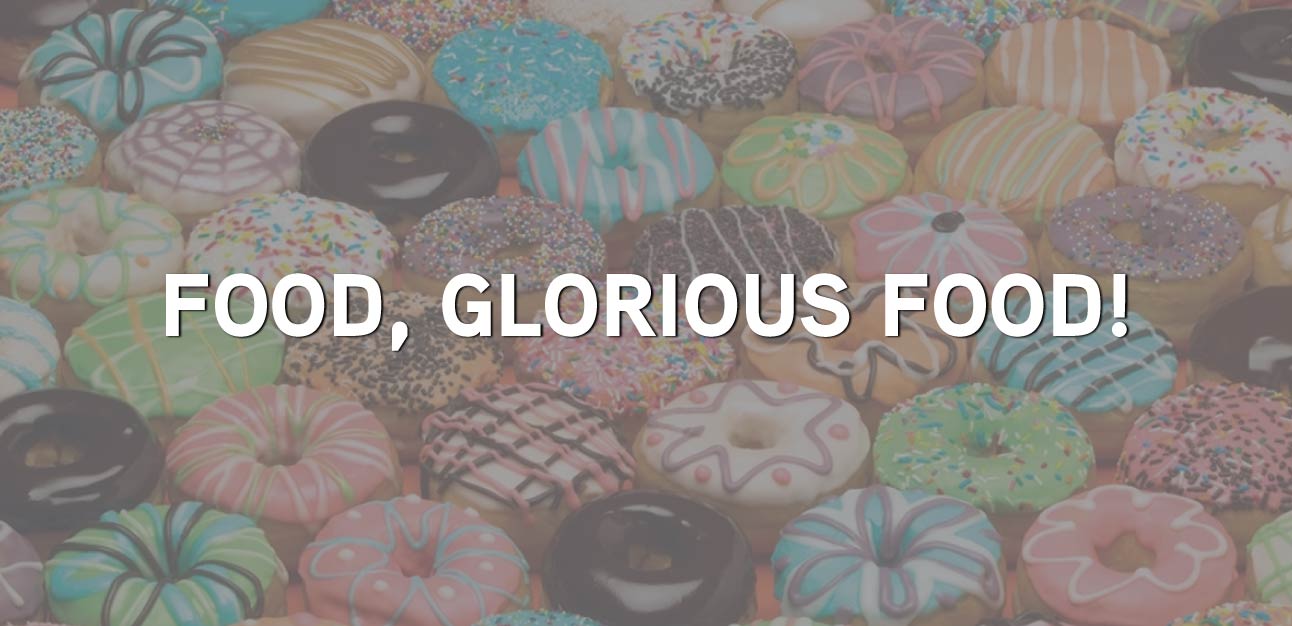 Food, Glorious Food!
The opening number for the musical "Oliver!" is "Food, Glorious Food." Workhouse children sing of the food they want to eat, but all they ever get is watery oatmeal. I am haunted by the image of Oliver slowly walking between the tables as he carries his bowl to Mr. Bumble, supervisor of the workhouse, and says, "Please sir, I want some more." Mr. Bumble is so enraged by this impertinence that he sells Oliver to an undertaker.
I apologize for this unhappy opening to a happy post about puzzles featuring food, glorious food, but I felt an explanation was in order. Charles Dickens did manage a happy ending as Oliver had a wealthy relative who had been searching for him and rescued him. And the Bumbles ended up in the workhouse themselves. Karma, right?
There are so many puzzles that feature food it's impossible to mention them all. Searching on "food" brings up puzzles of cupcakes, snacks, cookies, cocktails, coffees, vegetables, pastries, and so much more. I'll try to give you a sample – "whet your appetite," she said with a wink and a grin.
I had Icing on the Cake from Springbok on my wish list for some time – dithering, but I finally gave in to the sheer beauty and decadence of all that sugar. It comes in both 1000 and 500 pieces and is made in the U.S. from recycled materials. The resolution was clear and the colors bright. I wish the box bottom had been a little more sturdy as I had to tape a corner back together before I spread the puzzle out on my table.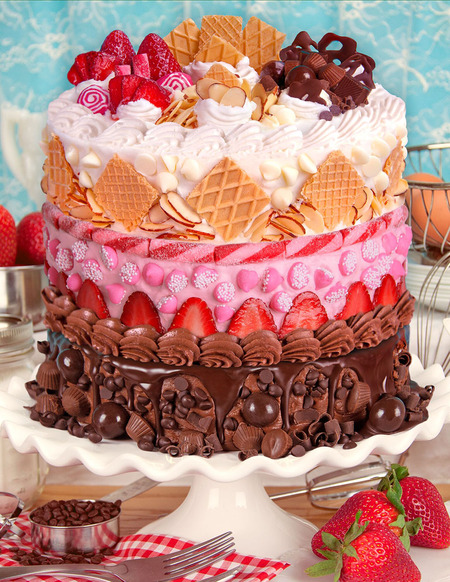 Icing on the Cake | Springbok | 1000 and 500 Pieces | 24x30 and 23.5x18 Inches
Pieces are cut in that Springbok signature random shape. They fit together snugly, but not too snugly. You can move them around, but still take them apart to put them back in the box when finished. Pieces are a good size and sturdy, no problems with them bending, no hanging chads, no pieces stuck together. Springbok puzzles are like family heirlooms – the pieces remain in good condition through years of happy use.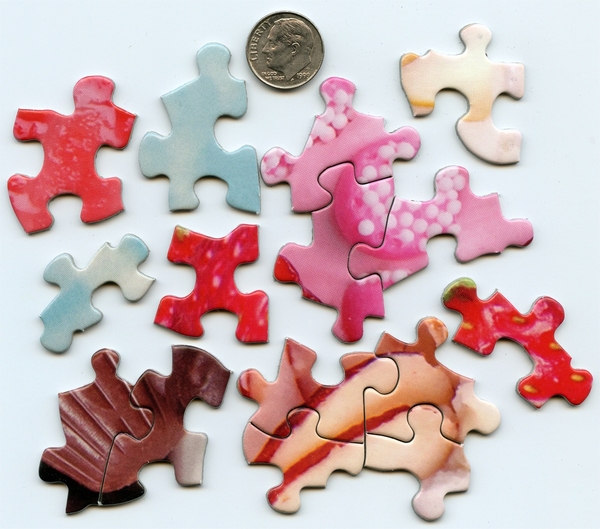 I thought this puzzle would lend itself to a "start at the top and work my way down," but although I started with the blue at the top I soon realized all that white frosting was too confusing at this point, so I moved on down to the pink candy cane and strawberries. The chocolate at the bottom was a challenge, but by that time I had fewer pieces to look through. Don't know why I was surprised at how big the puzzle itself was – didn't pay attention to the information on the box, I guess. There was some puzzle dust when taking it apart.
I swear my teeth were hurting by the time I finished this – WAY too much sugar for me, but a lovely puzzle that I enjoyed a lot.
Doughnuts from Cobble Hill is a 1000 piece puzzle, made in the U.S. from 100% recycled chipboard. I appreciate Cobble Hill's linen finish because their pieces have almost no glare. I love collages like this because I can work on the individual items and put them aside until I have enough to start putting them together. The decorations on the donuts are something else again!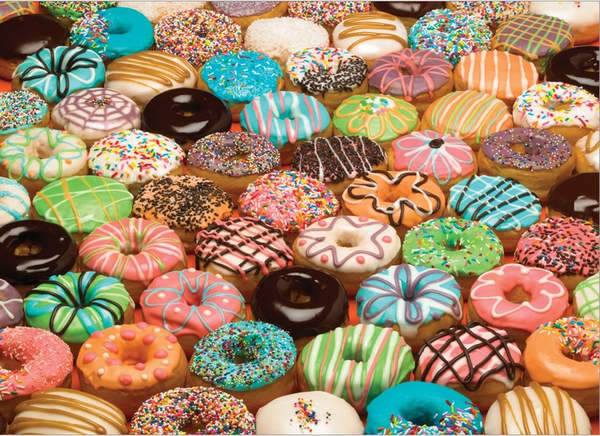 Doughnuts | Cobble Hill | 1000 Pieces | 216.6x19.25 Inches
The pieces are random cut and do not align at all four corners. There were some dark spaces between the donuts that were a little harder to place, but by that time there were only a few pieces left so it wasn't a big deal.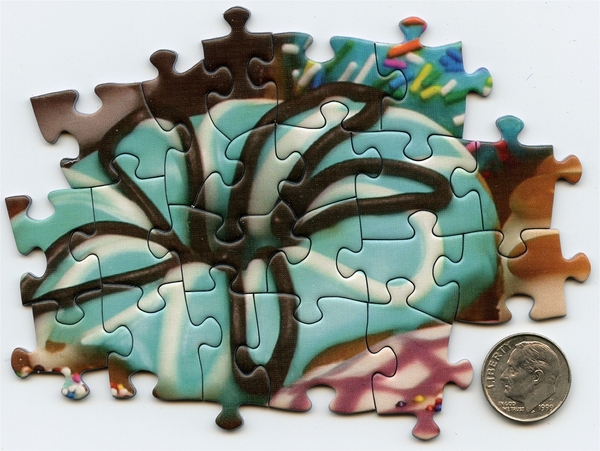 I assembled an earlier version of Colorful Popcorn from Lafayette Puzzle Company several years ago. I loved every bit of it so much that I jealously guarded it so no one else in my household could work on it. It was one of those, "Oh darn, I've finished it already" puzzles. The colors are bright and the resolution is crisp. Gosh, I love caramel corn!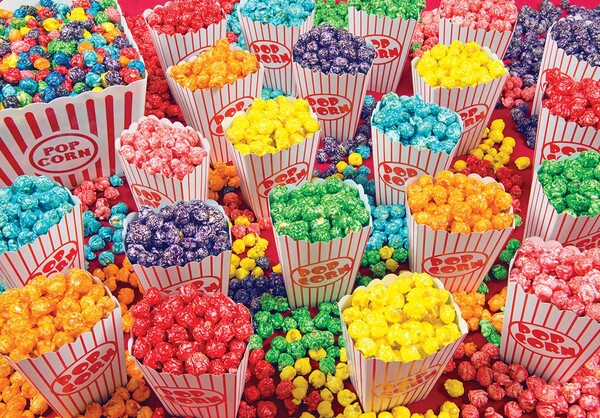 Colorful Popcorn | Lafayette Puzzle Company | 300 Pieces | 18x24 Inches
Looney Labels is a 500 piece puzzle from Springbok, made in the U.S. of recycled materials. The pieces are random cut, sturdy, a little thicker, and a little larger. I'm not sure how to categorize it – whimsical, satirical, tongue-in-cheek? But we chuckled over it as we put together each item.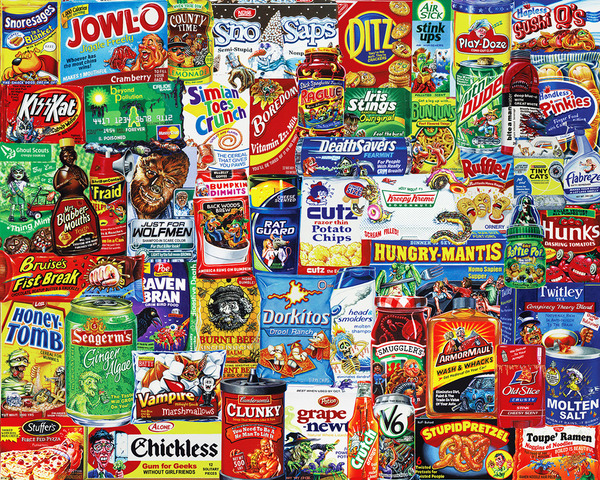 Looney Labels | Springbok | 500 Pieces | 18x23.5 Inches
We loved the clever foods: Ditz Crackers – "They're not nuts, they're crackers," Hunks Dashing Tomatoes, Play-Doze Conk Out Clay, and of course, Kreepy Kreme Doughnuts. As always, love those random shaped pieces.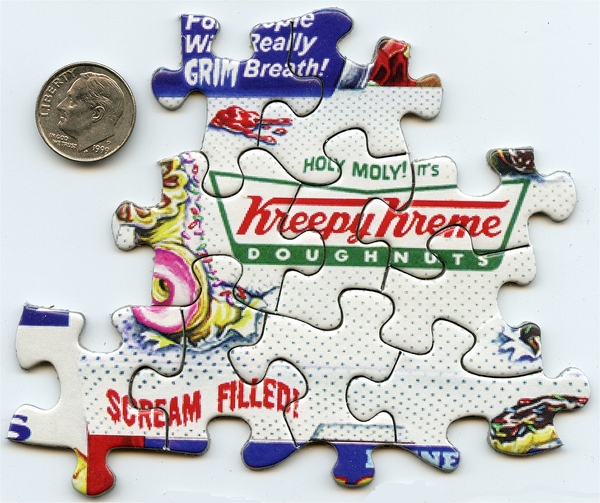 Eurographics has a "Delicious Food Collection" that includes collages of chocolate desserts, sushi, coffee, various holiday treats, cupcakes, and more.
Cake Pops is a 100 piece puzzle in that collection that is perfect for kids. There's even a recipe on the back of the box: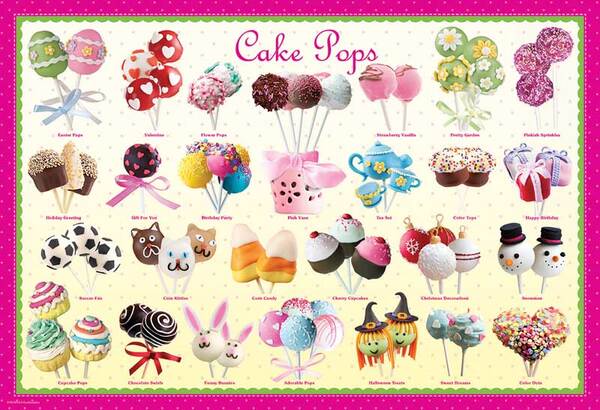 Cake Pops | Eurographics | 100 Pieces | 13x19 Inches
Now, for something completely different: Cheers is a 1000 piece puzzle from Playful Pastimes. It has to be one of the most beautiful puzzles I've seen in a while – it just explodes with color.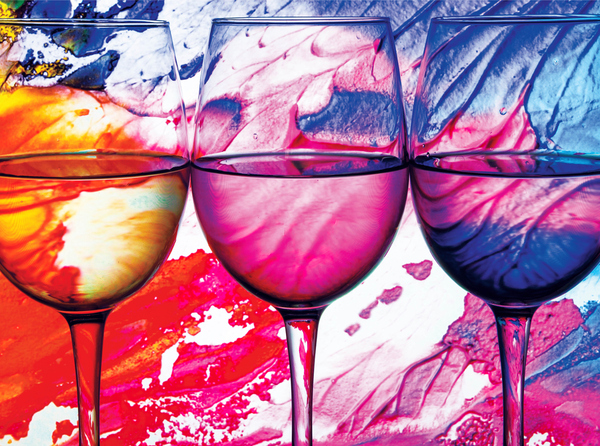 Cheers | Playful Pastimes | 1000 Pieces | 20x27 Inches
Playful Pastimes is a Canadian company that features colorful photography puzzles printed on recycled cardboard with soy-based inks. Pieces are thick at 2 mm, with a matte finish and standard grid cut, but somewhat random: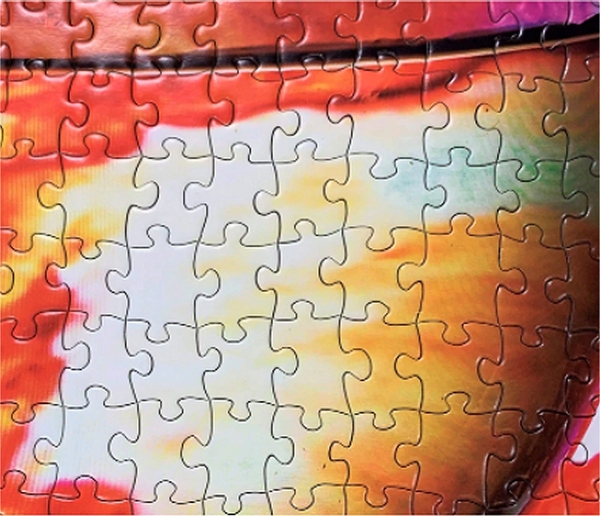 Garden Party is 1000 pieces of an elegant spread from Cobble Hill. Pieces are random cut, and thick and sturdy with a linen finish. There are so many delicious looking items here, I got incredibly hungry just looking at them. I just sat here staring at it, thinking how lovely it would be to be there in person. "Posh," the Brits would say.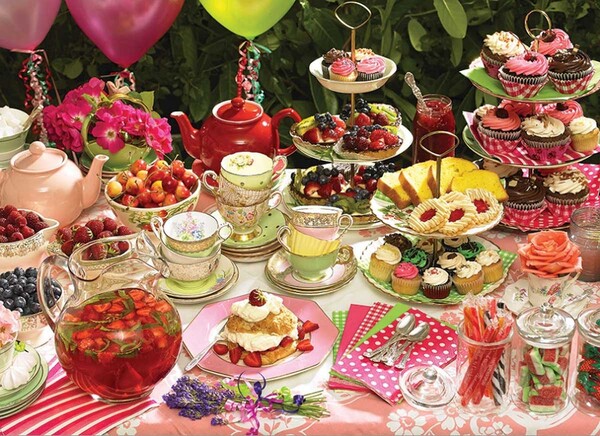 Garden Party | Cobble Hill | 1000 Pieces | 19.25x26.6 Inches
Cupcakes II is one of the mini-shaped puzzle collection from Lafayette Puzzle Company and their subsidiary Cra-Z-Art. Each box in the collection contains 12 individual puzzles that are 500 pieces in total. They feature animals, houses, shoes, and food, glorious food.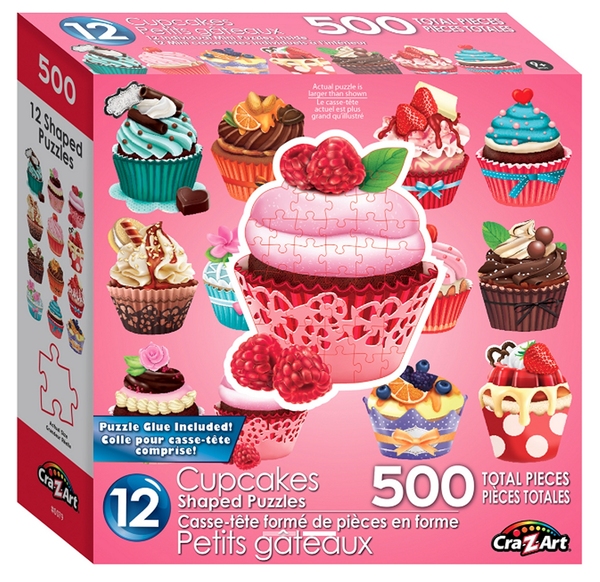 Cupcakes II | Lafayette Puzzle Company | 500 Pieces
Each mini puzzle has a different colored back so you can sort them and know you have all the pieces for that particular puzzle. Or, if you're feeling particularly adventurous you can dump them all out without looking at the color-coded backs.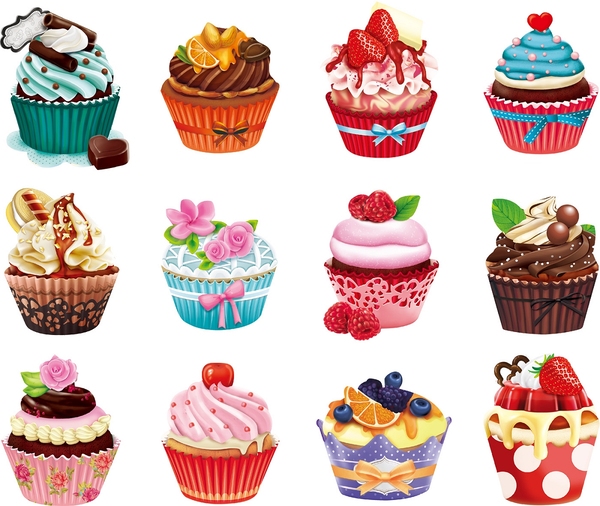 I suspect Lafayette is creating these with children in mind, but they are enough of a challenge that adults will enjoy them too. I think they're perfect for grandparent-grandchild time or for entertaining that bunch of children who gather for holidays. Some people take them in individual plastic bags when traveling.
Now please excuse me, and don't judge. I'm going to get a donut, a Danish, and some cookies!
Happy puzzling,
Madelle