Meet Our 2022 Ambassadors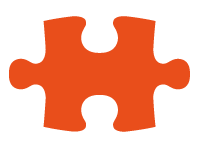 MEET OUR PUZZLE AMBASSADORS
Get to know the Puzzle Warehouse Jigsaw Junkes Ambassadors who are helping us share puzzles with the world through social media, reviews, blog posts, and more!
We received tons of applications, but after a difficult selection process, we are ready to announce the 2022 Ambassadors! These puzzle fanatics come from all over the world and have different backgrounds, but they have one thing in common... They LOVE jigsaw puzzles! As puzzle experts, they will be sharing new brands, writing reviews, and helping others find joy in jigsaw puzzles. If you want to hear more from this amazing team, follow them on social media to see what they are up to!
Don't forget, you don't need to be a puzzle expert to be featured in a newsletter or social media post - Tag your Instagram posts with #PuzzleWarehousePuzzles to be featured in our customer gallery made by YOU. You can also show off your puzzle collection with other puzzlers through Puzzle Warehouse Puzzlers Facebook Group.

AMANDA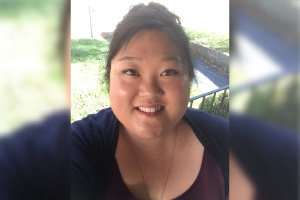 Location: Cincinnati, Ohio
Favorite Puzzle: Novel Avenue from Ravensburger
Social Media: @600HoursOfPuzzle on Instagram
A Little About Me: Hello Jigsaw Junkies! My name is Amanda, and I am a HUGE puzzle nerd! I currently live in Cincinnati, Ohio, with my non-puzzling husband and perfect wheaten terrier (who does not eat puzzle pieces- YAY!!). During the day, I am a veterinarian. I have been a small animal general practitioner for ten years, with a special interest in soft tissue and orthopedic surgery, and I absolutely love my job. It allows me to flex the sometimes (oftentimes) neurotic portion of my personality: the Type A perfectionist, problem-solving, scientific, and analytic side of my mind. However, I've learned that I need creativity in my life that veterinary medicine often lacks.
Even though I absolutely love what I do, and couldn't imagine my life any other way, my profession is plagued by significant burnout, depression, and compassion fatigue. Because of this, mental health is so incredibly important to me, and puzzling has become synonymous with relaxation and self-care. As we get to know each other this year, I hope I can bring a little joy and laughter to your days through our mutual puzzle love!
ANGEL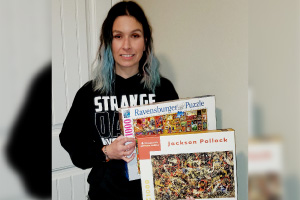 Location: Idaho
Favorite Puzzle: Convergence from Pomegranate
Social Media: @Endless.Puzzles on Instagram and TikTok
A Little About Me: Hi, my name is Angel & I'm obsessed with puzzles. I'm also a stay-at-home mom to a teenager, two dogs & two cats. Our house can be a bit chaotic but thankfully, I have a supportive husband to help me quell the madness...when he's not adding to it. We've been married for 27 years. When I'm not puzzling, I love spending my time taking pictures (especially with instant cameras), learning to fly drones, reading, collecting sneakers & building Lego sets. My guilty pleasure would definitely be reality TV, my top show is Big Brother. I always have a TV show or YouTube video on to listen to while I puzzle. I've been puzzling since I was a child, and even if I take time off, it's always something I've come back to. It's been a godsend these past couple of years! I'm a fairly strict *sort-and-do-the-edges-first* type of puzzler and I keep statistical info about each puzzle & its assembly. Happy puzzling!
DIANE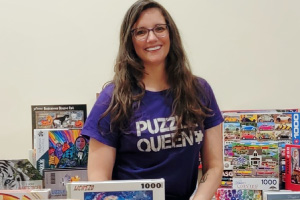 Location: Arkansas
Favorite Puzzle: Marine Life from Soonness
Social Media: @BizzlesPuzzles on Instagram and TikTok
A Little About Me: Hi! I'm Diane - a lifelong puzzler with a preference for original art and matte pieces. When I started sharing my puzzles on social media, my friend David suggested I do a time-lapse. For about 3 years, I have recorded time-lapses of nearly every puzzle. I love looking back and seeing how I assembled each puzzle. I also love listening to audiobooks while I puzzle. I'm a full-time art & marketing director for an online tutoring company. When not at my puzzle table, I love playing with my 3 dogs, watching movies with my husband, and crafting with my stepdaughter.
GABY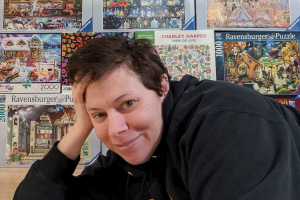 Location: Washington State
Favorite Puzzle: Saguaro Glass Design from Pomegranate
Social Media: @PuzzlePastime on Instagram
A Little About Me: I've been an avid puzzler since I was around 10. I had this really awesome puzzle caddy that my mom got me, and I would store my puzzles in progress there. All of my puzzles were HEAVILY into fantasy. Lots of unicorns, dragons, and the like. Think Heavy Metal with a PG rating. Afterward, I would glue my puzzles and staple them onto my walls. It makes me cringe now, but I was young! I made mistakes! There was a long puzzle break until 2019 when I noticed that my library had a "take a puzzle, leave a puzzle" section. I left with White Mountain Puzzles "Halloween House" and I haven't stopped since.
My puzzle tastes tend to fall into the whimsical and bright category. I love images that feature original art over the public domain and I tend to avoid real-life photography images. I usually stay in the 500-2000 piece count. When I'm not puzzling, I like reading, hiking, and baking. My reading tends to fall in the realm of sci-fi/fantasy. I love baking breads and cookies. I can usually be convinced to make a cake for my friend's birthday, but I am terrible at decorating. Living in the PNW, I am never at a loss for gorgeous hiking trails, so I definitely take full advantage of that.
JENN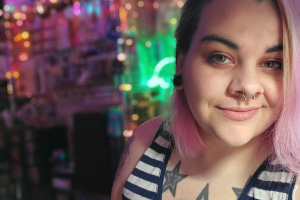 Location: Florida
Favorite Puzzle: Anything Rainbowy!
Social Media: @PuzzleKnucks on Instagram
A Little About Me: Ben Gates: We don't need someone crazy. But one step short of crazy, what do you get? Riley Poole: Obsessed. Ben Gates: Passionate. Am I crazy, obsessed, or passionate about puzzles? Maybe a little of all three. I'm also passionate about musicals, dinosaurs, all things rainbowy, skeletons and ghosts, unicorns, and the macabre. OK, some of those go into crazy territory! I try to surround myself with things that bring joy and make my heart sing (like Hubs and the cats!). Worklife tends to be stressful, and the world is...not so great...but puzzling is my escape and happy place to just breathe.
LISA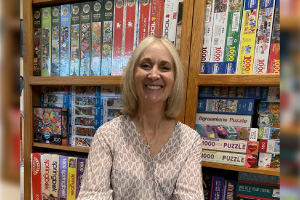 Location: Orlando, Florida
Favorite Puzzle: A Magical Mystery Tour of 100 Beatles Songs from Aquarius
A Little About Me: I started puzzling in January 2021 after receiving 3 puzzles for Christmas. I thought, "Why did they give me puzzles? I HATE puzzles." But, as fate would have it, I was bored one day, sat down to assemble one, and liked it. Did another and really liked it. Then, when I did the 3000-piece Beatles puzzle my mother-in-law gave me (The Beatles are another passion of mine), I realized I LOVE puzzles and I went from doing none to 42 that year. They allow me to relax and escape – they're also an ideal way to still be with my husband while he watches TV shows that are not my favorite! Puzzles allow me to unwind after work. I am a business owner for a company called Wildly Different that creates and implements play-based virtual and in-person team building activities, mostly for corporate groups – treasure hunts, game shows, charitable give-back programs, etc. I enjoy it tremendously. I mean, I get to play for a living! But when you are a CEO there is often a lot on your mind and puzzling allows me to take a break and shut off the "to do" list running through my head.
I am married to my best friend of 22 years, Gary. He is mystified at my obsession with puzzling - especially with how many I buy - but is very supportive and glad I found something I enjoy so much! When I'm not puzzling or working, I love spending time outdoors hiking, fly-fishing, paddle-boarding, kayaking, and riding my bicycle. I have a home gym and to balance all the mental exercising I get with puzzles, I exercise my body most mornings and can be found using my mini-trampoline, jump rope, weights, Hula-Hoop, exercise ball, or yoga mat. The best part of puzzling is all the new friends I've made since I started. I was thrilled when someone in our neighborhood posted an interest in forming a group for those in the area who like to puzzle. In our first meetup, there were only 3 of us, but we are growing steadily. I look forward to our monthly lunch meetings when we get together to swap stories and puzzles and we reach out to one another often between meetings. I look forward to expanding my puzzling know-how, trying a variety of brands, and sharing my experiences with others!
RELL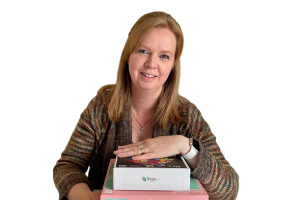 Location: South Australia
Favorite Puzzle: Waiting for My Turn from Holdson
Social Media: @RelishPuzzles on Instagram and TikTok
A Little About Me: Hi! My name is Narelle but just about everyone calls me Rell. I live in South Australia with my husband, two mid to late teenaged children, and Bossy the labradoodle. During the day I work as an industrial engraver. I make plastic and stainless steel labels for electrical switchboards that service the retail, medical, mining, and defense industries. I've been an engraver for over 10 years. I began puzzling around October of 2020. I started puzzling with my daughter, purely to see if working on a puzzle would help her get some relief of symptoms from a neurological disorder she has. As she lost interest in puzzling, I found myself loving the experience more and more. Just over 6 months later, I had a huge "to-do" pile of puzzles and dedicated shelves to put them all in. When I'm not puzzling you'll usually find me gaming! I've pretty much been a gamer since I can remember. At the moment I love playing various games on my Nintendo Switch and occasionally my Xbox. My other hobby is eating chocolate in many forms….that's a hobby, right?
SARAH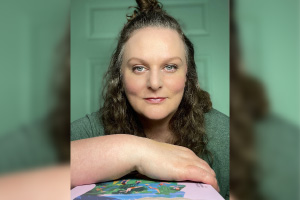 Location: Oregon and Colorado
Favorite Puzzle: Houseplant Jungle from Galison or Ever Alert from Heye
Social Media: @necessarahly_puzzles on Instagram
A Little About Me: My two favorite things are puzzles and dogs and I have a lot of both! Besides puzzling and hanging out with my four (yes, four) bernedoodles, I am obsessed with thrift shopping and finding the perfect bloody mary. Currently, I live in my beautiful home state of Oregon but will be off to new adventures in Colorado in 2022.

TRACY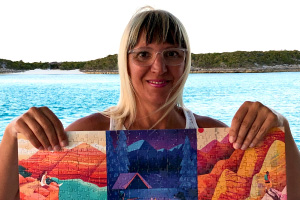 Location: San Francisco Bay Area
Favorite Puzzle: UFO Victorian Ladies from eeBoo
Social Media: @16Feet on Instagram
A Little About Me: I love puzzles because when life is a big mess, a puzzle helps you put all the pieces back where they belong. My love for puzzles began when my siblings and I would scramble Disney tray puzzles together and race to see who could put them together the fastest. As an adult, once I had my own dedicated puzzling space, it was Game On! Now I love my daily 'puzzle time' (it's Puzzle O'Clock somewhere!), trying new brands, making new puzzle friends, and participating in IG puzzle games and activities. When the fam comes home, we have a big family puzzle palooza game so that everyone can puzzle with each member of the family. Speaking of home, I have 6 adult kids (they like puzzling too), I live in the San Francisco Bay Area, and I love spotting wildlife that wanders through the field outback. On my wildlife spotting wish list this year … quail. p.s. Why is my IG handle 16feet?? Well, my favorite number is 16, there are 8 of us, so collectively there are 16 feet. But secretly, I wish it meant that I had a puzzle room with a ceiling that was 16 feet high (and a fancy rolling ladder)!
MARY ELLEN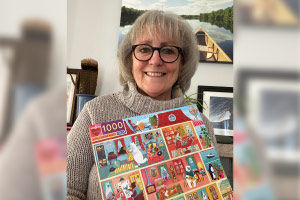 Location: New Brunswick, Canada
Favorite Puzzle: Too many to mention!
A Little About Me: Hi, my name is Mary Ellen. I'm a mother of four, grandmother of 4 (soon to be 5), married for almost 40 years to my best friend and the love of my life. I have worked at a variety of jobs over the years; server, elevator operator, managed a health food store and restaurant, ran a home daycare and my own house and family, organized and helped lead university travel abroad programs to Europe and the Middle East, and now manage a local website and online communications.
I have always loved doing puzzles. When I was growing up, there was often a puzzle on the go in our home. Some of my kids and grandkids share this love. During the last few years, I jumped into puzzling again with a passion. I started collecting and sharing puzzles with friends and neighbors. I have a semi-permanent puzzle space at one end of the kitchen island and everyone is welcome to join in, and many do. Puzzling provides a wonderful opportunity to engage your own imagination as well as becoming a center for interactive engagement for others as they gather around.
Read the most recent Jigsaw Junkies blog post or you can search for previous posts on the top of the page using the search bar.

Don't forget, you don't need to be a puzzle expert to be featured in a newsletter or social media post - Tag your Instagram posts with #PuzzleWarehousePuzzles to be featured in our customer gallery made by YOU. You can also show off your puzzle collection with other puzzlers through Puzzle Warehouse Puzzlers Facebook Group.