New Fall Releases - 2022
With the holidays right around the corner and the expected shipping delays, there's no time to waste picking your holiday gifts. Puzzle Warehouse has been busy stocking new puzzles and brands! Here are a few of my favorite new releases from our Puzzle Warehouse Ambassador Team!
Halloween Carousel from Vermont Christmas Company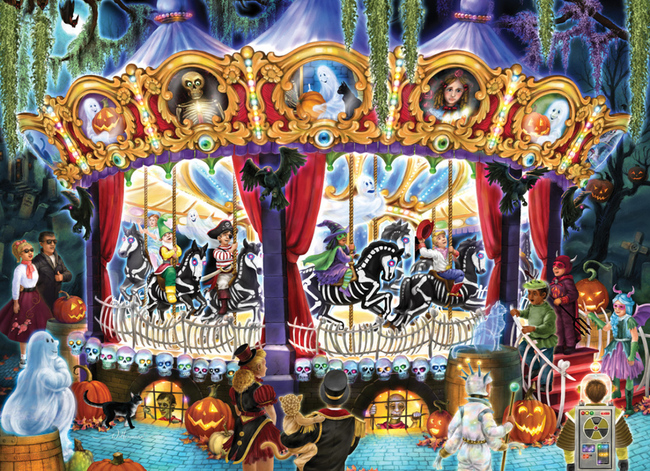 "I love this puzzle because it's a great twist on the classic Halloween theme. A spooky season carousel looks like tons of creepy fun." - Sarah B.
A-Maze-Ing Halloween Night from MasterPieces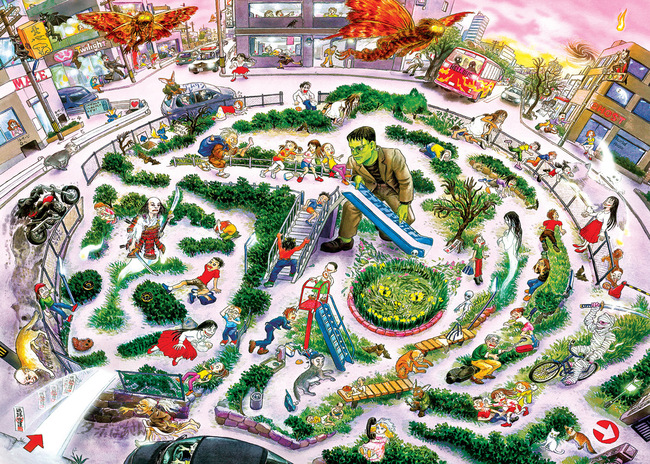 "Traditionally, you have to decide between doing a cute or a scary Halloween puzzle. What I love about this 500-piece MasterPieces is that it's a combination of both. It's like walking through a haunted maze – what pops out at you may be frightening, but it's deliciously fun as well! Best of all, when you're done building the puzzle, you're not quite through yet…you get to navigate the maze." - Lisa J.
The Addams Family from Pomegranate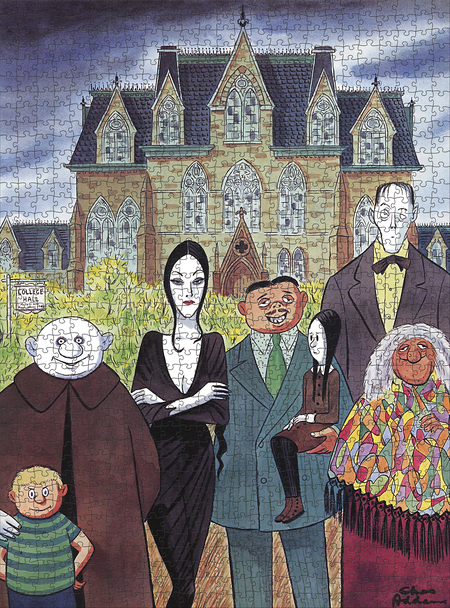 "The delightfully macabre Addams Family has finally been produced in puzzle form and what better company to have done so! Pomegranate's puzzles are manufactured with high quality cardboard and the images are always of museum quality levels. This is the first ever Charles Addams puzzle and Pomegranate has released it just in time for spooky season. I am a huge fan of Halloween puzzles and this one is definitely going straight into my cart for haunted puzzling." - Gaby G.
Circle of Avian Friends from Galison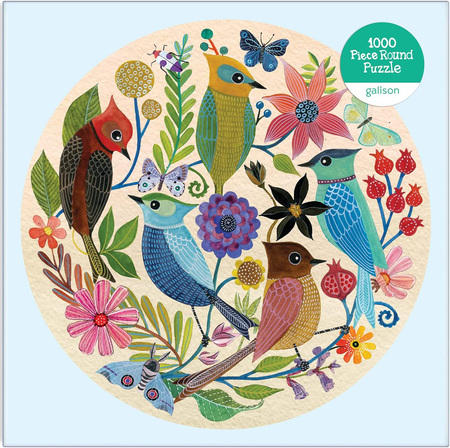 "I'm always attracted to birds in puzzles and adding the Galison brand to the mix is a bonus. These bright-eyed feathered friends, surrounded by flowers and insects by artist Geninne Zlatkis are absolutely gorgeous. I love the colour palette and especially the background with its textured look. Puzzling a round shaped puzzle is also such a refreshing change from the more common rectangular puzzle too." - Rell H.
Family Christmas from Vermont Christmas Company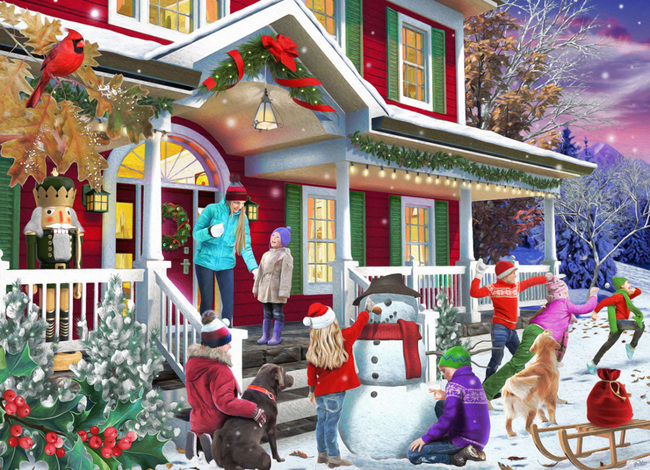 "This is my kind of puzzle – plenty of different colors and details. Just enough sky. A beautiful house with plenty of straight lines and different colored parts. Everyone is wearing different colored clothing. It's the type of puzzle that's fun to put together – not frustrating or irritating. The kind that you say, 'Darn, I've finished it.'" -Madelle B.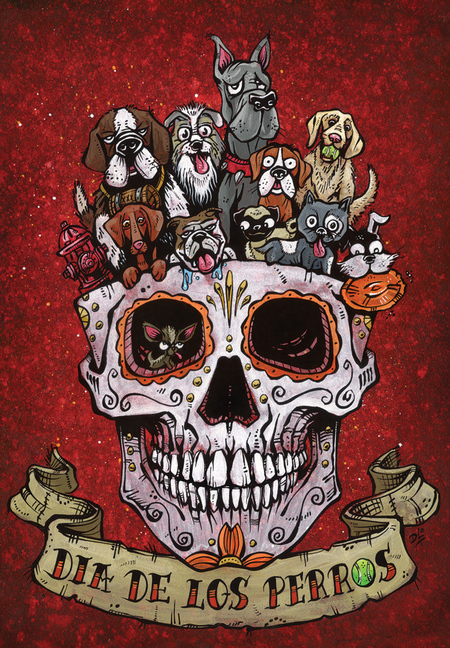 "We all know my weakness for Halloween puzzles, and this 500 piece new release from Anatolian appropriately titled 'Halloween' is right up my alley. The Dia de los Muertos theme featuring those adorable Perros is just too cute- their scruffy little faces have me itching to piece this one together right away! The bright red background rounds out this unique take on a Halloween themed puzzle!" - Amanda K.
The Hound of the Baskervilles from Professor Puzzle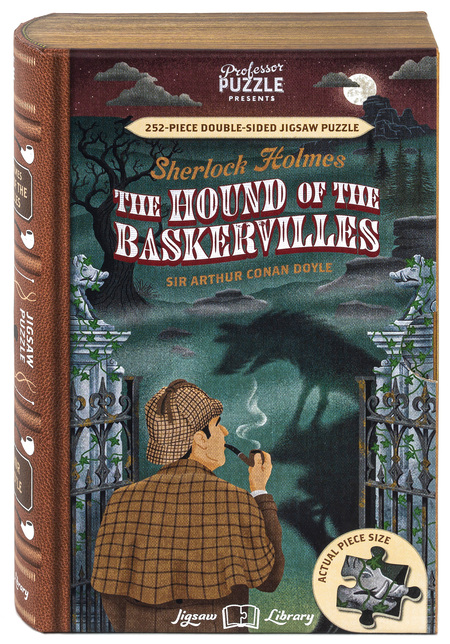 "Sherlock Holmes and a puzzle? Sign me up! I love all things Sherlock and the fact that this is a double sided puzzle makes it extra appealing. Packaging the puzzle pieces in a book shaped box is the cherry on top. I can't wait to start on this puzzle." - Angel I.
All Hallow's Eve from New York Puzzle Company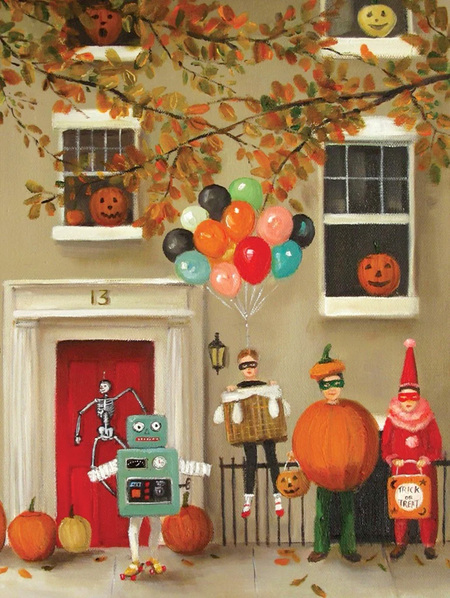 "I love puzzles that align with the season and I always treat myself to at least one new seasonal release. My Halloween puzzle choice for this year is New York Puzzle Company's All Hallow's Eve. The whimsical image reminds me of all the Halloween parties we had growing up. My mom would make our costumes and my siblings would trick or treat for hours with our cousins. I am looking forward to putting this one together in October." - Diane B.
Rainy Days from Re-Marks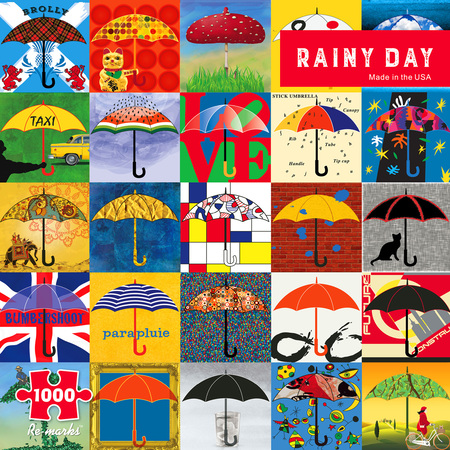 "Puzzle Warehouse is finishing the summer hot with their new fall releases and I am ready for a bit of rain! The bright colors of Rainy Days caught my eye and then I realized the collage is of umbrellas from different countries with names like 'bumbershoot', 'parapluie', and 'brolly'. How fun is that?! And at Re-marks great price point, there'll be money left over to buy yourself a new guarda-chuva." - Tracy W.