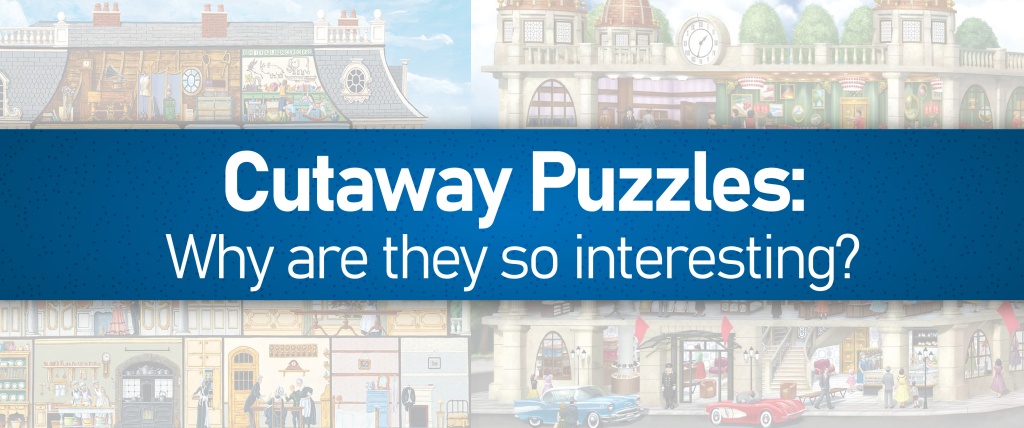 Cutaway Puzzles: Why are they so interesting?
I have asked myself this question more than once. Why is a puzzle that looks into the innards of someone's home, store, or doll house so appealing? Is it that I'm anonymously and safely peeping in windows? Or is it simply that they make for an interesting puzzle experience? Of course, it's the puzzle experience. That's my story and I'm sticking to it.
SunsOut, one of my favorite brands, has several cutaway puzzles that I have enjoyed. Christmas Eve, a shaped puzzle, may have been my first: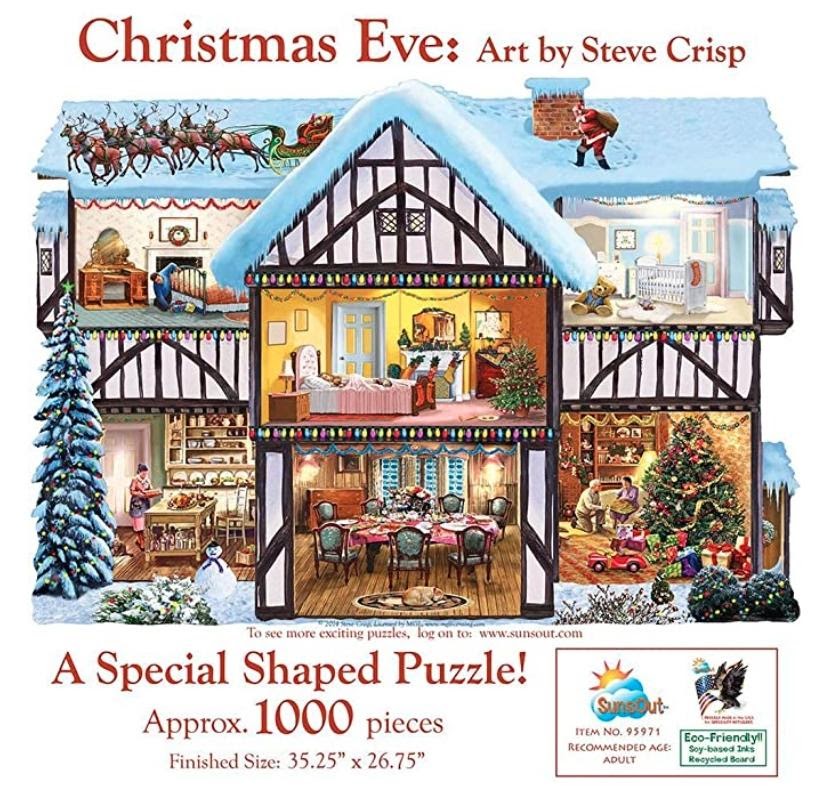 Each room has something going on. Someone's hiding presents under the bed in an upstairs bedroom. Mom's in the kitchen cooking. The dining room table is all set for a wonderful Christmas dinner. Grandma and Grandpa are relaxing by a beautiful Christmas tree. And Santa's on the roof.
One reason cutaways are a personal favorite is that each room is like a mini puzzle. I can hunt for pieces of that wallpaper, that table, whatever, knowing where they will go. It breaks down the puzzle making process into easy steps that progress naturally. I put together each room, then when I have enough rooms completed, I put the rooms together and before I know it, I have a completed puzzle.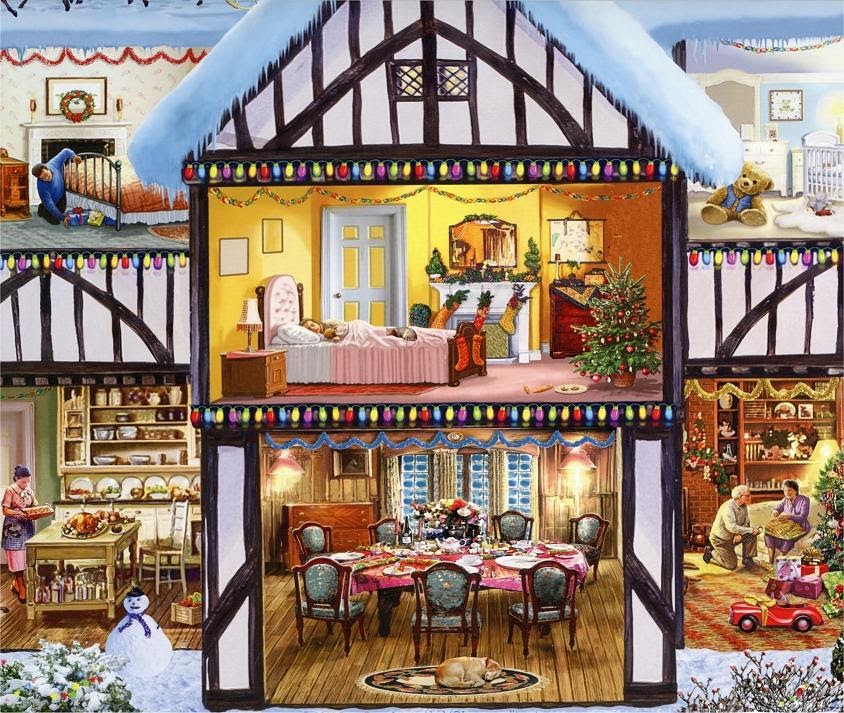 I really like puzzles cut in a non-grid pattern–and that's one reason why SunsOut is a favorite. Their puzzle pieces tend to have unusual shapes. This puzzle has an added bonus of whimsies—pieces shaped like objects or animals such as those on the left of the picture below. The pieces in this puzzle give me that "Aha" moment. It's a creative discovery moment. Let me explain. I have a piece in hand and I find a place of similar color and pattern in my partially completed puzzle and it looks like it should fit, but doesn't. I twist the piece around, sometimes in a complete circle, and all of a sudden I see that it does indeed fit. It's a small, non-alcoholic high. . . . but it's Christmas after all and maybe a little eggnog wouldn't hurt.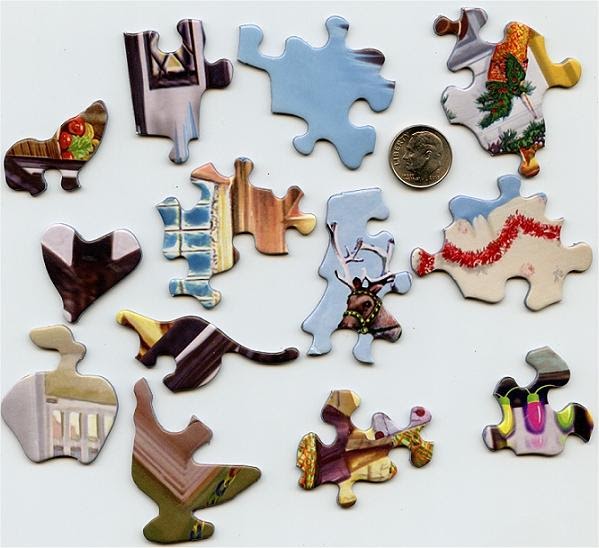 I know I said I prefer puzzles cut in a non-grid pattern, but I do occasionally stray into the more traditional grid or somewhat random grid puzzles. I recently found three cutaway puzzles from the MasterPieces Inside Out Collection that were really fun to work on—Sophia's Doll House, Walden's Manor House, and Field's Department Store. The cardboard (chipboard) is made of recycled material and while the finish is not matte, it doesn't have a strong reflection. The pieces are not super thick, but they're not thin and flimsy either. None of them were bent when I took them out of the box and none were bent when I finished and put them back in the box. There was no separation of the picture from the cardboard backing either.
All three puzzles had bright colors, with crisp resolution. No fuzzy areas where you can't figure out where this "muddy grayish brown" piece goes. No question whether a piece fit where I was trying to put it. I do need to include a slight caution though. I am a woman "of a certain mature age." I didn't have any problems with the smaller pieces and smaller picture on the box, but some people might.
All three had pieces similar to these from Sophia's Doll House: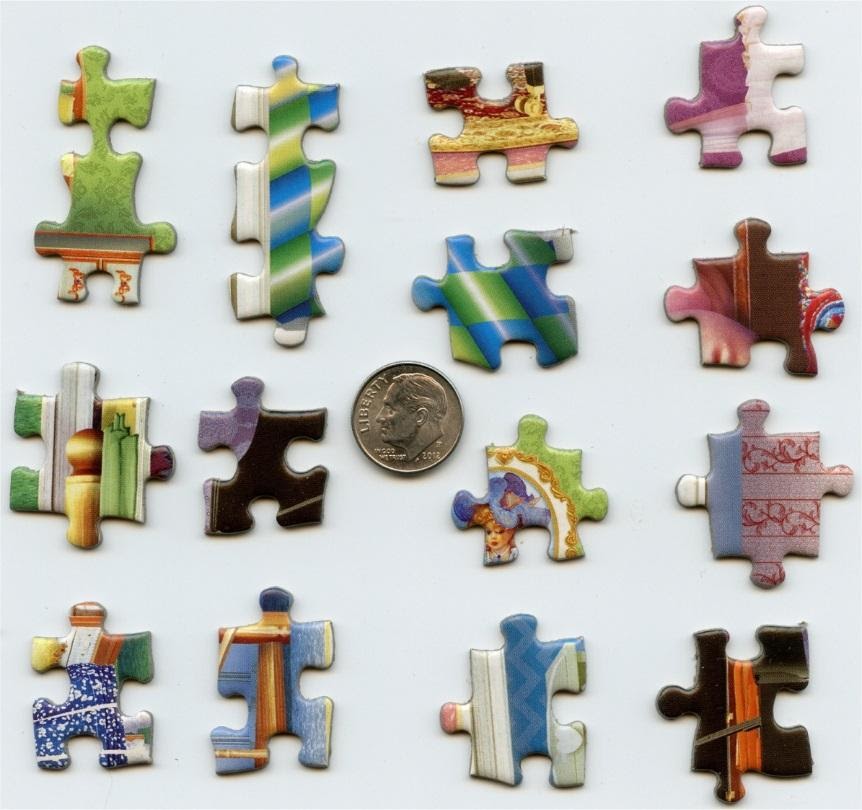 Sophia's Doll House
Sophia's Doll House is a puzzle that's perfect for several people to put together because each room is obviously different which helps each person find the pieces for the room they are working on. My daughter and I worked this one together. At some point we decided we had enough rooms completed to begin assembling. All of a sudden our puzzle was almost finished.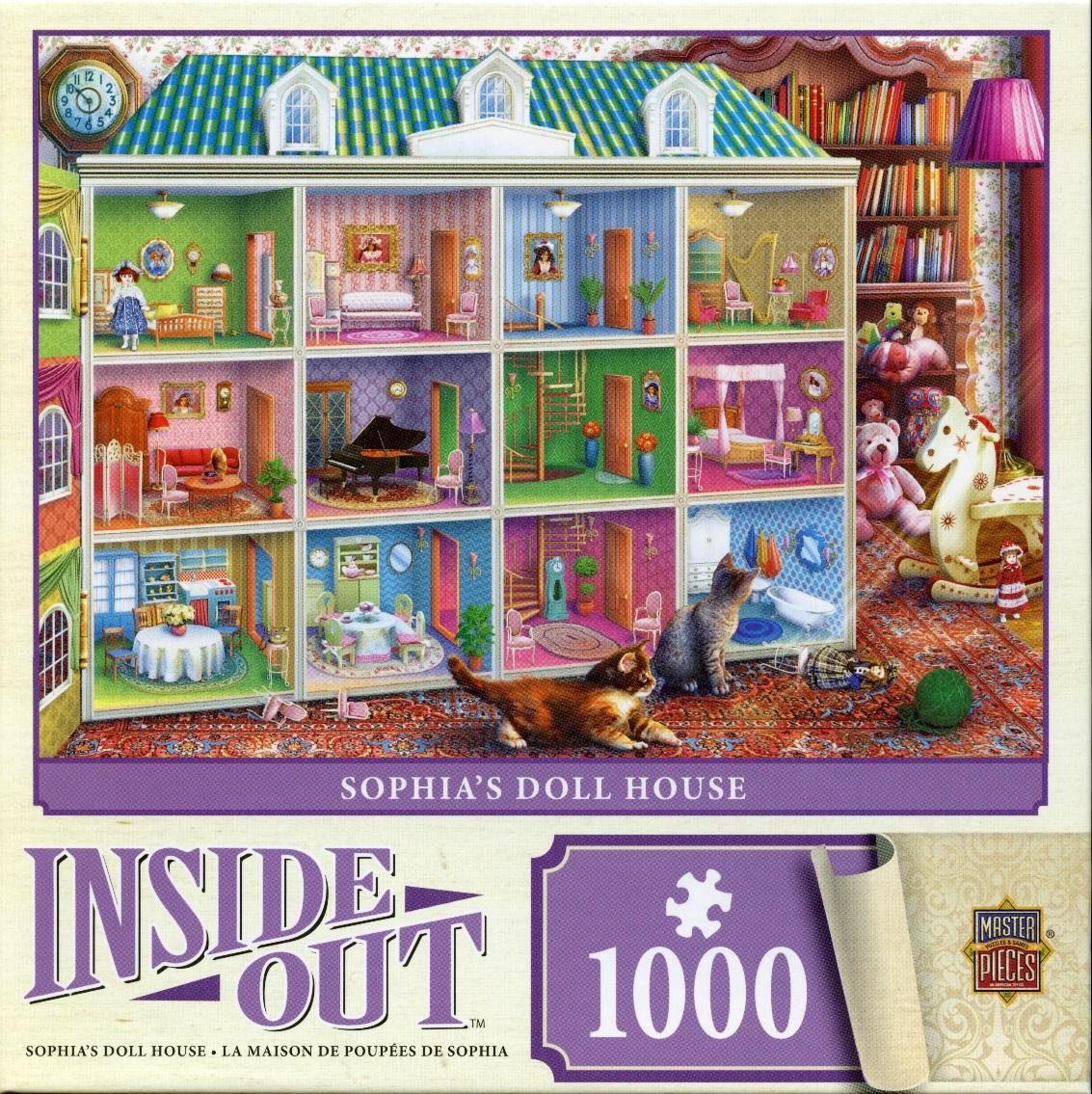 Sophia's Doll House | MasterPieces | 1000 Pieces | 19.25 x 26.75 inches
I'm not going to claim that this puzzle turned back the clock and made us children again, but as we worked it brought back memories of our own dollhouses and the one we had made for my granddaughter one Christmas. But this time, no trying to keep a 4 year-old out of the garage while we measured, sawed, and tried to figure out what wallpaper went where. (After all that noise, try convincing her on Christmas morning that Santa had brought it! Oh yeah, like that's going to work.)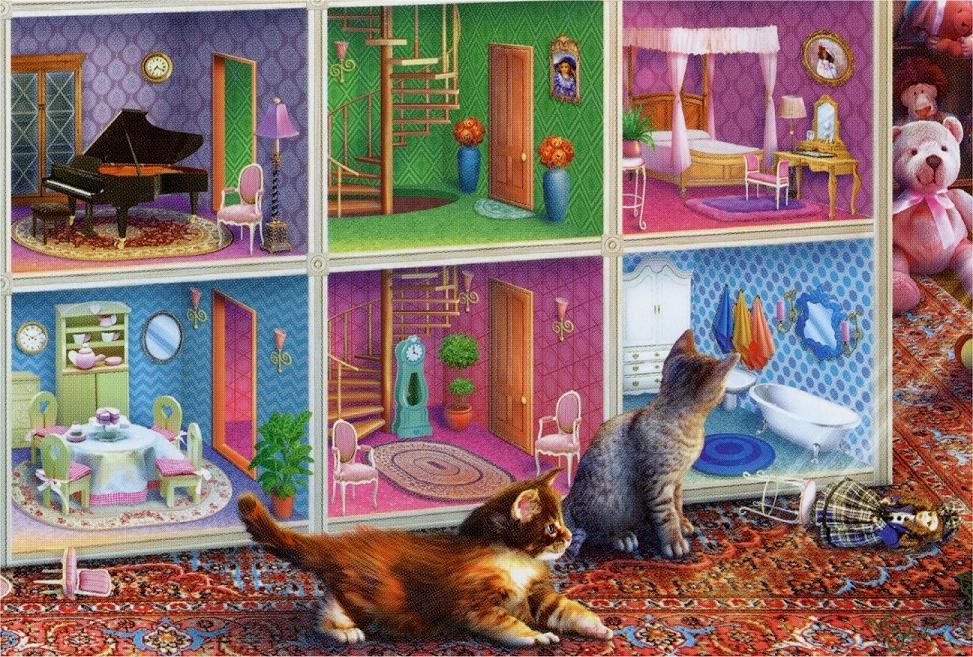 Every area of this puzzle had features that helped us put it together—The vertical tiles on the roof, the books in the bookcase, the unique wallpaper in each room. . . . even the clock at the upper left was unique.
Walden's Manor House
I've always enjoyed historical fiction, whether in movies or books so Walden's Manor House was an obvious choice. It reminded me of the TV Show Upstairs, Downstairs. In fact, the artist, Art Poulin, is quoted on the box as saying, "PBS is a mainstay in our home, especially the period shows produced by BBC. . . . I tried to capture not only the elegance of a manor home, and the attires of the time, but also the reality of social disparity between those living upstairs and those working downstairs." I think he succeeded.
There's not so much sky or roof that you spend hours trying to complete that area. Again, each room is unique with different colors.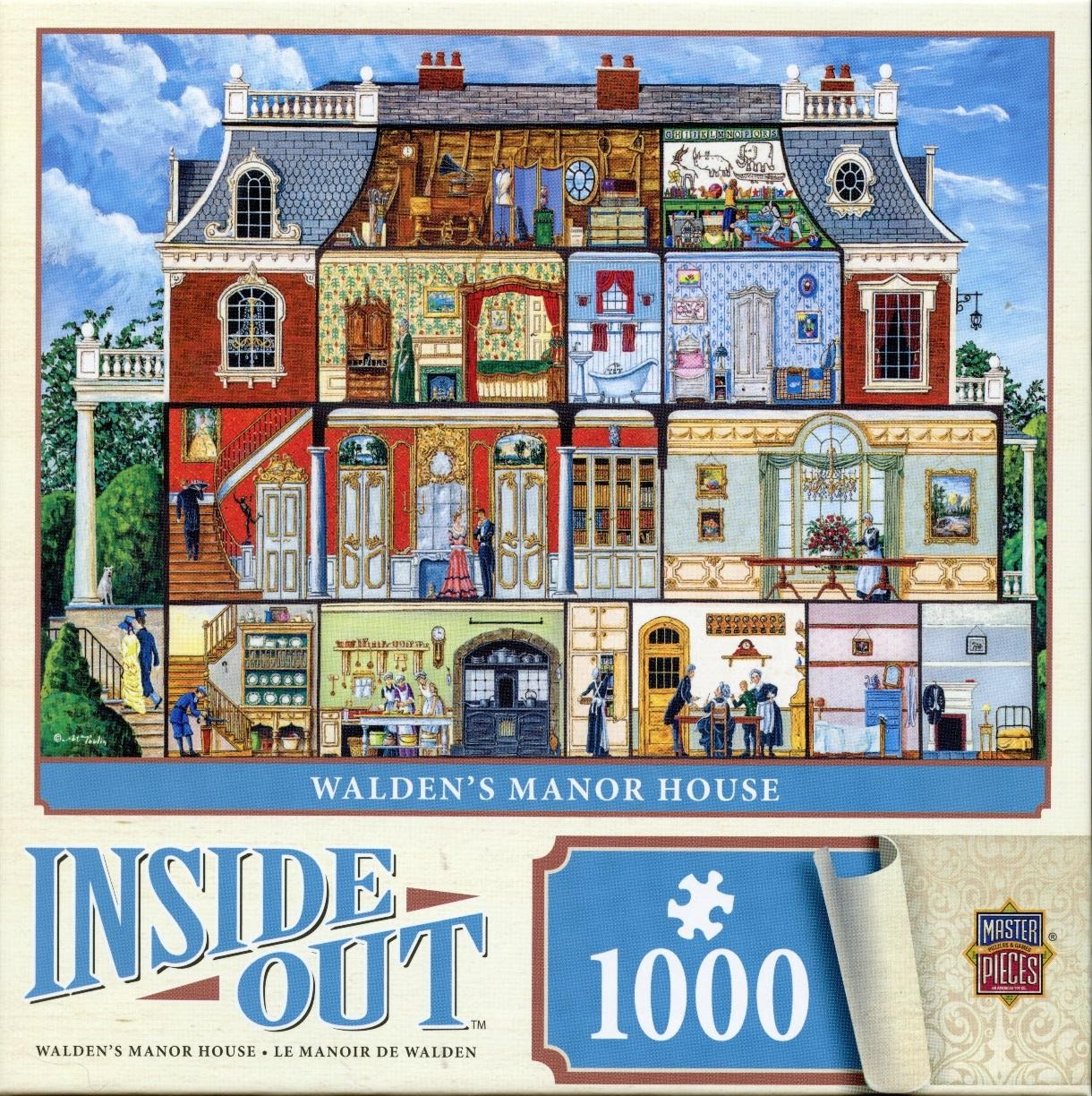 Walden's Manor House | MasterPieces | 1000 Pieces | 19.25 x 26.75 inches
The attic makes me wish I had an attic like this filled with "stuff"— perfect for rainy days, playing dress up, or discovering secrets in old, forgotten diaries. The nursery is filled with toys and don't you just love that "old-fashioned" tub that is now the latest thing in bathroom décor.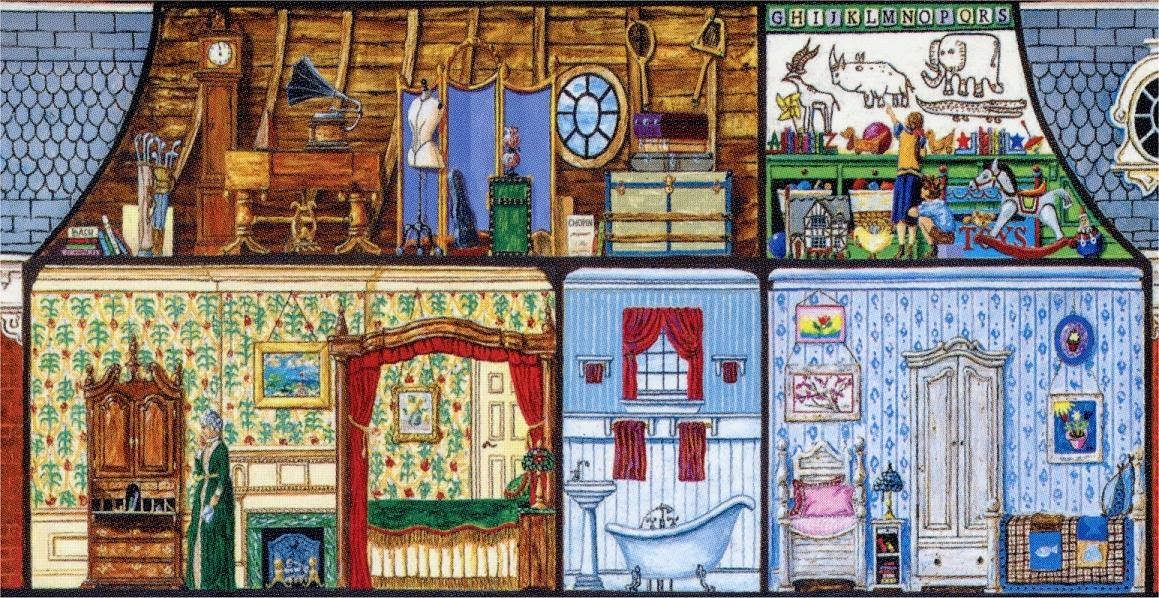 The downstairs makes you wonder what's going on? Plots? Gossip about their "betters?" Secret romances? Because you know, being "in service" usually meant you couldn't have much of a private life, so the lives of those who lived upstairs were of tremendous interest.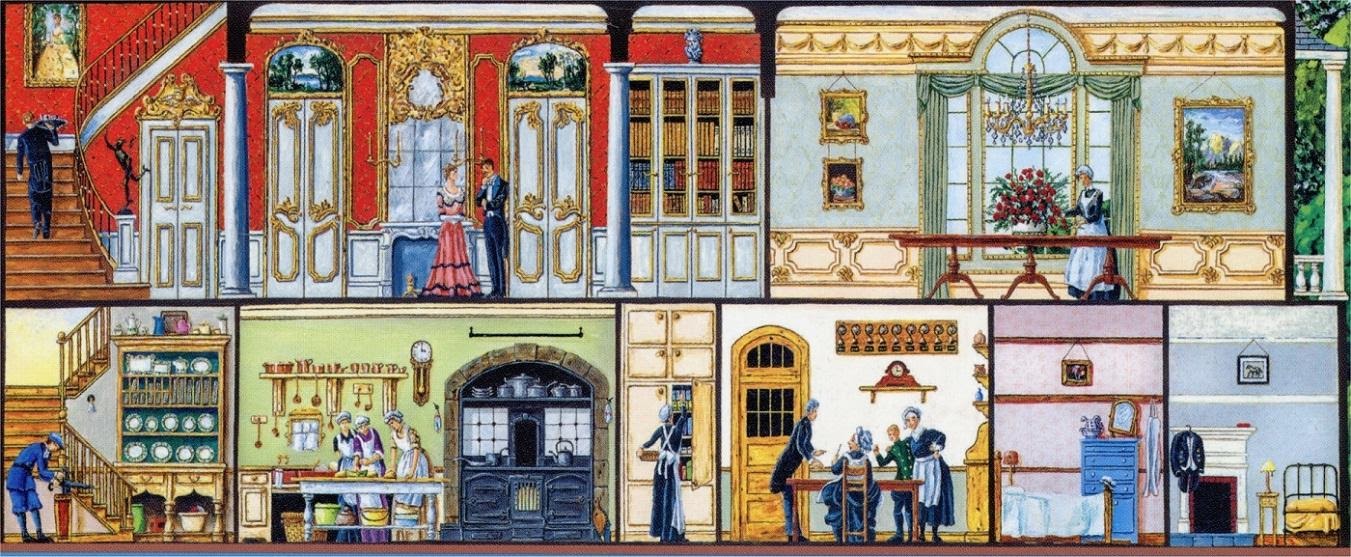 Field's Department Store
The department store puzzle is full of people dining and shopping. There's just so much going on.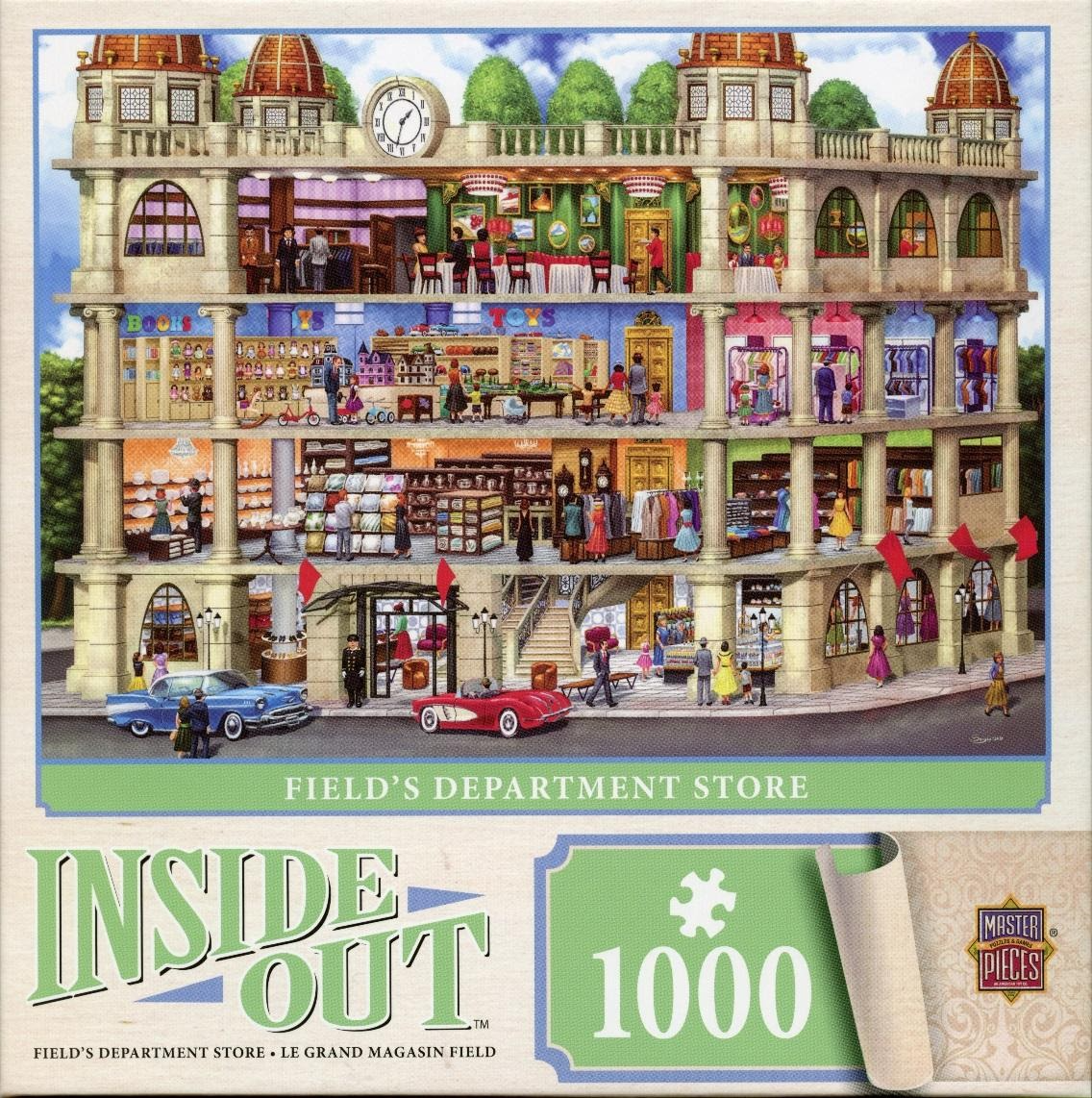 Field's Department Store | MasterPieces | 1000 Pieces | 19.25 x 26.75 inches
And again, the walls in each area are a different color which really helps you find the pieces you want. The upper levels have men's suits, fine dining, and a wonderful toy department—and clothes for everyone.

The lower levels have household items, shoes, and clothes, clothes, clothes. They even have a doorman. I don't think I've ever been in a store with a doorman – way before my time!

There is nothing on the box to indicate the artist is portraying the Field's Department Store that was started in 1852 in Chicago. Over the years Field's grew into a large chain and went through several owners and name changes. It was eventually bought by Macy's in 2005. I have chosen to believe this is that Field's Department Store.
Get your own cutaway puzzle and have fun seeing what's on the inside here!
Madelle B.