New Spring Releases- 2022
Spring is here! Our ambassador team is sharing their favorite Spring releases from all the best brands. Continue reading to see their recommendations!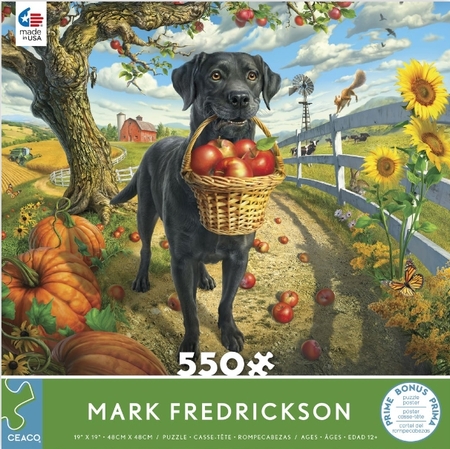 "Farmer's Friend" from Ceaco

"For me it's hard to go past a dog puzzle, and Mark Fredrickson is a master at capturing the spirit of man's best friend. The dog is obviously the star of this puzzle but I love all of the smaller details too, from the squirrel watching from the branch of the tree, right down to the sheen on the apples." -Rell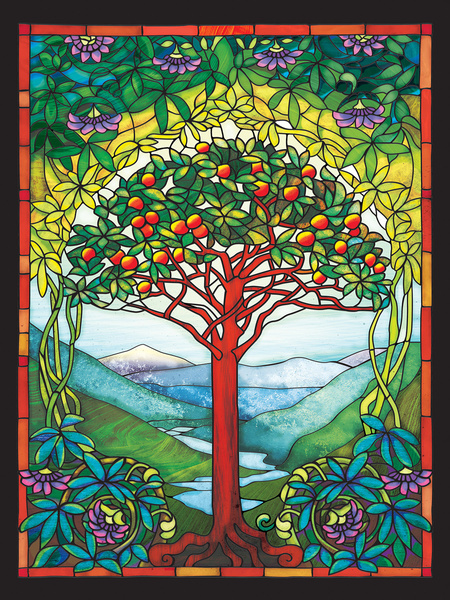 "Tree of Life Stained Glass" from Cobble Hill

"I'm a big fan of this puzzle because of the cheerful colors that are more bold than pastel, like when everything is first in bloom in the spring. The stained glass brings a vintage feel to the serene scene, bringing on the nostalgia of family trips once the snow melted and the breeze began to warm. At 275 pieces one can take their time really enjoying each flower petal, hillside, and fruit without being bogged down with a tedious task. This would be a great puzzle for a table in front of an open window, with sunbeams rolling in on the purple and blue flowers, bringing this tree to life." -Jenn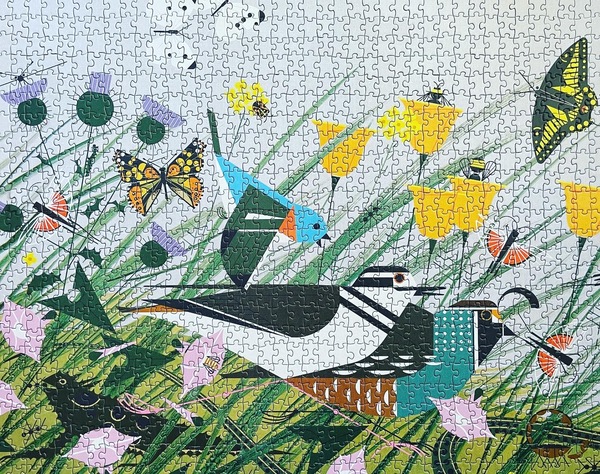 "Once There Was a Field" from Pomegranate
"'Once There was a Field' is a gorgeous new image from artist Charley Harper and Pomegranate puzzles. Charley Harper was an artist hailing from O-H (I-O), and even more, he was from my own city, Cincinnati! Pair his amazing and iconic artwork with one of my favorite puzzle brands, Pomegranate, and is there any question why I wouldn't want every single one of these puzzles? From the heavy, durable box to the thick, high quality pieces, it really doesn't get much better than Pom puzzles! Help usher in spring by gracing your puzzle board with this beautiful image!" - Amanda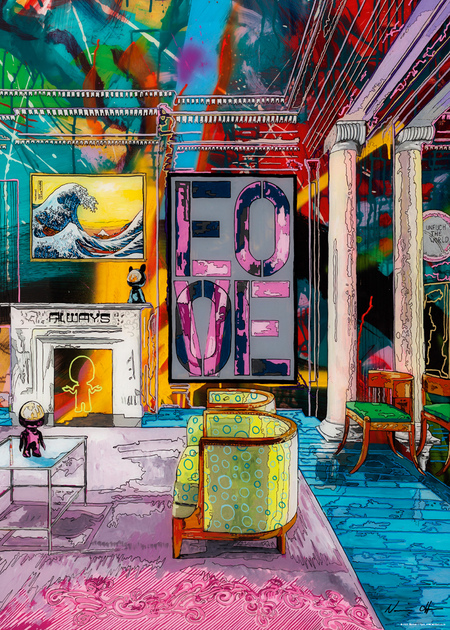 "Room with Wave" from Heye
"So many new releases, so little time! One at the top of my list is Room With Wave put out by Heye! This is a 1000 piece puzzle with the wonderful artwork of Norman O'Flynn, a South African abstract artist. The colours are vibrant and the room has a floaty feel, anchored by two beautiful classic chairs. There is a painting of a wave over the fireplace but the room actually appears to be moving, like a wave. Excited to start this one!" -Mary Ellen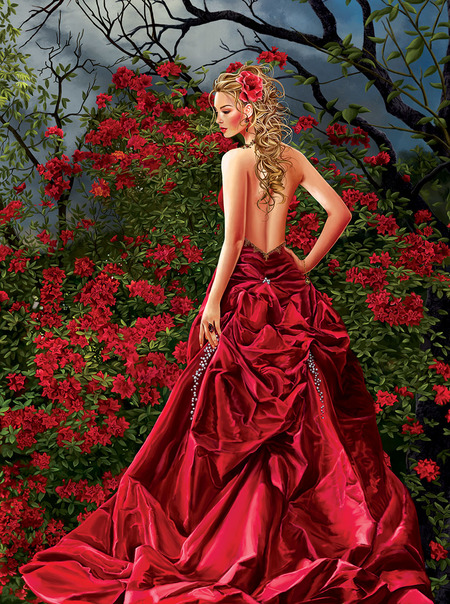 "Tais in Red" from SunsOut
"Nene Thomas specializes in romantic fantasy art and frankly, I don't know of anyone who does it better than she. The beautiful colors and incredible detail in her puzzles are just amazing. I'm afraid I am going to run out of adjectives to describe her work: stunning, breathtaking, spectacular, gorgeous. They are all of that and more. The flowers and details in the folds or drapes of the dresses add to the complexity of the puzzle. But they are also what make them so beautiful! These are puzzles to glue, frame, and hang on the wall." -Madelle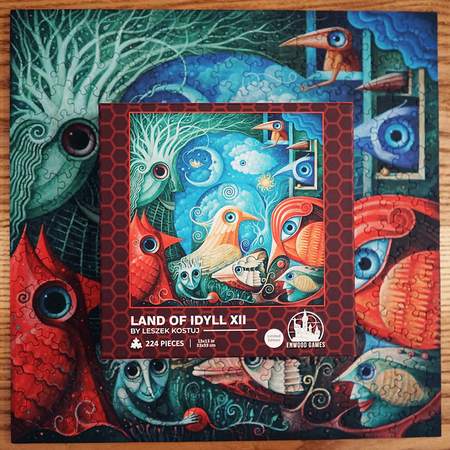 "Land of Idyll" from Enwood Games
"As soon as I saw the Leszek Kostuj art, I was drawn in. I love the big, bold eyes and calming blue hues that are accentuated with the pops of red. Taking this art to a new level, the puzzle pieces are silky soft and uniquely shaped. I have never seen a cardboard puzzle with hexagon-shaped pieces and immediately had to own it. With 224 pieces, this gorgeous puzzle is ideal for a quick and satisfying brain break."- Diane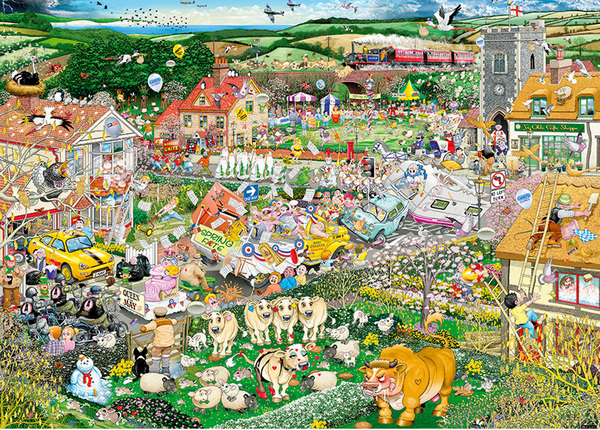 "I Love Spring" from Gibsons
"What is NOT to love about Gibsons "I Love Spring," 1000-piece puzzle by Mike Jupp, an award-winning artist who has won 1st Place for Jigsaw Puzzle Design at the London International Toy Fair, not once, but twice?! If you, like me, enjoy "busy" puzzles, this is the perfect pick for you. With every piece you place, you can't help but giggle over the latest antic you've just revealed in the picture. Surprises, delights and a truly quality puzzle with thick, durable puzzle board that is 100% recycled await." -Lisa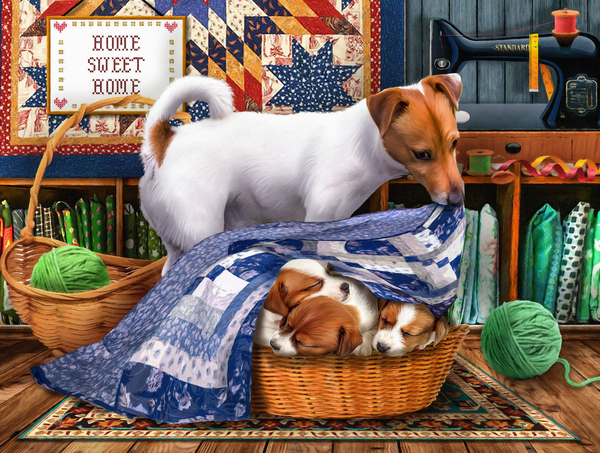 "Sweet Dreams My Little Ones" from SunsOut
"As soon as I saw this puzzle, I fell in love with it! I think it would be perfect to assemble around Mother's Day. And you can't go wrong with SunsOut, they make quality puzzles with pieces that have a smooth feel and fit together nicely." -Angel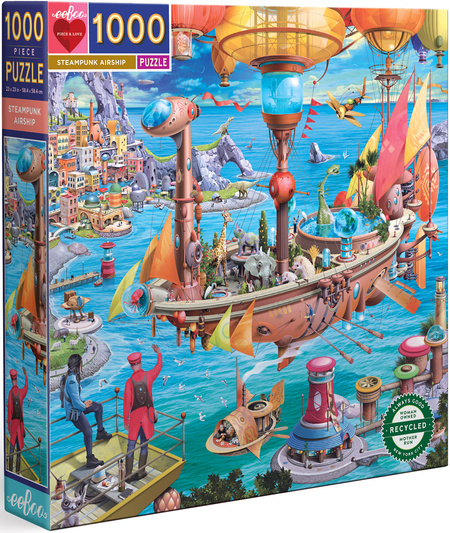 "Steampunk Airship" from eeBoo
"Eeboo consistently mixes it up for every new collection, and this year's Spring release is no different! Their "Steampunk Airship" from artist Mark Rogalski is unlike anything I've seen from them. The fantastical science fiction scene is an absolute delight for the eyes. I love the bright colors and the whimsical touches. Something fascinating catches your eye and then you notice another detail that is even more amazing! Eeboo really hit it out of the park with this one." -Gaby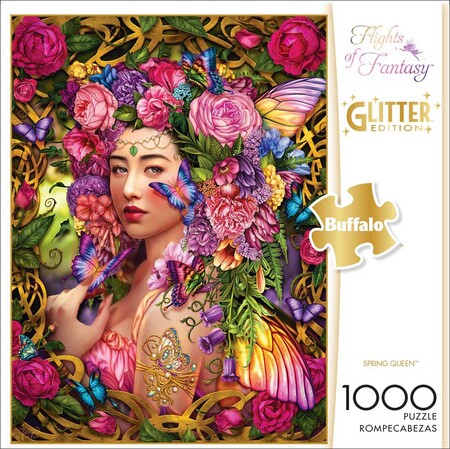 "Spring Queen" from Buffalo Games
"Of all Brigid Ashwood's seasonal fairy queens, Spring Queen is my favorite. Assembling this gorgeous puzzle is like watching spring unfurl itself from the last vestiges of winter. As the explosion of colorful flowers and butterflies come together, you can practically smell the fresh new season in the air!" -Sarah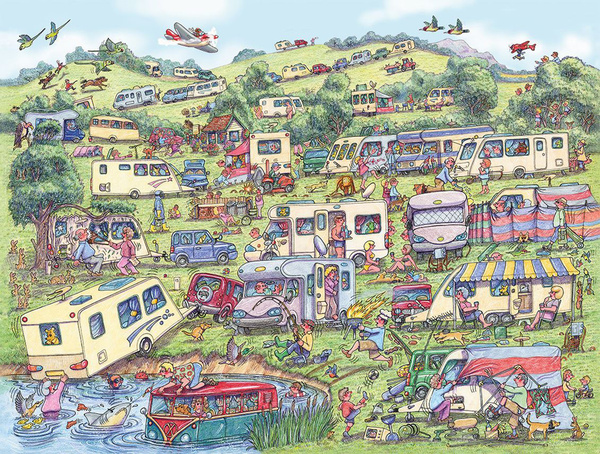 "Crazy Caravan Site" from All Jigsaw Puzzles
"Spring is around the corner and that means it's time to start planning some warm weather trips! Crazy Caravan Site caught my eye because of the bright patterns and the fun loving theme. This puzzle reminded me of all the mayhem that goes along with camping … envying your neighbor's perfect set up while trying to fish your own gear out of the water, tree, and/or mud! I recently tried All Jigsaw Puzzles as a brand and was super pleased with the non-glare matte finish and the soft texture of the pieces. This puzzle is definitely going on my wish list!" -Tracy
Let us know which Spring release you're most excited for in the comments below!