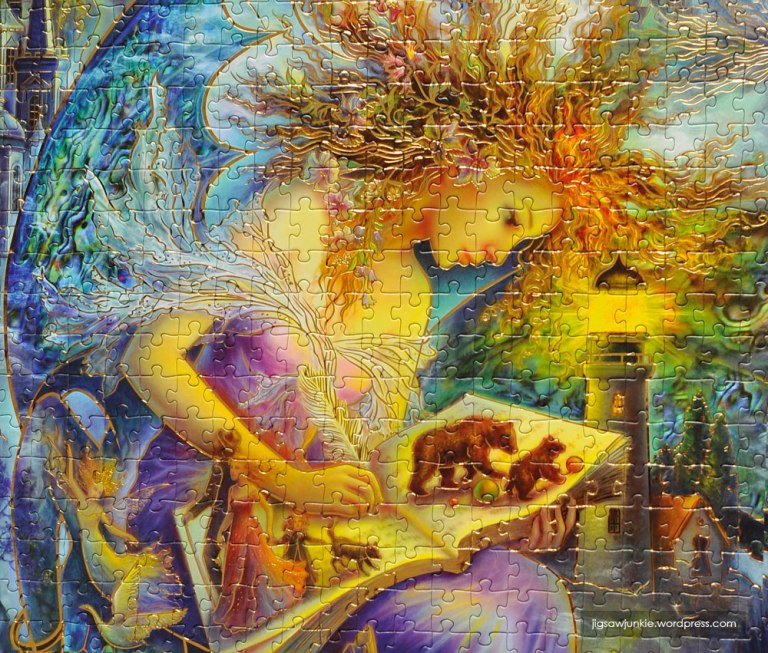 Review: "Goldenline: Fairy Book" by Lafayette Puzzle Company, 8/10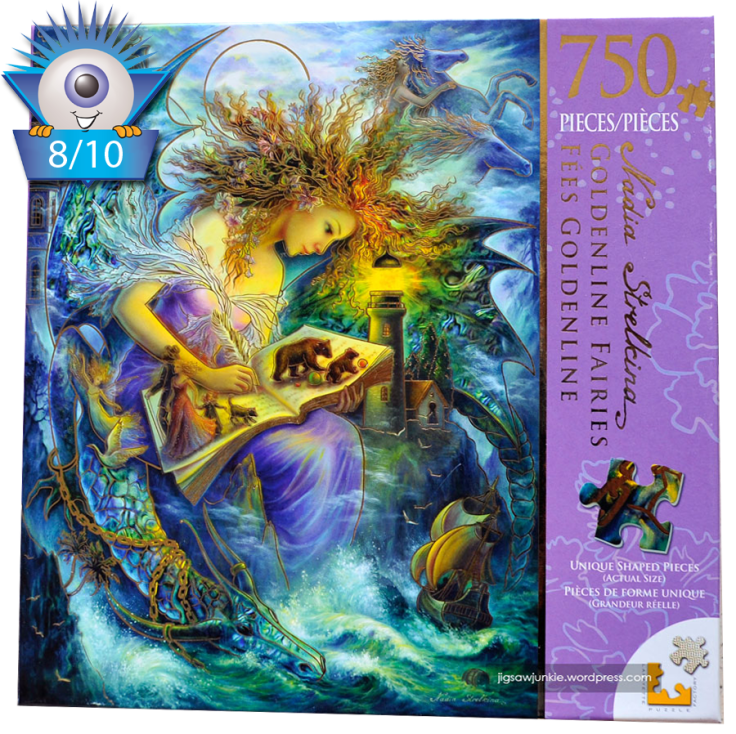 Publisher: Lafayette Puzzle Company (US), ~2012?, 750 pieces
Title: "Goldenline Fairies: Fairy Book" Artist: Nadia Strelkina
OUR RATING: 8/10
Those of you who follow my blog know that I have a soft spot for metal foil in a puzzle. So when I saw this foil series called "Goldenline Fairies," I wanted to check it out. This puzzle is made by a puzzle company I've never tried before, Lafayette Puzzle Company, which is based in Lafayette, Indiana USA. Since I have been testing various puzzle brands, I decided to give this a go. I'll be putting up a brand comparison page for Lafayette too.
Box Quality:
This box is small and square, similar to those from Buffalo Games or Ceaco. The size is 8″ x 8″. Since this box is for a 750 piece puzzle, I'm not sure if their 1000 piece puzzles come in the same size box or slightly larger. The front of the box has a very attractive design (see above).
The back of the box (see below) has information on this series and the artist, which is very nice. Note that this box has a paper seal. I quite dislike paper seals, because I like to keep and collect puzzles, and I don't like having to damage the box just to get it open. It makes the puzzle feel cheap to me, and I honestly was expecting the quality of this puzzle to be less than it was given this box seal. I would prefer just a round clear tab seal if there is no shrink wrap.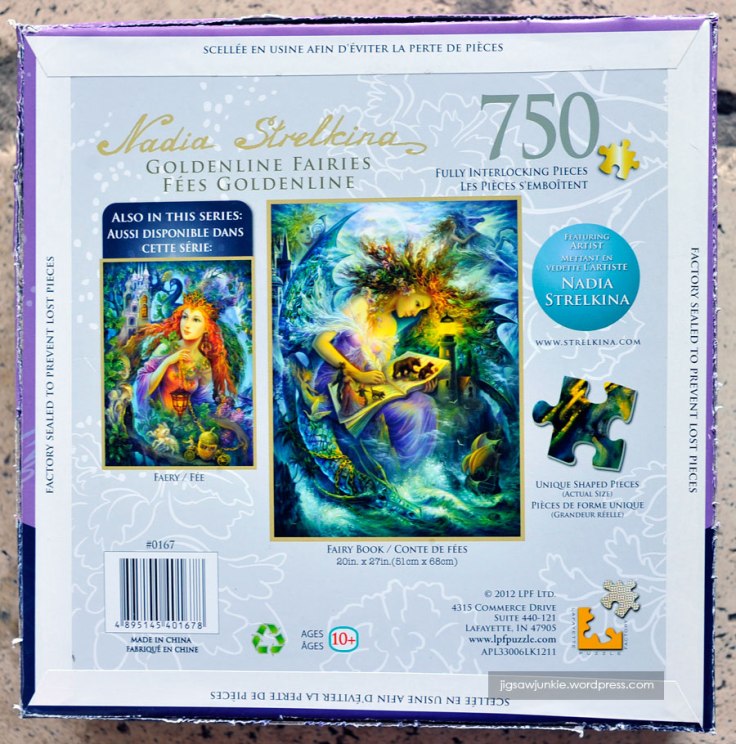 The box sides are nicely designed for vertical shelving with the puzzle image, series name, and piece size all very visible on all sides. Interestingly, the Lafayette logo and name is nowhere to be seen, which would be nice info to have on the sides.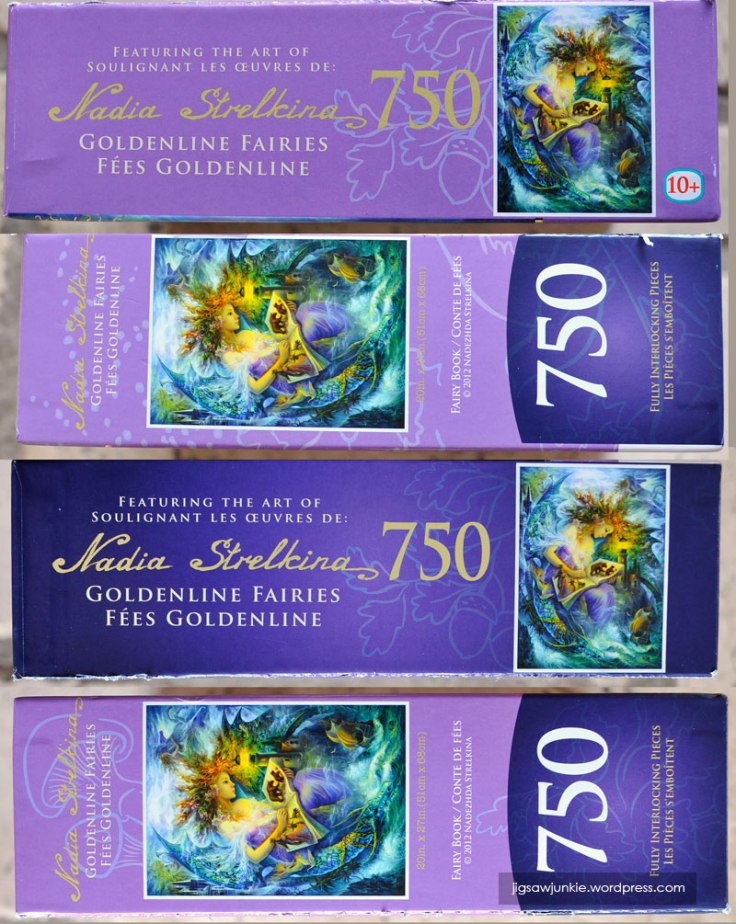 Box Contents:
The box only contains the bag of puzzle pieces. However, there is little to no puzzle dust, the pieces were fully separated and there was no sign of image lift, piece warp, hanging chads, etc.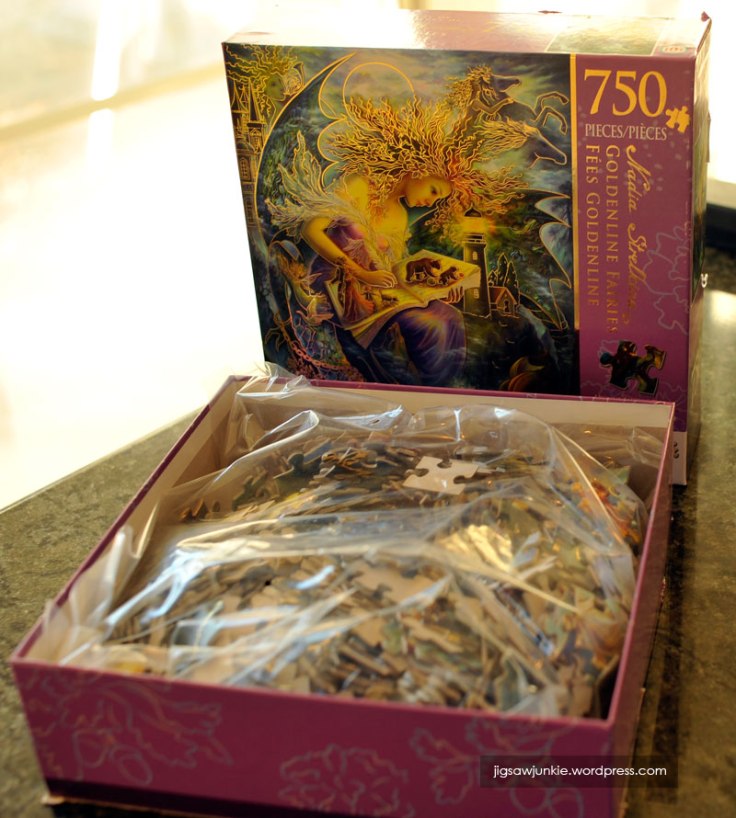 The Image:
As fantasy images go, I find this one very attractive. I love the bold colors and, of course, the gold foil. There is a LOT of gold foil in this puzzle. Most everything is outlined in gold and there's lots of gold in the fairy's hair, the sea waves, etc. Quite nice. The image is very 'loose' and the colors do tend to blend together, particularly under strong light. More on that later.
Puzzle Quality:
I was pleasantly surprised by the quality of this puzzle. As soon as I opened the box and felt the pieces, I knew I would order the rest of the puzzles in this series. I'll get into details in my brand comparison, but the pieces are slightly larger than Ravensburger. While they are not as thick as Ravensburger, they aren't too thin. They feel sturdy in your hand and aren't easily bent. They have a glossy finish which is attractive but is subject to light glare. The image is solidly adhered and of excellent quality. There was no puzzle dust and no pieces damaged in any way. I particularly like the bright colors on this puzzle and the copious amounts of gold foil.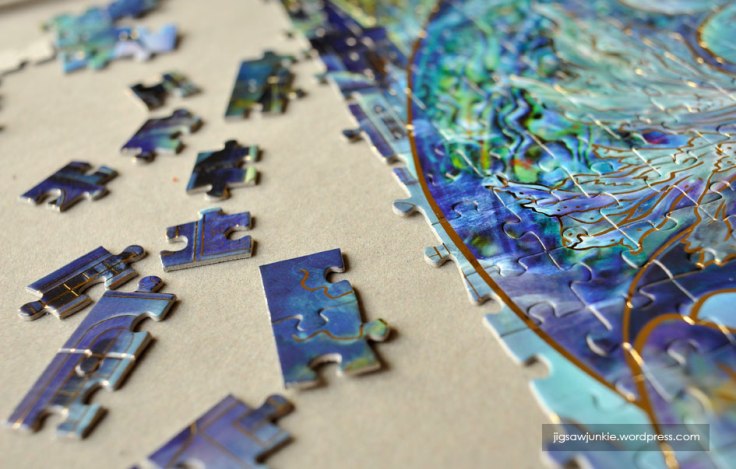 Piece cut:
The piece cut is a standard grid with a good variety of shapes. I never had any difficulty determining if a piece fit or not.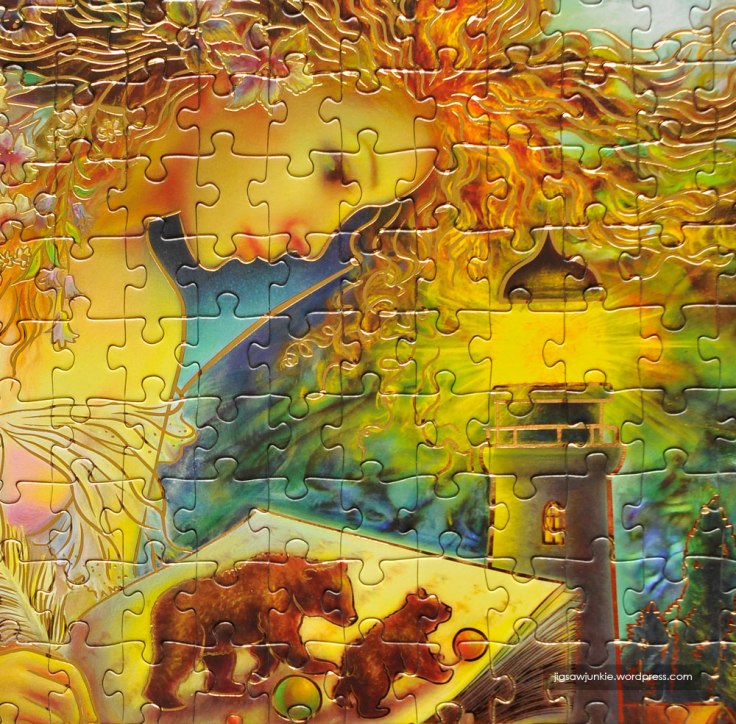 Assembly:
This puzzle is of medium difficulty. Although it's only 750 pieces, it's not easy. All the blues and purples tend to be a bit hard to distinguish under artificial light if you work on the puzzle in the evening, as I do. The glossy finish on the pieces adds some light glare to this challenge. But overall, I did it in two evenings so it really wasn't particularly difficult. The piece fit is good and it's a pleasure to assemble it.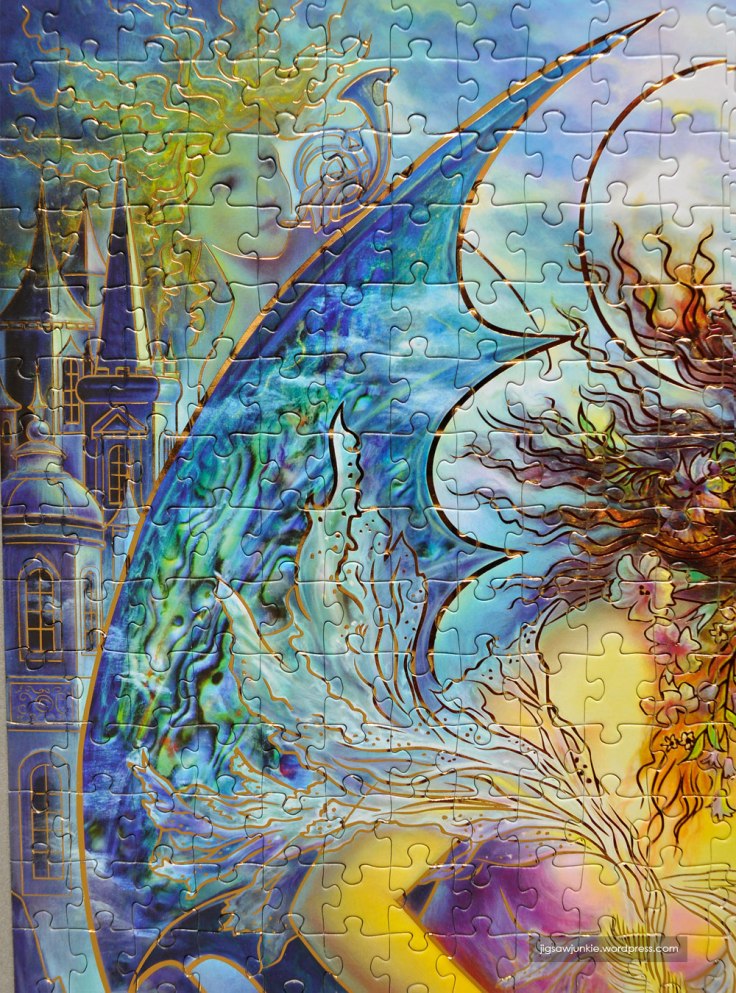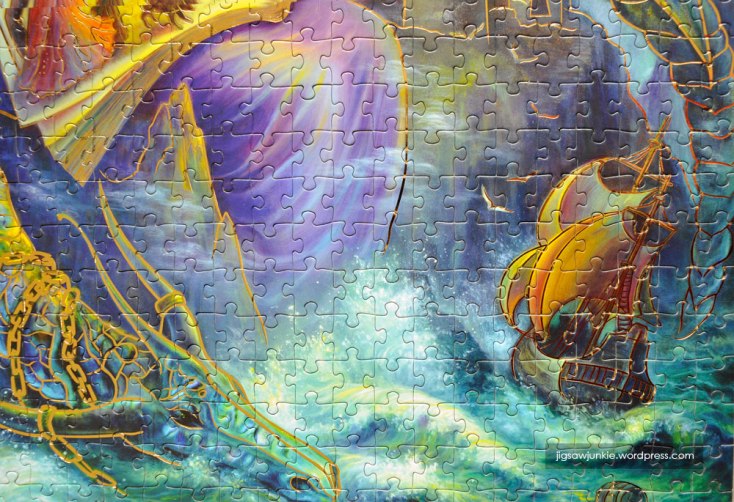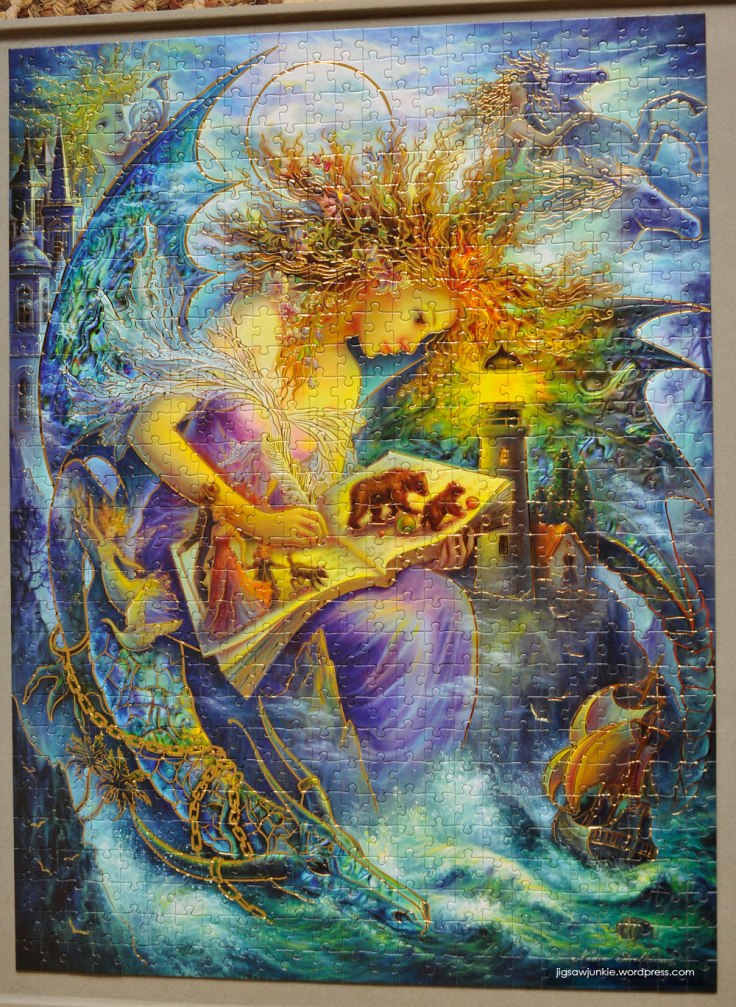 Conclusion:
If you like foil puzzles, or fantasy, this "Goldenline Fairies" puzzle series from Lafayette is recommended. Have at it!
JJ