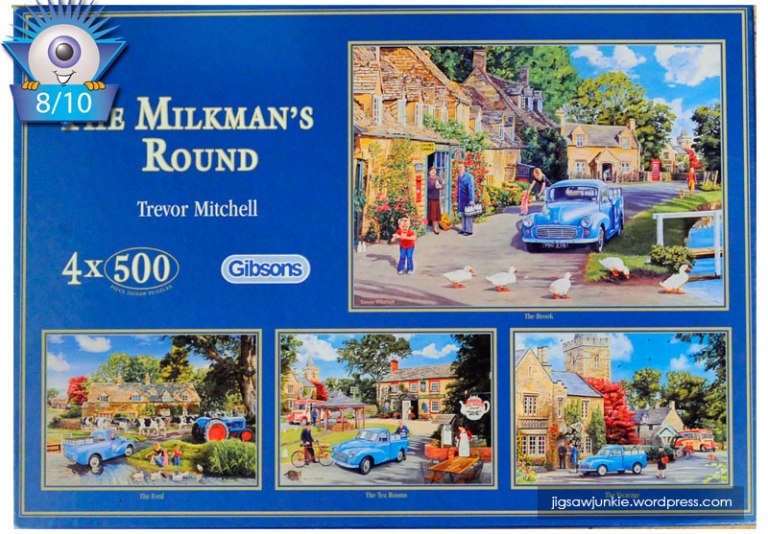 Review: "The Milkman's Rounds", Gibsons, 8/10
Publisher: Gibsons (UK), no date on box–around 2011?
Title: "The Milkman's Rounds", Artist: Trevor Mitchell, 4×500 pieces
OUR RATING: 8/10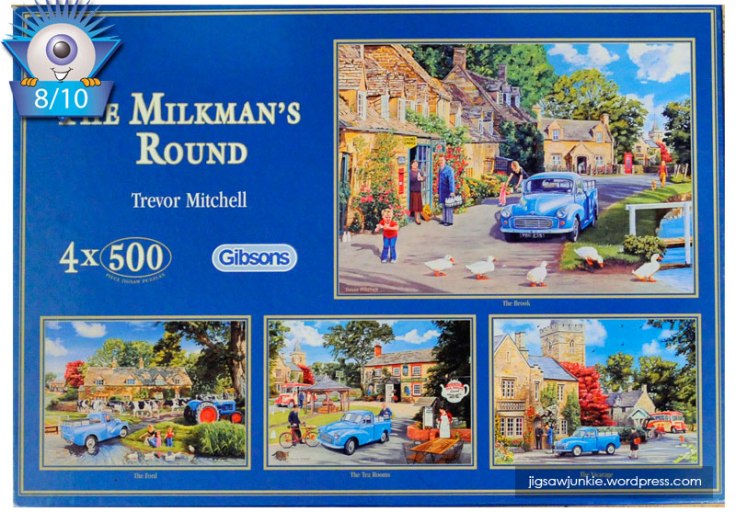 I've been wanting to try taking one of these Gibsons 4×500 piece sets and doing all four at the same time. I generally prefer 1000-2000 piece puzzles, so combining them makes a good challenge. All four fit at the same time on my 2000-piece jigboard.
Box Quality:
Gibsons has truly beautiful boxes. The box is very sturdy and in that trademark Gibsons royal blue. You can see the front above. Below is the back, which features the 3 smaller images on the front of the box in a bigger size. This is quite helpful when you're assembling the puzzle.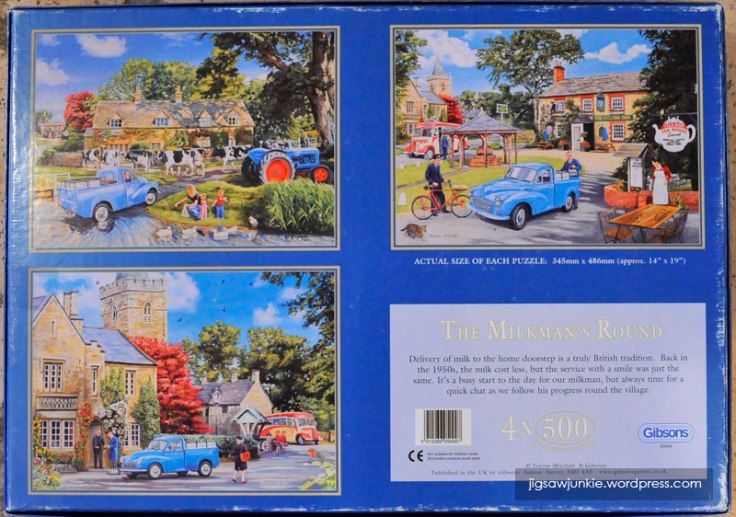 All four sides of the box feature the name of the puzzle and artist, the Gibsons logo, two of the images, and the 4×500 size count. This is quite useful for easy reference when shelved.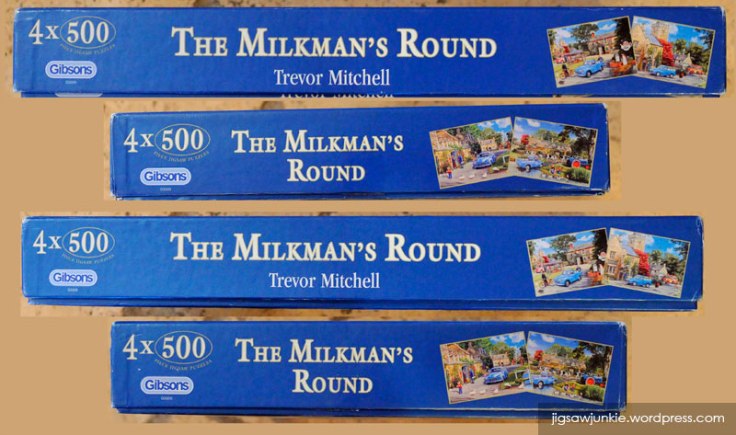 Inside the box there's are four bags of puzzle pieces, one for each 500 piece puzzle. Each bag has a small black and white tag showing which puzzle image it contains. Gibsons puzzles have almost no puzzle dust and pieces are fully separated.
The Images:
Trevor Mitchell specializes in British nostalgia, and he has quite a loose art style. Normally, I'm attracted to tighter, more detailed art like Heye, JVH, or Steve Crisp.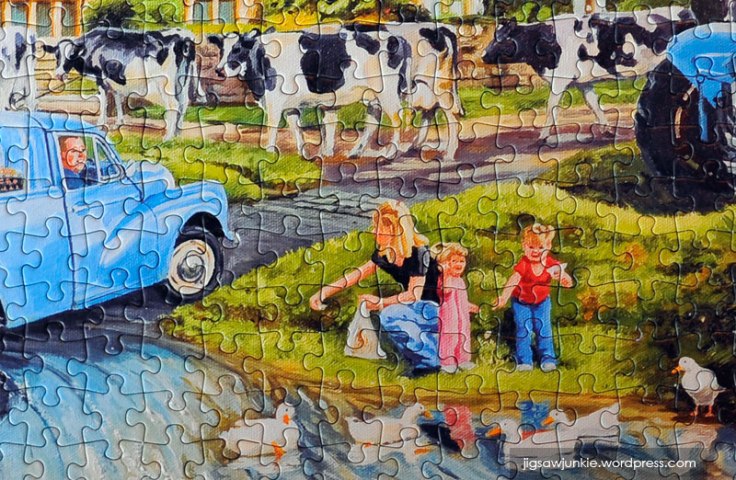 However, I do like Trevor Mitchell's puzzles, because he manages to depict a simple, charming rural England that reminds me of so many of my beloved English classics and murder mysteries. The idea behind this boxed set is quite cute. A milkman–you know, the guy who delivered glass bottles–is making his way around the village dropping off his milk. So each of the 500 piece puzzles is a different scene in the same village. Overall, I like the images, and the concept, a lot.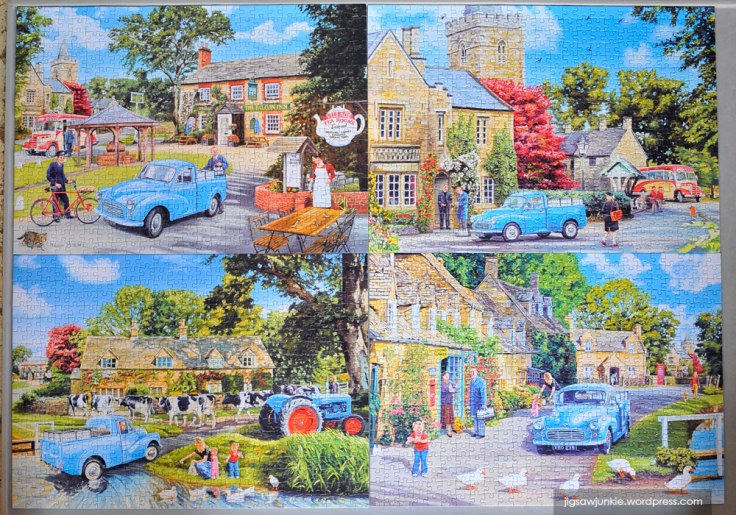 Above: All four puzzles side-by-side on my jigboard. They're more impressive and interesting together.
Puzzle Quality:
Gibsons has very thick, wavy-feeling pieces that I really enjoy working with. They're one of my highest ranked brands. You can see our Gibsons brand comparison here. Their piece cut is a standard grid and, while there is some piece variety, one trademark characteristic of Gibsons is that pieces are similar enough that they can appear to fit where they do not. Especially in areas like the blue sky in these puzzles, or green leaves, you may find yourself thinking you have a piece laid only to discover, when you go to put in the piece adjacent, that the first piece doesn't go there. This definitely makes their puzzles a little more challenging, though for me it's a bit of a detriment.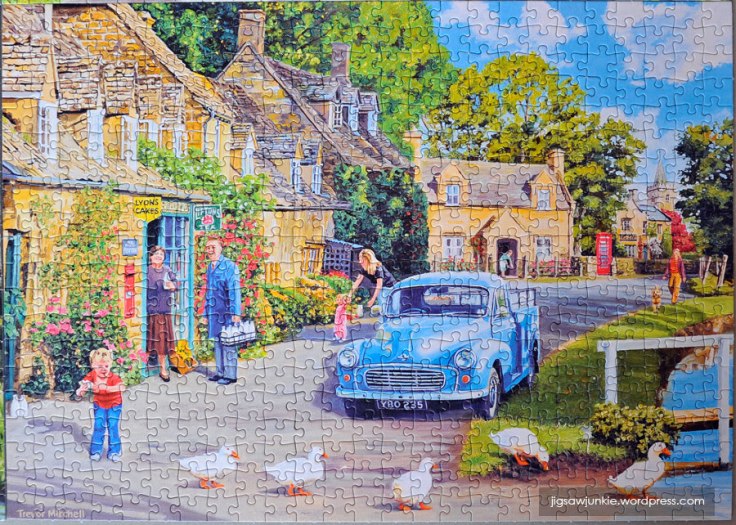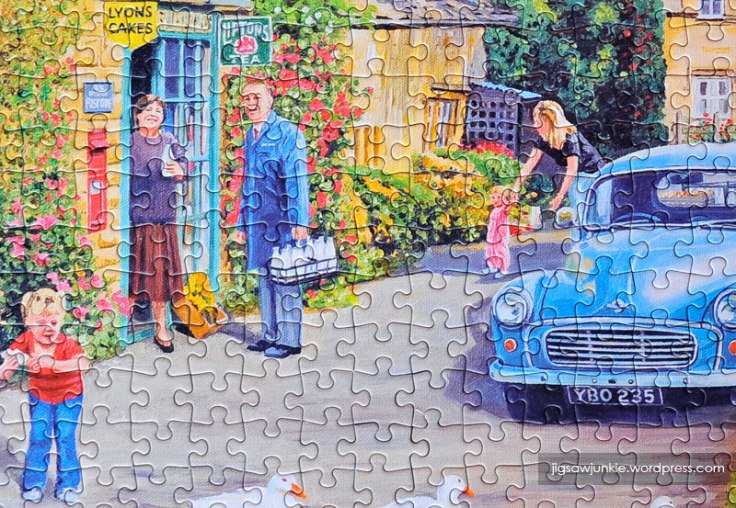 Above: Asking the age old question, why did the ducks cross the road.
Assembly:
If you do the individual puzzles separately, this is an easy set. Mixing them together, it's of medium difficulty. The biggest challenge is the blue sky and green leaves, which are in each of the four images in the same shades. Add in the fact that Gibsons pieces can look like they fit where they don't, and it can be quite tricky getting the skies and trees laid in the four puzzles. Of course, if you do the puzzles individually, it would be much less onerous. The blue milkman's truck is also in each of the four puzzles, but I liked figured that out, which angle the truck was at and thus which picture it was in.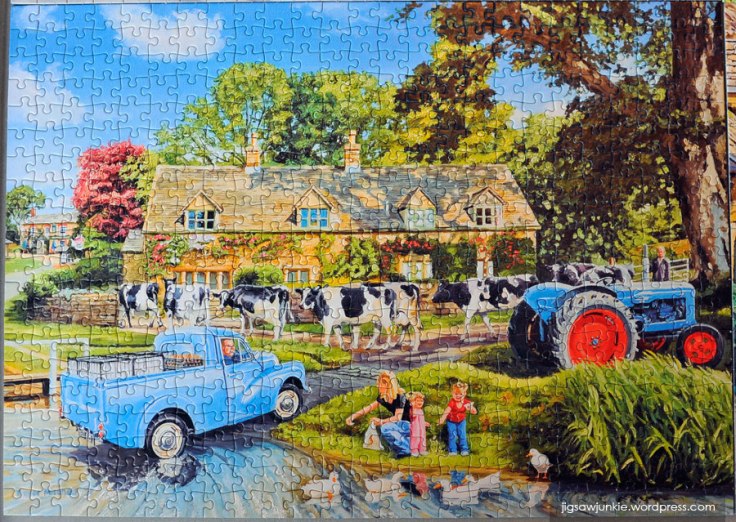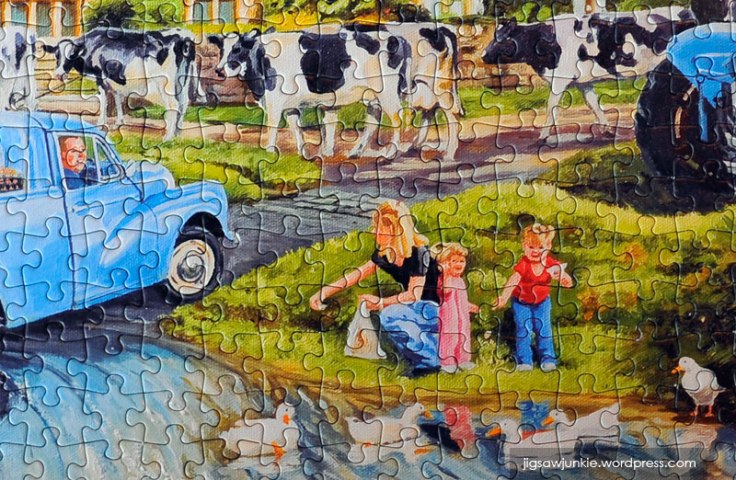 Above: That mom and kids appear to be stalking the milkman since they appear in a few of these images in different parts of town. Or maybe they're stalking the ducks.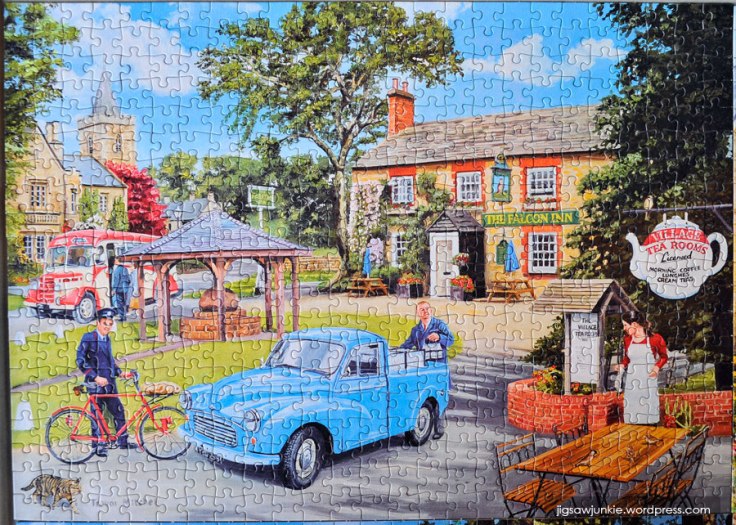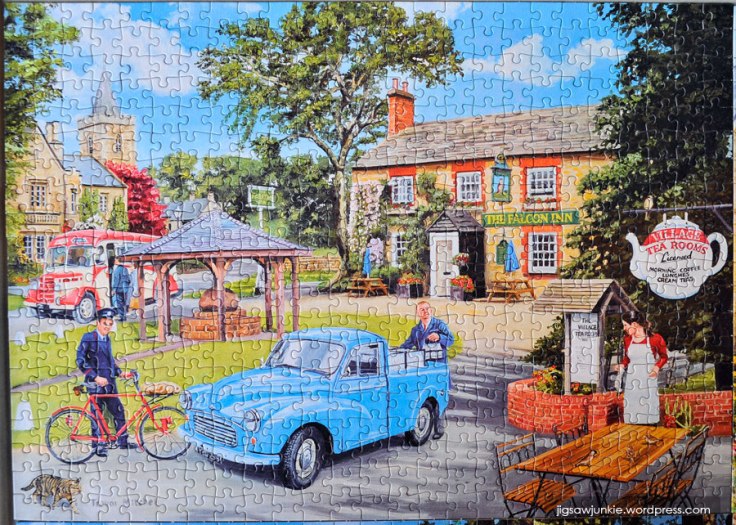 Above: Personally, I think the milkman has a thing going with the woman from the tea room, but I could be wrong.
.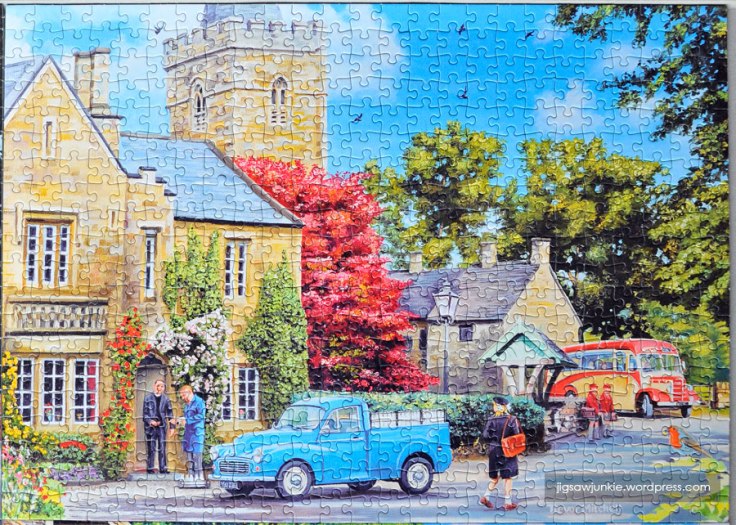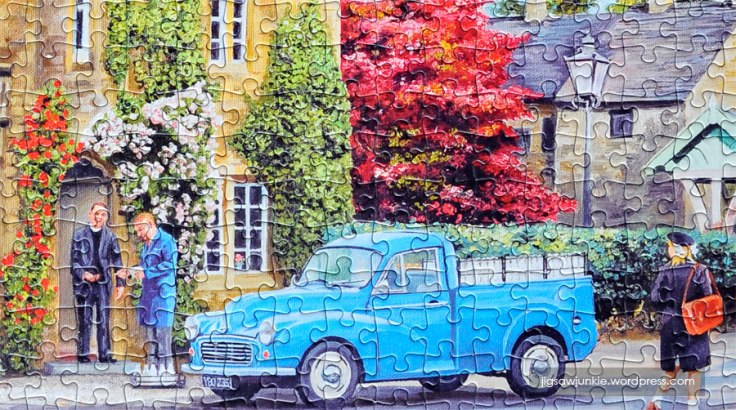 Above: The milkman pays off the vicar and the vicar is exceptionally happy about it.
Conclusion:
If you enjoy British puzzles, this is quite an interesting set to add to your collection. I plan to mount all four pictures together just because. This set must have been quite popular for Gibsons because they have produced several more since in the same vein, also by Trevor Mitchell. See below.
JJ