Review: "Tall Ship Chaos" by JVH Studios, Jumbo — 9.5/10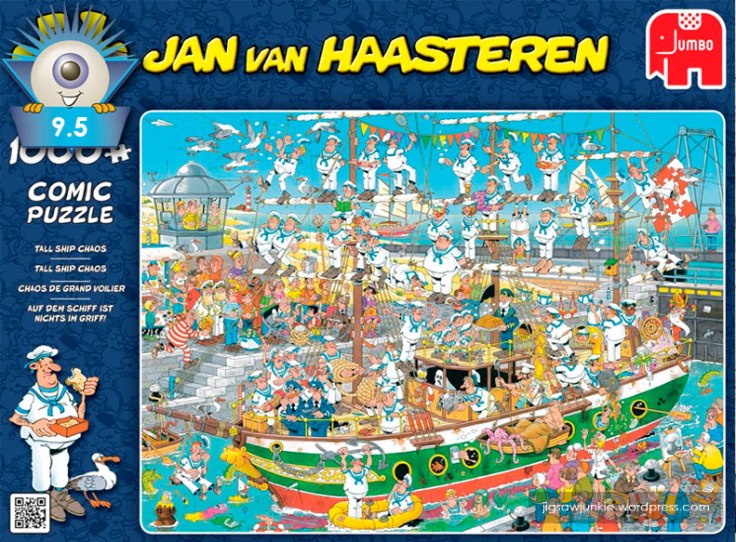 Publisher: Jumbo (Netherlands), published Feb 2015
Title: "Tall Ship Chaos", Artist: Jan Van Haasteren Studios (Rob Derks), 1000 pieces
OUR RATING: 9.5

This is one of my favorite of the new 2015 images. I love JVH puzzles and this one is particularly nice. First, it's a brand new image from JVH Studios (and done by Rob Derks). Second, it's colorful and very appealing. After putting the puzzle together I still think it's one of the best of Winter 2015!
Box Quality: (8/10)
The only thing that didn't get a perfect score from me in this review is the box. The exterior of the box is perfectly nice. The box is very sturdy, as always with Jumbo, and the front and sides have a design that's similar to all their JVH puzzles, which I like. It's nice to have a set or series with matching boxes. The front of the box (above) is very attractive.
The back of the box, shown below, is a generic JVH back. It does show a few other JVH puzzles but they're older ones, not other new ones like "The Escape" or "Clash of the Bakers". I'm surprised they did not put a more updated back on this puzzle.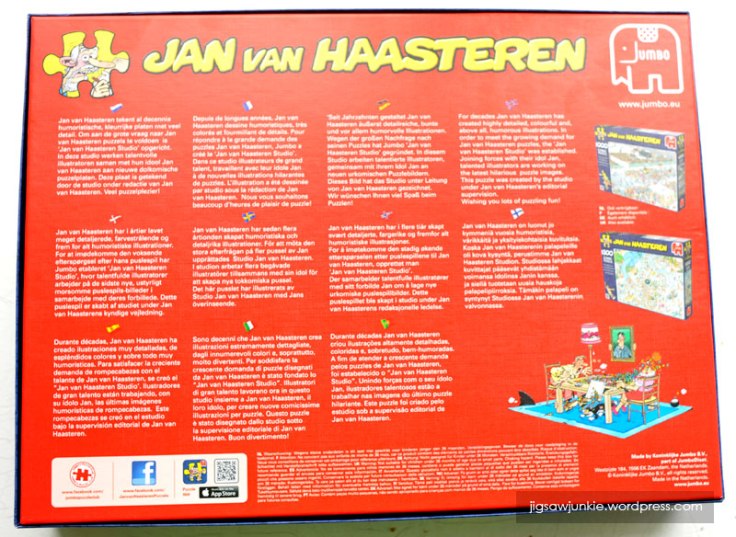 Sides:
The sides of the box are great for shelving. There's both a long and a short side that show the JVH logo, piece count, Jumbo logo, puzzle image, and the title of the puzzle. I like to have the title on the shelving side because I shelve JVH alphabetically by puzzle title. I also really like that they have, not only the year, but this: "2015/3" showing it's the third puzzle released this year, I think. That's great for collectors! So thank you for that, Jumbo!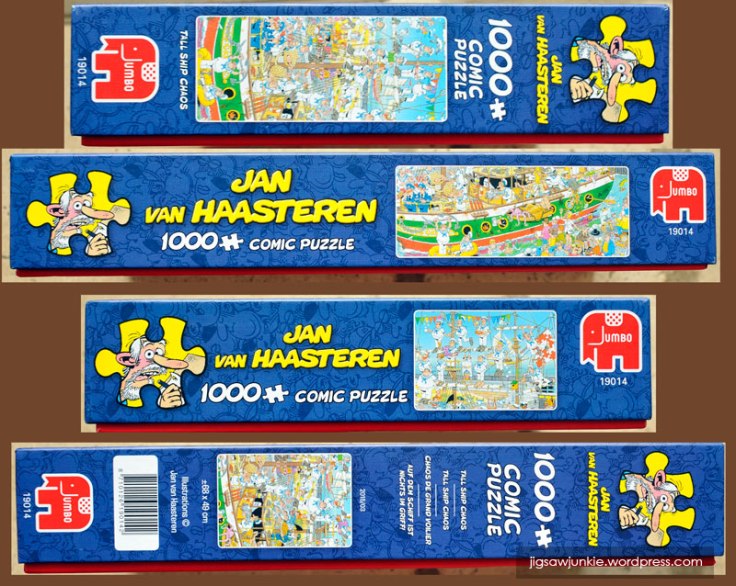 Inside:
Inside the box contains nothing but the bag of puzzle pieces. This is a missed advertising opportunity to me. A mini-catlog or even a single sheet about the JVH puzzles would have been nice. The box should at least have a missing piece warranty slip.
Puzzle Quality: (10)
You can see my Jumbo brand comparison here. In short, this is an excellent brand and one of our highest ranking. Though the puzzle cut is a standard grid, which I don't like as well as a random cut, there's a wide variety of piece shapes, never confusion over whether a piece fits or not, thick pieces, a special 'seamless fit', and a nice matte, non-glare finish. You can't go wrong with a Jumbo. This puzzle is no exception.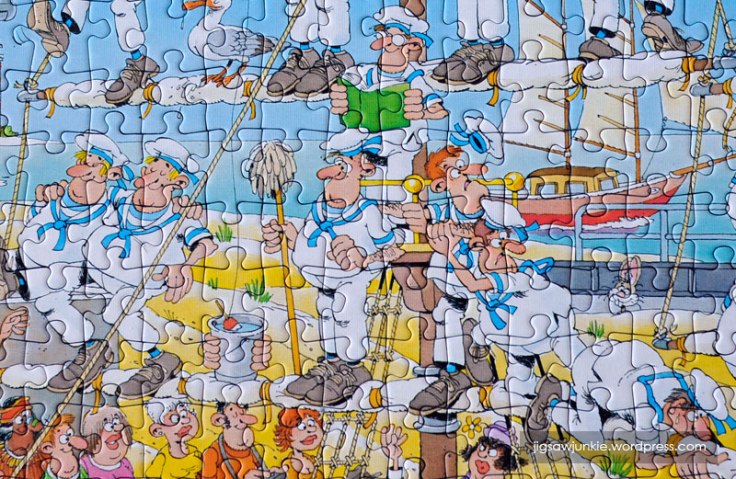 Click on the picture above for a close-up
The Image: (10)
This image is a winner for me. This image, and "Clash of the Bakers" (which I review here) were both drawn by Rob Derks, a cartoonist who is part of the Jan Van Haasteren studio. He also does the "Pieces of History" series. JVH puzzles have been around a long time (they had their 30 year anniversary lately), and they've always been known for very busy cartoon scenes peopled with lots of figures and sight gags. I find images like "Tall Ship Chaos" to be ideal because, although there's lots going on, you can still see each figure clearly and there's some space in the composition. It's not a huge crowd like some JVH's. The colors are also bright and appealing in this image and the sailor theme is fresh and new.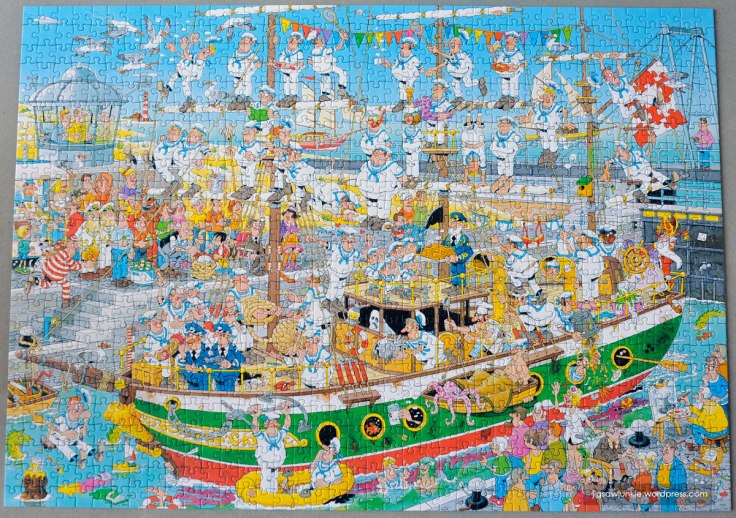 Assembly: (10)
I'd rate this as medium difficulty. As with most JVH puzzles, you need to refer to the image on the box lid often rather than just assemble large areas of similar texture/color by sight. In this puzzle, there are some areas you can assemble by color alone — the green and red boat and some of the blue sky. But I really like that there are so many sailors in the blue and white uniforms. It adds that extra challenge when you have a piece that has a uniform on it, trying to look at the lid and figure out which sailor it is.
This puzzle took me two evenings and I really enjoyed it. Full marks for assembly on this one!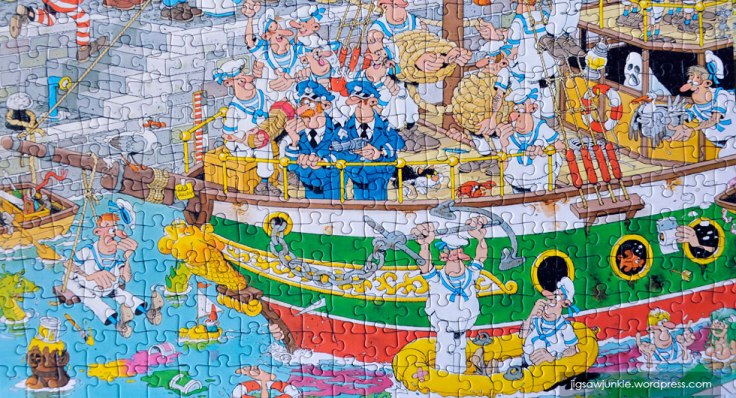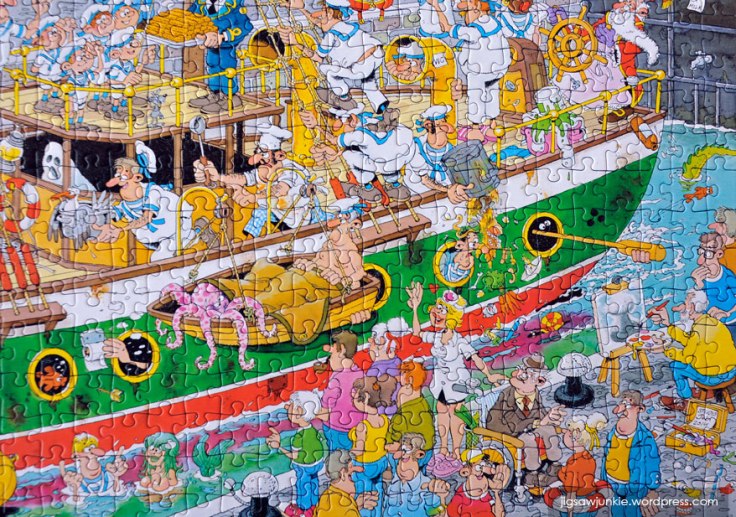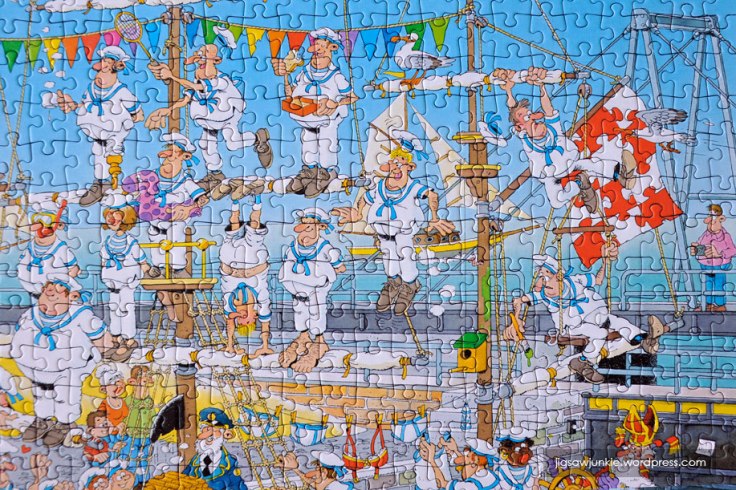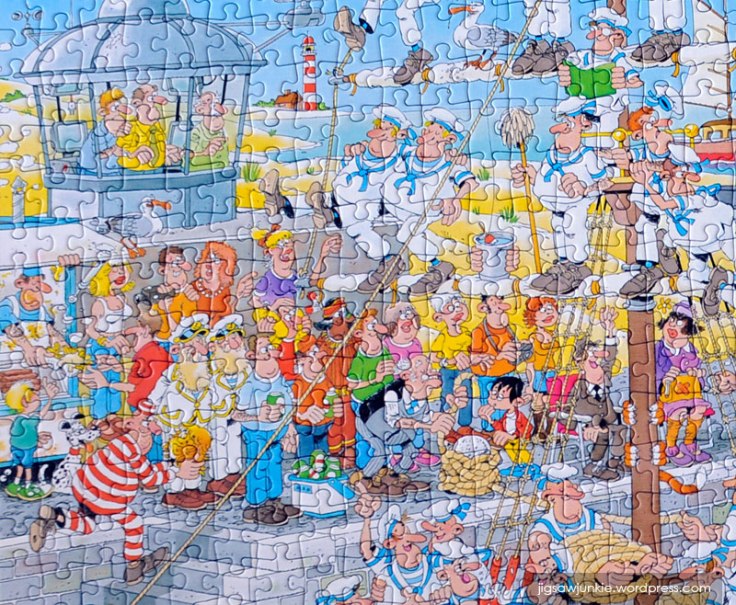 Conclusion:
If you already like JVH puzzles, this is a wonderful new addition to the series and a must have. If you have never tried one, this one would be an excellent place to start. Highly recommended!
Final Score:

JJ