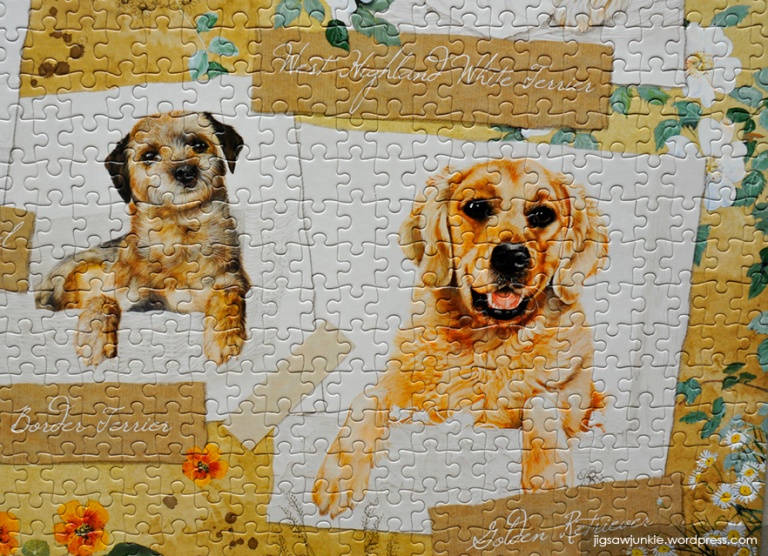 Review: "Classic Companions" by Polly Pickering, Otter House – 9/10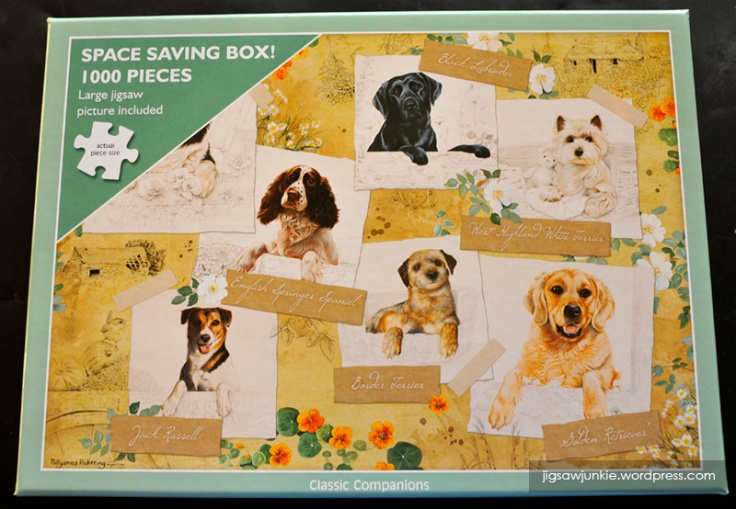 Publisher: Otter House (UK), 2016
Title: "Classic Companions" byPolly Pickering, 1000 pieces
Review by Jane
OUR RATING: 9/10

Box Quality: (9/10)
The box is shown above and below. Otter House has "space saving" boxes, which are smaller in size, sturdy, and nicely designed. I like the smaller sized box, especially since it comes with a poster inside so you don't have to work with a smaller box image.
Back:
The back of the box is blank white.
The sides:
Three sides are the same with the image and Otter House logo. One side has copyright info. This is the only place where the artist's name is shown. It also shows the year of manufacture, which is nice.

Inside the box:
The box contains the bag of puzzle pieces (in excellent condition), a small warranty card, and a poster of the image. The poster is likely provided because of the "space saver" box, which is smaller. I used the poster while working the puzzle and it's a good size to work with. The back of the poster is white.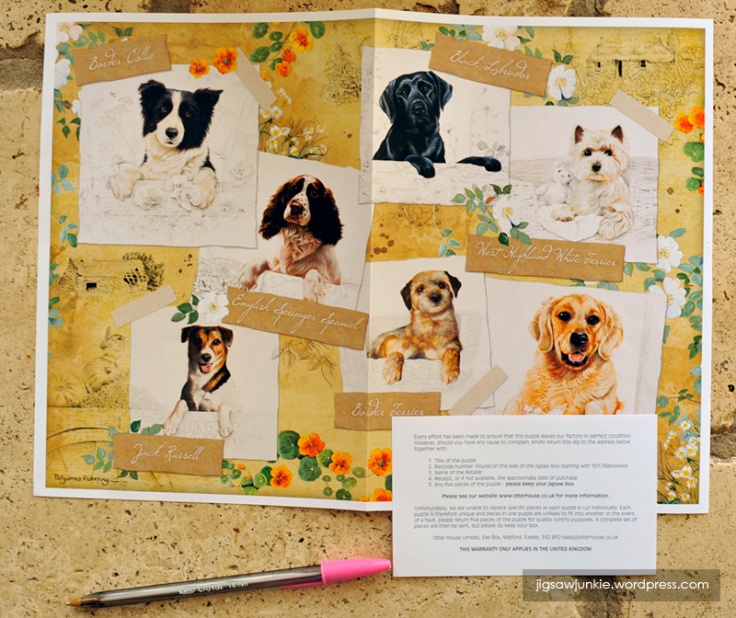 The Image: 9/10
This is a lovely image by Polly Pickering. It shows seven dogs on a scrapbook-like background with masking tape name labels, flowers, and sketches. I thought the image was pretty and would look good finished, but figured it would be a fairly difficult puzzle due to the fact that most of the picture is white and tan. Actually, it was easier (and more fun) than I anticipated, with lots of little sketches, leaves, color variation, and other details that made it clear where the pieces went if you looked at the poster. If you like animal-themed puzzles, you'll really like this one.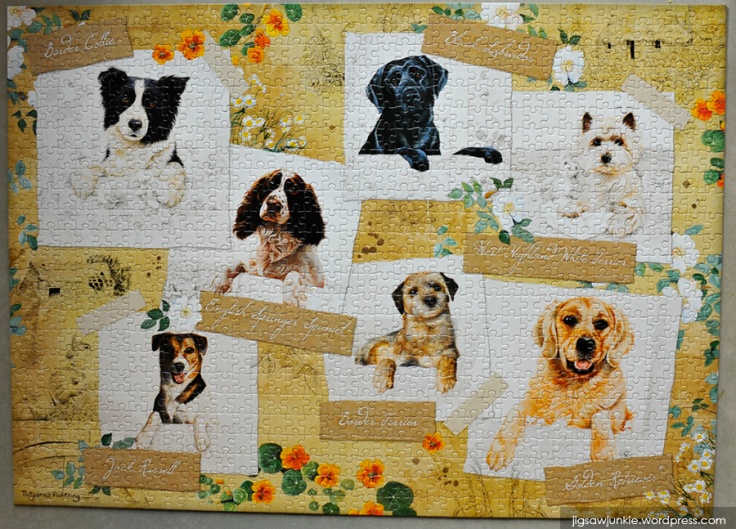 Above: The completed puzzle. Click for closer view.
Puzzle Quality: 9/10
The Otter House puzzles have good quality. Their puzzles are grid cut, but have a wide variety of shapes, as you can see in the close-up below. The pieces feel thick and solid and have good interlock. They have a glossy surface, but I didn't have trouble with glare under my lights.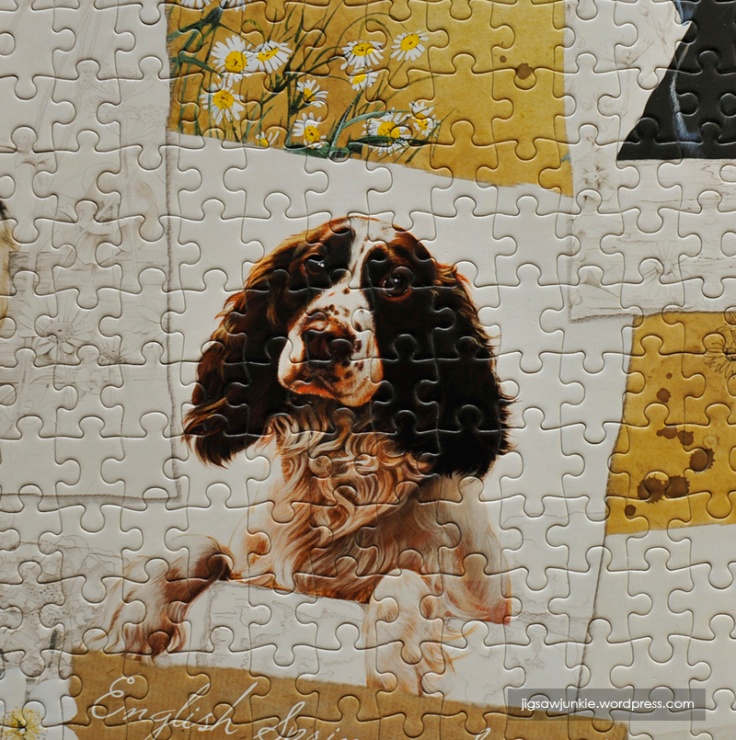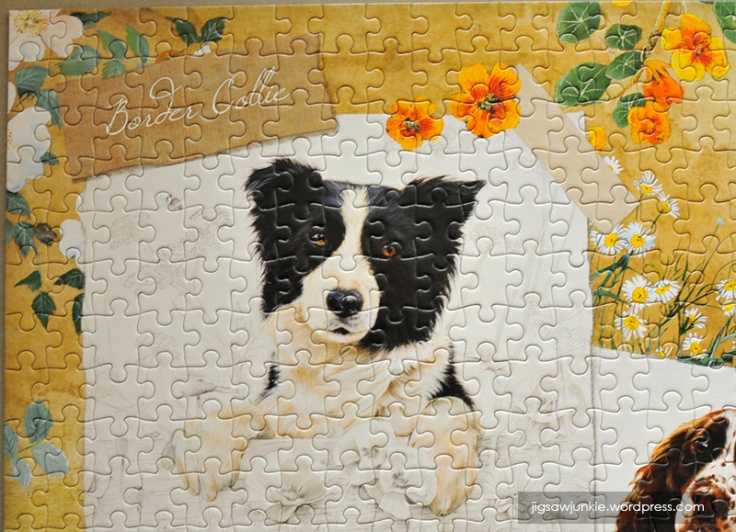 Assembly: 9/10
This is an easy puzzle that was quite relaxing to assemble. I did the border first, then the flowers and leaves, the dogs, the name tags, and the sketches that are in the background. You can see in the image below the sketch of the gourds to the left of the Jack Russell. The sketches keep the tan background from becoming a trail-and-error tedium. It took me two evenings to complete.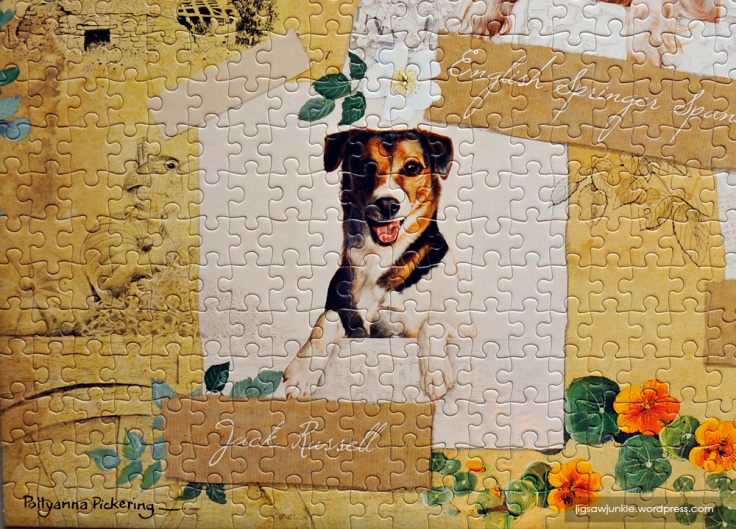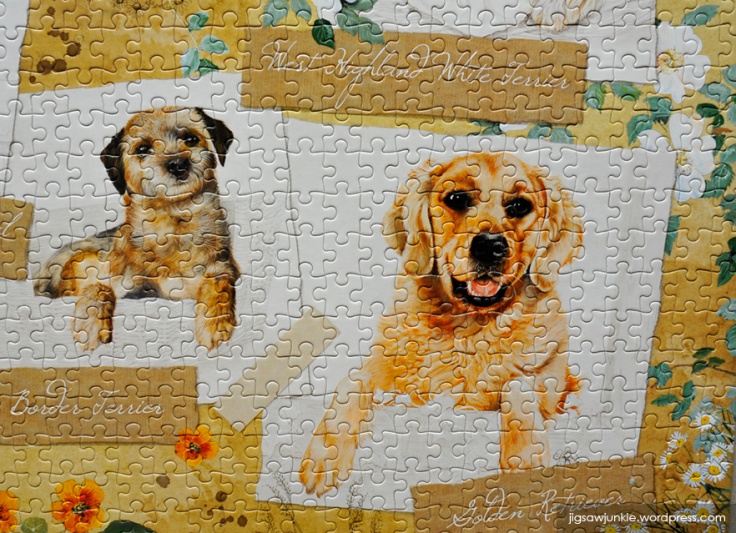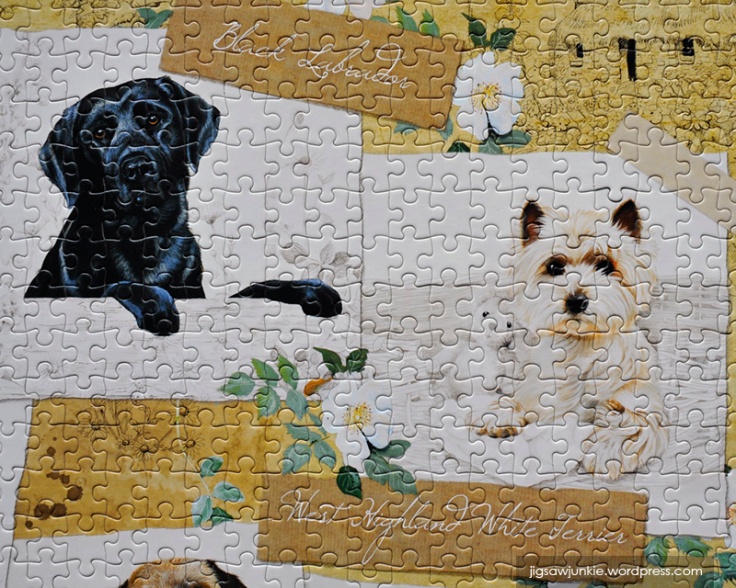 Conclusion
This is a lovely dog puzzle with good quality and nice details in the image that make assembly enjoyable and fairly easy. Recommended.

JJ