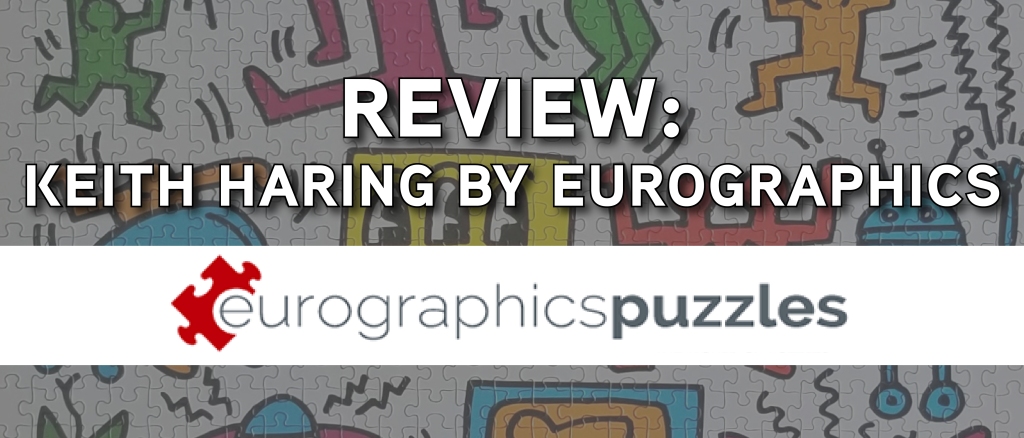 Review: Keith Haring by Eurographics
Keith Haring is one of my favorite artists! I love his fun colorful characters. With all the rain we've gotten lately, I need a little brightness in my life.
Eurographics has two styles of piece cut: ribbon (which is what you see here) and random. I'll be honest; I much prefer random cut. And the big question: How do you know which style you are getting? I contacted Eurographics to find out! As we all know, puzzles are in high demand. As a result, presses (die cuts) are hitting manufacturing limits. To adjust to demands and the lack of manufacturing capacity, Eurographics now uses different dies. And let's be real, no one wants a puzzle that was cut with a dull die.
I also asked if they anticipated going back to strictly random cut. To which they responded that they hope to, but cannot make any guarantees (understandable – we are living in unprecedented times and no one could have predicted how much demand there would be for puzzles). So if you are looking to give Eurographics a try, it's like getting an extra surprise when you open your box – will you get random or ribbon?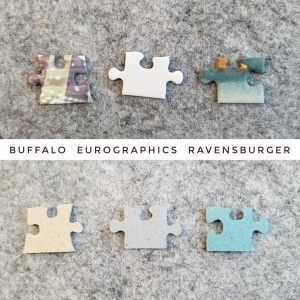 In terms of the pieces, they are standard thickness and well made. No quality issues. The pieces are glossy – not my personal favorite, but I love Keith Haring and fine art puzzles. I puzzle mainly at night so I have to use a lamp. Glossy puzzles always have glare which sometimes adds to the difficulty. I have found that for puzzles that have bright art, a glossy finish is not annoying. I have a harder time with dark puzzles that have a glossy finish. There was not much puzzle dust – yay!
The fit was secure, but not tight. I could move small sections around without issues. However there was no way I would be able to pick up the entire puzzle.
On to the actual puzzle experience! I am a sorter. I always begin a puzzle by dumping all the pieces on the table and then sorting by color into my trays. If a puzzle has a lot of puzzle dust, I have a small vacuum I use to clean my table after I finish sorting.
I began assembling with the colorful characters – red, yellow, orange, blue, green, and saved my favorite color for last, purple!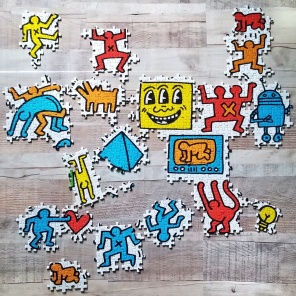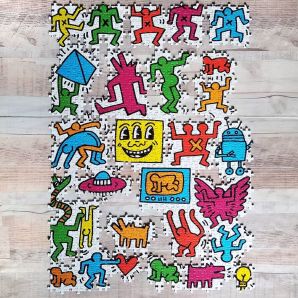 Even before I began the puzzle, I was VERY intimidated by the white. So, I resorted all the white pieces – most of them had little black lines which was EXTREMELY helpful!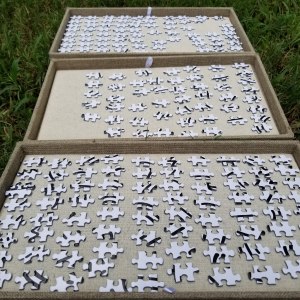 In a deviation from the norm, I did the edges last. I totally think a puzzle without a border looks naked.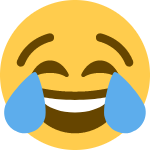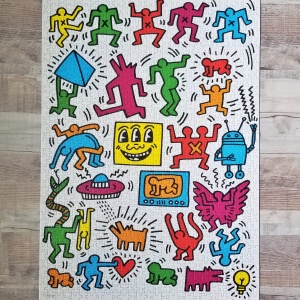 Overall, a highly enjoyable puzzle with a solid mix of challenging and easy sections. Check out my time lapse to see exactly how I pieced it together via Instagram.
Now, Keith Haring has more than just this 1000 piece puzzle as he has a very similar design of 100 pieces that's perfect to put together with your little one.
Diane aka Bizzle's Puzzles