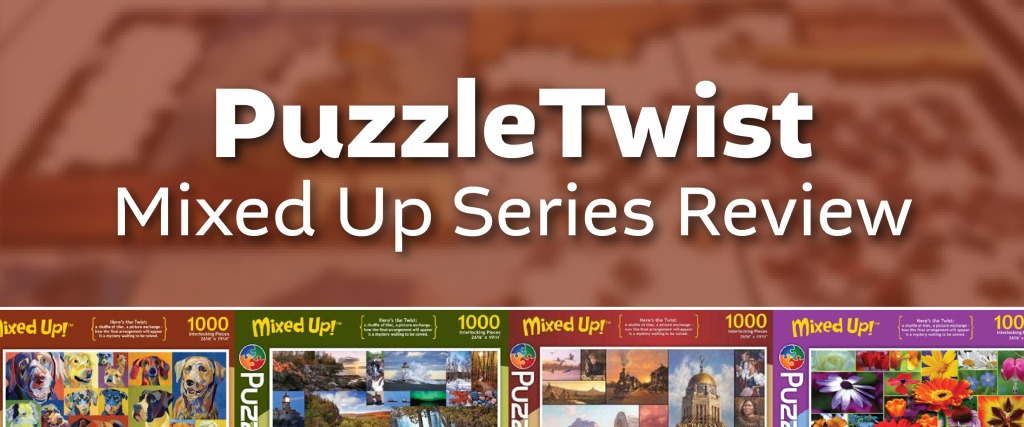 PuzzleTwist, Mixed Up Series Review
I'm always looking for something new and different, a bit of a challenge, in my next puzzle. And I found just that at Puzzle Warehouse! A puzzle called "Puzzle Twist, Mixed Up". It was described as "Within this Mixed Up! series jigsaw puzzle you'll piece together a variety of Nebraska historical moments painted by Todd A. Williams. The twist is that all these images will be in different locations on the actual jigsaw puzzle. A puzzle within a puzzle!" Puzzle Warehouse has several of these to choose from. I decided since it was our first one to try the "Legacy of Nebraska", 1000 pieces, finished size 26 5/8 by 19 ¼. I chose this one as my first one to try because of the lighter colors and more defined blocks of pictures. Now, how to start because you won't know where each picture will be placed in the puzzle until it's finished.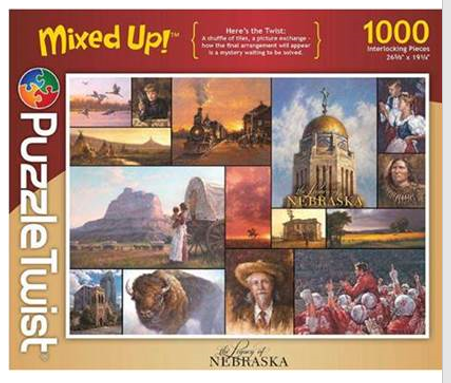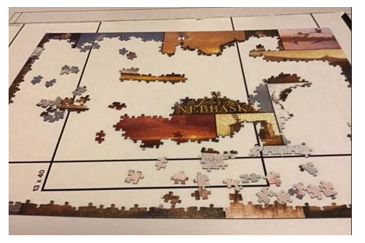 I found that you can work the frame first by matching colors, and while doing that, try not to look at the picture. Once that is done you can see which blocks have been moved around. What was in the upper left corner might now in the right corner. The middle one with the sunset is taller in the picture but when you work it, it's more oblong putting the "Nebraska" above it. The pieces are a mixture of large and small, even in the border. So pick one of the pictures, assemble it and see where it fits into the big picture. Definitely a fun one to work!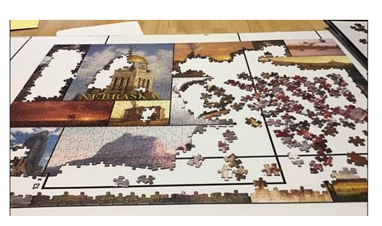 I would normally add a picture of the finished puzzle but I do not want to take away from the fun of the mystery of the end result so I will share a picture of the puzzle box and the puzzle in progress. Just a hint of what you might see but who knows, each one could be different!
The great thing about this 'Mixed Up!' series is that there are different themes that are great for anyone from animals to different sceneries. If you want a new brand to complete, and a challenge at that, then PuzzleTwist is for you.