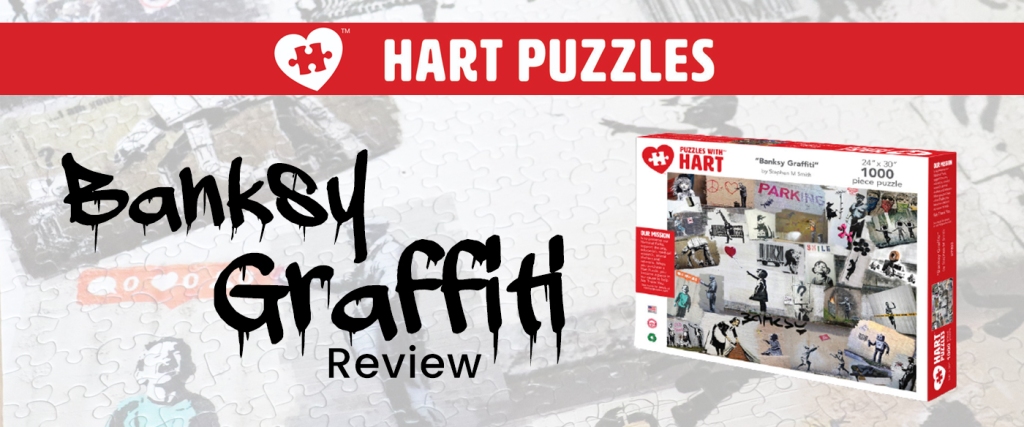 Hart Puzzles: Banksy Graffiti Review
For my Puzzle of the Month pick, I decided to step outside of my comfort zone and do a collage puzzle. And not even a colorful one, but one that is mostly black and white. Let me introduce you to Banksy Graffiti from Hart Puzzles. This (sold out) 1000-piece puzzle measures 24"x 30" when completed and was designed by Stephen M. Smith.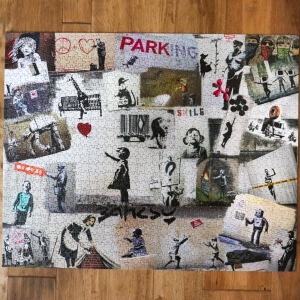 Created and manufactured in Tipton, Indiana, Hart Puzzles is a brand that truly has a big heart. On their box, they include information about their mission: to preserve our National Parks, support the arts, education, medical research, animal shelters, and veterans.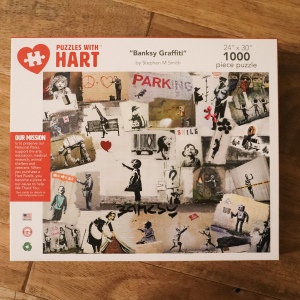 What drew me to choose this puzzle, amongst the hundreds available at Puzzle Warehouse, was the art. I am a huge fan of Banksy. I love the mystery around his art. The ambiguity of his identity has drawn this group of followers. Who is Banksy? Will he ever reveal himself?
For those not familiar with the England-based street artist, Banksy is an anonymous artist whose works are political and social commentary displayed on publicly visible surfaces such as walls, streets, and bridges. You can learn more about him in the documentary Exit Through the Gift Shop.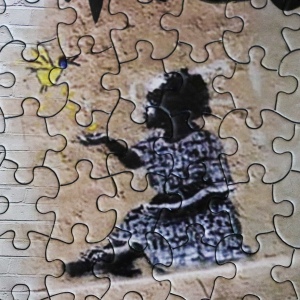 Let's get back to the puzzle! As usual, I sorted my pieces by color. The scheme on this puzzle is fairly monochromatic with large sections of shades of white. To help me organize the pieces, I looked at the textures on the white. There are variations in hue as well. Nonetheless, this puzzle proved to be a challenge – leaving me with large gaps where white pieces belong when I paused my progress for the day.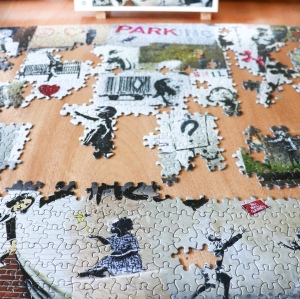 Up until this point, I was assembling quickly even commenting that I was surprised how easy this puzzle was coming together. With a little patience, and a lot of examination, I finished the puzzle.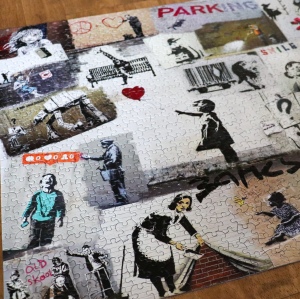 The details on it are fantastic and there is a good representation of Banksy's work.
However (nerd alert), I am almost positive that the Beatles graffiti was created by Mr. Brainwash, Banksy's protégé. I am a HUGE Beatles fan though so I was excited this was included.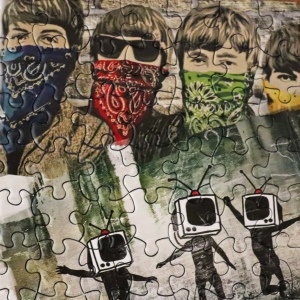 The pieces in Hart Puzzles are oversized, as you can see in this comparison picture.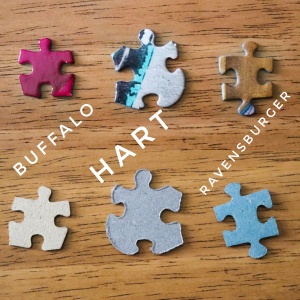 There is a good variety of shapes. I had no problems determining where to place a piece, despite the areas where there was little variety in color. All the pieces are uniquely shaped.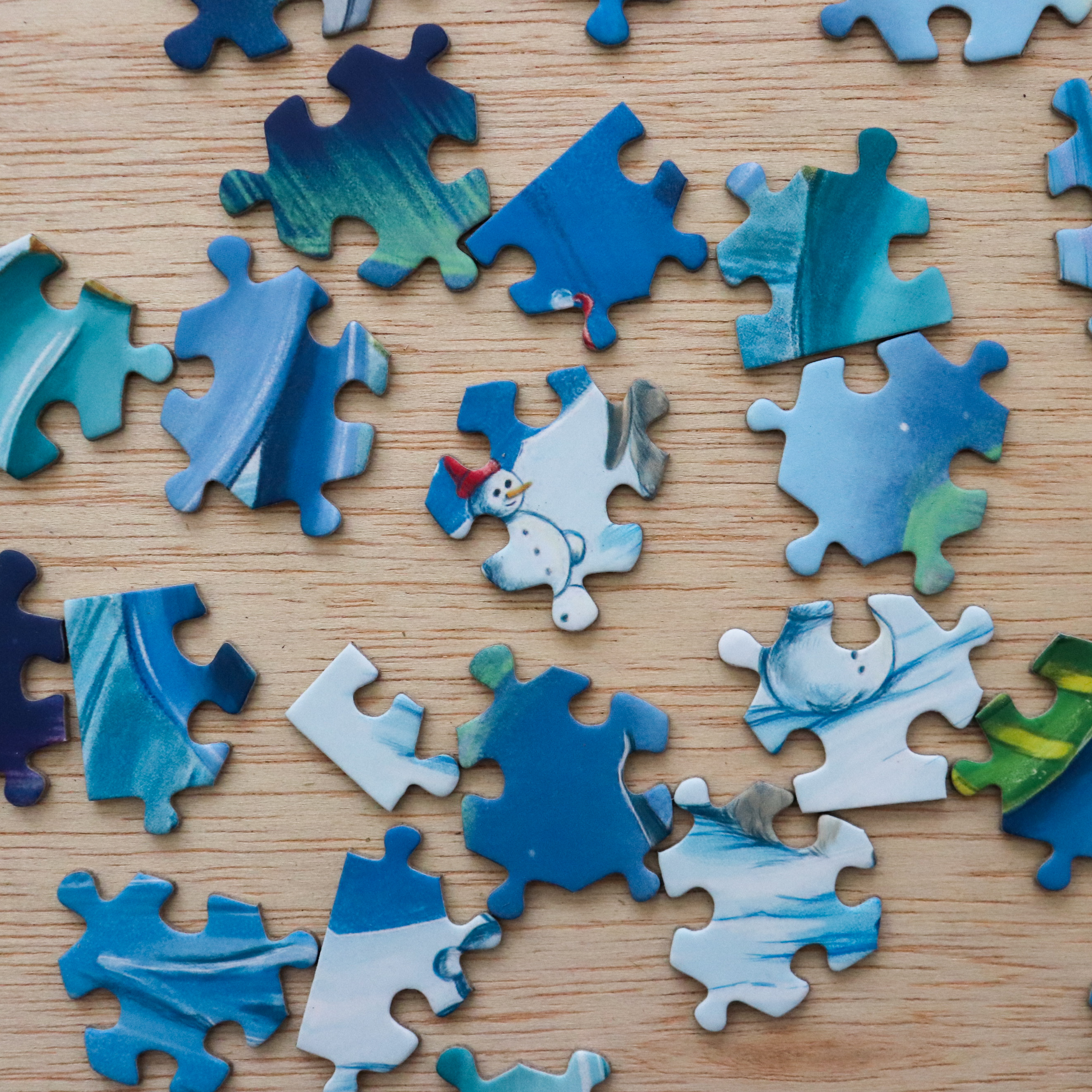 The pieces are also a sturdy 1.9 mm thick – between the thickness of Buffalo and Ravensburger.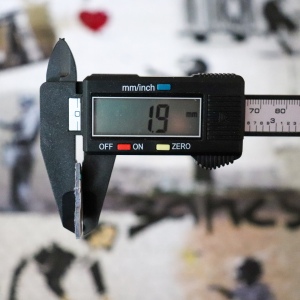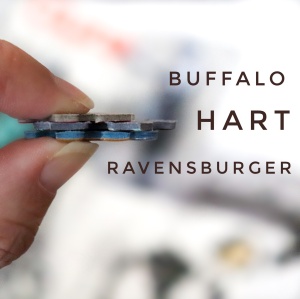 There is not a poster included with the puzzle, but the image on the box is large and clear enough to serve as a reference. The only (very minor) negative to the puzzle is there was more than an average amount of puzzle dust.
Be sure to check out my time lapse to see the approach I took when completing this puzzle.
This particular puzzle is out of stock, however, there are other Hart Puzzles available including these 1000-piece collage puzzles.
Happy puzzling!
Diane aka Bizzle's Puzzles