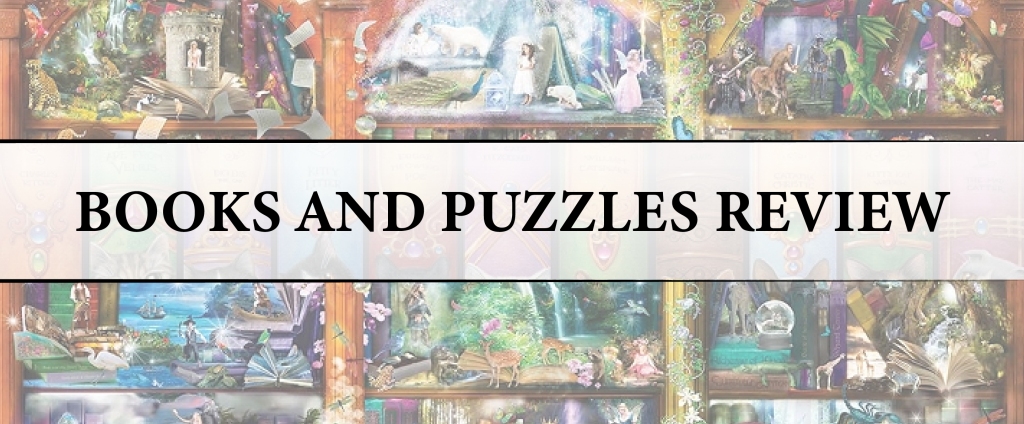 Books and Puzzles
Step into my Library said the spider to the…. Oops! Sorry! Wrong story. . . .
I love books! Smart phones are handy, computers are my friends, but books? Books are just special. So when I found several puzzles with books I was delighted. Books and puzzles? This was my lucky day!
If you've ever been allowed to live in a house owned by a cat you know that if you're reading something, your landlord (aka the cat) will lie down on it and read along with you. So it's no surprise that this cat, in Cat Bookshelf, is jealously guarding his books. . . . and they are his books, not yours.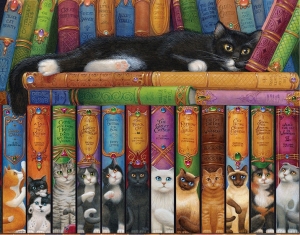 With those titles, of course it's his library: Harry Catter by J. K. Meowling, Thinking Outside the Box by Kitty Litter, Cat on the Orient Express by Catatha Christie, A Tale of Two Kitties by Charles Kittens, TomCat Sawyer, and more.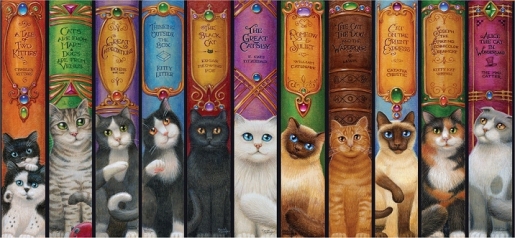 The puzzle is made in the U.S. with recycled materials. The colors are muted because, after all, this is a library and nothing loud is allowed, but there's no confusion about what color you're looking for when working this puzzle. Even though there are some darker areas there is still detail – very important when you're trying to put together one of those black cats. The pieces are fairly thick, no problems there. However, they do have a more shiny surface than I would prefer. There's a certain amount of glare that could be a problem for some puzzlers.
The pieces have those wonderful random shapes that I think make a puzzle more interesting: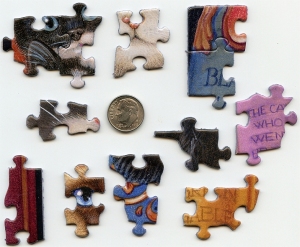 Apparently some cats just can't stay awake. Frederick the Literate, from Buffalo Games, seems to be pretty sure his books are safe. This 300 large piece puzzles is made in the U.S., with artwork by the wonderful, whimsical Charles Wysocki. It comes with a bonus poster – something that's always a help. Buffalo Games puzzles use a standard grid cut, but piece shapes vary widely. (It also comes in a 750 piece size.)
Love those titles: Wallowing in Garbage, Trashy Cuisine Recipes, Renowned Siamese Mousetraps, How to Smell a Rat, How to Catnap with a Smile, and more.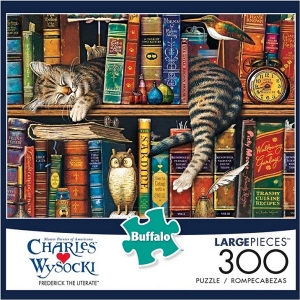 Now here's an interesting concept in puzzles – boxing the puzzle in two different ways. Cat Nap comes in a regular box and a version that opens like a book. Talk about whimsy! Both puzzles have 1,000 pieces and are 27.5 x 19.5 inches when completed. Gibbs Smith has adopted the motto, "Puzzles are the new book club." Luckily Puzzle Warehouse has an app, oops I mean, club for that.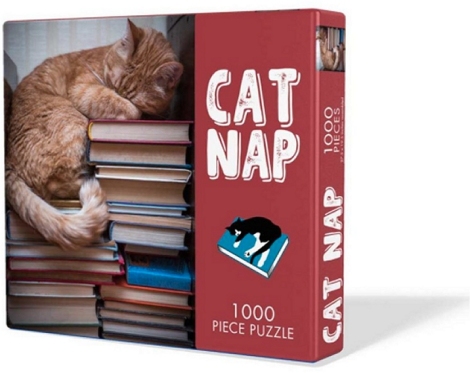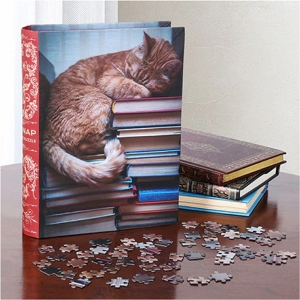 Now cats are not the only beings who have wonderful libraries. Humans can own books too. Finding something to read while falling asleep is a time-honored activity. But what if you went to your bookcase one evening only to discover that the stories in your books had come alive – right there on your shelves? There's the poison apple for Snow White just sitting there waiting and the magic lamp from 1001 Arabian Nights, along with all sorts of magical stuff – ships, snow globes, castles, and more. The Treasure Hunt Bookshelf, artwork by Aimee Stewart, shows you exactly how that would look.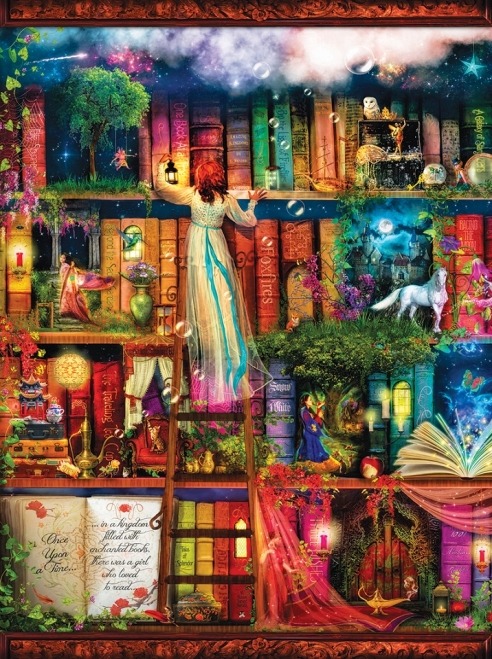 This puzzle is made in the U.S. with recycled materials. When I assembled it there were no pieces where the picture had separated from the backing or were stuck together. While the pieces are not a flat matte, there was very little glare. I admit I try to stay away from puzzles with large areas that are the same color and this one has a lot of red and orange. But the details on the book spines and the lines between the books were a big help and there are areas with other colors. The picture was so beautiful I was willing to sort through those red and orange pieces.
The pieces are not quite as random cut as some SunsOut puzzles, but enough to be interesting. In fact, I had a hard time selecting pieces to show the random cut as almost all the pieces had interesting details and vibrant colors.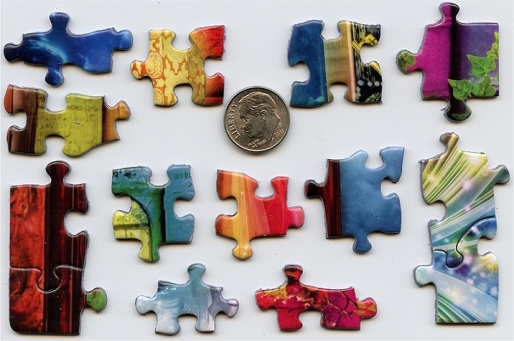 Now about that pesky puzzle dust. . . and this puzzle did have some. It's annoying at best, possibly a problem if you have respiratory issues. If you don't own a colander to put pieces in and shake out the dust, try cutting small holes in the original bag. (You're going to put it in a zip lock bag when you've finished anyway, aren't you?) Shake the bag over the bottom of the puzzle box. A lot of the dust will fall into the box. You can then dump it in the trash. You may not get rid of all the dust, but it will definitely be an improvement. And think about buying a cheap colander just for puzzles.
Oh yes, Once upon a time . . . in a kingdom filled with enchanted books, there was a girl who loved to read. If ever there was a puzzle to frame and hang on the wall next to your bookcase as part of your home decor, this is it!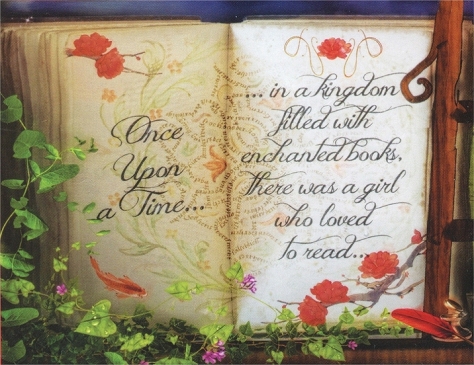 P. S. If you liked the look of the Treasure Hunt Bookshelf, you might be interested in Enchanted Fairytale Library, artwork by Alixandra Mullins, also by SunsOut.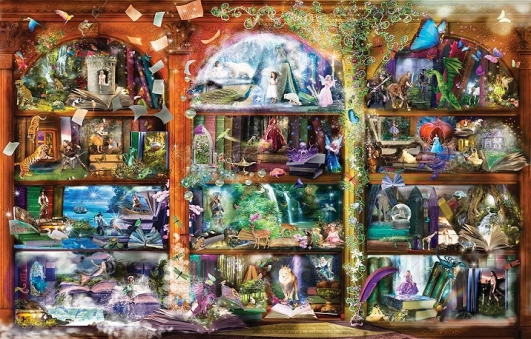 Happy Puzzling!
Madelle B.