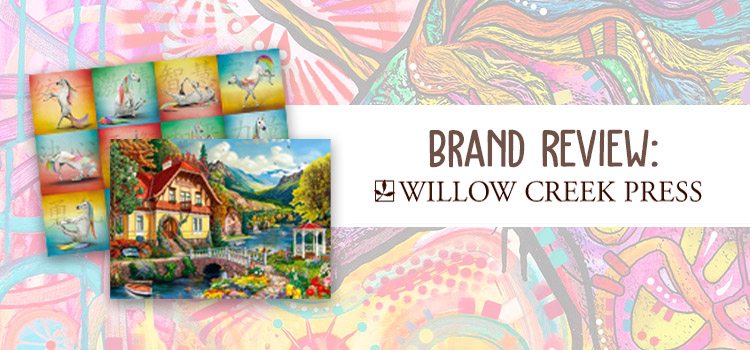 Willow Creek Press, they're more than just calendars!
I have a confession to make. I'm a certified puzzle dragon. I'll buy a puzzle and sit on it forever. I'm not ashamed to admit that I have puzzles from at least 2 years ago that I haven't assembled yet. Some people may see that as a problem, I see it as my delightful pile of gold that I curl up on like a big old dragon. Metaphorically speaking of course. I don't actual lounge on a pile of puzzle boxes, but I can always dream! Actually no. I suspect that would be ridiculously uncomfortable. BUT I DIGRESS!
One of my first Puzzle of the Month choices was a beautiful puzzle from Willow Creek Press called Unicornucopia by Dean Russo. I was completely drawn to his colorful pop art style. If you aren't familiar with his work, he employs a mixed media approach and usually focuses on animals. He uses at least 10 different mediums for each painting and his paintings always feature bright colors.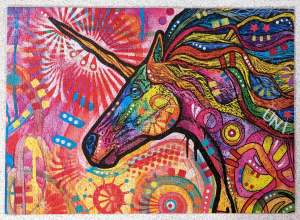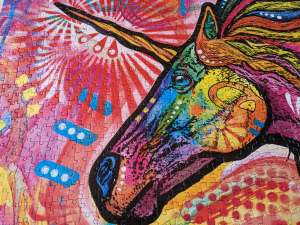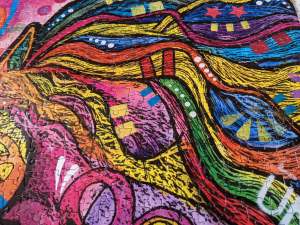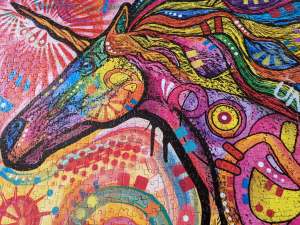 Like most of you (maybe?) I had no idea that Willow Creek Press put out puzzles. I was familiar with their calendars and greeting cards, as I gift one of my friends a punny desk calendar every Christmas. I'm always up for trying a new puzzle company, so I was super excited about my PotM pick.
I must admit, when I opened the box, I was a little intimidated by the sheer amount of color and patterns. This puzzle was a literal color explosion and I had no idea where to start. I separated the edges from the rest of the puzzle and decided that I would start on the mane. It has a distinct pattern and a decent separation of color, and I was able to piece it together pretty quickly.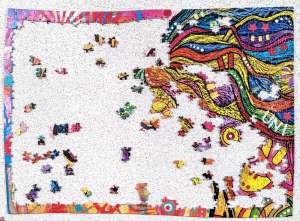 After the mane, I worked on the unicorns face. This part was a little harder, as there wasn't a pattern so much as splotches, but I worked by color and it came together pretty quickly. For the background, I started with the rays around the horn and then did the circles by the unicorns neck. I filled in the rest by color. It turned out to be a lot easier than I thought and I loved being able to really study the different textures and patterns that Russo used.
I found that Willow Creek makes a really nice puzzle. The shapes are random cut and they actually remind me very much of Cobble Hill pieces. They have the same style of nib and similar random shapes, if that makes any sense. The pieces were the standard thickness of 1.8mm. There was a bit of puzzle dust, but I sifted the puzzle and there wasn't an issue after that. The puzzle was of really nice construction. I didn't have an issue with peeling, breaking or pieces stuck together either. The puzzle has a slight gloss to it, but not a lot of glare. A poster wasn't included, but I found that it wasn't needed. The front cover of the box had a large picture of the image on it. The box was very similar in size to a White Mountain box.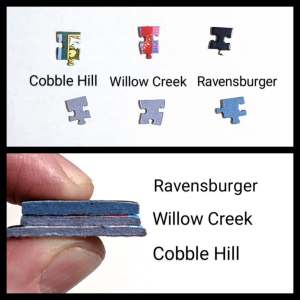 Willow Creek produces a lot of really nice puzzle images. Their puzzles range from fantastical to Americana. They are all 1000 pieces.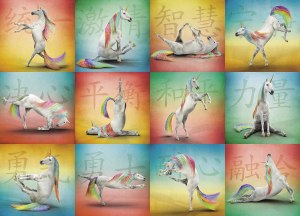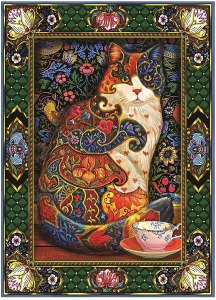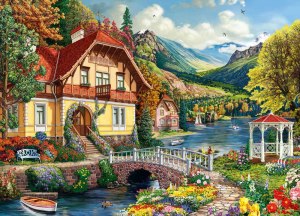 If Dean Russo is more your style, there is a great selection of puzzles with his work ranging in size from 300-1000 pieces. I love how he can capture the expressiveness in the animals faces, especially their eyes.
Happy puzzling and remember to take a chance on a new to you puzzle company!
-Gaby @puzzlepastime