Christmas Season is Finally Here!
For many of you, you are currently prepping for your Thanksgiving dinner and the Christmas season is just around the corner. I am the type of person who starts celebrating Christmas on November 1st. I can't help it, I want my favorite time of year, to be as long as possible. Also, since we don't have family in the area, Thanksgiving is a holiday that is quite uneventful in our house. So, I really get excited this time of year, especially when I bring out my Christmas puzzle tote. Each year I always have the same dilemma, I have way too many Christmas puzzles on my to-do list than I have time for. The holidays are a busy time of year, filled with local events, shopping, gatherings and way too much food. There's just so much baking. Which as you can see, leaves me a little short on puzzling time for the growing Christmas puzzle collection. There's just so many good puzzle images!!
Sure, I could just do some of my Christmas puzzles after Christmas or any time of year for that matter. However, they lose a little of that Christmas magic. This year feels extra special and magical, as it's our first Christmas in our new house in Washington. Having a cold and snowy winter is getting me all excited after eight years in southern California. Anyways, I thought it would be a fun little blog to go over some – I repeat only some of the Christmas puzzles on my to-do list. I'd love to know in the comments what you plan to work on during this holiday season and I want to wish you a Happy Thanksgiving!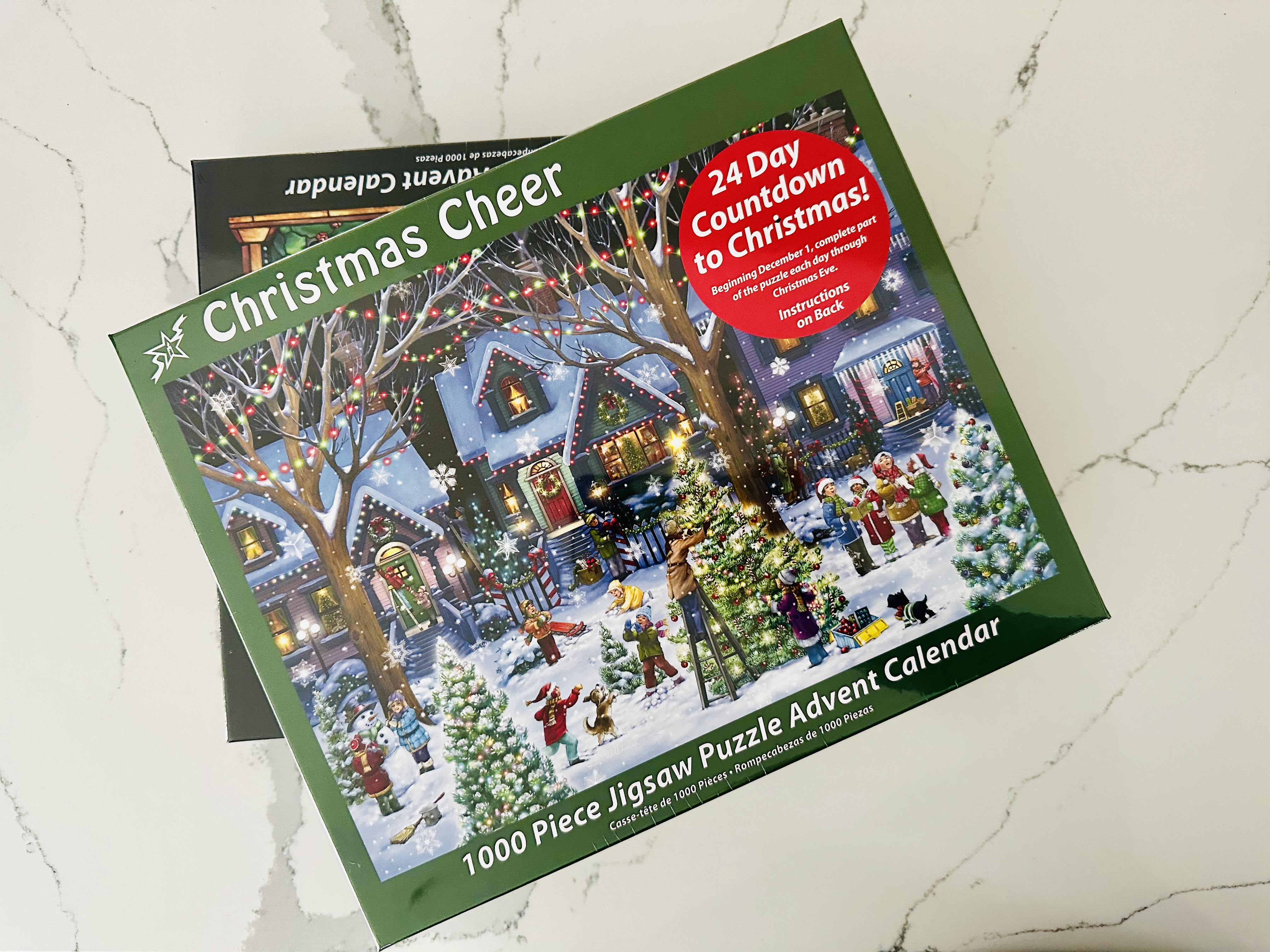 Christmas Cheer by Vermont Christmas Company
First up is my obsession with puzzle advent calendars. I have zero self-control. If I didn't have so many, I probably would have more puzzling time for my full-sized Christmas puzzles. I know Tracy and Marwa both did blog posts recently on this topic, so I won't cover it too much in mine. There's some really good tips and tricks in Tracy's post and Marwa helps you DIY one yourself. Now, I don't have the patience to DIY my advent calendar and it has been a series on my YouTube channel to review them each year. There are several advents being sold on Puzzle Warehouse and they make great gifts. I really appreciated the one I had last year from Eurographics and it looks like they came out with a few new ones to add to the mix, which you can see here.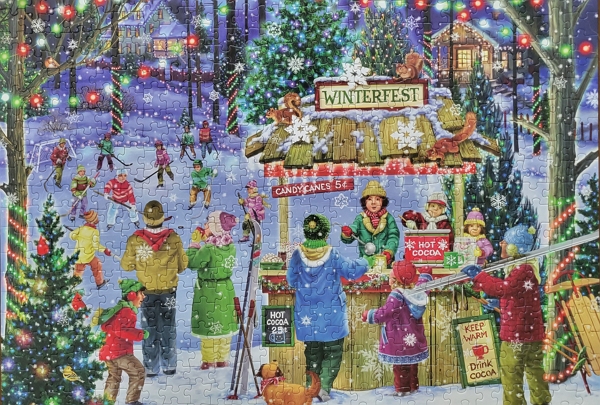 Winterfest by Vermont Christmas Company
A style of advent calendar I was introduced to last year, helps you complete a full puzzle during advent season. Each day you do just a portion of a larger image. This year I have two from Vermont Christmas Company. Christmas Cheer looks like a fun outdoor winter scene. Inside the puzzle box, there are 24 smaller boxes with a selection of pieces. What's nice about the Vermont Christmas advent images, is they are also available in a traditional format. This is awesome if you like the image but want to do it all at once or you'd like to gift it but didn't plan. If you'd like a suggestion for one of their traditional puzzles. I loved Winterfest from them last year, which I highly recommend There wasn't too much snow within the image and it was such a happy image. Stained Glass Nativity is another example and is available in both advent form and nativity. I'm personally excited to do it as the advent since our ceramic nativity set had some damage on our move. It will be a fun way to continue the tradition as we count down to Christmas Eve.
As you can see, I'm a fan of advent calendars and said I wasn't going to write too much about it…so sorry about that, I just get really excited. Moving on…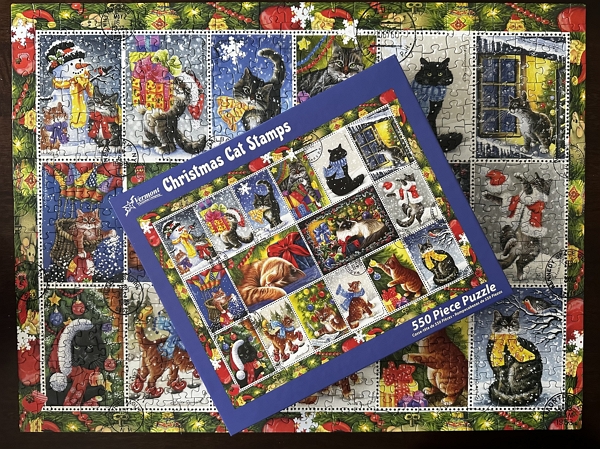 Christmas Cat Stamps by Vermont Christmas Company
Along with my love for Christmas puzzles, is my love for cats and of course Christmas puzzles with cats. I will say this lightly though because a larger piece count with a lot of fur would be a challenge for me. This year I have two cat puzzles on my to-do list. Well, one I already did and LOVED. Okay okay it may be another Vermont Christmas puzzle - I mean, come on the brand name literally has Christmas in it. Christmas Cat Stamps has 16 adorable little kitties within different winter scenes. I like the whimsy piece shapes of this brand. The image is super cute too. The orange kitty right in the center looks just like my Oliver, but with the attitude of the kitty on the bottom who is playing with the ornaments. We have a bell on the tree to alert us when he is playing.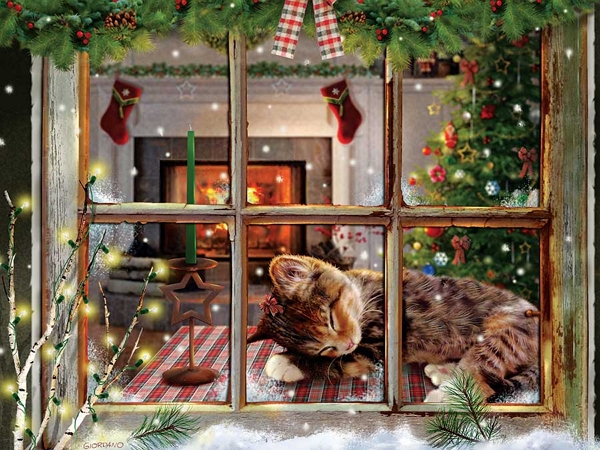 Cat Nap by Cobble Hill is also on my to do list. This adorable 275 piece puzzle is perfect if I don't have a lot of time for puzzling but want to watch a Hallmark Christmas movie.. I know every movie is 100% predictable by 5 minutes in, but it's now a Christmas tradition. I will get all cozy with my puzzle table, hot chocolate, and a good Christmas puzzle. Little rant – why is it that I can't find Fluff in Washington?? It's delicious marshmallow goodness that belongs on top of hot chocolate. It forms a protective barrier– creating a scalding hot burn on the lips, because I can never wait for it to cool.. But it is delicious. If you know, you know, and no other marshmallow topping is quite the same… okay I'm done.
Anyways, about the puzzle. It's adorable with a sleeping kitty in a window but it looks like this puzzle may be getting close to the end of its life, which is such a shame. There are plenty of other Christmas cat puzzles, so check here for what is currently available.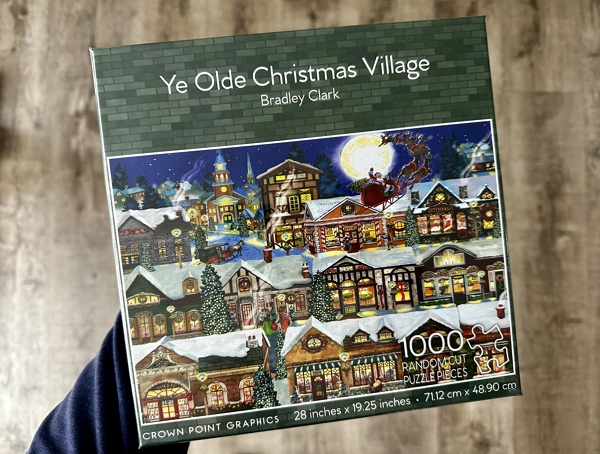 Ye Olde Christmas Village by Crown Point
I do tend to lean to more classic images with it comes to Christmas puzzles. (Although I do have the Very Vader Christmas puzzle that Dave is really excited about). Ye Olde Christmas Village by Crown Point Graphics is the 1000 piece puzzle I am doing this year during December. I try not to have too many larger counts in December, again because of time. This image seems really relaxing and not too busy. It gives me all the hometown Christmas vibes. It has been a couple years since I had a Crown Point Graphics puzzle, I really enjoyed the matte pieces of a Springtime one I did a long time ago. So, I'm excited to do this one.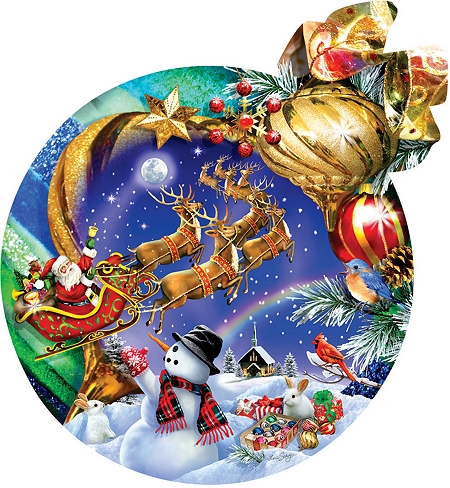 Finally, the last puzzle I would have time for is this one by SunsOut called Christmas Ornament. This style also has one that is just full of Christmas cats, which is also adorable. However, this one called out to me because I love a good circle puzzle and it's just slightly different. Also, can we talk about how bright this image is?? This adorable 750-piece puzzle features artwork from Lori Schory. Santa is waving goodbye to a snowman as he takes off on his puzzle delivery journey. It just gives me all the Christmas feels and may be my Christmas Eve puzzle this year.
With so many enjoyable Christmas and winter puzzles out there, it was hard to keep this blog and my to-do pile under control. I know there are several other posts coming from my fellow bloggers and I'm curious to see which Christmas puzzles have caught their eye. Thanks for reading and have a great holiday season!! I'll leave you with a picture of our two kitties. Can you tell which on just got in trouble?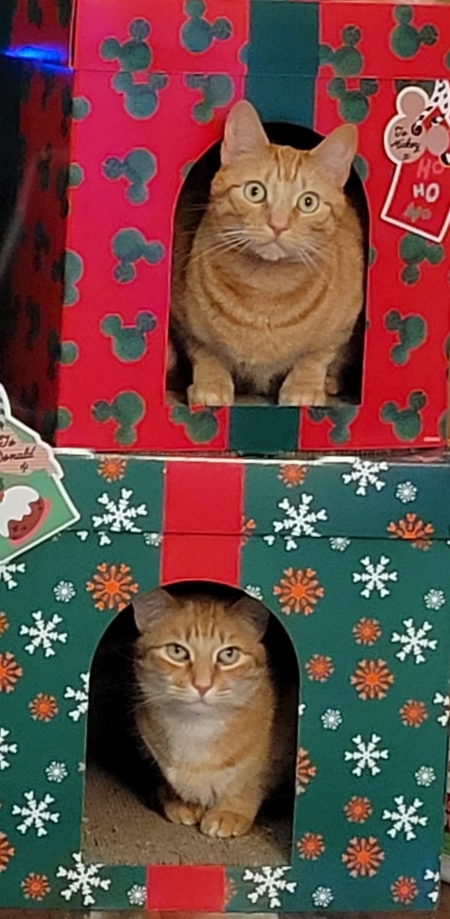 ~Emily
5 Stars
Susan - Alpharetta, GA
I think the kitty in the green box looks like he doesn't have a care in the world...he actually looks a bit bored :) The other one is mischief for sure. Happy Thanksgiving.
5 Stars
Lisa J. - Windermere, FL
Your cats are adorable! Love your puzzle picks (and the blog article) too.
5 Stars
Venessa - California
I've had my eye on both Winterfest and Christmas Cheer for awhile. I've done advents with daily individual puzzles but not one like these that's part of the bigger puzzle. I'm going to give it a try. Hopefully I won't get impatient and end up doing the entire puzzle. lol
Never thought to put marshmallow fluff on cocoa might have to give it a try. Wonder if dollar tree has any :)