Puzzling the Cosmos
The night sky is full of mysteries and wonder, and stunning images from space crafts and observatories—including the new James Webb Telescope—have only fueled our imaginations. I've always enjoyed seeing these images and hearing stories, real or imagined, of people traveling beyond the Earth's atmosphere. I was even one of 12,000 people to apply to be an astronaut in 2021! But since that didn't pan out, I decided to take a tour of the universe through puzzles.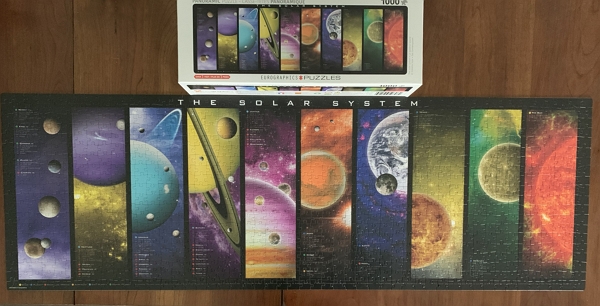 I decided to begin my tour close to home, with this panoramic 1000-piece puzzle from Eurographics aptly titled The Solar System. I decided not to start with the edges on this one and instead pick a colorful planet that spoke to me. I wasn't sure how challenging this puzzle would be, but because each of the planets had a unique texture and because the backgrounds had a nice gradient, it happily came together quite quickly. I really enjoyed the end result! For some additional close-to-home puzzles, eeboo offers Bookstore Astronomers and Galison offers Out of this World, both in 500 pieces.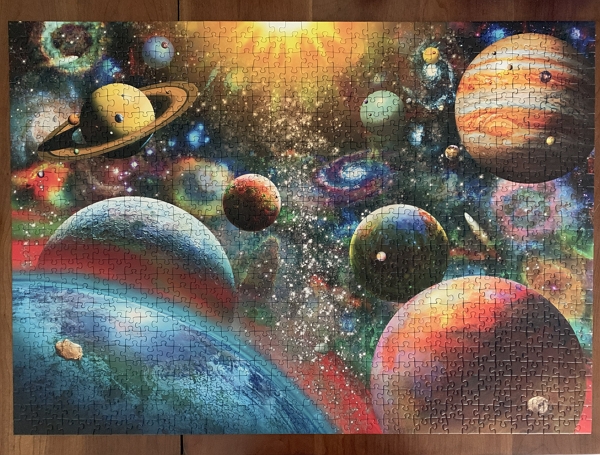 Next, I opted for a more artistic take on the solar system with Ravensburger's 1000-piece Planetary Vision. Much like with the previous puzzle, I was surprised how quickly this one came together! I began with a thorough sort, making sure to separate pieces that had twinkly stars and those that didn't. Because the planets had interesting textures, they worked up nicely. And the background had enough color variation that it didn't end up being too challenging. There are so many puzzles in this style, but for a challenge, Anatolian offers a 3000-piece puzzle called Odyssey. On the other end of the spectrum, I have been eyeing up this 100-piece puzzle from Ravensburger called Planet Playground with fantastic art by Demelsa Haughton.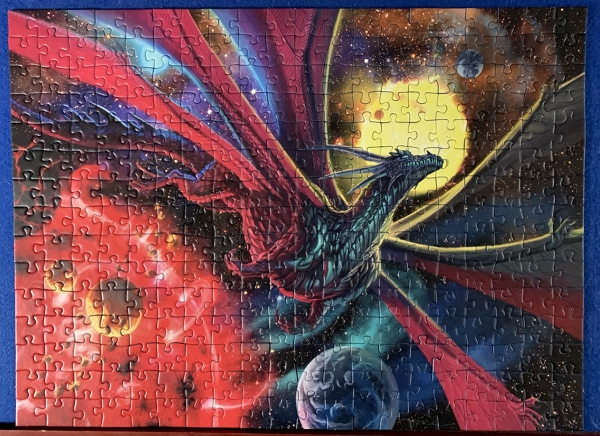 Space is full of so many fun cosmic objects, but as a fantasy lover, I couldn't press purchase fast enough on this Ravensbuger 300-piece puzzle called Star Dragon with art by Piya Wannachaiwong. I mean, dragons in space?? Sign me up! I absolutely loved putting this one together. The vivid colors and the details like the highlights on the dragon's wings made this so fun. I have also been eying up puzzles with other unexpected space travelers, including Ravensburber's 200-piece Space Dinosaurs, Aquarius's 500-piece Catstronaut, and Dowdle's 500-piece Space Adventure.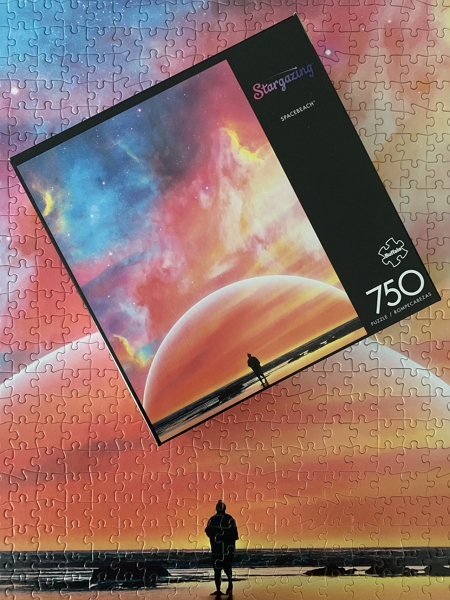 Many beautiful puzzles evoke space or depict the galaxy as if viewed from Earth. I really enjoyed the lovely colors in this 750-puzzle from Buffalo called Space Beach. Because the gradient was broken up, it took a little longer to complete than I expected, but that amazing image was worth it! Similar feeling puzzles are Heye's 1000-piece Cosmic Dust, Heidi Art's 500-piece Orca Aurora, and Puzzlife's 1000-piece Milky Way Night.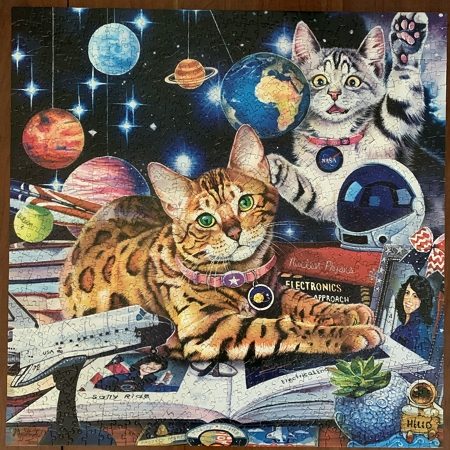 Of course we wouldn't know nearly as much about space if it weren't for the folks who actually traveled there. I really enjoyed this tribute to American astronauts Sally Ride and Judith Resnik in MasterPiece's 1000-piece Sally and Judith. This is another great entry into MasterPiece's Catology series, which all have a good balance of cats to the rest of the theme, and not too much cat fur to be discouraging! I enjoyed discovering all of the space themed items on the desk as I worked on this one. For more fun astronauts, check out Galison's lenticular 300-piece Space Bound, Chronicle Book's 1000-piece Lego Space Stars, SureLox's 300-piece Nick 90s Space, or Aquarius's 500-piece Peanuts Snoopy in Space.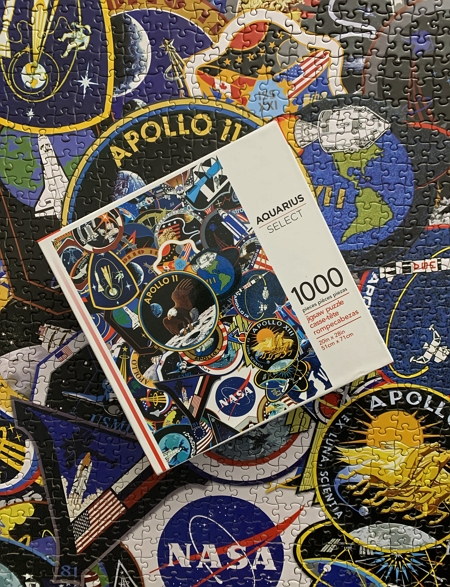 Speaking of space paraphernalia, how about this 1000-piece NASA Mission Patches puzzle from Aquarius? It's a bit busier than I typically like my puzzles, but I started with the text and distinct patterns and managed to fill in from there. Even though I just did this puzzle, I can't say I'm not tempted by the similar NASA - The Space Missions in 1000 pieces from Masterpieces. And of course for lots of fun details packed into a puzzle, you can't go wrong with Aimee Stewart's 1000-piece To the Moon from Buffalo.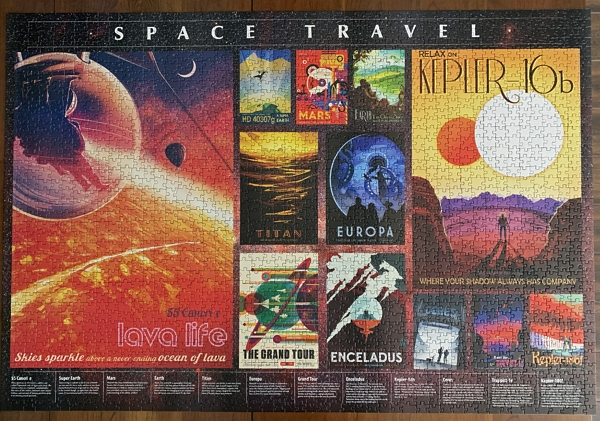 This puzzle no longer available

I also completed this fantastic 2000-piece puzzle from Cobble Hill, Space Travel Posters. I have always loved these mock travel posters designed by NASA/JPL and really enjoyed getting to know them better! Although this particular puzzle has recently been discontinued, many of these posters are available as full 1000-piece puzzles by New York Puzzle Company, including Visit Mars, Oasis in Space, Explorers Wanted, and Jupiter. For a different take on travel posters, Puzzle Twist also has Space Posters in 1000 pieces.[2]
There are so many amazing space-themed puzzles, and my tour barely scratches the surface! I didn't even break into the Star Trek and Star Wars puzzles or the many space ship models from Metal Earth. There are almost 200 in-stock puzzles in the space category on Puzzle Warehouse, so there really is something for everyone!
- Gail, @jiggies_and_gems