Puzzles to Travel With
Is there anything worse than starting a puzzle and having to disassemble it before it's completed? You know, like when your cat jumps up on it and messes up all the progress you've made. Well, this is probably not the best intro to this month's blog topic, but hopefully you'll make the connection. This blog is all about the best puzzles to travel with. After all, it's summertime so why not bring some puzzles with you on your vacation?
So, when I was thinking about puzzles to travel with (not to be confused with traveling puzzles), I thought of puzzles that don't necessarily take a long time to complete. Small piece count puzzles would work well for this. If you haven't checked out the line of Jiggies puzzles, you need to.
This Hula Girl puzzle is a tiny 32-piece gem. It's the ideal size to bring on an airplane with your tray top down. How perfect would this hula girl be if you were traveling to Hawaii or on a cruise? The beauty of this one is that the boxes are also small so you can just toss one in your bag and take it with you. It's a quick build, so you won't have to worry about not finishing it in time.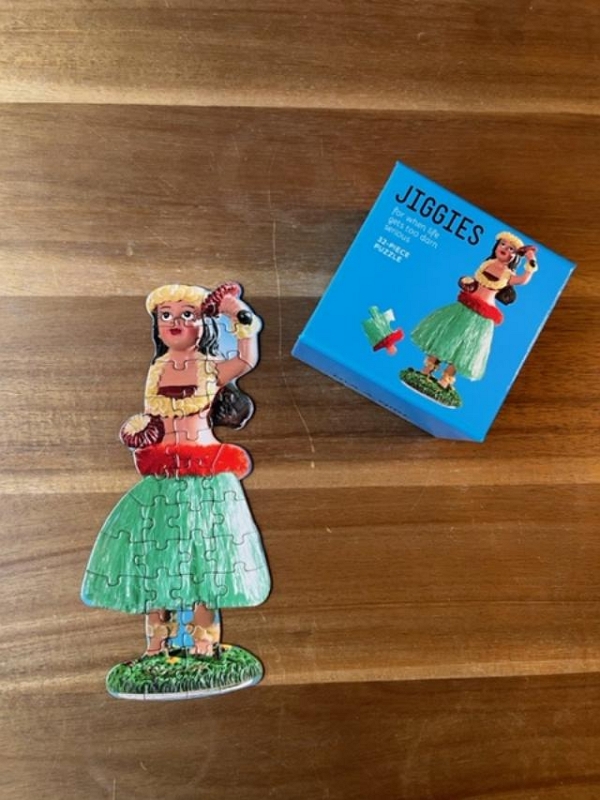 If you're into 3D puzzles or if you're planning a Disney vacation, Bepuzzled makes a series of 3D crystal puzzles. This Cheshire Cat, for instance, is only 36 pieces, BUT don't let the piece count fool you. It's really challenging. It actually took me a while to get going on it, but I think that once you get a feel for how they're built it'll make it easier. Once it's assembled, it holds together pretty well, too.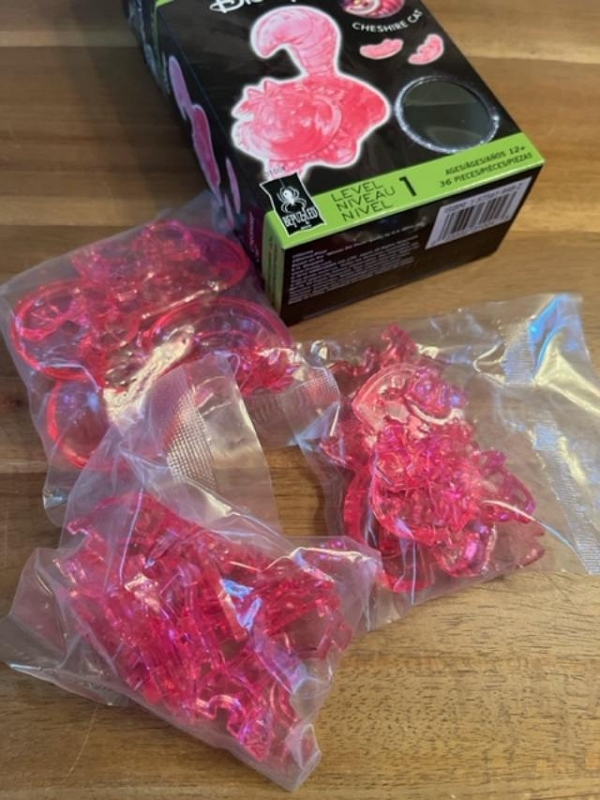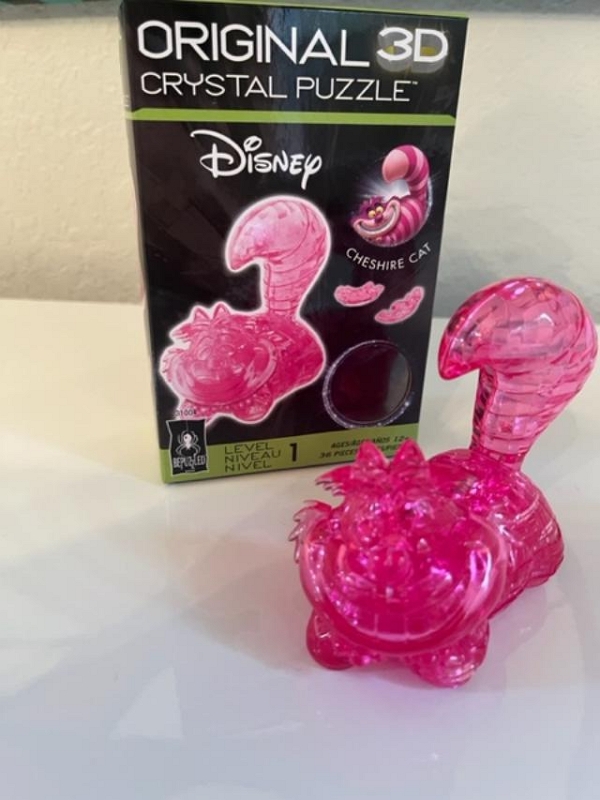 Bepuzzled has a huge selection of small, 3D Disney Puzzles to choose from…Princess Ariel, Minnie Mouse, Mickey, and more. If you want to give 3D puzzles a go, but don't want a Disney theme, they also have cats, dogs, dinosaurs…you get the hint. Puzzle warehouse has a bunch of these Bepuzzled puzzles and their piece counts varies so be sure to look at all they have available here.
Now, if you're a fast puzzler, unlike me, your puzzle count might be greater than my suggestions in this post. Personally, I'm thinking about puzzles with the following criteria in mind: Puzzles that will A) be quick enough to complete before you have to leave your vacation spot and/or B) won't be too big to fit on a small table and/or in your suitcase.
Chronicle Books makes the most practical puzzles to travel with plus they have the most unique and ever-so-cute packaging. These puzzles aren't necessarily plane-friendly as they're 500 pieces, but Chronicle Books literally seemed to make a puzzle with the traveler in mind, because they each come in a small, zippered pouch so you won't have to worry about the pieces falling out. Look how stinkin' cute the matching pouch is?!?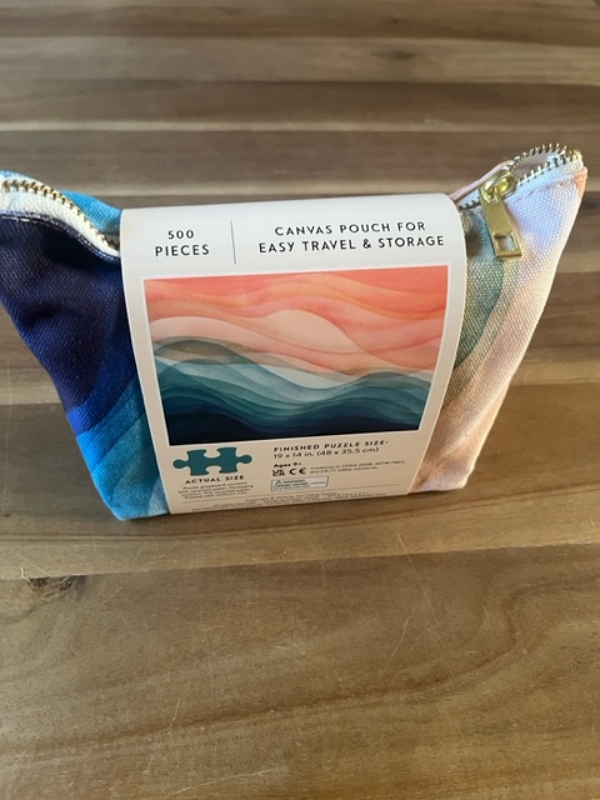 Waves Portable Puzzle by Chronicle Books is just 500 pieces and screams beachy to me. The color scheme is serene and assembling it felt similar to that of a gradient puzzle.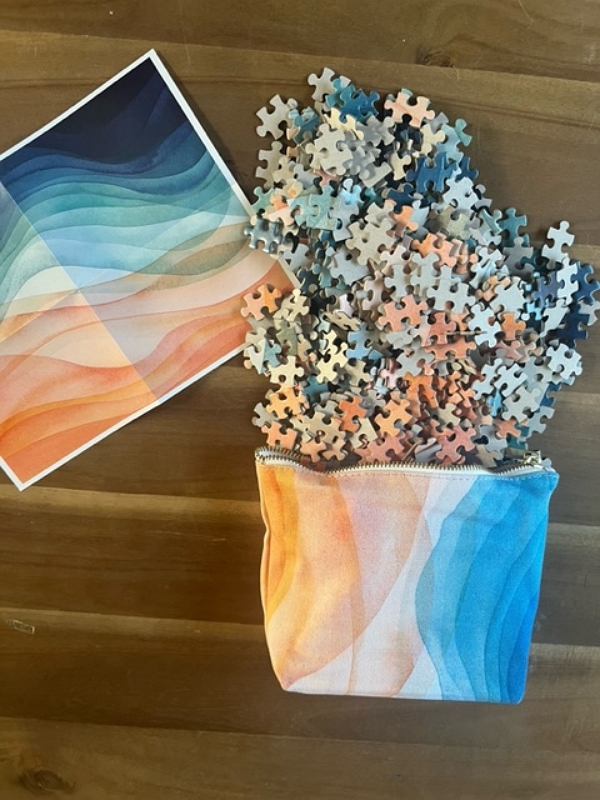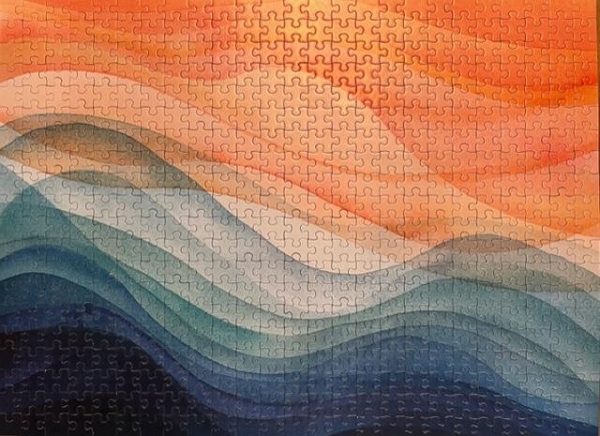 Plus, because it comes in a pouch versus a box, storage should not be an issue. I guess that's what Chronicle Books had in mind when they added the word "Portable" to the title. Moonflower might be next on my list, but there is also a Mystic Mondays Tarot Portable to check out too.
Even if you're not traveling anytime soon, these puzzles are too cute to pass on. Bring the smaller ones to work to do on your lunch break. I'm all for that self-care. But one last tip before I sign off is never underestimate the power of a Ziplock bag. Bring larger puzzles with you by eliminating their boxes. This way you can buy more puzzles during your vacation, and you'll have extra space in your suitcase to fit them all. Also, if you're bringing some of the puzzle suggested above, bring a sandwich baggie with you so, once you open the puzzle, you can ensure the pieces don't go missing.
Safe travels if you're traveling this summer and if not, have a puzzle vaycay at home in your happy place…with your puzzles. Ahhhh it's the epitome of relaxation.
As always make time to puzzle.
Jaime @introvertedpuzzler